For the Hong Kong Institute of CPAs' Sports and Recreation Committee's (SRCom) interest groups, events and competitions were a constant, until the COVID-19 pandemic put a damper on gatherings. However, with the gradual loosening of restrictions this year, members have begun to take part in their favourite sports and activities again. The convenors and the organizing committee members of the interest groups, who are responsible for organizing events and gatherings, commend the patience of interest group members, who have eagerly waited to meet up again and enjoy their favourite sports and activities.
Convenors and organizing committee members share their highlights of the year.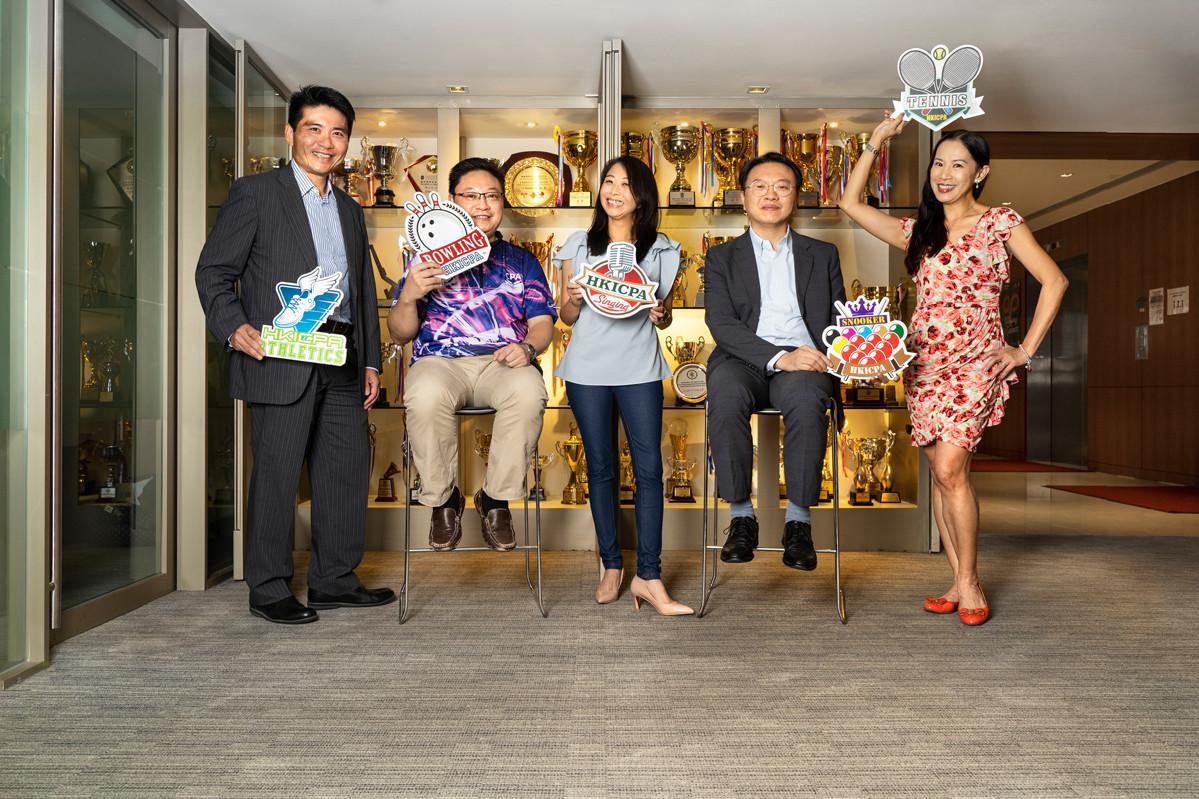 (From left) Barry Tam FCPA (practising), Gavin Yuen CPA, Agnes Ho CPA, Allen Lam CPA and Cynthia Chan CPA.
Barry Tam FCPA (practising), Athletics Interest Group Convenor
"I was appointed as Convenor of Athletics Interest Group (AIG) for the first time this year. The main annual event of the AIG is the Oxfam Trailwalker, one of the largest fundraising events and my favourite sports event in Hong Kong, and one which I have participated in since 1996. Apart from charity, the event sees CPAs working together to make it through the 100 km challenge and stay healthy. Despite the event shifting to a "virtual" run this year, it is very exciting to see our three CPA teams remain committed to this challenge after training for months.  We are all anxiously waiting for the next one."
Gavin Yuen CPA, Bowling Interest Group Convenor
"This year has been a memorable one for me. We finally got the green light from the government and the Institute to resume bowling games at the South China Athletic Association in March. I was finally able to gather with my bowling friends and other Institute members who are interested in bowling and bowl together. I hope all of us can continue to enjoy our hobbies and sports activities."
Agnes Ho CPA, SRCom Chairman and Singing Interest Group Convenor
"My favourite 2021 activities are the singing technique classes and e-seminars in various topics. The technique classes helped us to sharpen our singing skills while the e-seminars helped to expand our knowledge in different areas including sports therapy and yoga."
Allen Lam CPA, Snooker Interest Group Co-convenor
"My favourite activity were the Snooker Interest Group's (SnIG)training courses, which resumed in April. All activities for the SnIG were suspended for almost a year, and we also missed the Recreation and Sports Club for Hong Kong Professional Bodies' (RSCP) snooker tournament in 2020, so it's great to have been able to resume our training courses while staying healthy. I am looking forward to the RSCP tournament in 2022."
Cynthia Chan CPA, Tennis Interest Group Convenor
"We all felt frustrated after all the events were cancelled in 2020 and longed to play again. Fortunately, tennis training courses have resumed since May, but we've had to decrease the number of enrolments. However, our Tennis Interest Group members remained passionate for the sport, and all classes were full upon the first two days of enrolment. We are all so excited to continue taking part in tennis courses and events such as internal tennis tournaments and Tennis Fun Day."
"Regardless of how sporty you are, you should be able to find one or more activities hosted by these 15 interest groups that suits you best. Don't wait – come join us!"
(From left) Thomas Lau CPA, Joanne Hui CPA, Chris Chen CPA, Tony Wan FCPA (practising), and Brenda Chan CPA.
Thomas Lau CPA, Basketball Interest Group Organizing Committee member
"Though courts can be closed and games can be suspended, the burning desire of playing basketball will never vanish. The resumption of the Institute's Basketball Competition is undoubtably the most exciting activity of Basketball Interest Group (BIG) for our members this year. It is a blessing to see basketball-loving Institute members gather together once again and enjoy the games. I think seeing the happy faces of members and the reunion of friends is the best part about organizing this competition. On behalf of BIG, we hope everyone stays safe and healthy, and we look forward to offering more activities in 2022!"
Joanne Hui CPA, Bridge Interest Group Convenor
"My favourite activity was the Bridge Team Tournament held on 4 September. Five teams participated in the tournament and all teams played in a multiple team movement. The team with the most accumulated victory points was the winner of the tournament. The last round of competition determined the winning team. In the end, the champion team only won by a slim margin. The event ended with a prize presentation and group photo-taking session. Members enjoyed the game and suggested that we should organize more team events in the coming year."
Chris Chen CPA, SRCom Deputy Chairman and Football Interest Group Convenor
"Although we are not able to organize or participate in major football tournaments due to COVID-19, I am happy to see that matches are now resuming. As SRCom Deputy Chairman, instead I pick the CPA Virtual Run 2021 as my favourite activity of the year. With the absence of so many sports events and activities due to the pandemic, the Institute launched a new virtual run event this year, allowing participants to complete the race anywhere and anytime. The CPA Virtual Run 2021 was one of the best events, as it gave me a reason to motivate myself to keep training and stay in good shape. On top of that, the flexibility to start the race at convenient times allowed me to pick the best day and conditions to achieve the best results."
Tony Wan FCPA (practising), Photography Interest Group Co-convenor
"Our lifestyle has changed a lot due to COVID-19. In order to comply with the relevant legislative requirements in Hong Kong, activities of the Photography Interest Group were suspended since the beginning of the pandemic. However, we have resumed some activities via an online class since September. We are still looking at how we can restart more activities in 2022."
Brenda Chan CPA, Badminton Interest Group Convenor
"The annual CPA Badminton Championship on 31 October was my favourite sports activity in 2021. There were men's doubles, women doubles and mixed doubles for the event this year. Because most activities were either cancelled or postponed, we all treasured this opportunity to meet with old friends and players, and to show our talent in a competition. The event was a great success as the participants came and played with such great enthusiasm. Players were very professional, and the scores were neck and neck for many matches. A crowd gathered to support the contestants and were pleased to experience a wonderful display of talent and exciting games."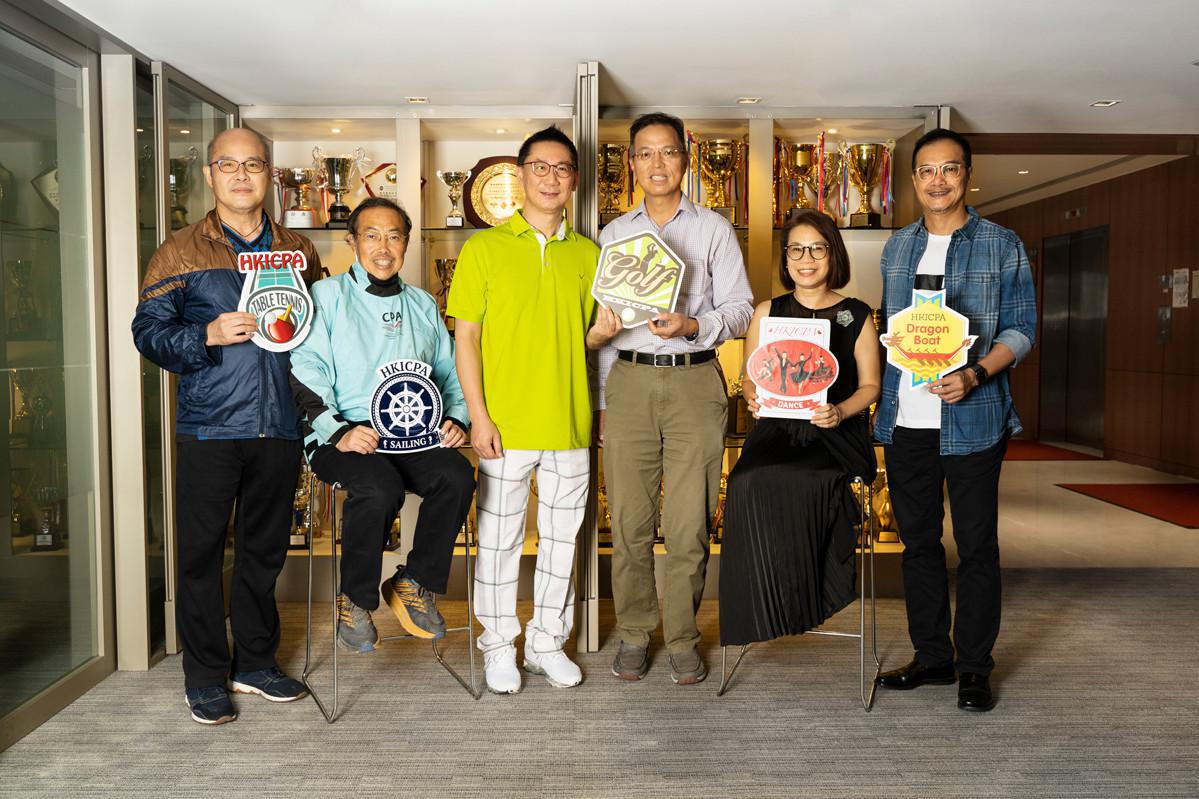 (From left) Roger Ng CPA, William Kong CPA, Lawrence Lee FCPA (practising), Boris Lam CPA, Jeanie Wong CPA and Eric Wong CPA.
Roger Ng CPA, Table Tennis Interest Group Convenor
"Most of our Table Tennis Interest Group (TTIG) members started playing table tennis when they were in secondary school. Though a few are now retired, they have begun playing table tennis again. We have now made it a habit to play table tennis several times a week to help maintain our physical agility and mental sharpness. According to the National Health Service in the United Kingdom, table tennis is a social sport that stimulates many areas of the human brain simultaneously and offers a huge range of mental benefits even for patients who suffer from Alzheimer's and dementia. This is echoed by published research in the United States, Australia and Japan. As Convenor of the TTIG, I would highly recommend table tennis to everyone, as it is an enjoyable social game for all ages. It is not too late to start playing, finding a coach and making friends who are just as passionate about the sport."
William Kong CPA, Sailing Interest Group Convenor
"The most memorable moment was finishing the 'Around the Island Race' on 14 November with the quickest finishing time since 2007. Despite the boat's late arrival and only having 20 minutes to set up, we got off to a good start. However, the spinnaker caught the spreader a third of the way in and ruined all our efforts earlier. Despite the challenges, we finished fourth in the class counting elapsed time. We were inches away from winning! Above all, the team spirit and close bond of all CPA sailors gave us a lasting memory of achievement."
Lawrence Lee FCPA (practising), Golf Interest Group (tournament) Co-convenor
"Though golf tournaments are usually associated with prize money, it's also a great way to keep fit and meet new people. You get to enjoy the smell of grass on the golf course, experience playing on different courses and ever-changing climate. It's a highly challenging sport, yet very relaxing. We held the 2021 CPA Golf Tournament in November, which saw an overwhelming response. All 24 participants enjoyed a wonderful day, full of smiles and big hugs, cheers and claps, photos and memories. Our next event will be the 22nd Annual Golf Tournament with Hong Kong Medical Golfers Association in December. We appreciate your support and participation."
Boris Lam CPA, Golf Interest Group (non-tournament) Deputy Convenor
"I consider the golf days at Kau Sai Chau Public Golf Course to be the most memorable activity of this year. Golf is a sport where people can socially distance themselves yet have fun together. The Golf Interest Group (GIG) has reserved tee times with the Kau Sai Chau Public Golf Course throughout the past two years, which provides a convenient way for GIG members to play golf together, make new friends and enjoy a good time with fellow CPAs. This also attracts new GIG members and reunites existing GIG members who previously preferred to play golf elsewhere. Every month, we have more than 40 players on the course, which is fantastic, as every golfer knows how painstaking it is to find a tee time now."
Jeanie Wong CPA, Dance Interest Group Convenor
"With the pandemic well under control in Hong Kong finally, we were able to reopen the regular Dance Interest Group dance classes in April and offer jazz, ballroom and Latin dance classes. I'm thrilled to dance again with my CPA friends and, more importantly, say goodbye to my belly. Of course, in order to protect all participants, we must wear face masks and keep a safe distance from each other during each class."
Eric Wong CPA, Dragon Boat Interest Group Organizing Committee member
"I appreciate each dragon boat activity, from demanding training sessions to intense competitions.
Our dragon boat training resumed in August in preparation for the October CPA Cup – National Day Celebration Dragon Boat Invitational Race 2021. The training lasted for about two months, where we provided regular training. However, the competition was eventually cancelled amid health and safety concerns. I enjoy dragon boat racing because the sport comes with both physical and mental benefits. We can develop our physical fitness and strength and improve our cardiopulmonary function, and since this is a group sport activity, it requires a high level of team spirit, cooperation and sacrifice. We also meet weekly as a social activity after training.
---
Agnes Ho, the SRCom Chairman, says: "The Institute has a total of 15 sports and recreational interest groups that organize different activities for members to join. Regardless of how sporty you are, you should be able to find one or more activities hosted by these 15 interest groups that suits you best. Don't wait – come join us!" 
---
The Institute's Sports and Recreation Committee was set up to promote a better work-life balance for members. There are 15 different interest groups to choose from, and each group organizes events such as training events, friendly games, and tournaments. Visit the Institute's website for details.