Last year, the Hong Kong government set out its bold target to double the city's research and development spending in the next five years to boost innovation. A Plus asks about the strengths and weaknesses of Hong Kong's current R&D capability and what additional support is needed for technology start-ups to survive in a challenging business environment
Illustrations by Gianfranco Bonadies
This month's Nissin Hong Kong National Junior Tennis Championships 2018 gave budding tennis stars an invaluable opportunity to prepare themselves for the day they compete for Hong Kong in major games in Asia and beyond. For non-tennis player Victor Tan, the championships could similarly be the start of something big.
At the Victoria Park Tennis Centre Court, the venue of the competition, Tan, Co-founder of sports technology start-up Infinity Cube, and his team of five were conducting a site survey. The Hong Kong Tennis Association allowed the company to do a pilot run of their product – a tennis match officiating technology – during the quarter-finals, semi-finals and finals on 21 to 25 February.
"This will be the first time it's going to be released in a public arena," says Tan, a Hong Kong Institute of CPAs member. "Much as what tennis fans worldwide have come to expect at tennis tournaments at the highest level, our system is a technology aid for umpires or linesmen to determine whether the ball is in or out. Our goal is to put a highly sophisticated system, such as this, in the hands of every tennis player. We're very close to the finishing line."
Getting to this point couldn't have happened without funding support from the government, says Tan. However, like other observers, he believes more needs to be done to help start-ups and small enterprises with the research and development (R&D) process, and to generally encourage more R&D activities in Hong Kong. Indeed, the city spent just 0.73 percent of its gross domestic product on R&D, lagging behind South Korea (4.23 percent), Japan (3.28 percent), and Mainland China (2.07 percent), according to World Bank data.
"Start-ups can benefit from a more manageable cash flow, especially when we need to compete in the market with innovative products and shorter prototype development cycles."
Hong Kong Chief Executive Carrie Lam's R&D-related announcements in her policy address last year were considered a step in the right direction by commentators. In her address, Lam set a goal of doubling expenditure on R&D to 1.5 percent of GDP within the current government's five-year tenure.
She outlined a tax incentive that would help companies towards that goal. A 300 percent tax deduction will be offered to the first HK$2 million of qualifying R&D expenditure incurred by enterprises. A further 200 percent tax deduction will be available for any remaining expenditure. The Innovation and Technology Bureau aims to introduce the bill into the Legislative Council in April 2018.
"On top of the super-tax deduction proposed in the Chief Executive's policy address for encouraging the private sector to invest more in R&D, we suggest that the government provides clearer guidance when defining R&D activities and expenditures. It should also provide refundable credits for R&D investments for start-up businesses and reduced profits tax rate for intellectual property hubs set up in Hong Kong," said Jeremy Choi, PwC Hong Kong Tax Partner, in a press release last month.
Tan notes that currently, it is not easy for Hong Kong enterprises, particularly start-ups, to benefit from programmes designed to boost R&D, citing recent statistics of the Innovation and Technology Fund (ITF). The fund was launched in 1999 to provide funding support for R&D projects that contribute to innovation and technology upgrading in manufacturing and service industries. It currently has nine programmes.
While approved ITF funds totalled HK$13.2 billion as of 30 November 2017, HK$10 billion of this amount was allocated to the ITF's Innovation and Technology Support Programme, which supports projects specifically undertaken by universities and the five R&D centres set up by the government to drive applied R&D in selected focus areas:
(1) Automotive Parts and Accessory Systems R&D Centre (APAS); (2) Hong Kong R&D Centre for Information and Communications Technologies under the Hong Kong Applied Science and Technology Research Institute; (3) Hong Kong Research Institute of Textiles and Apparel; (4) Hong Kong R&D Centre for Logistics and Supply Chain Management Enabling Technologies; and (5) Nano and Advanced Materials Institute.
Tan's company is part of the ITF's Enterprise Support Scheme, which has approved funds amounting to a comparatively modest HK$115.2 million. The rest of the funds go to the remaining programmes such as the University-Industry Collaboration Programme, which aims to encourage local companies to leverage the resources of universities for R&D projects, and the Public Sector Trial Scheme, which provides funding support for the production of prototypes and conducting of trials. "When the pot increases, the major beneficiaries are definitely not the start-ups, sadly," says Tan.
For those who believe the private sector should play a bigger role in future innovation investments, the Chief Executive's announcement was positive news. "While the government's latest proposed enhanced R&D support… will significantly reduce R&D costs for lots of Hong Kong companies, the companies should in turn increase their own R&D investment. It is in line with the international trend in which the private sector, not the public sector, should be the key driver for R&D," says Lawrence Cheung, Director (Technology Development) of Hong Kong Productivity Council (HKPC).
Will it help?
Surfwheel is an electric skateboard developed by Koofy Development, a Hong Kong start-up established in 2014. "Me and my close friend from high school, Ondy Ma, had a bright idea to power a skateboard, so that we can go for long rides without getting tired. We started our company and signed up with Hong Kong Science and Technology Parks' (HKSTP) Incubation Programme," explains Felix Lio, Co-founder and Managing Director at Koofy. Two years later, with advice and support from HKSTP, Surfwheel was launched. This year, the lithium-battery powered skateboard will go on sale in the United States and Europe through Amazon and Toys "R" Us.
Lio is confident his company will benefit from the recently announced tax incentives. "It will improve our cash flow, thus we will have greater flexibility when it comes to prototype development," he says. "Start-ups can benefit from a more manageable cash flow, especially when we need to compete in the market with innovative products and shorter prototype development cycles."
E.Tech Dynamic Technology, an electric automotive company is also looking forward to the enhanced deductions scheme, particularly as it focuses on developing different weight-classifications of electric trucks. In October last year, the company unveiled its 16-tonne pure electric truck, a zero-emission solution that can be used to transport construction and building material waste, created in collaboration with the APAS, the R&D centre of the HKPC. "With the 16-tonne electric truck released, we are currently working on getting the 5.5-tonne electric truck out to fulfil the needs of different customers. We aim to have an entire line of electric trucks," says August Or, Project Manager at the company.
"R&D helps our company to achieve our long-term goals, but to do so, we also need the continued support of the government for these fields," he adds. "Because technologies for electric vehicles are changing so frequently, we need to stay up-to-date on the newest technologies from countries around the world as we perform our R&D. This helps to ensure that our products are using the newest and most advanced technologies available."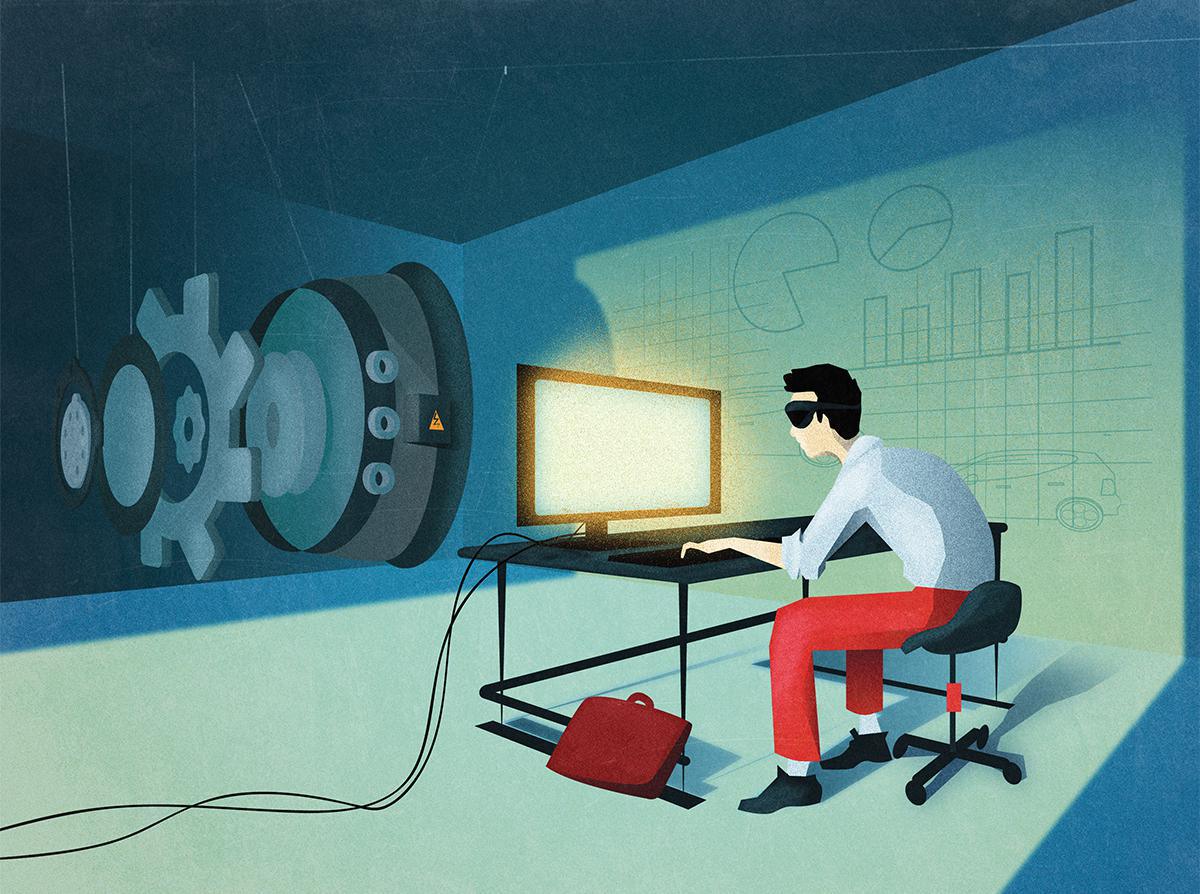 Productive R&D
The enhanced R&D support from the government should provide companies and start-ups with the extra incentive to invest in the R&D of high value-adding products, says Cheung at HKPC. But for businesses to really get to the next level, they must first create the necessary environment for R&D, instead of engaging in R&D work upfront. "This includes integrating their various information and production systems to link up data, resources, process, and services. Also, they must be encouraged to apply various smart technologies such as 3D printing, robotics, sensors, virtualization and human-machine interfacing in the R&D process," says Cheung.
Cross-industry R&D collaborations that would result in new innovations, should also be explored. "For example, the fashion industry can collaborate with the electronics industry on the development of smart clothing which can constantly track their wearers' vital signs, monitor their emotions and even interact with a variety of services including music and map apps," he says.
A waiting game
One of the main frustrations for companies relates to the government's sluggish pace in approving R&D projects for funding. "The guys who are monitoring us, they all have PhDs, so they understand the research process, but they have to follow the rules. They have to be very careful with what they do with taxpayers' money," says Infinity Cube's Tan. "So on the one hand, Hong Kong wants to be the tech hub of Asia, but the infrastructure or the bureaucracy does not allow that to effectively happen." For him, the funding application process took nine months. "In the start-up world, even six months is like a lifetime, so many things can, and will, change."
Lio at Koofy agrees and notes that government policy to help drive technology is sometimes too slow and that often opportunities are lost. "We very much appreciate the government's support for SMEs, such as providing SME loans, with the low interest payments. However, the process of applying and receiving funds takes a very long time. By the time we received the funds we need to build a prototype, we missed the chance to bring the product earlier to the market. We could have taken a lead in the marketplace if only we received the funds earlier," he says.
Boosting R&D in the city takes more than just funds. Companies note that attracting and retaining the right researchers for product development is an on-going challenge for local businesses and start-ups. "Talent is the highest priority when it comes to R&D work. It's important that we can pay our engineers to deliver good work, and make it attractive enough for them to work for us," says Lio, adding that this is where the tax incentives would help. "We believe businesses will use the resources to attract good talents with attractive remuneration packages."
Despite the criticisms, some acknowledge that in recent years the government has been stepping up its efforts to support R&D through a series of new infrastructure and funding initiatives, such as the science park expansion project and the ITF's Technology Voucher Programme.
"By the time we received the funds we need to build a prototype, we missed the chance to bring the product earlier to the market."
"I think it's better than before. In 2014, there was just Cyberport and science park funding then in 2015, Technology Start-up Support Scheme for Universities funding came out which provided another channel to get funds to do the R&D and even for go-to-market budget," says Oswis Wong, Chief Executive Officer and Co-founder of Air Button, a start-up that focuses on smart hardware. Its core technology is Air Button, a wireless and batteryless shortcut button that sticks on the back of mobile devices. "You can set preset functions using our app so that once you press the button it will launch the preset function immediately," explains Wong.
In 2012, it received a HK$100,000 grant from the Cyberport Creative Micro Fund programme, and then joined Cyberport's incubation programme in 2014. Because of the complexity of hardware projects, companies benefit from extra support as they tend to produce a lot of prototypes, Wong notes.
Where even more support is needed, he adds, is in the patent application process. "With the current policy, you can apply for the patent assistant grant so that the first patent can be granted by government. For the second and third patent, they do not support you. Just one patent is not enough to protect the product for hardware projects. I would need over 10 to protect our products," Wong explains.
Hong Kong heroes
R&D is the backbone of a successful and sustainable technology business. "There's different models – you can either be the reseller with someone else building the technology, or you can be a producer. Who makes the money? The producers," says Tan. "The IBMs, the Ciscos, the Huaweis are global producers who own the technology. They have the intellectual property, which locks you in as sole producer. If you don't do the R&D then you can only be a reseller."
He adds that Hong Kong is at present mainly made up of companies that focus on selling and marketing existing overseas technology rather than producing proprietary research.
To move away from this and to build a sustainable start-up ecosystem that attracts talent and capital, Hong Kong needs to foster more successful start-ups, such as AI company SenseTime, specialized in face-recognition technology, and on-demand logistics company GoGoVan. Both are valued at more than US$1 billion. "It's good to have a few good names," says Tan, "but we need more heroes, then this city will really take off as a start-up hub."
As of 30 November 2017, approved funds under the Hong Kong government's Innovation and Technology Fund for research and development projects totalled HK$13.2 billion.