China's consumption is growing, and growing fast. Despite a slowdown in growth, the country is projected to see consumption increase by almost US$2 trillion in the next three years. Liana Cafolla looks at China's spending habits and how this is impacting retailers
Illustrations by Roberto Cigna
For too long, China has relied excessively on inefficient, debt-fuelled investment. Now consumption is catching up. Over the last three years, investment as a share of gross domestic product has fallen by 3 percent, while public and private consumption rose by about the same amount, reported the Financial Times this month.
"The first reason is that investment projects are no longer very effective," says Ben Cavender, Principal at China Market Research Group. "Most of the big infrastructure projects have already been done. At the same time, manufacturing in China is becoming more expensive, so long-term export growth will slow as a result. This leaves consumption as China's main avenue for growth."
This move to a reliance on consumer demand is seen as a necessary change in the structure of China's economy towards one that is less unbalanced. In its 2017 report on China, the IMF noted and welcomed China's moves to rebalance its economy and increase spending.
Spend, spend, spend
Consumption in China is growing at the rate of more than 10 percent a year and new consumption growth will add US$1.8 trillion to the economy by 2021, equivalent to adding another consumer market the size of Germany, according to a June 2017 report by the Boston Consulting Group and AliResearch, Five Profiles that Explain China's Consumer Economy.
Three key factors are pushing this growth, notes the report: a growing middle class, a generation of millennials with a higher tendency to spend, and fast evolving e-commerce channels that are expertly aligned with offline selling. This latter area is the one that presents the most opportunities for retailers and companies looking for a bigger share of the pie – but the standard and mastery of digital technology required to compete effectively is rising very quickly all the time.
Middle-class growth
The number of middle-class families is increasing in line with rising income levels, and the number of upper middle class households – those with a monthly income of US$1,800 to US$3,400 per month – is rising even faster. By 2021, about 80 million households will fall into this category, up from about 10 million a decade earlier, according to the report, and out of an estimated total of 455 million households in the country. These families are not just buying but also buying higher quality products in categories from electronics, food, clothing and products for children including children's education and extra-curricular activities.
Big spending growth is also forecast for goods and services that offer exciting leisure experiences. "[The middle class] buy high-tech and new investment products, and have a liking for relaxing holidays, exercise and entertainment, says a 2017 report by Hong Kong Trade Development Council (HKTDC). "They also keep an eye on trendiness and personal style. They accept the practice of 'spending future money' and their lifestyle is more westernized than that of older generations." HKTDC's survey showed that imported foods, beverages and health foods attracted the highest spending among all age groups. While among those in the 25-30 year age group, 64 percent of those surveyed bought the latest electronic and high-tech products in the previous year.
Higher spending does not preclude a penchant for buying luxury products at bargain or duty-free prices. For example, the new iPhone X could be bought for HK$8,588 in Hong Kong compared with a launch price of about HK$10,025 over the border. The relatively fewer luxury outlets on the Mainland also fuel demand for Hong Kong-sourced products for those seeking to get their hands on the latest products quickly. In March, Chinese police arrested 26 people for smuggling iPhones worth almost US$80 million from Hong Kong to Shenzhen by drone – the first time drones had been found to be used for smuggling.
Young consumers
The generation aged between 18 and 35 are buying the most. In China, this group is largely made up of those who have more money than previous generations, are less inclined to save than their elders and feel confident of rising incomes. In 2015, they spent US$1.5 trillion on consumer goods, up from US$700 billion in 2011. Their spending is expected to rise, reaching US$2.6 trillion by 2021, according to Boston Consulting Group, an annual growth rate of 11 percent, compared with 5 percent growth in spending by those aged 36 or more.
E-commerce
China's shoppers are highly connected and spend more time online than the global average.
In HKTDC's survey, respondents shopped online on average 5.25 times per month in 2017 – far higher than the average 1.43 times a month found in the 2013 survey.
"E-commerce now accounts for between 15 and 20 percent of retail sales in China, [which] puts it ahead of the United States and other developed markets," says Cavender. "Digital is extremely important. Even in terms of brick and mortar sales, digital now plays a significant role in terms of how the actual purchase is made – mobile wallets, phone-based loyalty programmes."
"They accept the practice of 'spending future money' and their lifestyle is more westernized than that of older generations."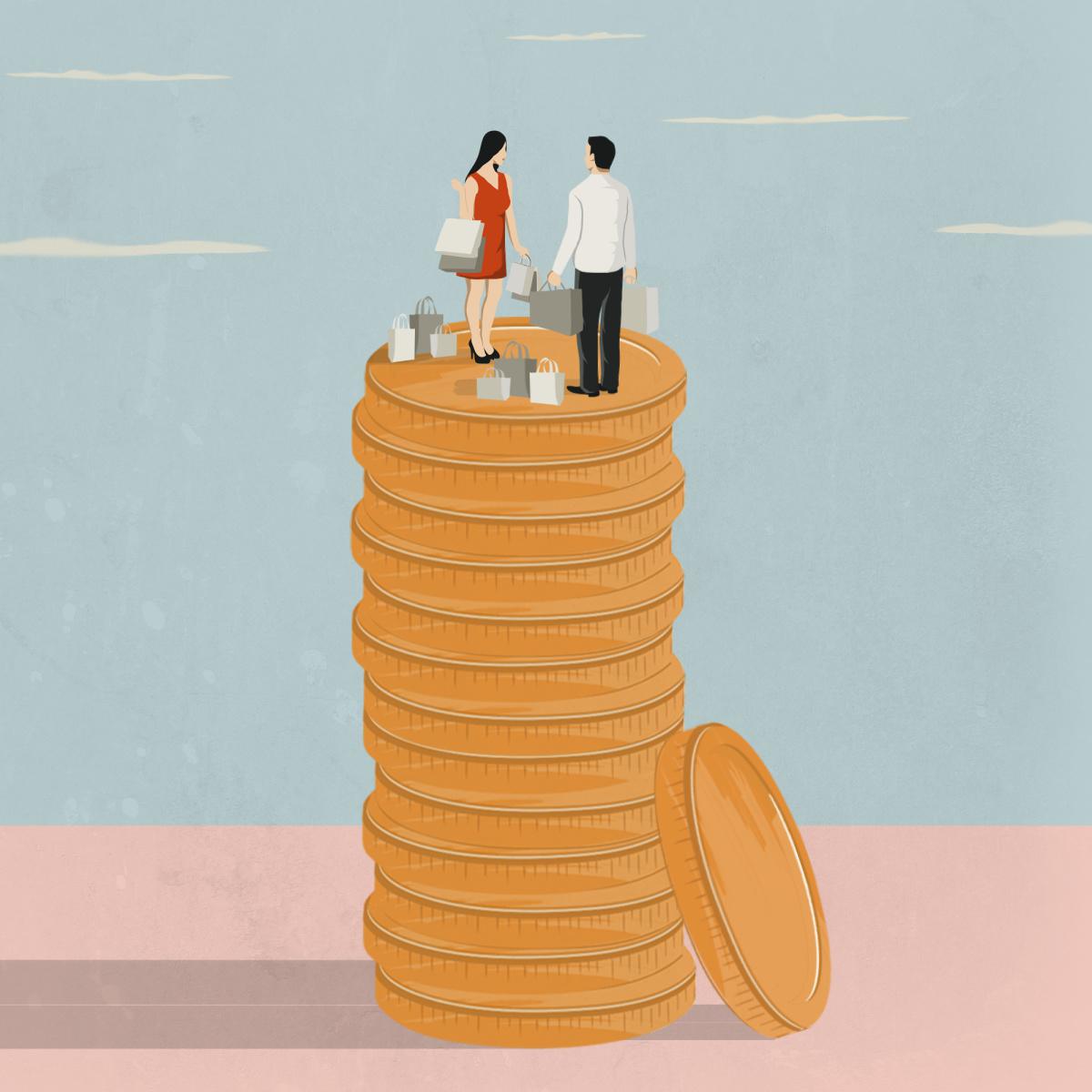 Getting digital
Tempering the appeal of the huge opportunities posed by consumer growth is the threat posed by speed – of technological changesand consumer behaviour – which is recognized by almost all players as a major business threat. According to PwC's 21st Global CEO Survey China Cut, 90 percent of executives in the Mainland and Hong Kong see the top threats as cyber threats, speed of technological changes, availability of key skills and changing consumer behaviour. But overall, consumption growth is driving business confidence. The report also states that 38 percent of respondents said they were very confident of revenue growth over the next 12 months, up from 33 percent in 2017.
For retailers and companies, the big question is how to tap into this growing need to dish out more money. The short answer is: get digital, get integrated – and do it fast. The speed with which e-commerce channels are evolving in China is nothing short of breakneck.
"Everything is being led digitally," says Tianbing Zhang, Consumer Products Sector and Retail Sector Leader at Deloitte China. "The biggest change as of now is taking place on smartphones and apps, leading to innovative ways in how brands connect with customers. New business models have emerged with very targeted marketing to consumers and delivery of products close to customers' homes. Everyone is thinking about how they can tap into these changes."
One example is Hong Kong-listed cha chaan teng Tsui Wah, which has more than 30 restaurants in the Mainland. "For catering businesses, e-commerce is not that fancy at the beginning. But, we did benefit from the emergence of food delivery apps, which contributed a certain percentage of revenue to our restaurants in the past few years. Online apps drive traffic very much in Mainland China," says John Yang, Chief Financial Officer of Tsui Wah Holdings, and a Hong Kong Institute of CPAs member. "We will run more activities in the online area to drive more cus- tomers to offline restaurants in the future." He adds that Tsui Wah will strengthen its expansion in Eastern and Southern China, where there is a higher percentage of consumption compared with other regions.
"New business models have emerged with very targeted marketing to consumers and delivery of products close to customers' homes."
Zhang says a key feature of China's retail is now the close integration of online and offline buying channels to enable companies to get closer to their customers and respond to them faster. "It is no longer enough to have a separate online format – you need an integrated approach between online and offline," he says. "Stores need to be connected online to consumer across all digi- tal channels and be able to deliver to consumers. Retailers need to reconfigure their distribution structure so that they can serve the consumer at the first moment the consumer thinks of the product."
Tencent, one of China's three digital trailblazers, along with Baidu and Alibaba, has led with its strategy of "connecting everything." The company has successfully entrenched itself in customers' daily lives by offering a range of different services through its WeChat app, including food, drink, travel, retail products and financial services.
"No-one is using cash," says author and China correspondent Johan Nylander. "You take out your wallet in Starbucks and they look at you like you're from another planet." The preferred payment methods are Alibaba's AliPay or Tenents' WeChat Pay. "There are 50 times more mobile payments made in China than the U.S.," he says.
These moves are in line with how China's consumers like to shop. Chinese shoppers increasingly discover brands and products through a variety of digital channels and content through social media, online fashion shows or tutorials, news websites, or by searches on other e-commerce channels including Alibaba's Taobao, Dangdang and Etao.
Brands are presented to them through a curated shopping experience that is achieved by very few, if any, U.S. or European companies, according to a BCG-AliResearch report. These suggestions are usually highly effective and drive high follow-through rates assisted by easy purchase channels: if customers like the product, they can immediately be purchased by clicking on embedded purchase links that enable an instant and seamless "buy what you see" experience.
"You take out your wallet in Starbucks and they look at you like you're from another planet."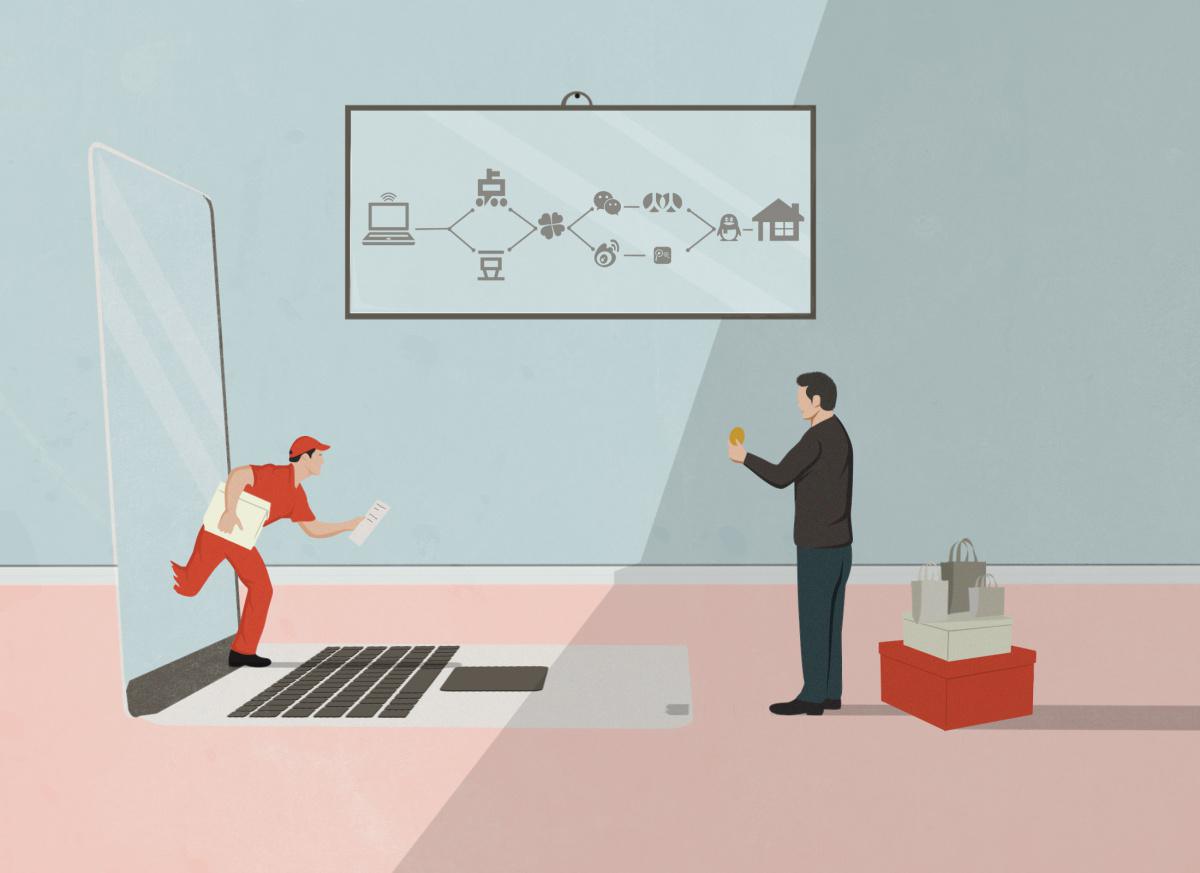 Strategic partnerships
A decade ago, luxury retailers were fighting each other for the best spaces in China's glittering new shopping malls. Now, it is a retailer's online presence that is a better predictor of retail success. The ability to change and keep up with what is happening is the biggest risk factor, says Deloitte's Zhang. For many companies, it's not easy to change with the times. "Traditional companies with a legacy physical store network – some of these are losing ground because foot traffic is not going there," he says. "They could really suffer a great deal."
One way legacy companies can galvanize their appeal is by following the example of newer competitors and partnering with one of China's digital giants. Last year, London-based luxury online fashion retailer Farfetch, which has 250,000 products on its website, partnered with China's second-largest e-commerce company after Alibaba, JD.com. The partnership has given them access to a massive market and databank, Farfetch Founder and Chief Executive Officer José Neves, told Jing Daily in an interview in March, enabling it to target its advertising more keenly.
"With JD.com's investment, we agreed to integrate Farfetch technology with JD.com and WeChat data so that we are able to do online marketing in China, building relationship with people who buy on JD.com and use WeChat. We are now able to target our advertisements and online marketing with much better data, using JD.com's 280 million shoppers and almost one billion users on WeChat."
Neves says it is critical that customers have a fantastic mobile experience on the Chinese app. "We have a full catalogue on WeChat and other localization features like Alipay and WeChat Pay. All of these things together ensure that we serve them in the right way."
Choosing a local business partner is probably important to companies' chances of success as setting up in China is a difficult process, says Duncan Innes-Ker, Regional Director, Asia of The Economist Intelligence Unit. "Success or failure may hinge on that choice of partner, so firms should do their due diligence carefully," he says. "Learning from failure is often an important part of doing business in China, but the rewards – for those who get it right – can be phenomenal." 
---
AI and the rise of omni-shopping
​"China has turned into a shopaholic society," says Johan Nylander, China correspondent and author of Shenzhen Superstars. The consumption trend is driven by a growing middle class that wants to demonstrate their affluence and define their position in society.
Nylander says shopping has become a hobby that has been adopted by everyone across the board in China, and by young women in particular. Consumers are not just buying more of everything – from fashion and cosmetics, electronics and technology gadgets – but also spending more on entertainment, including eating out, going to bars and cafés with friends and cinemas.
Foreign brands still have cachet when it comes to luxury and sportswear and equipment, but increasingly young Chinese buyers are keen to be early adaptors of Chinese brands, says Nylander. "Young consumers are turning to local brands," he says. Rising sales of home-grown Huawei phones and slowing sales of iPhones are an example of a growing preference for preferring local brands "for two reasons: the quality is better than Apple and the price is a fraction of Apple."
Before, customers chose whether to visit a shop or shop online but e-commerce is turning shopping on its head. "The lines between online and offline are getting more blurry or they are being erased," Nylander says. Now the shopping experience is being transformed by what he calls omni-channel shopping. Consumers find products online, order and pay online and then pick up the product from their local store, or see the product either in a shop or online, pay with WeChat and get it delivered to their home a few hours later. Some shops are able to organize home deliveries in their area less than half an hour after the product has been purchased, he adds.
Artifical intelligence (AI) and face recognition is further transforming retail, and Alibaba is the clear leader. "Alibaba is massive online and they are scooping up bricks and mortar chains all over China," says Nylander. "They're rolling out AI in a way that Westerners can't really understand. You go into one of these stores that are powered up with Alibaba. You walk in, the camera recognizes your face, they know who you are, they are connected directly to your Alipay account, they know what you've bought before here.
"They know what you've been buying on TMall, what you've been buying on Taobao, they know what you've searched on TMall. They might know what your boyfriend searched. Then they make an offer only for you, because they know everything about you. You can see it on the screen or on your phone. If you look tired, the camera can see your mood. It's totally redefining and reshaping everything that we know about commerce and shopping."
---
How to make the most of China's growing consumption
Spending in lower-tier cities is growing the fastest, but retailers should probably focus on tier one and two cities, Duncan Innes-Ker, Regional Director, Asia of The Economist Intelligence Unit advises.
"[T]he bulk of spending is still concentrated in the first and second tier cities," he says. "There is likely to be a persistent income gap between China's top urban hubs and its smaller regional cities. For retailers, the first- and second-tier markets still make for a more logical entrance point."
Consumption is rising in almost all sectors and Innes-Ker expects it will continue to be varied.
"In the coming years, we are likely to see very steep growth in areas more associated with middle class spending, such as leisure – including tourism and media consumption – education and healthcare."
Successful retail in China requires developing integrated online and offline strategies, and focusing on the biggest portals is not always the best option.
"Working with a major platform like Alibaba's Tmall could give access to a huge customer base, for example, but may restrict options for collaboration with other retailers," he says.
"Companies should also be aware that downside risks are likely to build in the coming years. Tensions in the relationship with the U.S. will probably rise, whatever the outcome of the current trade disputes, which could have an impact on supply chains. China's economic growth is also likely to slow, but we expect household spending growth to outperform the overall economy in the next five years."