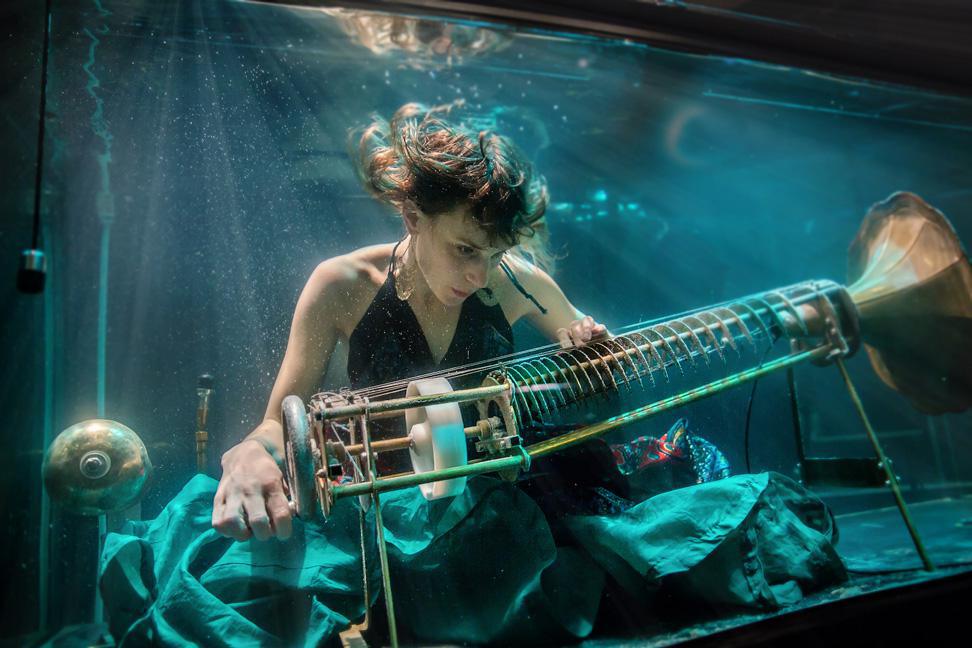 Music
Sounds of the deep
Between Music, the world's first underwater five-piece band from Denmark, is bringing their concert "AquaSonic" to Hong Kong. The quintet will perform fully submerged in glass water tanks, and will take listeners on a sonic journey with their music and clever use of instruments. Specially designed to be played underwater, the band's instruments include a carbon-fibre violin, hurdy-gurdy rotacorda, crystallaphone and hydraulophone, producing haunting yet beautifully crafted songs.
Dates: 26-27 October, 8:00 p.m. – 10:00 p.m., 28 October, 3:00 p.m. – 5:00 p.m.
Venue: Sha Tin Town Hall Auditorium, 1 Yuen Wo Road, Sha Tin, New Territories
Ticket price: HK$160, HK$240, HK$320, HK$420
Website: www.urbtix.hk
Drink
Bottoms up
The city's biggest annual craft beer festival Beertopia is back for its seventh year in a row, bringing over 250 different craft beers and serving craft beer-inspired cocktails from around the world. With organizers expecting over 10,000 attendees, the two-day event will also feature over 20 food trucks and restaurants, as well as live bands and DJs. There will also be an area where participants and revellers alike can play drinking games such as beer pong.
Dates: 5-6 October
Venue: Central Harbourfront, 9 Lung Wo Road, Central
Ticket price: from HK$250 (refer to website)
Website: www.beertopiahk.com
Exhibition
She's got sole
A diverse selection of both ancient and modern women's footwear is currently on display at Pacific Place. Shoes: Pleasure and Pain, a one-month installation, part of the Victoria and Albert Museum's exhibition tour, and showcases over 140 pairs of shoes from across the world. Some date back to the 14th century, such as the Egyptian sandals dressed in gold leaves, bound feet lotus shoes, as well as luxury shoes such as Cinderella slippers by Swarovski, and elaborate footwear from Salvatore Ferragamo, Alexander McQueen and Zaha Hadid. The exhibition will also feature 14 pairs of shoes from Hong Kong actress and singer Karen Mok's personal collection.
Dates: 27 September-28 October
Venue: Garden Court, LG1, Pacific Place, 88 Queensway, Admiralty ​
Eat
Nordic wonders
Dig into world-class Nordic cuisine right in the heart of Hong Kong at the The Flying Elk. Having recently opened in July, the renowned Stockholm establishment is the concept of three-Michelin- star chef Björn Frantzén, and is the chef's second restaurant in the city after Frantzén's Kitchen. The Flying Elk represents a culmination of European and Nordic food, with delicious starters such as its open sandwich made with pork cheeks, red cabbage and wild mushrooms, appetizers such as tartar "lamb in dill" served with dill mayonnaise, vinegar pickled root crops and onions and entrées such as tenderloin and smoked heart of beef with horseradish, celeraic remoulade and pickled mustard seeds.
Address: 2/F, Wyndham Mansion, 32 Wyndham Street, Central
Opening hours: Monday – Sunday, 5:00 p.m. – 10:30 p.m.
Website: www.theflyingelk.com/hk