Business software company Sage has more than 13,000 customers in Hong Kong, many of them accountants. Nicky Burridge talks to Kerry Agiasotis, Executive Vice President at Sage Asia Pacific, about the opportunities for connected small firms
Photography by Jiwon Kim
There are very few professions that look forward to the day their administrative work will be carried out by robots, but accountants should be one of them.
That is the view of Kerry Agiasotis, Executive Vice President at Sage Asia Pacific, who sees the growing use of artificial intelligence (AI) as an opportunity, rather than a threat, for the accounting profession.
He explains that advances in AI mean a lot of the manual work can increasingly be taken out of accounting, freeing up professionals' time to offer other services to their clients. "Automating is great for the profession because it can remove costs and allow [practices] to scale very quickly," says Agiasotis, who is based in Sydney.
He adds that clients are increasingly expecting more from their accountants than just traditional compliance services, and firms need to capitalize on these opportunities to generate new income streams. "Because data has become so available, it really is the new business currency. When you start to move into the broader use of data, that is when it starts to get really exciting," he says.
Agiasotis explains that AI has enabled large quantities of data to be mined to find insights, which can then be presented to clients as actionable insights. "I think accountants are fantastically well placed to offer advice to businesses. They really do have an opportunity to get hold of that data and make sense of it for their customers in ways that very few other industries will have the right to do," he says.
Increasingly, Agiasotis thinks being connected will be "part and parcel" of the way business is done, and he believes for accountants to remain relevant, they must be connected as well. "It is hugely important. I truly believe those organizations that get ahead of the curve by being connected will have an advantage beyond those that don't. Accountants really need to understand that," he says.
Having the ability to harness data may sound unattainable for small-and medium-sized practitioners (SMPs) who do not have the same information technology budgets as larger firms. But Agiasotis thinks not. Much of the current technological advancement is being driven by cloud computing, he says. He points out that cloud computing is making technology that was previously unaffordable, available to small businesses and SMPs. "It is really changing the game," he says.
This is where enterprise software company Sage, which began in the United Kingdom in 1981, comes in. Agiasotis explains that at its core, Sage is all about empowering business growth. It does this through the provision of business management software, helping businesses with everything from accounting and financial management, through to enterprise management and business intelligence.
"One of the biggest challenges, is about having people understand and acknowledge the change, and open their minds a bit more to the possibilities and not fear change."
Eyeing Hong Kong
Sage is in the process of launching a new module in the Asia Pacific region called Sage Data Hub, which will be released to accountants first and will enable users to access data from non- Sage sources. "Essentially what Sage Data Hub does is that it allows for both Sage and non-Sage data to come together and be provided back to the accountant in a unified way," he says.
He says one firm that has been involved in an early release of the product is now seeing the profit and loss information and transactional data for its customers in real-time, even though the businesses themselves do not use Sage software. The Data Hub also helps the firm make sense of the data and provide it back to its clients in a much more useable format.
In April, Agiasotis demonstrated it in Hong Kong. "It generated a lot of interest," he says. "As end customers are capturing more data and have that data available, their expectation is that their accountant is using it, and starting to add value beyond just the transactional work."
Agiasotis thinks firms in Hong Kong are very well placed to adopt the technology. "If you look at where Hong Kong is today in terms of cloud-readiness, it is actually one of the most advanced countries in the region. Up until recently it held the number one spot for readiness," he says, citing findings of the 2018 Cloud Readiness Index released by the Asia Cloud Computing Association. Hong Kong took the top spot last year but was replaced by Singapore this year, coming in at second place. This may be indicative of significant advances made by other Asia-Pacific economies rather than any specific shortcomings, the report notes.
Sage currently has offices in 24 countries, and is considering setting up one in Hong Kong. "We have been in Hong Kong for a number of years, but the way we have gone about that is through our experienced business partners – that is a core part of the Sage model around the world," Agiasotis says. "Right now, we are assessing how quickly we are growing in the region and the point at which we need a physical presence there, but the reality is that it is just a matter of time.
"Hong Kong is still a leader when it comes to financial activity, boasting the world's fourth-largest stock market, an incredible feat for an island of its size," he says. "Due to the growing business opportunities we see here especially in the maturity of organizations who understand and embrace the value of technology and connected businesses, we are keen to continue growing our key business areas of financial solutions from payroll, payment and accounting up to human capital management solutions here."
He adds that Sage already has more than 13,000 customers in Hong Kong using some of its more traditional products, many of whom are accountants. "In terms of cloud-readiness, we know Hong Kong will become a predominant city for cloud-based adoption of technology," he says.
But despite the opportunities cloud-based technology brings to SMPs and small- and medium-sized entities (SMEs), Agiasotis acknowledges there are also challenges. "One thing, especially right now, is the pace of change, and how quickly technology is changing the world and how business is being done," he says. "One of the biggest challenges is having people understand and acknowledge the change, and open their minds a bit more to the possibilities and not fear change."
He adds that helping people do this is both the thing he likes most about his role and the thing that challenges him the most. "When you have the world changing at the pace that it is right now, one of the hardest things to do is to keep people aligned, focused and understanding where it is that we are heading and the good that is going to be done. That is probably one of the larger challenges today both internally within the organization, but importantly with customers."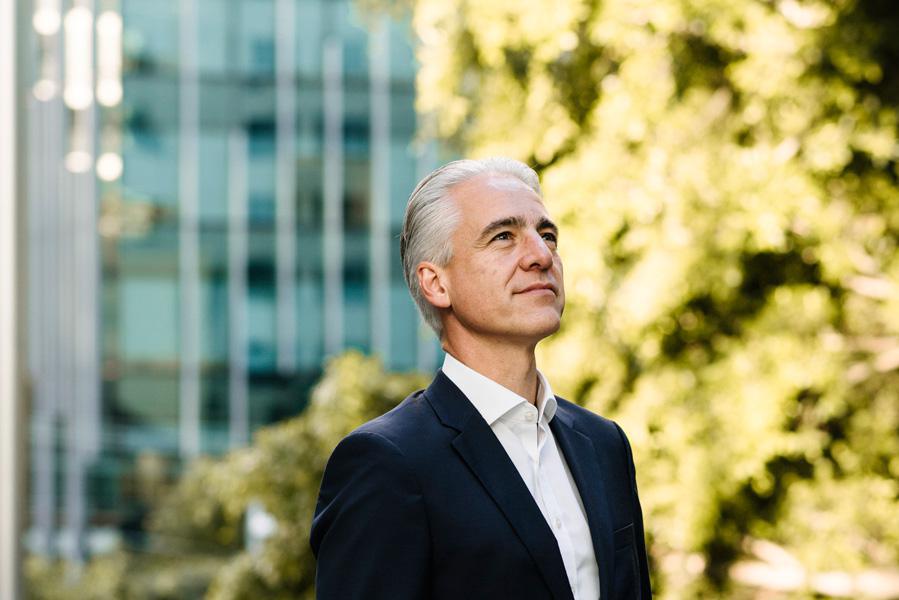 Agiasotis has more than 20 years of business management, sales and consulting experience gained primarily in the financial services and IT industries.
Bigger platform for smaller firms
Last year, the company launched the Sage Business Cloud, which Agiasotis describes as bringing together all of Sage's business capacities in a connected way and delivering them through cloud computing, making it accessible anywhere with Internet connectivity.
"Sage Business Cloud is really a technology platform that will serve any sized business, from a start-up all the way to very large businesses, and is architected to get data and work with third-party applications," he says. "It allows an organization to take it in bite-sized chunks. They can start anywhere on that spectrum, and then, as their needs become more sophisticated, they can take on additional capabilities." Agiasotis also highlighted that being able to serve the full spectrum of organizations is ideal for businesses. Accountants for example, working with Sage will be able to service customers, regardless of their company size.
Sage Business Cloud makes certain tasks, such as auditing, quicker by giving easy access to the necessary information, and gives both accounting firms and SMEs access to real-time data. It is also embedded with AI and machine learning to help businesses make the best use of that data.
Sage also recently launched a partnership with Microsoft and FinTech payments company Stripe to enable invoices and payments to be issued directly from within Microsoft Outlook through a desktop or cloud-based version of Office 365. "It really brings to life the power of the platform in being able to connect to multiple technologies and vendors, better utilizing the investment companies have already made," Agiasotis says.
He believes tools such as this can help accountants offer their clients' value-added services. He gives the example of a Malaysian accounting firm that was in a remote part of the country, and faced challenges meeting some of its customers. "By shifting to one of Sage's cloud accounting packages, it was not only able to manage its practice better itself, but it was actually able to extend into its customers' businesses by getting them to utilize Sage accounting," he says.
"They were then able to get access to real-time information from within the businesses." He explains that capturing these transactions in real-time, enabled the firm to expand from traditional services to offering advisory ones.
The company has an overall standardized strategy across Asia, he says. "Our go-to-market strategy has always been through our partners, and this is where we feel we have the advantage. Our partners are not only technically trained to ensure successful project implementation but are also very experienced in supporting the local businesses."
When asked where he sees Sage Asia Pacific developing in the next few years, Agiasotis says: "There has never been a better time to be in Asia, especially with expectations of positive growth now and in the near future." He cites a 2017 report by International Monetary Fund, Regional Economic Outlook: Asia and Pacific, which calls the region the world leader in growth. According to the report, Asia-Pacific growth is projected to reach 5.4 percent in 2018. "The business of cloud already being adopted in a technologically advanced society like Hong Kong will see even greater take-up rates in the future, as it will allow organizations of any size to reduce their business and operational costs and become more mobile, allowing an 'anytime, anywhere' business model."
" There has never been a better time to be in Asia, especially with expectations of positive growth now and in the near future."
A technological journey 
Australian-born Agiasotis says he has always been fascinated by technology, but it is its application that interests him most. He studied computer science and business systems at the University of New South Wales, before starting work as a software engineer. "I very quickly realized I was far more interested in putting technology to use, rather than just creating it. 
"When I think about my career and how it has evolved, I have spent the vast majority of it actually putting technology to use in various industries," he says. He adds that even when he worked for IT venders, he always had that orientation and held roles where he was closer to the customer, helping them to solve problems using technology. 
Before joining Sage in October 2017, he spent 10 years at Western Union's global Business Solutions division, working in B2B payments and seeing how technology applied to SMEs and how it could help them grow into bigger international businesses. He served as president of the division from 2013 through to 2017. 
When he is not at work, Agiasotis is a keen sportsman. "I love playing football, it is my one true escape from my routine responsibilities, both physically and mentally," he says. 
But he concedes that his business passions do tend to spill over into his free time. "I work with small businesses. I have some investments of my own, which are managed by others, and it really does enthuse me to see how it is that you can use technology to make improvements. 
"I practice what I preach in putting to use my knowledge of technology with my business interests, which I am really motivated by and enjoy." 
The Cloud Readiness Index 2018 rankings, developed by the Asia Cloud Computing Association, places Singapore and Hong Kong ahead of Asia-Pacific markets such as China, India and Indonesia.