Vincent Leung, Senior Manager, Finance at Versace Asia Pacific, switched from the practising sector to the fast-changing world of luxury fashion three years ago. He tells Jemelyn Yadao how he adapted to his new responsibilities, which include streamlining the business and constant communication, and what it means to be a supervisor under the Institute's Authorized Supervisor Scheme
Photography by Calvin Sit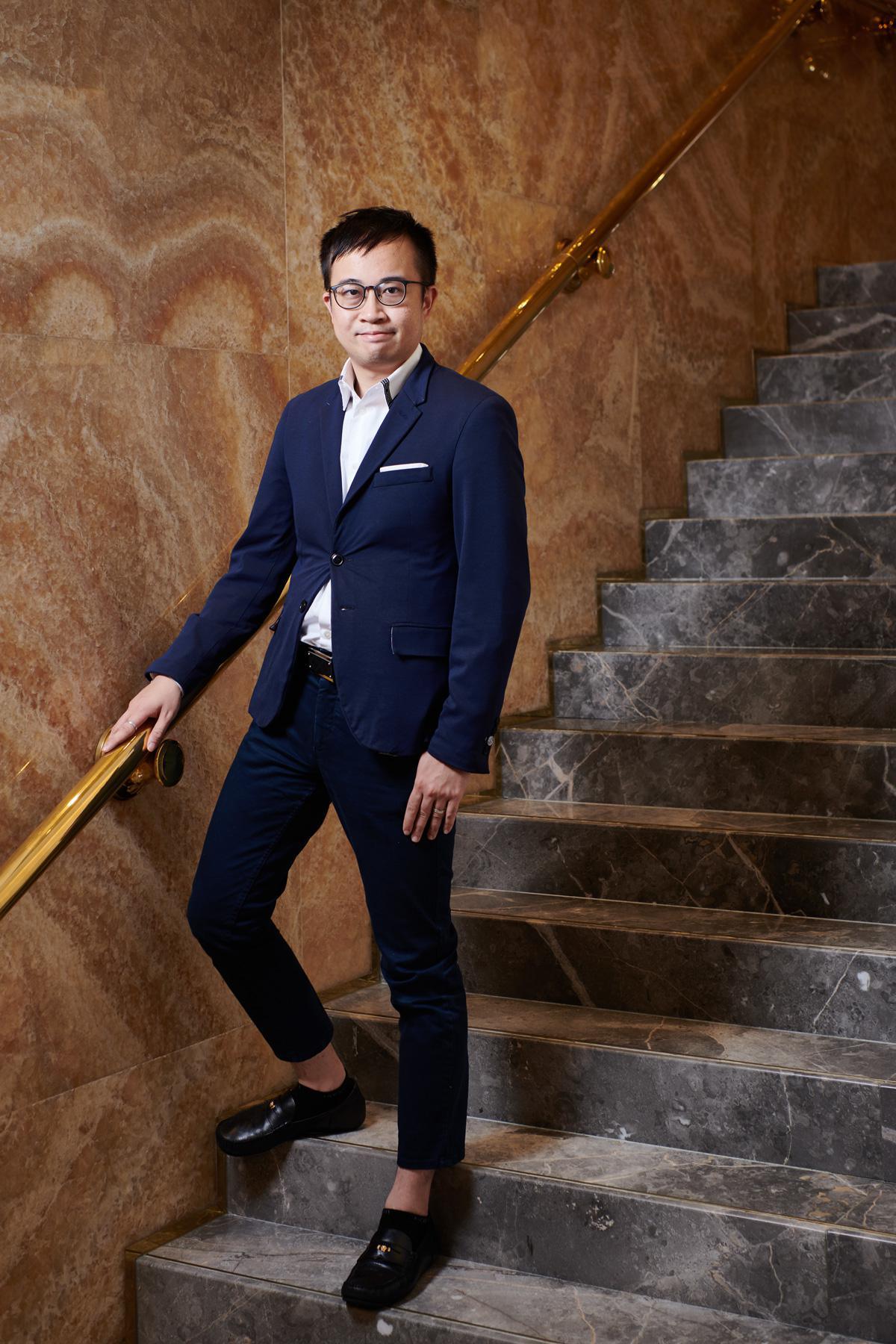 Fashion fans will probably recall Jennifer Lopez storming down the runway at Versace's Spring 2020 show, wearing a replica of an iconic green dress that she first wore 20 years ago, as one of this year's biggest fashion moments. Vincent Leung, a Hong Kong Institute of CPAs member, refers to the dress as that dress. "That jungle green dress is my favourite Versace piece. It's hard to imagine that a dress could trigger the creation of a search engine," he says.
Indeed, after the actress and singer wore the palm-print green dress at the 2000 Grammy Awards, it became the most popular search query Google had ever seen at the time, leading to Google Image Search being invented.
Leung is Senior Manager, Finance at Italian fashion house Versace's Asia-Pacific regional headquarters in Hong Kong. While the brand is well known for its over-the-top runway moments and ornate clothing, Leung says that the brand is special for another reason. "For me, the most interesting thing about Versace is that it's a very young brand. We only have around 40 years of history compared to other fashion houses like Chanel or Louis Vuitton, which have been around for more than 100 years. Of course our sales may not be comparable to Louis Vuitton, but we're always changing, improving and we're growing in terms of our business, and that's exciting."
The allure of playing a major role in business growth and decision-making drove Leung to leave his audit career at a Big Four firm after seven years. He had joined EY as a junior auditor, moving up to assurance manager, and provided audit advice to clients from a wide range of industries, including luxury retail. "I focused on clients like Louis Vuitton, Moet & Hennessy, and Loewe. That experience was one of the reasons why I later applied for this position in Versace," he says.
"I would say that as an auditor, I didn't have the opportunity to drill down on how to improve the operations of my clients. These are areas that auditors tend to find difficult to help clients with because auditors, most of time, mainly understand things on the surface level," he adds. "I wanted to have more of an impact on the business and now at this company, I have a down-to-earth view of the business."
For professional accountants in practice considering whether moving into an industry role would be the right move for them, Leung recommends that they ask themselves some questions about their personality type. "Know your weaknesses, your strengths and your character," he says. "There are people who want to become audit partner at a firm and have the characteristics needed to be partner. But for those who don't have that ambition, the business sector could be a blue sea for them."
According to Leung, Asia Pacific contributes substantially to Versace's overall business. "We account for about 40 percent in comparison to the other two regions, Europe and the United States," he says.
As part of his regional role, Leung is in charge of a team of 10 people focused on reporting and project management across nine markets: Hong Kong, Macau, Mainland China, South Korea, Taiwan, Australia, Malaysia, Singapore and Thailand. "Last year, we took over the Thailand business from the franchisees. We need to keep the momentum going in the fast-growing countries, like Thailand, where many tourists visit. In luxury retail, one of the key customer segments is travellers," Leung explains.
He has had to brush up on the compliance and legal requirements of those different markets, something he didn't have to do as an auditor. "Some markets are very interesting, for example South Korea and Japan have their own style of business operations and practices. It's important for me to know the legal and tax requirements to help the company in the market."
Global discussions
Since joining Versace, Leung has had to oversee several projects to help streamline business processes, and that required him to look beyond the numbers. "When I first joined, I was quite strong with the numbers and accounting requirements so my first task was to help the different accounting teams in different markets ensure their reporting met both the local accounting standards and also the international standards. This was required by our Milan headquarters," he explains. "After that, I had to look into what are the best accounting policies for different teams to follow so that we can have a consistently smooth monthly closing and reporting procedures."
Another focus area for him is stock control and inventory management. "We need to ensure that the store salespeople maintain good inventory control. The finance team plays an important role in setting out the rules for stores to follow, making sure everybody understands them, and deciding on the best procedure," he says.
Through these big tasks, Leung was able to build strong relationships with the different teams around the world. "When I arrive at the office, it would be almost afternoon in Australia so I would have a phone call with the Melbourne office, and then with Beijing, South Korea and sometimes Malaysia. And then in the afternoon, it would be morning in Italy and I have to do a Skype call or phone call with them. During the whole day, there would be different kinds of discussions going on to ensure all teams are aligned," he says. Leung admits that all of this communication can be sometimes difficult to manage. "Commitment is needed. When someone seeks help from you, he or she is trusting that you can provide a solution. I enjoy it because I like coming up with solutions for the team, for the headquarters, for everybody."
Effective communication is also key in his budgeting projects, which involves Leung liaising with different departments. "This is very difficult because most of my colleagues are not sensitive to numbers. We have to let them know how they should control their spending."
With Hong Kong's retail sales declining amid anti-government protests, Leung finds himself having more budget-related discussions at work. "Under the current situation, the Hong Kong retail market is not doing very well so we would advise some people, say PR and marketing, to put their resources or money into projects that have high-returns, which can help push the business. And with the Hong Kong market struggling, they could also switch their resources to other markets. We need to constantly let business units know what we're envisioning for the market so that they can change their plans and control their spending.
"The finance team is like a watchdog. We let our colleagues know what the standard is, in terms of internal controls, and monitor them to make sure that standard is met."
Big changes
One of the biggest developments Leung has seen at the company took place in September 2018 when American conglomerate Capri Holdings, the parent company of Michael Kors and Jimmy Choo, revealed that it was acquiring Versace for US$2.1 billion. The takeover was completed at the end of last year. Leung says the move brought drastic changes to the accounting, and major challenges for his team. "Globally, it's rare to see an American-based luxury retail group. Kering and Richemont are all based in Europe. For all of us, this was a brand new idea and a whole new structure," says Leung.
"Because Capri is a U.S.-listed company, it has to follow Sarbanes-Oxley, which requires the highest standard of internal controls. We've been busy changing the internal controls and operations of a European family-run business to effectively integrate into Capri Holdings. This is a big challenge," says Leung.
Education and training has been essential to getting his team up to speed with the changes, and acknowledging the benefits. "We also need other business units to understand that the practice that we've been using in the past is not good enough. We need to do better to have more sophisticated internal controls to manage business risks, IT risks, all kinds of risks that departments can encounter," he says. "The finance team is like a watchdog. We let our colleagues know what the standard is, in terms of internal controls, and monitor them to make sure that standard is met."
Work has been more fast-paced since the takeover, he says, "but this makes the brand react to changes in the market more quickly. In future, with more investments in operation systems and technology by Capri, we could work in a more innovative way to increase operational efficiency in areas ranging from merchandise planning, reporting, budgeting and cost analysis."
Mentor mindset
Leung is an Authorized Supervisor (AS), under the Institute's Authorized Supervisor Scheme, whereby members registered as ASs train prospective members working for sole practitioners and those working in commerce and industry where employer authorization may not be appropriate. "With support from the Institute, we can guide young accountants on the right path for career growth," he says. Leung has been an AS to three people at the company so far. After three years of practical experience, under his supervision, they can become qualified CPAs and full Institute members.
Giving out career advice to young people in the business sector is particularly challenging, according to Leung. "The career path in business is not as clear-cut as in a professional firm where there's often a career hierarchy. In the business sector, supervisors need to try and help young accountants come up with clear career goals," he says. "This gives me a great sense of responsibility. I'm not only responsible for how they can develop themselves in Versace, but also for their accounting careers."
He took on this challenge thinking back on how he benefitted from the guidance of his past supervisors. "I have had several good supervisors in my career. They inspire me how to see things in different angles and think out-of-the-box," he says.
Apart from setting out career paths and benchmarks for the future members, Leung offers some direct advice. "Young accountants need to realize that accounting now is not just about numbers but how you interpret the numbers to different kinds of people," he says. "Your work or report can't just have numbers. You need to include your commentary, and let third-parties know what those numbers in the report mean."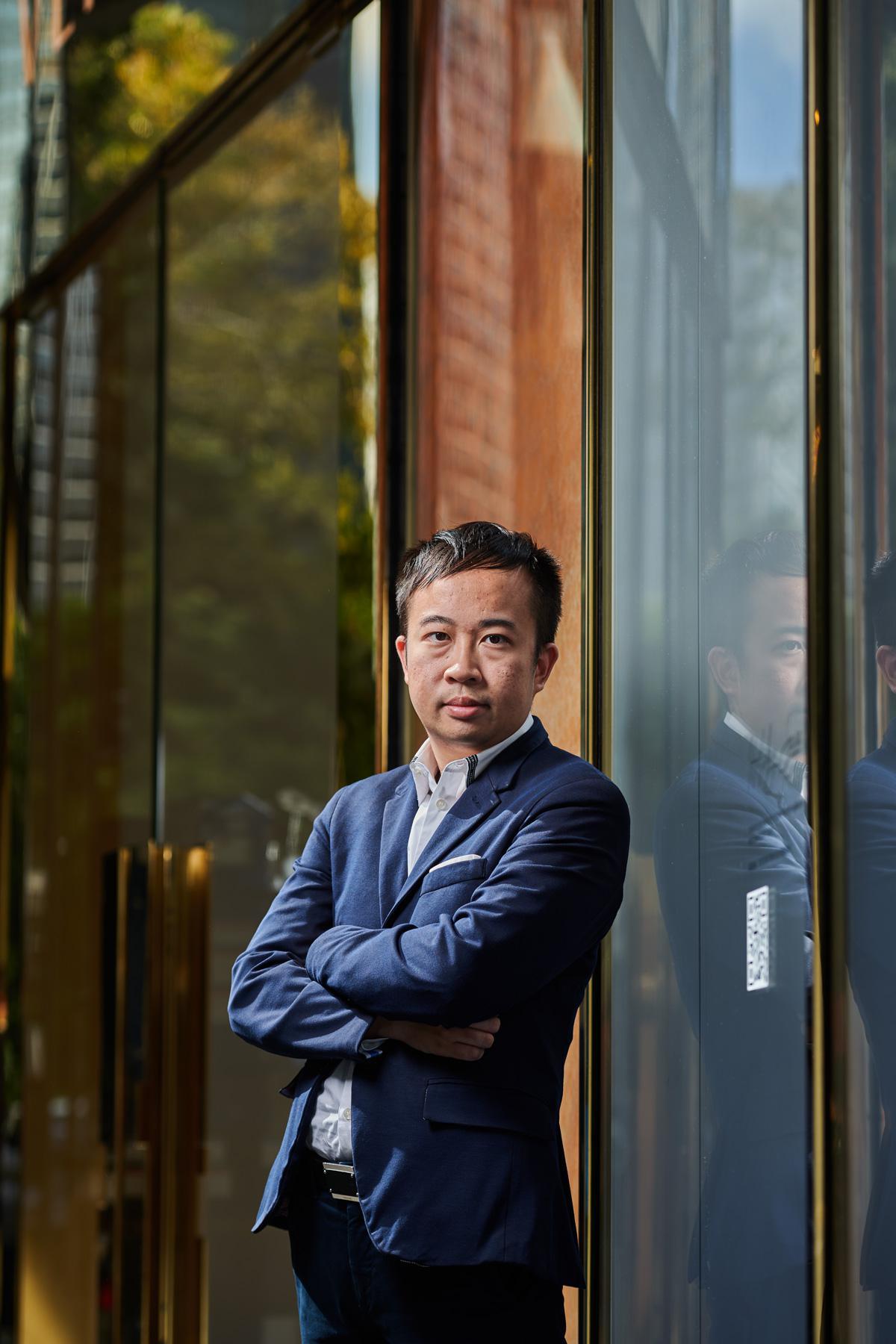 Leung switched to working in the business sector after working in audit for seven years at EY.
"This gives me a great sense of responsibility. I'm not only responsible for how [young people] can develop themselves in Versace, but also for their accounting careers."
Path to luxury
For Leung, deciding what course to take at university was easy. He liked working with numbers and envisaged himself being a professional in the future. He graduated from Hong Kong Polytechnic University with an accounting degree and quickly kick-started his career at EY. "The firm was attractive to me because of its learning platform for young accountants. It has a so-called EY University, which is like the learning department of EY and provides different kinds of training for young accountants," he says. "They collaborated with external tutors and organized training to help us prepare for the Qualification Programme (QP) examination. They also organized continuing professional development courses, from auditing skills to taxation."
With a bit of luck, he says, he became an Institute member during his first year at EY. "It was lucky that I managed to complete the QP. The first few years were tough because we had to handle the examination and the auditors. Fashion auditors also have peak seasons. We needed to follow-up on work," he remembers.
These days, he is enjoying learning about the issues facing fashion and retailers, such as the challenges of adopting a digital mindset to cater to customers. "Every fashion house wants to increase their market share, and one of the quickest ways to do that is to accelerate e-commerce development. But for luxury retail, e-commerce is still a question mark," he says. "If a brand co-operates with third-party e-commerce platforms in China that are multi-brand, that luxury and unique shopping experience may be affected because it is less flexible than having a website with customized content and merchandising. But at the same time, it is challenging nowadays to drive traffic to your mono-brand e-commerce website to shop unless you invest heavily in advertising."
One solution for brands is to develop an omnichannel strategy, he notes. "That means if the customer shops online we would also attract them to go to our physical stores to get other products, and they can still have that luxury customer experience," he says. "Things in fashion keep changing. We need to engage and facilitate the market. I think everyone in luxury retail is trying to find the best business model for this situation."
Leung is now also balancing the fast-paced fashion world with playtimes. "I'm a father of a 19-month baby boy. On the weekends, me and my family go to playgroup or go to parks to play," he says. "I also love cooking, especially for my son. He's quite picky these days so I have to think of a variety of meals to cook to increase his appetite. I'm good at multitasking, like all accountants."
The views expressed in this article reflect solely Leung's personal opinions and do not represent the opinion of Versace Asia Pacific.
Vincent Leung is an Authorized Supervisor (AS), under the Institute's Authorized Supervisor Scheme, whereby members registered as ASs train prospective members. More details about this scheme and how to apply for it can be found on the Institute's website.