To Deniz Güven, Hong Kong is ideal ground for a virtual bank to flourish and succeed. The combination of its high Internet speeds, status as an international and resilient finance centre, and its digitally-savvy, always-on population – who embrace convenience and saving money while consuming – has propelled the city to the upper echelon of virtual banking hubs within the region. "Smart banking is important – it's the future of Hong Kong," says Güven, Chief Executive Officer of Mox Bank. 
Indeed, Hong Kong has been pushing for change in the banking sector in recent years. In 2017, the Hong Kong Monetary Authority (HKMA) launched initiatives to begin a "new era of smart banking" by promoting innovation and the application of fintech. One of these was the introduction of new virtual banking licenses for non-traditional financial services providers to enter the banking sector without branches. The HKMA believes that "the development of virtual banks will promote fintech and innovation in Hong Kong and offer a new kind of customer experience. Virtual banks will also promote financial inclusion as they normally target the retail segment, including small- and medium-sized enterprises," according to its website. Mox Bank, created by Standard Chartered in partnership with Hong Kong Telecom (HKT), PCCW, and Trip.com, was one of eight banks granted licenses in 2019.
Mox Bank began its service to the general public in September 2020. Since then, it has signed up about 150,000 customers in 10 months. The COVID-19 pandemic, Güven notes, has been somewhat serendipitous for virtual banks, as it further necessitated a contact-free banking experience. "COVID-19 has presented an opportunity for people to adopt digital services at both the business and customer level," he says.
Still under a year old, Güven appreciates how quickly both the bank and its user base have grown in that short time. "Though it's only been 10 months, more than HK$5.5 billion has been deposited in our virtual bank," he says, adding that the company is working hard to sign up 200,000 customers by the end of the year.
Team and app building
Güven, who was born and raised in Istanbul, Turkey, arrived in Hong Kong in 2018 and took on the role of CEO that same year. Keeping customers happy, all while ensuring the growth of a diverse and talented team and bank, comprises a large part of his role. "My day usually involves solving problems – it could be internal or customer-related ones. I wake up quite early, and the first thing I look at in the morning are the comments on our app on the App Store and Google Play Store – this all happens before I wash my face," says Güven. When he reaches the office in Quarry Bay, he would look through online discussion forums to understand and note down any issues that customers may have experienced while using the banking app, and then use that feedback for future developments. "If the comments are in Cantonese, I'll ask my team to translate them for me."
Güven also has to attend meetings throughout the day. "But," he notes, "if there are serious customer queries or concerns to address, I would postpone a meeting to focus on solving them. This is how I operate."
Hiring the right people and growing his team were challenging at the beginning, says Güven. "We essentially built the team from scratch, so we needed to find the right talent – people with the right knowledge, skills and expertise that we could build upon. I remember starting with two or three people," he recalls. "We now have people who work in compliance, technology, risk, product, customer services, marketing and finance departments."
He also strives to have a diverse and inclusive team at the company. "My main mission is to make sure everyone – regardless of where they are from – is given the chance to work and grow alongside people from all over the world. This creates a knowledgeable talent base," says Güven. "Luckily in Hong Kong, there's a lot of talent. Right now, we have around 190 members of staff from 26 different countries."
With the team on board, came the challenge of building the bank's app. During the initial research and design stage, Güven identified factors such as tedious paperwork, long queues and waiting times as potential pain points that customers still experience when opening traditional bank accounts. With this in mind, Güven knew the sign-up process would be a deal-breaker for potential users. "Two years ago, I spoke to my team and asked them: 'Can we onboard a customer in Hong Kong within three minutes?' And today, our customers are able to do just that with our app." The team designed the sign-up process to require as few steps as possible, and also made sure Mox cards are mailed to new customers within a week of registration.
Güven also works with his team to anticipate any potential risks that would come with launching and operating a virtual bank. This involves adhering to local and international cybersecurity regulations, as it is critical that customers view Mox as a trusted partner when depositing and keeping large sums in their bank. For example, in Hong Kong, virtual banks have to conduct independent assessments of their cybersecurity risks with reference to the HKMA's Cybersecurity Fortification Initiative (CFI). "We are a licensed bank in Hong Kong, so that puts us in the trust business," says Güven.
"We are fully committed to following the rules and guidelines of the CFI, including the Cyber Resilience Assessment Framework, Professional Development Programme and the Cyber Intelligence Sharing Platform – all these standards are applicable to Mox. Before we completed any independent assessments, we made sure we were correctly following all requirements from the HKMA, such as the CFI, the Supervisory Policy Manual and relevant circulars," he notes, adding that the company relies on using cloud technology as opposed to physical servers for increased security and scalability. It also has a "device binding" feature within its app. "This ensures that other users can't just sign into your Mox account using another mobile device. Not every virtual bank implements this feature."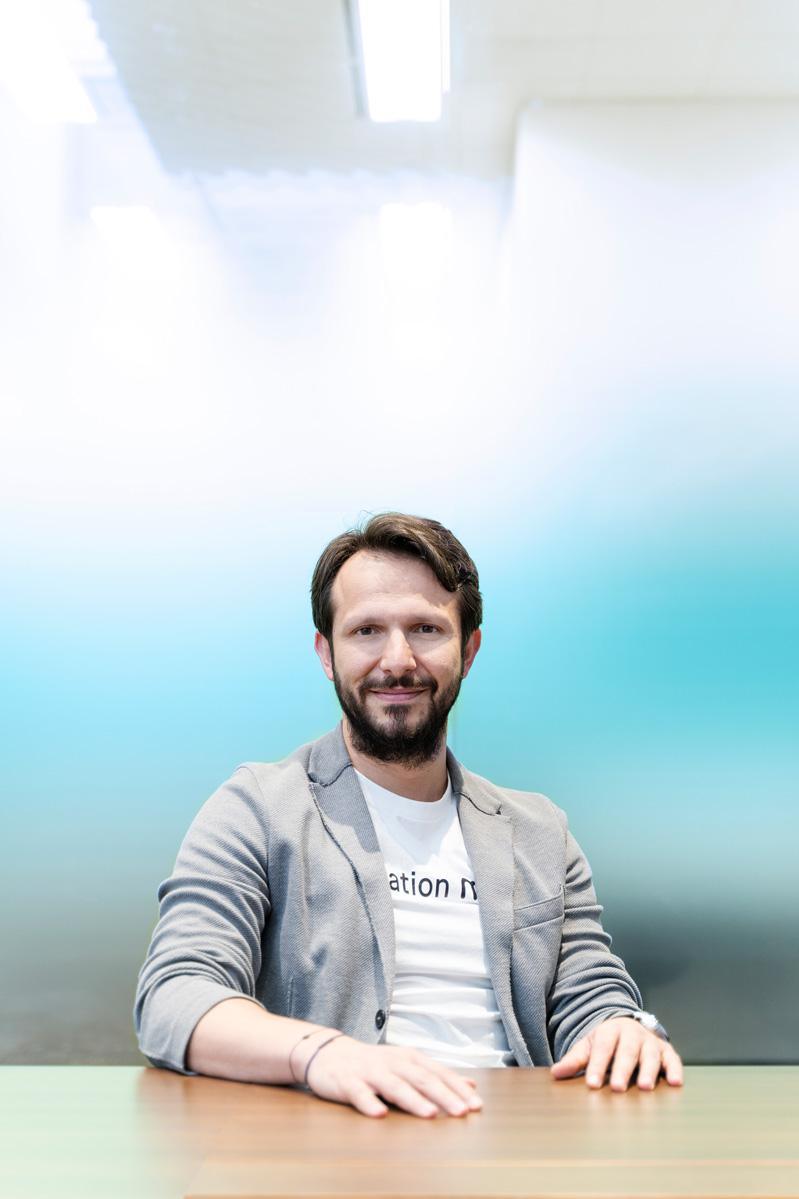 At Mox Bank, Deniz Güven is in charge of its team of more than 190 people, overseeing risks and meeting customers' needs.
"Two years ago, I spoke to my team and asked them: 'Can we onboard a customer in Hong Kong within three minutes?' And today, our customers are able to do just that with our app."
Continued growth
Mox Bank also offers its customers cash rebates or "CashBack" on their spending at its partner merchants across the city, which includes Foodpanda, McDonald's, Circle K convenience stores. With HKT Autopay Switch, their customers can also conveniently switch to paying their HKT bills with Mox Credit to receive a 5 percent CashBack. In April, Mox Bank was the first virtual bank in Hong Kong to launch Mox Credit, which provides customers with the benefits of a regular credit card without the need for a separate card. Mox also introduced a smart new feature called "Flip" on its app, which allows customers to switch between spending from their Mox debit account and Mox credit account using the same Mox card and same card number. Customers can also withdraw money at selected ATMs using their Mox card, track their spending on the app, while earning daily interest.
Another key differentiator between Mox Bank and other virtual banks in the city, is its partnership with its joint venture partners, HKT, PCCW and Trip.com. HKT and PCCW are telecommunications companies that serve over four million residents in Hong Kong. "It's not just about banking, but creating a service in our app along with our partners. This is part of our growth strategy."
This convenience, coupled with the app's ease of use and company's service offerings, has helped Mox to reach out to a wide age range of users, according to Güven. "Many people who don't understand virtual banks too well may think we only target Gen X, Gen Y and Gen Z customers. We do have a lot of young customers, but the average age of our customers is around 35. Our oldest user is over 90 years old," he says, while pointing at his T-shirt, which reads "Generation Mox" and reflects the bank's diverse customer base. "Generation Mox is ageless – it doesn't matter if you're 18 or 80. As a virtual bank, as long as we can understand our customers' needs and meet them, we're able to attract different age clusters."
The rapid growth of virtual banks such as Mox Bank, Güven adds, can be attributed to how they can serve underserved customers, or those who are unable to meet the monetary income requirements set out by traditional banks. "Some big banks focus on a wide range of customers, but their services may be quite limited," explains Güven.
According to the HKMA's 2018 Guideline on Authorization of Virtual Banks, virtual banks cannot impose minimum account balance requirements nor levy low-balance fees on customers. The lack of reliance on physical ATMs or branches also means that any individual who has a smartphone and an existing bank account is able to open a virtual bank account, securely pay bills and transfer money to friends and relatives from their account on the virtual bank app. "Virtual banks are able to include and help this underserved segment of the economy," he adds. The customer experience and reward schemes that virtual banks offer, combined with Hong Kong's smartphone-equipped population, also make the city a prime spot for virtual banks to capture what has long been an underserved segment, according to Branching Off: The Outlook for Hong Kong's Virtual Banks, a 2021 study conducted by consulting company Quinlan & Associates.
Güven says Hong Kong's status as an international finance centre and the HKMA's push for the development of virtual banks have helped to propel the rapid growth of Mox Bank and other virtual banks, and will continue to do so in the years to come. Hong Kong's eight virtual banks currently put it ahead of the curve within Asia Pacific, but more countries are looking to catch up. Singapore awarded four digital banking licenses in December 2020, with the four expected to commence operations in 2022. Malaysia is also expected to issue five licenses next year, after receiving 29 applications during a six-month application period, which came to an end late last month. The Philippines central bank granted two more virtual banking licenses this month, bringing the total number of licenses to three, while Taiwan also granted three licenses in 2019, with the first one to launch in January.
As Güven notes, the city's close proximity to Mainland China also provides ample opportunity for virtual banks to grow. "Digital banks are going to be a connector," he explains. "They can create interesting levels of interoperability for different businesses, such as ones located in Hong Kong and ones in the Greater Bay Area (GBA). The potential is huge, and I believe Mox Bank can play a big part in this."
The bank, Güven adds, hopes to tap into the Mainland, but it wants to be certain it can appeal to that demographic before doing so. "Our business model is tailored specifically for Hong Kong right now, but the GBA is going to be especially important for us going forward," he says. "There are a lot of factors to take into account, such as the needs of those living there, which are different from those here."
Building from experience 
Güven has spent his two-decade-long career working in different banks. He was senior managing director, global head of digital at Standard Chartered Bank in Singapore, before coming to Hong Kong. "In my role in Singapore, I was in charge of 33 different markets and Hong Kong was one of them. That role helped me to understand each market and the needs of different customers," he says. "I had the opportunity to test different banking platforms and solutions and engage with customers from different markets. It was an important learning experience for me."
While Güven was visiting Hong Kong in 2017, the HKMA announced they would help virtual banks by revamping rules to make it more attractive for financial firms to offer services without a physical presence, as part of a series of smart banking initiatives to help the city capture the opportunities created by the convergence of banking and technology. "Hearing about that made me want to come here. That was the turning point," he adds.
Before Standard Chartered, Güven was at Garanti BBVA, one of Turkey's largest private banks. He was there for more than 10 years, working his way up to senior vice president and head of digital. He helped to launch Garanti BBVA's first virtual bank during his time there in 2013. "My experience at Garanti was like 'virtual banking school' for me," he says. "We created a different brand, used different technologies, hired new people and came up with a new value proposition to attract our target audience in Turkey. So in fact, Mox Bank is the second digital bank that I've built from the ground up in my career."
Being in charge of creating a new service offering was a valuable learning experience. "It was like running a different company under Garanti BBVA. They gave me the chance to run the business, which also meant overseeing its profit and loss statements and balance sheets. I also managed its marketing, customer acquisition and engagement, integration of fintech through collaborations, and the business itself."
The experience ultimately gave him the knowledge and confidence to build and develop Mox Bank. "It was an opportunity to learn from mistakes – I made a few at the start," he remembers. "I learned that it's not about giving a lot of products to customers, but instead, creating services for them through the virtual bank. When we launched the bank, I thought we could launch and evolve products, introduce them to customers and expect them to consume them – but it doesn't work like that. I learned that the hard way, but through that, I was able to create Mox."
Güven also worked at HSBC A.Ş., the group's Turkish subsidiary, and other banks such as QNB Finansbank and Demirbank before Garanti BBVA.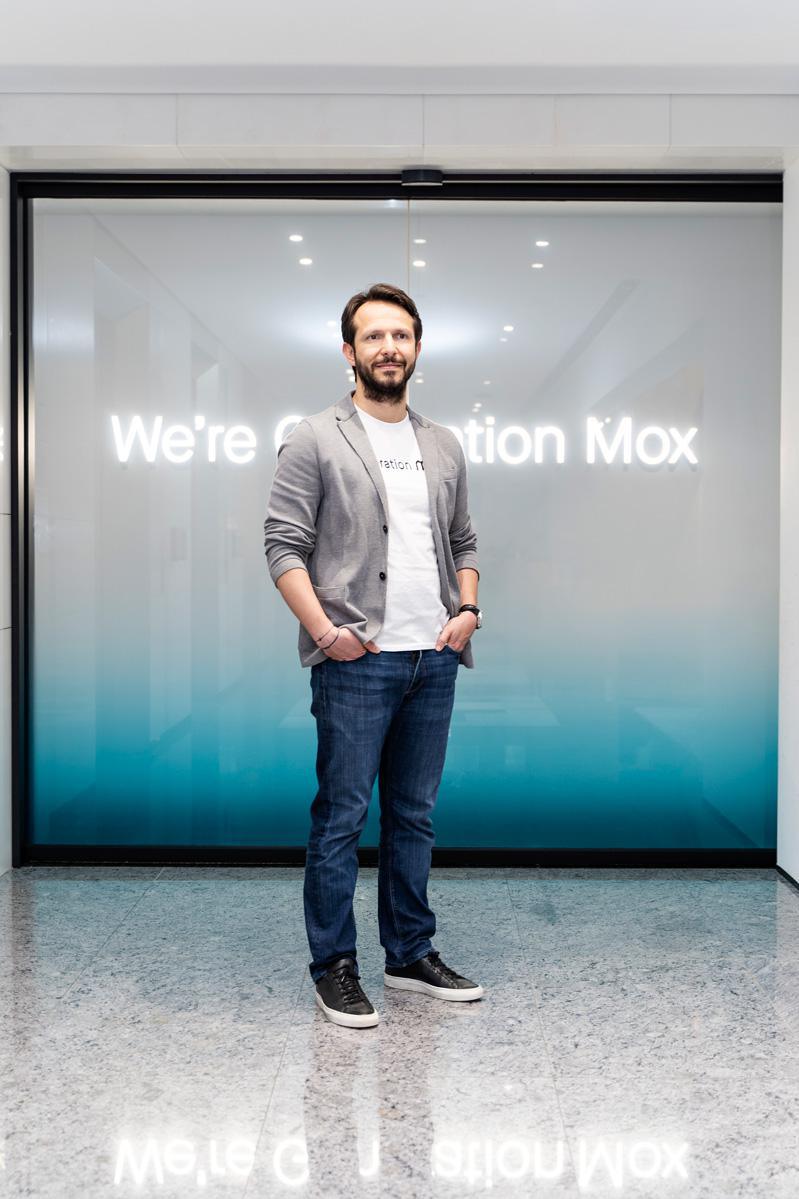 Born and raised in Istanbul, Turkey, Güven came to Hong Kong in 2018. Before that, he worked at Standard Chartered Bank in Singapore and other banks in Turkey including Garanti BBVA, one of the country's largest private banks.
"Digital banks are going to be a connector. They can create interesting levels of interoperability for different businesses, such as ones located in Hong Kong and ones in the Greater Bay Area."
A hunger for knowledge
Güven advises young professionals to remain humble and to learn as much as they can in every company they work for. "They should view their organizations as a library. Whether you work in a traditional or challenger organization, you have vast opportunities to learn from each one. So I try to talk to as many different people and learn as much as I can through them. As a CEO, I still enjoy doing that," he says.
He adds that accountants who wish to step into the field can add value with their financial expertise, but will be expected to have a solid understanding of digital banking. "Virtual banks have different growth strategies and, thus, scale up differently, so CPAs must have a good understanding of these new business models." he says.
Indeed, Güven, who is a keen reader and writer himself, stresses the importance of taking time out to read. "Every weekend, I try to read up on something new and different. This helps me to build upon my multidisciplinary knowledge," he says, adding how this helps him stay up-to-date and helps him in his everyday role. "I've been reading a lot on cloud technologies, regulatory technology, as well as legal tech. I'm also reading a lot about risk – you can't just shift all responsibility to the person in charge, so I'm always learning about how to control and balance opportunities and risks within the organization. It doesn't matter if you're a CEO, board member or chairman of a company – never lose your hunger for knowledge."
Though Güven misses his hometown of Istanbul and his friends there, he appreciates what living and working in Hong Kong has to offer. "At the beginning, I used to miss the food from back home, but there are a lot of Mediterranean restaurants and options here," he says. "I consider Hong Kong to be my second home. I love this place and I love our office too – luckily, we're still allowed to show up and work at an office and collaborate with each other in person. I really enjoy it."
Güven is especially proud to play a key part in the growth of Mox Bank, and its role in driving the city's burgeoning digital banking segment. "It's a bit like taking care of a baby," he laughs. "The fact that we've built something from scratch brings a lot of satisfaction – it's really something priceless."
Combined total deposits of all the virtual banks as of December 2020 was around HK$15.8 billion, representing 0.11 percent of total deposits across the entire banking sector. ZA Bank and Mox Bank had the largest share of deposits among all virtual banks at 38 percent and 33 percent, respectively, according to KPMG's Hong Kong Banking Report 2021.