When Keith Chan took on the role of managing the finances for McDonald's Hong Kong, he had no idea that his palate would also be put to the test. "Before we decide to release a new product, I have the chance to taste it first, which is a real fun part of the job," says Chan, Vice President and Chief Financial Officer of McDonald's Hong Kong and a member of the Hong Kong Institute of CPAs. According to Chan, only a handful out of almost a hundred items make it through to the menu after rounds of taste tests. "After the menu team tries them, the company leaders have a chance to taste the food as if we were customers and provide feedback before it is launched to the public. It's all top secret," he adds. "Not even my wife or friends know what we are launching next."
But this taste test is an important aspect of Chan's role as CFO. Tasked with determining how much to invest in each product launched, Chan needs to be sure that the food appeals to local consumers. "We invest a lot of money in food and packaging, supply chain and marketing for new menu items, so we have to make sure the food tastes good and will sell," he says.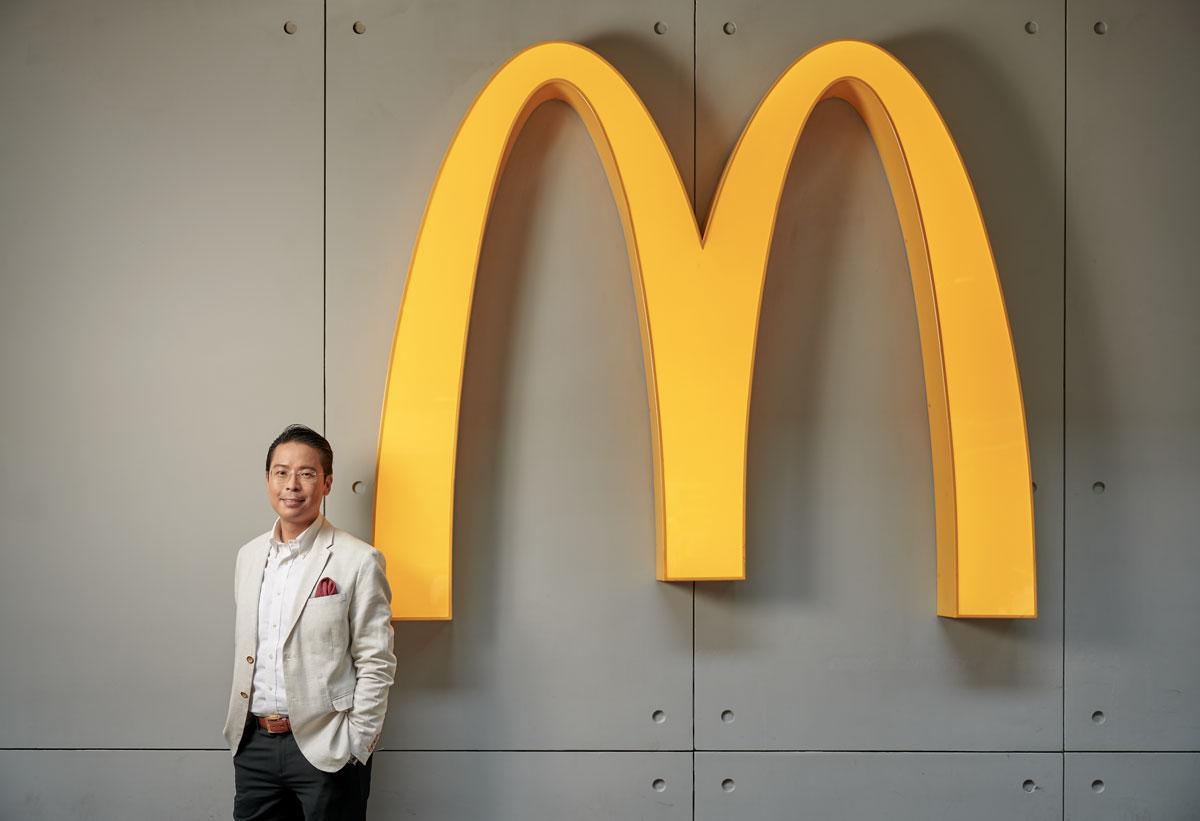 Chan is also in charge of ensuring the profitable growth and financial stability of McDonald's, Hong Kong's biggest and most notable fast food chain. The world-famous restaurant first opened its doors in 1948 in San Bernardino, California, selling cheeseburgers, chips, apple pies, fizzy drinks and coffee. It made its way to Hong Kong almost 30 years later, opening its first restaurant in Causeway Bay in 1975. Over the last 45 years, the restaurant has expanded ubiquitously and can be found in every district of the city and on a number of the outlying islands.
The company expanded its product line and services in the last two decades, such as by incorporating a cafe-style section to its restaurants called McCafé, introducing salads to its menus and offering 24-hour service and home delivery. In 2015, McDonald's added more new offerings to its menu, such as its "Create Your Taste" option, allowing customers to create a made-to-order custom burger, and opened a McDonald's flagship outlet in Admiralty, its first concept restaurant in the city. Two years later, it introduced new self-service kiosks, giving customers the choice of ordering their food through touchscreen menus. Every day, McDonald's over 15,000 employees and more than 240 restaurants serve over a million customers.
Return on innovation 
Since Chan joined McDonald's Hong Kong in mid-2017, he has spearheaded the company's digital transformation. He is passionate about this area, and was focused on helping the company to introduce self-service kiosks in its restaurants when he first joined. "If you go to any McDonald's restaurant right now, you'll notice that they look much different from before and have a more high-tech, contemporary look," he says. "Each of these self-service kiosks required a large amount of investment. We also had to restructure each restaurant to accommodate them and ensure they would not only be convenient, but easy for customers to use."
The large investments were necessary, according to Chan. "McDonald's has been in Hong Kong for more than 45 years, so of course, there's a formula to its success. But the question is how to take it from good to great," Chan says. "The world is quickly changing, and we need to continuously innovate for growth. We simply can't keep doing what we've been doing all along."
"The world is quickly changing, and we need to continuously innovate for growth. We simply can't keep doing what we've been doing all along."
He recognized the need to introduce digital self-service stations for consumers, especially younger, tech-savvy customers. It allows patrons to order food, customize their orders to their liking and save time by skipping queues. Chan adds how the company does not want to limit its customers to the self-service kiosks. "Our customers have choices," he says. "We've provided them with the convenience of ordering through kiosks, but we've also chosen to keep regular counters open for those who prefer ordering the 'traditional' way. It's not just young customers who are ordering through kiosks as well. We found that more mature customers are using them too. We make sure we have digital ambassadors near the kiosks to help anybody to order food." In light of the COVID-19 pandemic, Chan notes how all restaurants have beefed up their cleaning measures to ensure proper hygiene. "All self-service kiosks are sanitized hourly by our employees and there is also hand sanitizer in all of our restaurants for our customers to use," he says. "As alternatives, customers can also use our mobile app to order food for pick-up at our restaurants or have it delivered to their homes."
In 2018, the company launched their mobile app "McDonald's Hong Kong," which allows customers to place orders. Chan led the tech team to help develop and improve the app. He also guides his finance team to track key performance indicators of the app to ensure they meet their targets. "People can simply order before heading to a McDonald's restaurant, check in when they arrive and then pick up their food," he says. In 2019, McDonald's teamed up with mobile payment platforms, allowing customers to pay for their food using payment apps. "Right now, we have over 10 different cashless channels in our stores. These digital transformation initiatives are all about providing our customers with convenience and making sure they are satisfied," adds Chan.
The company also uses data visualization tools to look at data generated from each digital and mobile food purchase. This helps the restaurant to decide on which items are more popular and which ones to promote in the future. "We've enhanced our internal restaurant management systems too," adds Chan. "Now, we have more data on what our customers order most. We also have data visualization tools for our management to see real-time data on sales, products, gross profit margins and labour percentage costs. These all create actionable insights."
These insights enabled McDonald's to quickly come up with strategies, especially in dealing with disruptions caused by COVID-19. On 25 March, McDonald's Hong Kong cut its dine-in services after 6:00 p.m. for two weeks in a bid to curb the spread of the coronavirus. To encourage customers to opt for the take-out services in the evenings, the restaurant reintroduced previously popular items such as burgers with doubled meat portions, but at discounted prices. The new data visualization tools help to pinpoint which items sold better previously and assist management in deciding last-minute menu changes, according to Chan. "The insights we attain from these tools help us to stay agile. They're particularly crucial in a volatile situation such as now," he says, adding why CFOs and financial controllers should aim to make use of these technologies as part of their work to create value. "CFOs are cross-functional leaders who have a holistic perspective of the business. These tools provide us with speed to insights, allowing management at all levels as well as our stakeholders to make better decisions anytime and anywhere."
Chan says each digital change was driven by the aim of securing future growth. "I needed to evaluate each business case and allocate the resources to ensure our return on investment is tracked. This helped us to ensure every dollar spent on digital transformation would ultimately bring long-term benefit." As Chan notes, the changes have paid off, with cashless orders and orders made through the self-service kiosks and app accounting for more than 40 percent of their sales. "It's clear that people find these new methods efficient," he says.
"Every decision we make is important because we are so close to the community. It's easy for us to see the impact in a short period of time." He adds why the careful allocation of resources is crucial. "This is a key role for me as a CFO. Together, with the chief executive officer and leadership team, we guide, offer our perspective and make sure resources are used well to benefit customers, employees and stakeholders. Each decision has to have its risk calculated and be carefully invested with the best return in order to create value for all."
Keith Chan is in charge of McDonald's digital transformation initiatives. He helped to bring the self-service kiosks to the city's restaurants in 2017.

Super-sized success 
Chan set his goal of becoming a CFO at a major corporation early on. Throughout his extensive career, he has balanced his time between work, attaining a master of business administration, and studying various executive programmes to enrich his skill set. After graduating from the Chinese University of Hong Kong with a Bachelor of Economics degree in 1994, he began his career as a group management trainee at John Swire & Sons (H.K.) Ltd. "I was lucky enough to be picked out of thousands of job applicants who applied for that management trainee programme. I'm happy to be Swire management trainee alumni," Chan says.
He then joined Philip Morris International in 1996 as a senior analyst in charge of strategic planning. "This was my first taste working in a consumer products company," Chan says. "Back then they owned Miller Beer, Kraft and tobacco brands. I learned how they conducted consumer research, performed product analysis and profit management. We did very long-range planning." Chan also attained his MBA in 1999 from the Hong Kong University of Science and Technology Business School. The following year, he also completed the International Management Programme offered by the University of California, Los Angeles.
He then went to work at property developer Sun Hung Kai Properties in 2000 as a manager in charge of group financial control and business development. "My three years there gave me the exposure in managing a company's treasury, investor relations and mergers and acquisitions," Chan says, adding that he attained his CPA qualification in 2003. In 2004, he joined The Walt Disney Company at the Walt Disneyland Park and Resort Division as a senior manager of pricing and revenue management. He spent five years there, and the first year and a half working hard to ensure the successful opening of Hong Kong Disneyland, something Chan remembers fondly. "I was among the first 100 members of the opening team, which then grew to several thousand afterwards. Witnessing and being part of a grand opening of a park of that scale only happens once in your lifetime."
In 2008, Chan was approached by a headhunter for a role at automotive manufacturing company Volkswagen AG. With the German-based group eager to bring their own operations to Hong Kong, Chan was asked to be its finance director. "I would say this was my first taste of a CFO role," he says. "I was one of the first employees to join Volkswagen Group Hong Kong. Starting from scratch, we built and grew market share by about three to four times just within a few years." During his seven years at the company, Chan helped to integrate car brands such as Audi, Bentley and Volkswagen into Volkswagen Group's platform and introduced many customer-loved car models to the Hong Kong market. "By the time I left, there were more than 500 employees working for this multi-billion dollar business in Hong Kong." Chan also led the digital transformation journey at Volkswagen and was later awarded the CFO Innovation Awards' "CFO of the Year: Excellence in Technology Innovation" by CFO Innovation in 2014. He also found time to complete the Asian International Executive Programme offered by Institut Européen d'Administration des Affaires, a graduate business school.
Chan then brought his expertise to take on the role of CFO, Asia Pacific, of Danish international shipping company Maersk Line. It is the largest container shipping company in the world by both fleet size and cargo capacity. "Maersk moves a lot of containers in and out of Asia, and Asia Pacific is the largest region for the company because of the sheer amount of goods being produced in Mainland China, Japan, South Korea, Southeast Asia and Australia," Chan says, adding how he was in charge of performance management and overseeing the commercial operations of this shipping giant involving 18 countries within Asia Pacific. The role required frequent travelling, with Chan overseeing a team of over 400 finance professionals across the region. "It was my first time working in a business-to-business company, and I got to meet a lot of different people around the world. This was truly a role with exceptional global exposure."
During his tenure, Chan completed the Global Leadership Programme offered by Switzerland's International Institute for Management Development Business School in 2016 and a course on disruptive strategy by Harvard Business School in 2017. He enrolled himself in these courses for both professional and personal reasons. "I've always been a curious person," he says. "All the inspiration and knowledge acquired through these programmes have equipped me with the skills to coach my team, benefit each company that I have worked for, and lead to concrete improvements."
As much as he enjoyed the role, the extensive travelling began to take a toll on Chan's personal life. "It felt like I was travelling around the world for work all the time. Seventy percent of my time was spent up in the air," Chan says. "And when I was back in Hong Kong, I was also busy, so that meant limited family time." The turning point was when his only daughter, who was seven at the time, came up to him and asked him to spend more time at home. "My daughter said, 'Daddy, you've already missed my annual school play twice. And when I turn eight next year, there will be no more annual performances.'"
Chan knew he needed a change in pace. "After getting a taste of everything, you start to realize what is most important to you. In my case, that was family," he says. "Once you miss your kid's early childhood, they might not spend as much time with you, especially when they grow up and become teenagers. So I had to make a deliberate choice. I had to prioritize my family."
With his current role at McDonald's, Chan is happy to be at home more – and even happier he made it to his daughter's school play in 2017. "At McDonald's, it's a very solid on-the-ground job," he says. "And by working at a global food and beverage leader, I treasure having the scale to make an impact on society."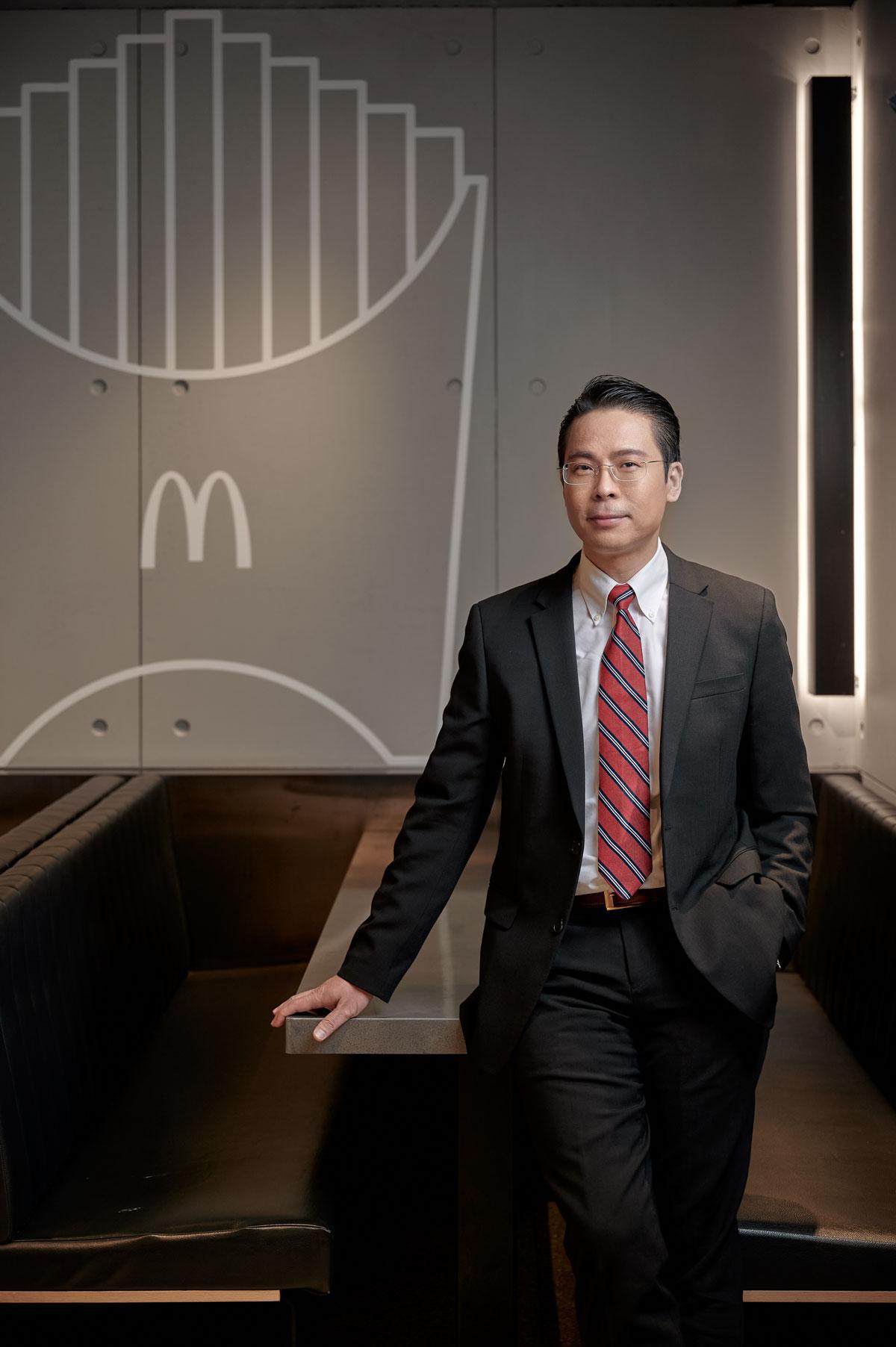 Chan graduated from the Chinese University of Hong Kong in 1994 with a Bachelor's degree in Economics.
Seeds to sow as CFO 
Chan believes becoming a CFO took a combination of his education, diverse work experience, qualifications and passion to make a difference. "As a CFO, you need to understand every little detail and look at the big picture at the same time," he says, adding how his CPA qualification also provided a solid foundation. "The CPA qualification is one of the most well-known qualifications. You'll receive some of the best all-round training. In addition to providing me with the knowledge in financial management, it equipped me with analytical skills and made me a quick learner."
To succeed in life, Chan says one must set a well-defined goal. He advises professionals to get into the habit of establishing long-term thinking. "Don't just think about your next role – think about the one after too," says Chan. "The earlier you set your goals, the quicker you'll reach them." For example, for a financial controller to become a CFO, he says that one needs a commercial mindset and the ability to anticipate trends. "To me, CFO also stands for 'chief future officer.' We need to be able to tell a story using fact-based analysis. We are also a sounding board for the CEO and leadership team, so it's important for us to have a wide perspective of the overall business instead of only being a functional expert."
"Don't just think about your next role – think about the one after too."
When Chan isn't working, he enjoys spending quality time with his family and friends, and also pursuing his love for photography. "I've been doing photography since I was in university – I started with a 35mm film camera and have since used various digital cameras," he says. "I enjoy taking photos from different perspectives and angles."
Chan also admits he can't resist the urge to enjoy a hearty McDonald's breakfast meal whenever he gets the chance. "My favourite item is the hotcakes," he laughs. "They're made fresh every morning and I feel great the whole day after eating them."
He looks forward to helping McDonald's flourish in the city, while also mentoring staff. "I deeply look forward to growing further with the company, and using my skills and experiences to coach the next generations of leaders," Chan says. "It's always rewarding to see people grow."
---
McDonald's opened its doors in Hong Kong in 1975, operating its first ever branch on Paterson Street, Causeway Bay. It sold its one millionth hamburger just two years later.