After more than four decades in the aviation industry, Algernon Yau was ready to call it a day. But an opportunity to steer the growth of a promising new airline proved too tempting for him to turn down – even during the most difficult time for air travel. The COVID-19 pandemic has forced airlines to ground planes, cut jobs and rely on government bailouts. To Yau, it was a once-in-a-lifetime chance to put his years of experience in the aviation world to the ultimate test. "When I heard about this opportunity, I thought: 'why not give myself a chance to help set up an airline in Hong Kong?'" says Yau, Chief Executive Officer of Greater Bay Airlines. "It is a very challenging task, especially now – but it's one worth doing."
Hong Kong-based Greater Bay Airlines was established in 2019 to serve as a crucial link between the city and the Guangdong-Hong Kong-Macao Greater Bay Area (GBA), utilizing Hong Kong's unique position as an international aviation hub to enable passengers to travel to and from the GBA, the Mainland, and overseas destinations. The airline company obtained its air transport license from the Air Transport Licensing Authority (ATLA) of Hong Kong in February, allowing it to operate in 104 destinations, of which 48 are in Mainland China. "This is one of the most important milestones of a new airline entrant in Hong Kong," Yau notes. "With the license granted by ATLA, it means that we can expedite preparation and confirmation of other regulatory requirements and launch preparations, such as applying for operating permits from different aviation authorities of places we plan to fly to. We are excited to bring a new airline choice to customers."
The airline currently has two Boeing 737-800 airplanes in service, with the third one being tentatively scheduled to arrive in July.
Hope on the horizon
Yau, who took on the role in January 2021, admits that growing the fledgling airline during such turbulent times has been anything but easy. With limited flights to and from the city's airport, the role has required navigating ever-changing restrictions, hard work, and optimism to keep the ball rolling. "It wasn't a case of jumping into a well-established airline to run the show; we had to start from scratch," Yau says, noting that a key aspect of his role has been developing the business, all while keeping a close eye on the evolving situation.
This makes each day a challenge, he adds. "My day usually involves closely engaging with my team to ensure that we are doing things right, and that we are on schedule with our timelines. We've also been busy engaging with the government to ensure we receive our licenses. These tasks aren't easy," he says. The start-up carrier has also been focused on recruiting the right talent and ensuring that their aircraft are ready in time for when operations fully commence, Yau mentions.
With plans to launch its maiden flight this summer, Yau is optimistic that the city's recently-relaxed travel restrictions will present less barriers for travellers hoping to fly back to Hong Kong, or for booking their next trip out. On 1 April, the Hong Kong government lifted flight bans on nine countries – Australia, Canada, France, India, Nepal, Pakistan, the Philippines, United Kingdom and the United States – and halved hotel quarantine for fully vaccinated residents to seven days. "This is all good news," Yau says. "With the lifting of the flight bans, Hong Kong citizens can now return to the city, and airlines in Hong Kong will be able to resume operations to those nine countries, and vice versa. The shorter quarantine will also make it easier for people to travel outside of Hong Kong to other places and then return afterwards." Yau adds there is a benefit to launching an airline during a pandemic. "There is increased demand as travellers are yearning for the opportunity to fly again," he says.
The airline's unique service offerings, Yau believes, will provide them with an advantage over other full-service or low-cost carriers. "What we are trying to offer our customers is a choice," he highlights. "Travellers should have the choice to decide what they want onboard each flight, rather than just the airline providing each one with the same options without asking."
He explains that the airline will offer travellers the flexibility to choose their in-flight food and entertainment options beforehand. "Some passengers may not want to watch a movie during a flight, but the in-flight entertainment is already included in the price of the ticket," says Yau. "So they're essentially paying for something that they may not want to enjoy; they're forced to pay for it because it's already included in the final calculation of the fare price. They may also be promised with a meal onboard but say they don't eat pork, beef or seafood, or they don't want to eat at all, but that's what you're offered anyway. So we want to provide more flexibility to our customers. This way, they'll be able to enjoy what they want to enjoy onboard each flight. It's not a completely new concept, but comparatively new in Hong Kong."
"There is increased demand as travellers are yearning for the opportunity to fly again."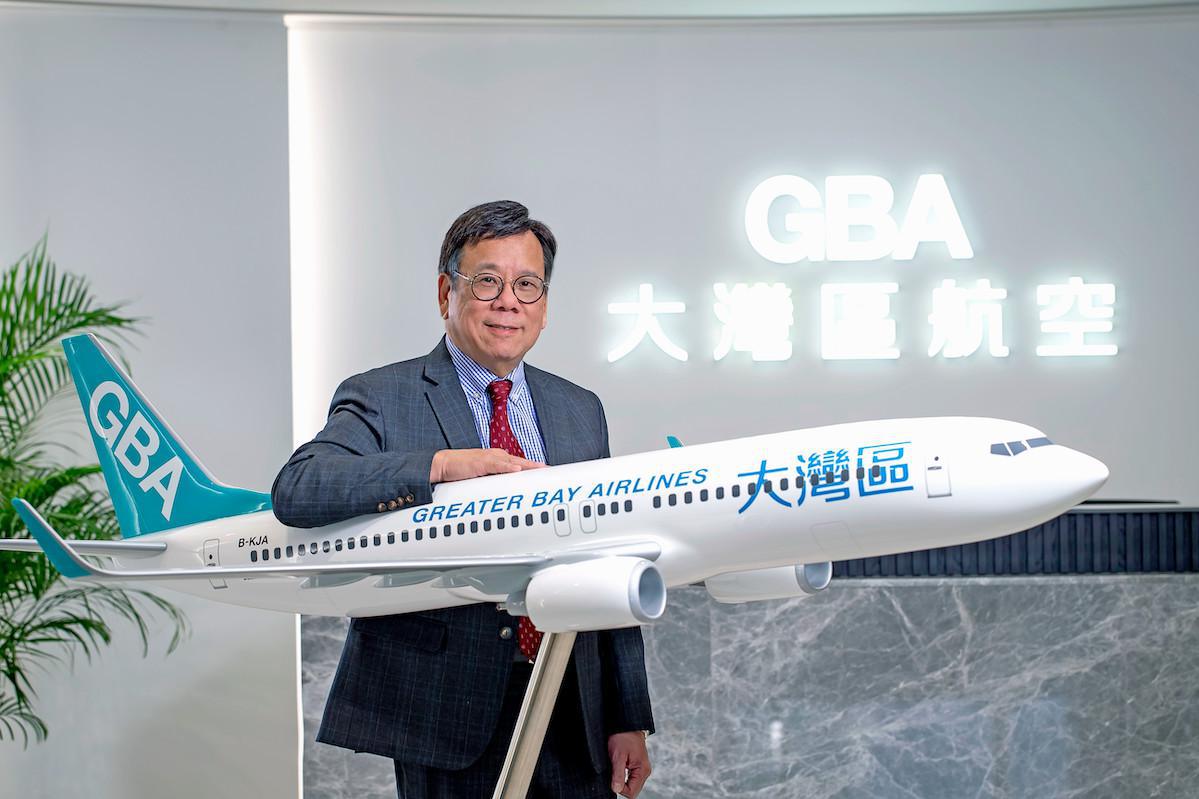 As Chief Executive Officer of Greater Bay Airlines, Algernon Yau is in charge of managing the growth of the start-up carrier. He is currently working closely with his team to ensure all is in line for the airline's maiden flight this summer.
Greater growth
With its service offerings, Yau says Greater Bay Airlines is especially eager to tap into demand from travellers both young and old living in the GBA once the borders open. This is due to the abundance of opportunities for business within the area. According to a report released by the Hong Kong Trade Development Council in July 2021, the GBA, with its population of 86 million, netted a combined gross domestic product (GDP) of US$1.67 trillion in 2020. The GBA is made up of nine cities – Guangzhou, Shenzhen, Zhuhai, Foshan, Dongguan, Zhongshan, Jiangmen, Huizhou, and Zhaoqing – and the two special administrative regions of Hong Kong and Macau. Despite being approximately 56,000 square kilometres in size or roughly 1 percent of the Mainland's total area, it contributes to 12 percent of the nation's GDP, which by 2030, is expected to exceed US$4.6 trillion.
"Much of the middle class in the GBA travel around twice a year for holiday, so the potential within the GBA is huge," says Yau. "We are equally looking forward to serving Hong Kong travellers and providing them with a unique product in the market."
Yau is well aware that current COVID-19 outbreaks in both Hong Kong and Mainland China may pose challenges for both the company and the city's aviation sector, but says the airline has its sights set on long-term growth and is currently focused on fulfilling regulatory requirements necessary to commence its operations. "If an airline chooses to operate in any location, it needs to go through certain procedures to attain clearance," he says. "I believe that by the time we've received permission to operate in other countries, Mainland China will have opened their borders with some countries."
Hong Kong's unique position within the GBA and status as both an international financial and aviation hub, Yau stresses, provide the city with distinct benefits that are key to maintaining the city's attractiveness to businesses. "The city's strong infrastructure, legal system, abundance of talent and expertise, and connection to the Mainland will always provide us with an advantage," he says. "Hong Kong is extremely important in the development of the GBA because of our proximity to Mainland China, and it's important that we maintain this connection."
Future developments, such as the implementation of a "joint checkpoint" arrangement at Hong Kong International Airport, will also aid growth. Similar to the co-location arrangement employed at the Guangzhou-Shenzhen-Hong Kong Express Rail Link, a joint checkpoint arrangement would make it possible for travellers to avoid an additional check at the airport, and for any airport located in Mainland China to open direct flight routes with Hong Kong, allowing passengers to easily travel to and from the Mainland. "This will enhance our position as an aviation hub and bring passengers directly into the Mainland, especially the GBA," says Yau. "It will also allow people living in the GBA to easily enter and travel around Hong Kong due to the convenience of having one clearance point in between two places."
Yau is also looking forward to the launch of the Three Runway System at Hong Kong International Airport in 2024. The 3,800-metre long runway will be used solely for arrivals to the city and will see the expansion of Terminal 2, with the aim of serving an addition of 30 million passengers each year. "There are still many flights out of Hong Kong to many destinations – this will only increase with the opening of the Third Runway."
He notes that factors such as the city's rising vaccination rate, availability of new medication to treat COVID-19, and more countries scrapping quarantine for inbound travellers, will also aid the aviation industry's recovery. "Travel is resuming step by step. Airlines are resuming their services in other countries and a lot of people are looking forward to travelling again after being locked down for so long. Some are flying to see family, while others are doing business, and some just need a holiday," Yau points out. "Hong Kong is slowly resuming as well. All these factors are making it possible for the sector to recover."
"Hong Kong is extremely important in the development of the GBA… it's important that we maintain this connection."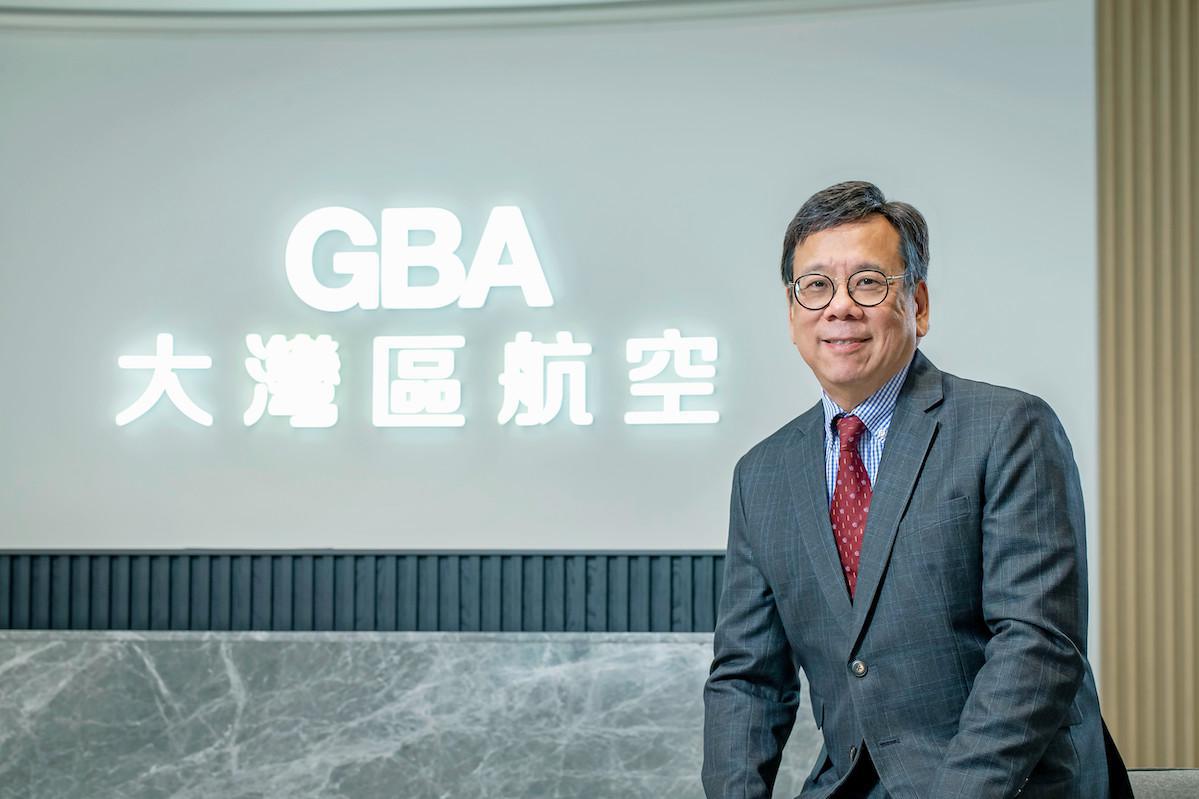 Before taking on the role of CEO in January 2021, Yau was CEO of Cathay Dragon from 2014 to 2020 and has held various executive roles at Cathay Pacific Airways Ltd. He has spent the last four decades in the aviation industry.
Aiming high
Yau never thought he would spend his entire career in the aviation industry, but is glad he did, and attributes his foray into the sector as a stroke of luck. "When I graduated, I simply needed a job. I applied for many jobs in the market at the time, so I'd say it was luck," he laughs. Yau began his career at Jardine Airways in 1978 as a traffic officer, before it merged with multinational conglomerate Jardine Matheson to become Jardine Airport Services Limited in 1988. The experience gave him a solid grounding on the ins and outs of airport operations, including passenger and cargo services. "This role provided me with a very deep understanding of the aviation industry, which sparked my interest," he says, noting how the job also brought him to London for training under British Airways. He joined Cathay Pacific Airways Ltd. in 1982 and was in charge of tasks such as in airport operations, handling ramps, and aircraft weight and balance.
Yau's almost four decades at the airline has seen him work his way up and taking on various executive roles. Prior to his current role, he served as CEO of Cathay Pacific's regional airline Cathay Dragon from 2014 up until it shut down in 2020 amid the travel slowdown. "There, I learned about the dynamics of aviation and how to increase efficiency and productivity within the business. I had the opportunity to manage a large and talented team," he says.
Yau also took on the role of Executive Director of Cathay Pacific from 2015 to 2017 and the role of chairman and director of other Cathay Pacific subsidiaries, including Cathay Pacific Services Limited, Hong Kong Airport Services Limited, Cathay Pacific Catering Services (Hong Kong) Limited, Vogue Laundry Service Limited, and Shanghai International Airport Ground Service Limited. "My time at Cathay provided me with a lot of opportunities to progress, and to eventually become the CEO of Cathay Dragon. It's a very well-organized company and gave me a lot of global exposure during my time," Yau says. "They have a united leadership team with a firm and well-defined vision."
Yau's time at Cathay also taught him the importance of setting goals and having a hunger for knowledge – traits that he says young people should have. "Young professionals have to set targets. They need to have a vision for their careers, adopt a lifetime learning attitude, and spend as much time as they can understanding business," he says. "I'm always learning new things from different people and from work. Don't just focus on what you're good at; try to focus on other areas and gain a bit of knowledge in everything."
Yau also believes in hard work, and still maintains the same unwavering work ethic and level of curiosity he brought to the industry as a young fresh graduate. "I've always been a very hardworking person – and still am to this day," notes Yau. "Most of my colleagues worked eight hours a day, but I remember spending 15 hours at the office back then. In a way, I still work like this."
Outside of the office, Yau stays physically fit by playing badminton and mentally sharp by playing Chinese chess. "I try to beat the computer, which can be very tough, but it's a great way to stay sharp as I get older," he says. Yau is also a dog enthusiast and unwinds by spending quality time with his Shiba Inu.
Yau and his team at Greater Bay Airlines are working steadfastly to ensure all is in line for the first passenger plane to take off, and to set the stage for future growth. "I look forward to creating a new product for travellers in Hong Kong and for those in the destinations we're flying to. It's important we establish a good name for our airline and ensure it is ready for future employees to join," says Yau. "I am looking forward to seeing our aircraft taking to the skies and soaring high."
---
Greater Bay Airlines, which was established in 2019, obtained its air transport license from the Air Transport Licensing Authority of Hong Kong in February, allowing it to operate in 104 destinations, of which 48 are in Mainland China.