The moment Acube Ma CPA, Senior Accountant at Transtec International Ltd., stepped out of the interview room, he just knew that his interview was a success, and that he had been accepted to study a master's degree at Hong Kong Baptist University. One of the first people he called to share the good news was Marcus Ng CPA, Finance Director at A.S. Watson Retail (HK) Ltd. – Fortress, and his mentor. All the mock interviews they had done together had paid off.
Indeed, having Ng as a mentor helped Ma improve his soft skills. They both met through the Hong Kong Institute of CPAs' long-running Mentorship Programme, which was established to enable experienced Institute members like Ng to pass on knowledge, experience and advice to aspiring CPAs. Institute members with more than seven years of post-qualification experience can apply as mentors, and members with less than seven years of post-qualification experience can apply as mentees. The mentor-mentee relationship is never one-way, and requires both parties to be engaged and proactive in the process to gain the most out of the programme.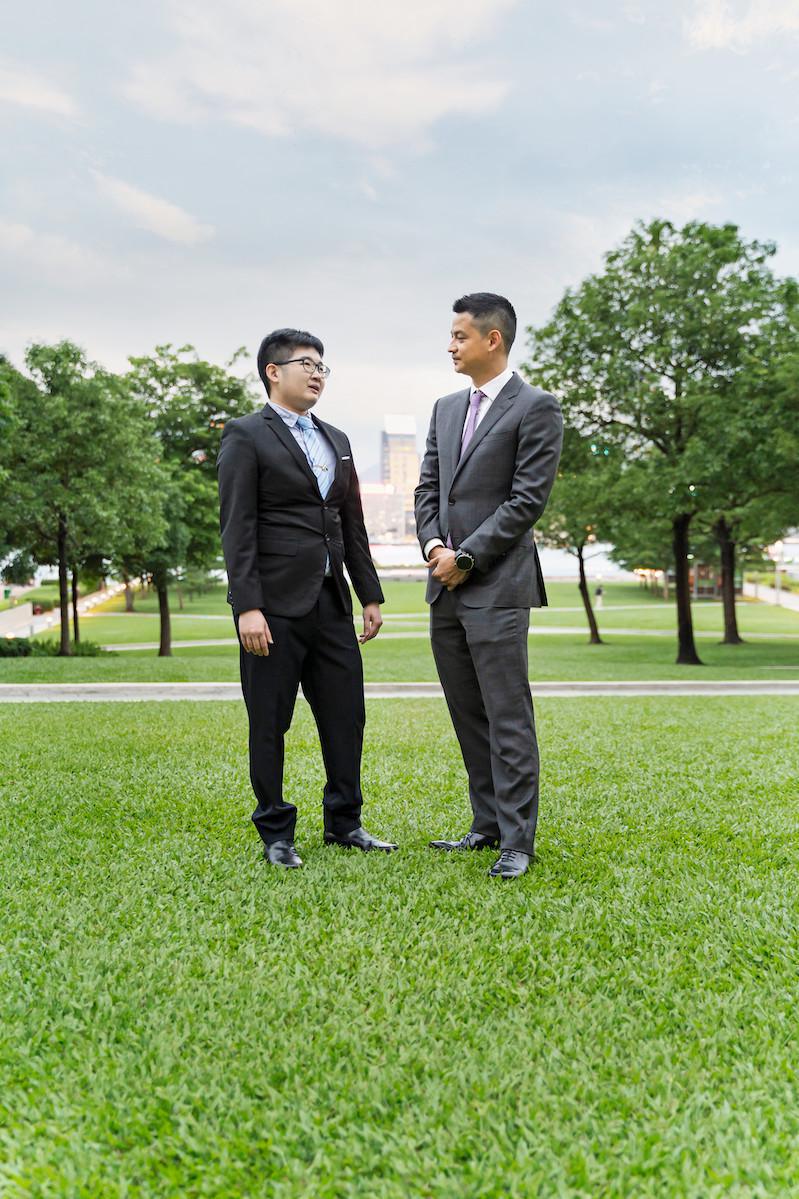 Acube Ma CPA (left), Senior Accountant at Transtec International Ltd., and his mentor Marcus Ng CPA, Finance Director at A.S. Watson Retail (HK) Ltd. – Fortress..
Ng says he applied to be a mentor to close the gap between young individuals and older professionals. "It is the responsibility of my generation to pass on knowledge and experience to our successors," he says. While he was training younger team members in his workplace as a team leader, he often heard his peers complaining about younger teammates. "Others my age might blame the younger generation for not listening. But I say we did not give them enough time to catch up. I believe I can be the bridge for younger generations of CPAs like Ma to connect with the older generations," Ng explains.
In May 2021, Ma applied to study for a postgraduate degree in counselling at Hong Kong Baptist University, as he has always enjoyed helping others. However, he struggled when it came to interviews, whether it was for university or a job. To help Ma with this, Ng brought in the expertise of his wife, who has worked in the property industry for many years. During meetings with Ma, the couple conducted mock interviews. "I took in the advice they gave from the first mock interview and applied it in the second mock interview," Ma explains. "The mock interviews felt so real – some of their questions caught me off guard. By splitting the mock interviews into two rounds, I felt like I could learn and improve upon my first attempt."​​
"I believe I can be the bridge for younger generations of CPAs like Ma to connect with the older generations."
After taking in the advice from the couple as well as his own hard work, Ma secured the degree and was offered a fellowship. "I believe that by studying counselling, I can grow as a person, and can help others. One day I hope to be a voluntary counsellor in my spare time and help the less fortunate," Ma says. "I believe Ng and his wife's advice will help me again in my future interviews for higher positions as I continue to sharpen my accounting knowledge along the way."
After a year of mentoring, Ng also learned from Ma, and his go-getting nature. In pursuing his postgraduate degree after work, Ma moved into a smaller apartment close to the university to shorten his commute between home, work, and school. Inspired by Ma's determination, Ng decided to put more effort into pursuing his hobby. He joined a football team last year and started to train six days per week after work. "He reminded me of the importance of planning ahead and making moves strategically. When you look at his achievements, you will know he left no room for errors," Ng explains.
The bond between mentor and mentee will last a lifetime, notes Ng. "I would have invited him to my wedding in March if it was not because of the restrictions!" He says. "Nevertheless, my wife and I will attend his graduation ceremony. We made a pact to show up at each other's important moments in life. It is no longer just a mentorship, but a strong friendship."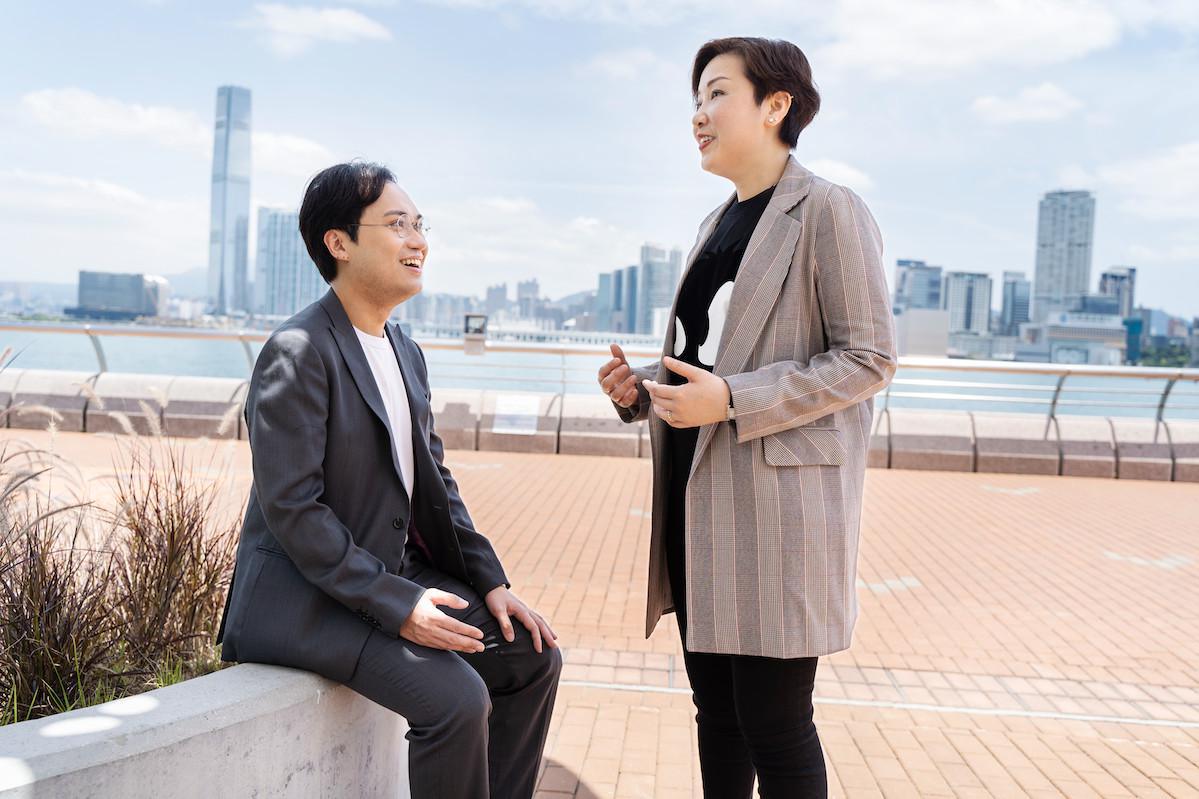 Joe Chan CPA (left), Project Manager at EVE Asia Co., Ltd., and his mentor, Brigitte Choi CPA, Regional CFO, APAC at Kering Eyewear.
Newbie leader
Right after qualifying as a CPA, Joe Chan left the company where he worked for six years and became the Project Manager at EVE Asia Co., Ltd., a listed company producing renewable lithium batteries. Moving to this new role, as Chan soon found out, brought with it an increase in workload and responsibility. In search of guidance, Chan joined the Mentorship Programme and was paired with Brigitte Choi CPA, Regional Chief Financial Officer, APAC at Kering Eyewear, a luxury eyewear company.
Despite their hectic working schedules, and not being to meet in person due to pandemic-related concerns, they arranged meetings online after work every three weeks for an hour or two. "Building trust was challenging initially, but with consistent effort from both sides, we made it work," Choi adds. "Funnily enough, we have yet to meet each other in person. Whenever we found a time to meet in person, there would be a COVID outbreak, leading us to cancel the meeting."
At the beginning, it took Chan a few months to open up to his mentor. "I was a bit nervous before the online meeting, and I was expecting a typical middle-aged mentor. Instead, Choi was an energetic and outgoing lady," he says. "During the first few meetings, she asked me different questions and got me to talk to her. It took me a while to finally realize that having her as my mentor meant I can talk about subjects that I normally can't discuss with my manager, or subjects that my peers cannot advise on," Chan adds.
For the first 10 years of Chan's career, he worked as a consultant in Mainland China and mostly worked alone. "I used to have only one subordinate at most. So, the workload, working culture and being a leader managing a team of five were completely new to me. The pressure of fitting in at a new job and being a leader was overwhelming. Yet, things started to change, thanks to Choi," Chan explains. ​
"The key to mentoring is not to impose yourself on your mentee. I am just here to show ways and options to approach the same problem."
Coincidentally, Choi experienced a similar situation during the early stages of her career. "I understand his struggles. Though he and I have faced similar challenges, I believe it is much harder for Chan due to the pandemic. The support he can get is limited, as the pandemic has affected his company's operations," Choi explains, "I am glad that my experience can help him. The key to mentoring is not to impose yourself on your mentee. I am just here to show ways and options to approach the same problem, and it is up to him to decide whether to follow or not."
Choi recommended tools and approaches to tackle the situation swiftly. "She taught me to build trust among my teammates and use tools to know my teammates better. Strategies and tools such as the strength, weakness, opportunity and threat analysis, proposed by Albert Humphrey in the 1960s, and drafting a project roadmap, are ways for me to quantify and measure progress." Chan explains. "Clearly illustrating the map to success and knowing my teammates more will strengthen bonds and form trust. These will be important skills to master if I want to be the director of an accounting firm by the time I am in my 40s."
For Choi, staying in touch with the younger generation is key for her own continuous learning. "From his smile and energetic tone, I knew Chan broke through his obstacles in just a very short period of time. It is always satisfying to a mentor, and I have learned how to better communicate with my younger teammates by helping him," Choi adds. "I am confident that the younger generation are professional and proficient in their work. Yet, communication and leadership skills will be areas they have to work on. I hope more experienced CPAs can join the Mentorship Programme and share their experience with the younger generations. It is a win-win situation."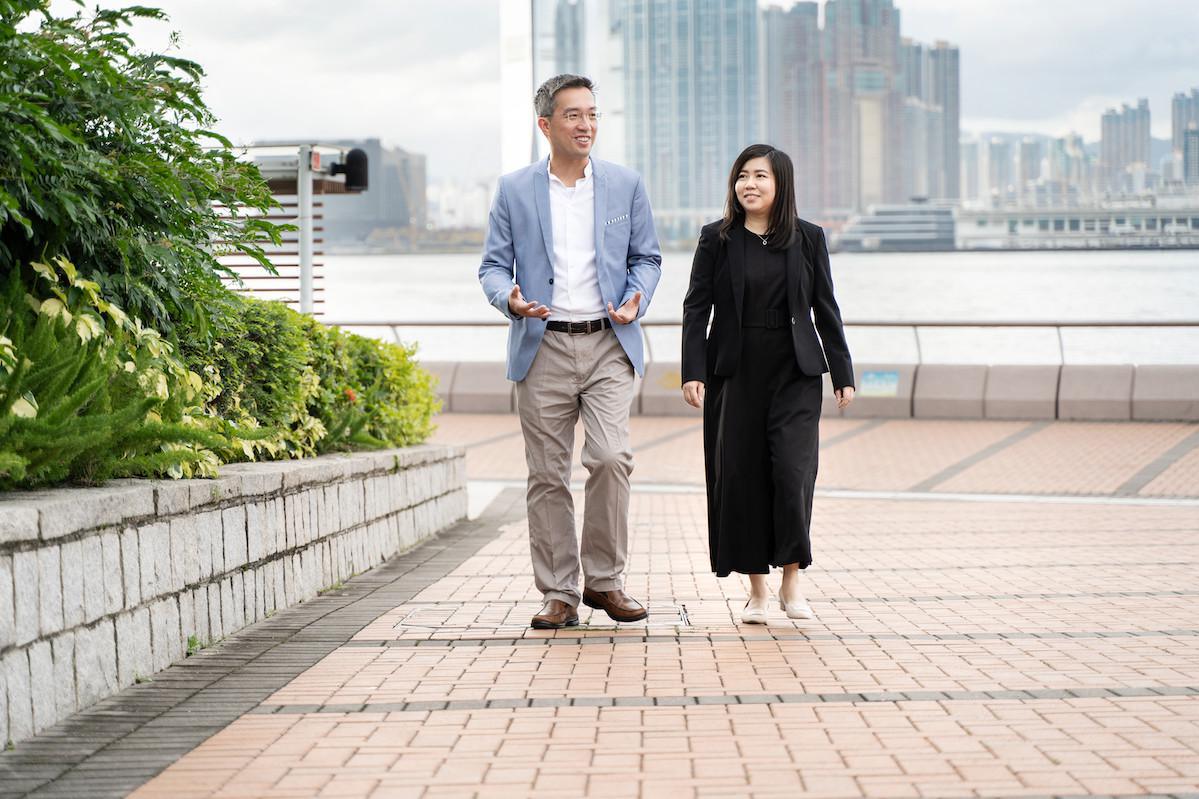 Crystal Wu CPA (right), an Accountant in Group Finance at PCCW Ltd., and her mentor, Dennis Ip FCPA, CFO at Impro Precision Industries.
Finding direction
2020 was the year Crystal Wu CPA entered another new chapter in her life. Not only did she fulfil her dream of becoming a CPA, she also welcomed a second daughter into her family. At the end of that same year, she was searching for new job opportunities and further development in her career. Realizing that she was standing at a crossroads, she began to explore where she could find direction. "With the help of my mentor, I landed the best job possible at my current career stage. I left my former employer, knowing deep down there were things that I could develop in my career beyond accounting. My mentor helped make it clear to me that I wanted to be a leader," explains Wu, who is working as an Accountant in Group Finance at PCCW Ltd.
Her mentor, Dennis Ip FCPA, Chief Financial Officer at Impro Precision Industries, a Hong Kong-listed company specializing in precision manufacturing, has been a mentor in the programme since the beginning. He has helped more than 10 mentees through the programme. "The old passing on knowledge and experience to the young is a way to keep an industry's vitality and sustainability. I always consider being in a mentor-mentee relationship an investment instead of a burden," Ip adds. "Both parties will benefit from the experience if we stay open and engaged. The mentees and I have become close friends, and we talk daily. They work in different industries, and I can better understand society through talking to them."​
"My mentor helped make it clear to me that I wanted to be a leader."
Wu decided it was the right time to leave her role after three years, partly because her manager at the time, who she looked up to, had resigned. "During March and April last year, I was applying for jobs from companies in different industries such as media, investment companies and parental services. After every interview, I would share my experience with Ip and listen to his opinion on the prospects of both the company and the industry it belonged to. He would tell me what to expect and what I should be seeking during my time in the company."
Ip never had a mentor himself and relies on his more than 20 years of experience to impart advice. "The decision of staying at your old company or leaving will remain an issue for all employees, especially when you have been in the same working environment for three years or more. All I am offering is my experience and the information I gathered from my network. Ultimately, she will be the one calling the shots," says Ip. In late April 2021, Wu was offered her current position, allowing her to explore the field of management. Ip was glad after hearing her good news, but was not surprised. "She is an energetic and talented young mum with all the potential to become a successful accountant. I believe in her judgement," he explains.
A few months later, both Ip and Wu finally met in person for lunch. "We had only conversed through emails, text messages and phone calls, and never through a video call, but luckily that was never an issue," Wu adds. "Even though it was the first time we met, the conversations went so smoothly, as if we had known each other for a long time. We talked about parenting and work-life balance. You will be surprised by what you will learn during the Mentorship Programme. It definitely exceeded my initial expectations."
---
The Institute's Mentorship Programme offers aspiring CPAs the opportunity to learn from experienced members to develop their careers through consultation and experience sharing. Find out how to join the programme by visiting the "Mentorship Programme" page of the Institute's website.