RSCP championship winners six years in a row, the Institute's basketball team are a force to be reckoned with. The 17-strong squad of CPAs have their eyes set on gold again this year, and know it won't be easy. Members speak to Jeremy Chan on how to maintain their winning streak, the challenges they face and achieving balance in work and sport
Photography by Anthony Tung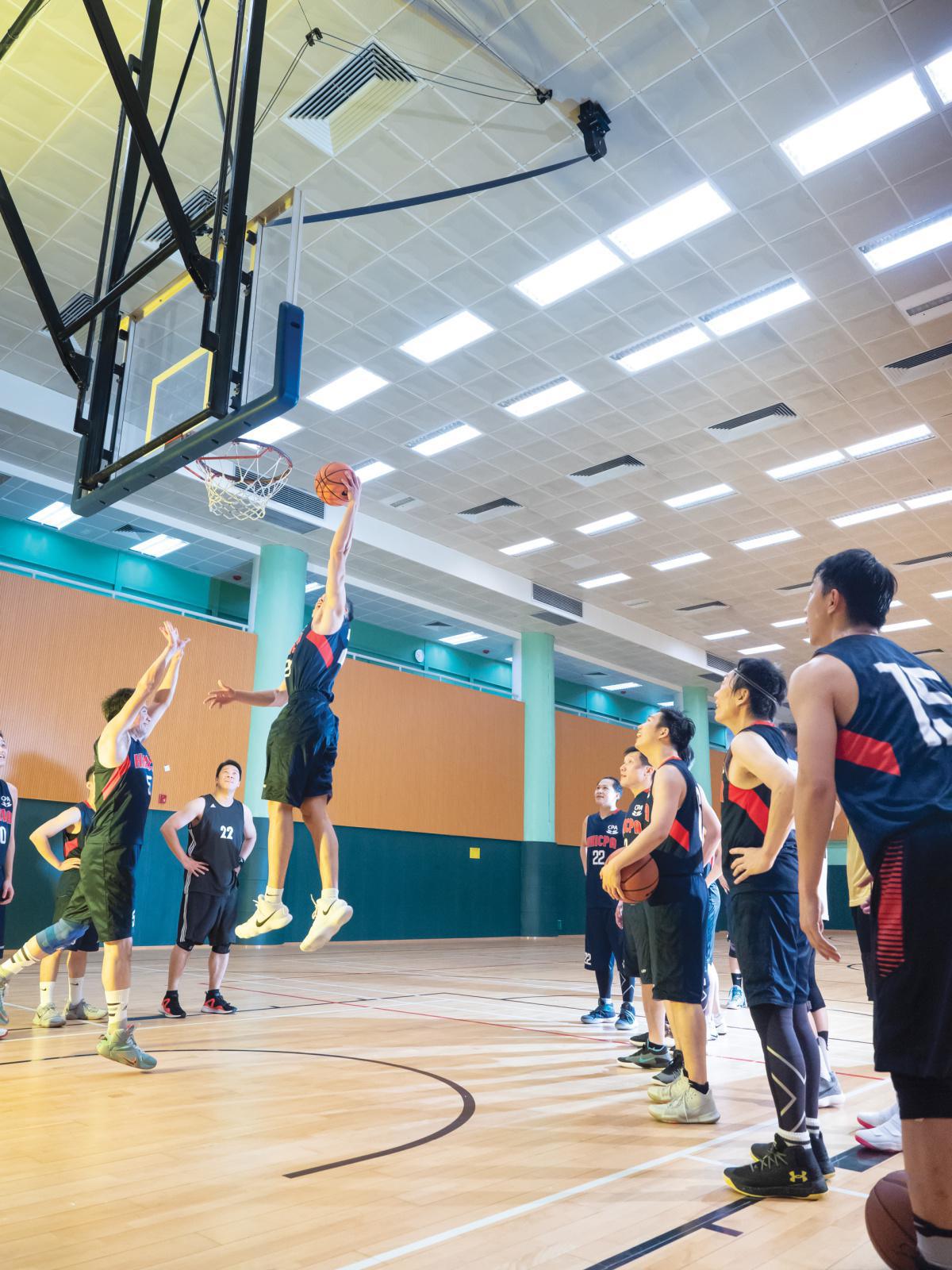 The team practices at Po On Road Sports Centre in Sham Shui Po
"The physiotherapist said I couldn't play basketball for eight weeks," says Kurkye Wong, Vice President of Argyle Street Management. "But after three weeks, I started playing anyway." After sustaining a high ankle sprain following a heavy fall during a training session in 2016, he was determined to return to the court as shooting guard. His strength, perseverance and commitment to the team isn't restricted to him alone.
"Everyone has their status outside the basketball court, but on the court, we are one team. We need to work with each other," says his twin brother, Foreky Wong, Senior Director of Corporate Finance at FTI Consulting. Both are shooting guards and have played for the team for six years. They joined for the same reasons – pure love for the sport.
Little did they know the team would become somewhat of an extended family for the twins, one that would meet twice a week to dribble, pass and score. Rounding up the troops is the role of Thomas Lau, the team convenor, who teaches financial accounting and taxation as a lecturer at the Open University. He joined after becoming a CPA in 2011 and dedicated his time outside of work to the team. In addition to securing venues for practice and daily administrative work, Lau provides support and encouragement, ensuring spirits stay high.
Walking the tightrope
"In 2016, we beat [the Hong Kong Institute of Surveyors] by a 16 point lead, but last year it was only a nine point lead – so that gap is closing," Lau says. Despite having faced yet defeated the Hong Kong Institute of Surveyors twice in the finals of the Recreation and Sports Club for Hong Kong Professional Bodies (RCSP) Basketball Tournament, the Institute basketball team says it was no easy win. "The surveyors team is made up of some tall guys, and once they go near a basket they can make the shot," says Foreky.
The team employs a defence technique, known as the "full court press" – a method used to intercept the opponent's ball during a pass. The players note the risks and rewards of the move. "We have two players marking the dribbler, which is a gamble, because the farthest player is unmarked, but this causes the dribbler to make a bad pass or mistake, so then we can grab the ball and go straight into offence. That's exactly how we beat the surveyors." "No other team in the tournament uses the full court press," adds Kurkye. Lau says "we're not scared, but there is pressure. We have to play fast."
"I still went into the court and played as much as I could. I forgot about the pain."
The players look back on their most memorable game – their first overseas tournament. They represented Hong Kong in the finals at the Integrity Cup Basketball Competition in Guangzhou, China in 2016. Involving 16 accounting associations' basketball teams from across Guangdong province, Hong Kong, and Macau, the semi-finals and finals took place across two weekends. The team fought their way through to the finals, to play against a team from Zhaoqing.
Foreky recalls the challenges the team faced. "Our strategy was to stop their players from passing the ball to their best guy." Lau adds: "Zhaoqing had a very tall and powerful player who could run, jump and dunk."
Despite the Institute basketball team trailing in the first and second quarter, they recouped their losses towards the end. "Luckily, we had one player similar in size who could guard him throughout the whole game," Foreky recalls. "In the third quarter, he was too tired and had to rest, so we caught up during that period." Lau mentions, "our coach could see which players were not performing their best and would order a substitution to moderate the pace of the game."
Kurkye, who was still injured from his fall, flew into Guangzhou to play in the finals. "This game meant a lot to me because I was travelling and injured," he says. "I still went into the court and played as much as I could. I forgot about the pain and it was like my leg was fine." After a hard fought game, the team were winners of the competition.
Learning from the best
The team attributes a large part of their success to their coach, Ricky Ng Chu-yip, an 11-time basketball championship winner who played for Hong Kong basketball teams in the 1980s and 1990s. He is a former player for Winling, a local team established in 1980s and Regal, winners of the Asian Basketball Championship's Cup in 1997. Regarded as a living legend among the team and local basketball players, Ng has spent the last decade coaching the Institute's basketball team.
"He was one of the top players in Hong Kong," Foreky says. He coaches them on new concepts of offence and defence, and introduced the team to "full court press."
In addition to coaching, Ng has greatly influenced them. "His encouragement and teachings have inspired us to foster one another," he says. "He really knows how a game should be played and how a player fits into a team, and the culture of the team is influenced by him," Lau says. "His philosophy is trust and harmony, which is in our blood now."
The team prepares for matches weeks or months in advance. "During training, we talk about the next game, our opponents, how their key players play and how we should play," says Kurkye.
Lau adds: "we are familiar with a few of our opponents as we have played against some of them before, so we have a particular strategy – for example, some teams have very good three-point shooters, which means we need to focus on defence."
"He really knows how a game should be played and how a player fits into a team, and the culture of the team is influenced by him."
Time won't wait
Securing a practice base is a challenge for Lau, and he commends the Institute for booking courts for the team. "The Institute has been really supportive," he says. "A few years ago, they were able to secure a fixed place for us to practice at Kwun Chung Sports Centre in Jordan – and because we practiced there every Thursday from 9-11 p.m., our team was born."
However, due to changes in the Leisure and Cultural Services Department's (LCSD) deposit policies in 2015, they were not able to regularly ensure a court. "That's a challenge now as we need to find courts – weekly." Booking through service providers such as the LCSD, they are able to secure courts around the city. Lau recalls being assigned a court in Siu Sai Wan, far eastern side of Hong Kong Island – and though far away, his teammates still arrived after work. "I must acknowledge my teammates' dedication and contribution to the team – they are very disciplined and full of passion. A few players who lived all the way in the New Territories still came to practice, and I really appreciate their attendance and effort – it really motivates me."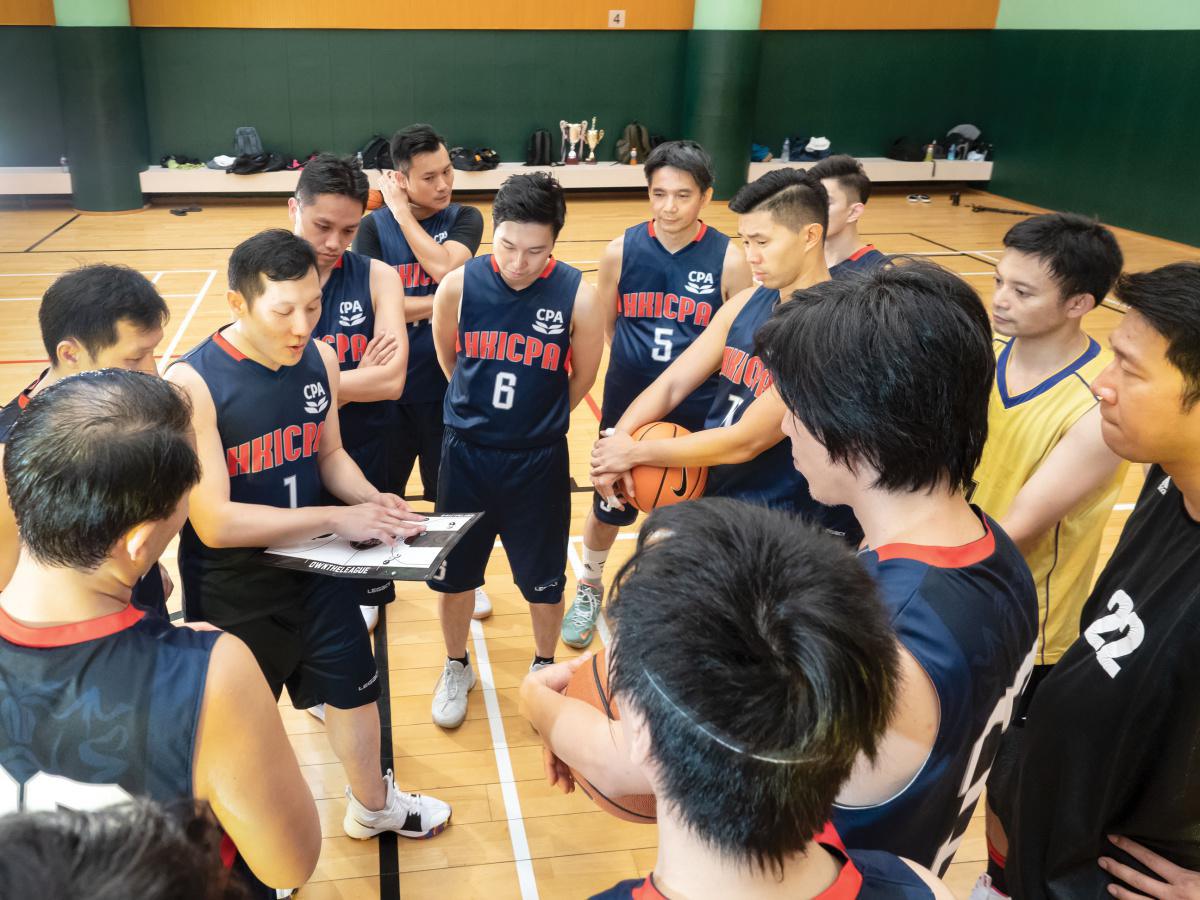 The team strategizes mid-training
Lau expresses admiration for the team's spirit and energy, aware most of them work long hours. Despite the lack of time, many of the players have methods when it comes to fitting in an intense training session after leaving the office. "When I get to work, I tend to not waste any time. I put all my effort into it and finish things. I free up time to play basketball – I usually get off at 8 or 8:30 p.m., so I'll grab something to eat in between, and start training at 9," Foreky says. "If I'm really busy, I'll work when I get home after training."
Kurkye adds, "I put in 100 percent at work. I work hard, I focus, I get things done. After work, we try to get the most out of the two hours of training as we don't want to waste time once we get there." As Foreky puts it: "it's all about how you allocate your own time. Everybody has 24 hours – what are you going to do with them?"
"When I get to work, I tend to not waste any time. I put all my effort into it and finish things. I free up time to play basketball."
One's true colours
Though the CPAs in the team work in various industries and hold different positions, on the court, what matters the most is the game. "We are one team and we need to work with each other," he says. The training grounds has also doubled as networking ground, providing a place for players to discuss basketball – and business. "Basketball is an icebreaker," Kurkye says. "It is really easy to start a conversation with people with the same interests." By networking with different individuals, all members were able to bond over basketball as well as work. "We are kind of a family that supports each other," he says. "People get to know your personality outside of work and on the court," Foreky adds. "I've met a lot of senior guys on the basketball court and gone out with them for lunch to talk about work opportunities."
Kurkye Wong (front row, third from left) Foreky Wong (front row, middle) Thomas Lau (front row, second from right)
"People get to know your personality outside of work and on the court."
The three players encourage interested CPAs who share their passion for basketball to join the team. "Everyone is very welcoming," says Foreky. "We don't expect people to commit on the first day, because when you join a team and mingle with people, it takes time, but as long as you can allocate time to training and we see you're a good player, we'll recruit you."
Lau encourages a healthy lifestyle. "Anybody can squeeze time out of the week for exercise – it will become a habit, and part of your life."
With the next RSCP Basketball Tournament scheduled for September, the pressure is on the team to bring home the gold again. Feeling unabated and determined to bring the winning streak to seven, the team are training hard to achieve that goal. "One for all, and all for one," says Lau. 
This year, the Institute's basketball team clinched its sixth consecutive championship in the Recreation and Sports Club for Hong Kong Professional Bodies Basketball Tournament. For more details on sports and recreational interest groups, visit www.hkicpa.org.hk.