Last month, Beyond Meat became the first plant-based meat company to go public, indicating growing consumer interest in the alternative meat market. Meanwhile, fast-food restaurants rush to add meat-free burgers to their menus. Nicky Burridge looks at what's driving growth in the sector
Illustrations by Gianfranco Bonadies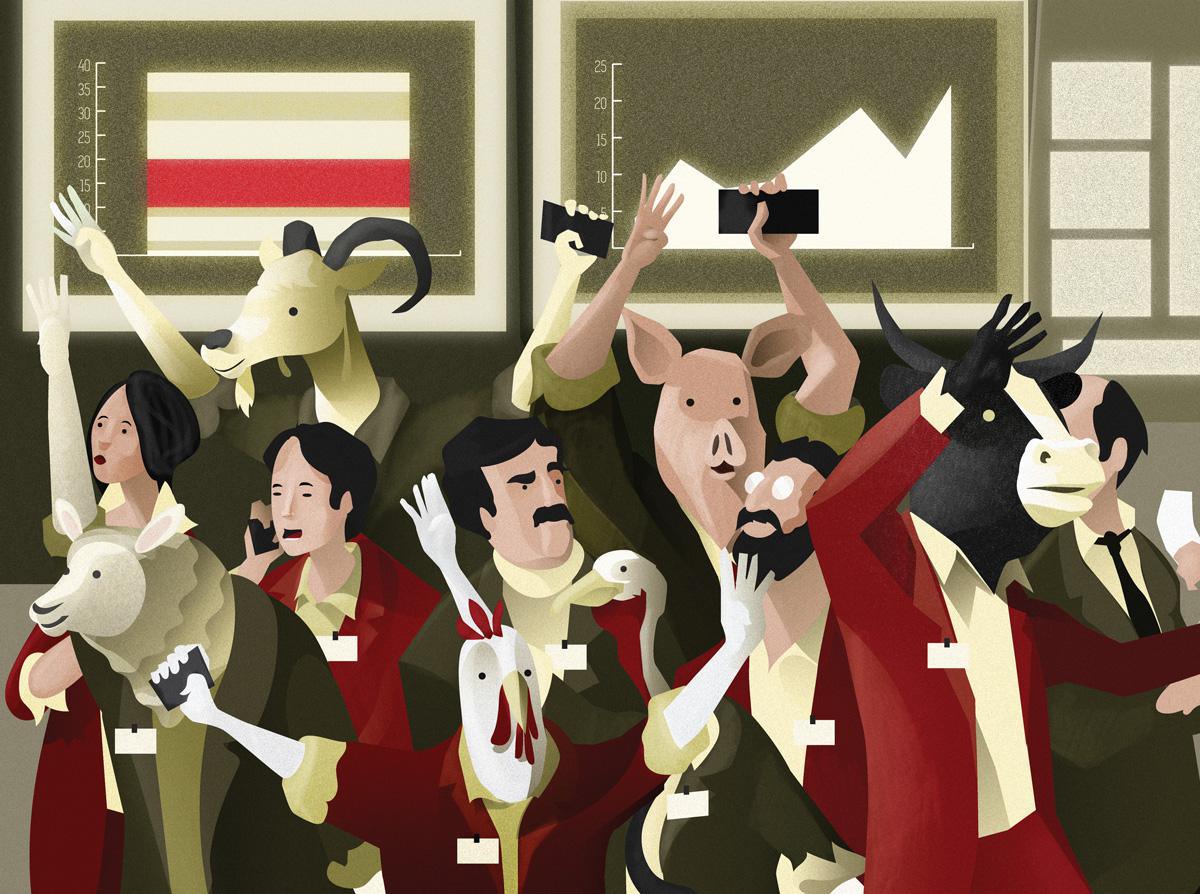 At first glance, the menus at the Chinese restaurants of two well-known Hong Kong hotels appear to offer fairly traditional dishes – sweet and sour pork, Shanghainese pork dumplings and braised pork stuffed with king oyster mushrooms.
But there is a significant difference between these dishes and what diners would normally expect: none of them contain meat. Instead, they are made using Omnipork, one of a growing number of plant-based meat substitutes available in Hong Kong.
Meat substitutes are taking the market by storm as increasingly health-conscious and environmentally-aware consumers look for alternatives to animal protein. The products are also enjoying strong growth in Hong Kong as local consumers adopt the trend.
Beyond Meat led its journey to stock market listing with a burger which aims to replicate the texture, colour and taste of a beef burger. The company made the headlines when its share price more than doubled on the first day of trading on 2 May at the Nasdaq in New York. It is the first vegan "meat" company to go public, signalling growing consumer interest in the alternative meat market.
Shares in the company, headquartered in Los Angeles, surged again in early June when it released its first quarterly earnings report with revenues coming in ahead of expectations, increasing by 215 percent year-on-year to US$40.2 million.
Impossible Foods' own plant-based substitutes for meat are also proving popular with investors. The California- based company closed a series E funding round in May which raised US$300 million. Alongside blue-chip institutional investors, a number of celebrities put money into the company, including music stars Jay-Z, Katy Perry, will.i.am and Zedd, and tennis player Serena Williams.
In Hong Kong, Right Treat, the food tech company behind Omnipork, became the city's first homegrown plant-based meat company when it launched in April 2018. Unlike Beyond Meat and Impossible Foods, which have a strong focus on beef substitutes, Right Treat specifically targets Asian tastes and cooking through providing an alternative to pork.
Rapid expansion in Asia
The three brands have enjoyed significant growth since they first entered the Hong Kong market. When it launched, Omnipork was served in only a handful of partner restaurants. Today, it is available in 200 retail and food outlets across the city, including the Four Seasons Hotel and Hong Kong Disneyland Hotels, as well as plant-based grocery store chain Green Common.
David Yeung, Founder of Right Treat, says sales of Omnipork through grocery stores received a significant boost following the outbreak of African swine fever, which was first reported in November last year. He adds that there was a tripling in sales growth between March and April this year alone.
Omnipork has expanded across Asia and is now available at around 100 outlets in Singapore and Taiwan, with Thailand expected to hit this level shortly, while it plans to expand into Mainland China later this year.
Impossible Foods has also seen strong growth, going from being available in just four restaurants when it launched in Hong Kong in April 2018, to 180 different locations in Hong Kong and Macau today, ranging from what it describes as high-end, chef-driven restaurants to burger chains, and even dai pai dongs. "We've seen demand from chefs, industry and consumers continue to grow rapidly," Heidi Nam, General Manager at Impossible Foods in Hong Kong, says.
The group entered the Singapore market earlier this year, and is now available in more than 70 different locations. Nam adds that sales have increased more than three-fold in Asia in the past two months alone.
Beyond Meat has been available in the city since 2015, and is currently available in more than 100 outlets ranging from HKTVmall to the Ritz-Carlton to The Butchers Club. Green Common reports that sales through its stores tripled in 2018 compared with the previous year.
A shift to conscious consumption
The strong growth in sales of plant-based meat products is not thought to be only due to consumption by vegetarians. In fact, there are only an estimated 223,700 vegetarians in Hong Kong, according to market research provider Euromonitor International. The trend is being driven by a shift to more conscious consumption, particularly among millennial consumers.
"Younger consumers are increasingly conscious and driven by 'doing the right thing.' Humane and responsible values are key to them, which is spreading across age groups and the world," says Alison Angus, Head of Lifestyles Research at Euromonitor International, says. "We have seen a rapid rise in veganism and flexitarians, where consumers choose to be vegan at times, but are not completely aligned to veganism."
She adds that globally, one in five people say they are trying to limit their meat intake. PwC illustrated this trend when staff at its offices in the United Kingdom took part in the Veganuary Workplace Challenge, which involved eating a vegan diet throughout January.
Nam at Impossible Foods says: "The awareness of climate change and animal welfare is growing. People are looking for a lifestyle associated with good health and environmental sustainability."
She points out that animal agriculture occupies nearly half of the world's land, making it one of the greatest threats to wildlife and biodiversity. "Raising livestock for food is responsible for 15 percent of global greenhouse gas emissions and consumes 25 percent of the world's fresh water."
By contrast, plant-based meat uses a small fraction of the land, water and energy that is required for meat from animals, she says. "Impossible meat uses 87 percent less water, 89 percent less greenhouse gas emissions, and 96 percent less land than conventional ground beef from cows."
Yeung of Right Treat puts it more strongly: "The reality is that the animal protein-oriented food supply chain is unsustainable and has been stretched way beyond its breaking point for a long time. The planet and the outdated food system simply cannot keep up with insatiable human population growth and demand."
Getting in on the act
With these consumer trends appearing to be firmly entrenched, the meat-free segment looks set to enjoy significant growth going forward.
Tom Rees, Industry Manager – Food and Nutrition at Euromonitor International, points out that major food companies such as McDonald's are looking into meat alternatives and many companies are investing in their own lab-grown meats, while new start-ups are also entering the market.
He adds that in the United States, Tyson Foods, one of the world's largest producers of chicken, beef and pork, recently pulled out of its investment in Beyond Meat because it intends to develop its own alternatives. "The costs of producing lab-grown meat have been limiting but this is changing as more companies enter the market – already lab-grown meat is becoming more affordable and accessible to business and consumers."
But he adds that there is still some way to go before prices become comparable, and there are also questions over whether consumers will be prepared to eat lab-grown meat.
In Hong Kong, the market is small but growing fast. Sales of meat substitutes totalled US$20.1 million in 2018, up from US$18.1 million in 2017 – an 11 percent increase, according to Euromonitor International. With Euromonitor International figures showing sales of processed meat in Hong Kong stood at US$177.4 million last year, there is considerable room for growth if meat substitutes continue to take a share of this market.
Hong Kong was the first market outside of the U.S. that Impossible Foods expanded into. Nam explains that it deliberately chose to expand into Asia because the region is where meat consumption is growing at the fastest rate, and already accounts for 44 percent of the world's demand for meat. "The greatest growth in demand in animal products will come from the Asian market, with a growth rate of 70 percent over the next couple of decades," she says. "Hong Kong, as well as being one of the world's highest meat consuming cities per capita, also has some of the world's most discerning foodies and trend-setting chefs."
Impossible Foods is focused on further scaling its Asia business, as well as expanding its range to include pork, chicken, fish and dairy, and moving into the retail market. "We have announced that we will be entering retail in the U.S. in 2019, and our goal is to be mainstream, mass-market and available anywhere you can find meat from animals," Nam says.
Beyond Meat also has plans to expand in Asia. Although the company has not published targets, responding to an analyst's question at its quarterly earnings conference, Chief Financial Officer Mark Nelson said: "Asia has a desperate need for this. So, I'm going to be very aggressive in going into those markets, and our team will be as well."
"The planet and the outdated food system simply cannot keep up with insatiable human population growth and demand."
An M&A driver
Ruairí Ó Dochartaigh, Food and Beverage Merger and Acquisition Director at Deloitte U.K., thinks the trend towards meat-substitutes represents both an opportunity and a threat for companies in the meat industry. "Established food and beverage companies, as well as newer companies, are well aware of the increasing trend, with the topic of meat-alternatives increasingly featuring on the board agenda of our clients in the sector, as it is disrupting many traditional products and categories."
He warns that companies that ignore the trend risk losing market share to those who are innovating with alternative products, particularly as plant-based food is attracting a higher proportion of shelf space in retailers, and gaining traction with consumers. He adds that the shift towards plant-based food comes at a time when many food categories and products are already facing either static growth or are in decline. By contrast, plant-based food is a rapidly growing area. "This growing trend provides the opportunity for companies of any size to gain market share through this disruptive sub-category, either through organic growth, innovating their own plant-based brands, or through merger and acquisitions targeting high-growth products," he says.
Deloitte reports seeing what it describes as "sizeable and increasing" M&A activity in recent years in the plant-based sector, driven in part by established food companies and investors looking to gain access to the fast-growing market. For example, Unilever acquired The Vegetarian Butcher in December 2018, while Nestle acquired plant-based food producer Terrafertil in September last year.
There is also consolidation among plant-based companies themselves as they look to achieve economies of scale or expand into new geographies, while start-ups in the sector are looking for investment to accelerate their growth.
O'Dochartaigh says: "Deloitte is working with a large number of clients in connection with developing and executing their M&A strategy, including target identification, market mapping and valuation, as well as the full suite of usual deal support activities, with respect to plant-based alternative products."
Deloitte points out that the trend means traditional food companies need to decide whether they should allocate investment to their core products or branch out into the plant-based market, and if they opt for the latter, whether they should grow organically through new product development or inorganically through M&A activity. They also need to consider whether they should target established markets, or move into developing ones, which may offer greater growth potential. Another consideration is whether the company's branding has the credibility to move into the plant-based sector.
KPMG also expects consumers' focus on healthier eating and sustainable consumption to be a driver of M&A activity in the coming year, as food manufacturers invest in vegan and sustainable products, and beverage companies acquire plant-based drinks companies.
The impact of the trend towards conscious consumption is not limited to the meat industry and is something CPAs should be increasingly aware of as they advise their clients in other food sectors and industries too.
"This growing trend provides the opportunity for companies of any size to gain market share through this disruptive sub-category."
A study by market research company Nielsen found that 73 percent of consumers globally said they would definitely or probably change their consumption habits to reduce their impact on the environment, while 81 percent said it was extremely or very important that companies implemented programmes to improve the environment. Three out of 10 consumers were also prepared to pay a premium for products that delivered on social responsibility claims.
The group named 2018 as the year of the sustainable consumer, and it expects this trend to continue into the next decade. It points out that with consumers continuing to choose sustainable products over conventional options, sustainability represents a consistent growth opportunity for manufacturers. "Consumer sentiment is shifting towards 'healthy for me and healthy for the world' and this is influencing sales of fast-moving consumer goods products across multiple categories," says Anita Wong, Vice President, Consumer Insights, Nielsen Hong Kong. "Companies need to evaluate their product portfolios and then understand the impact of ingredients and the level of scrutiny that consumers apply to the products they purchase."
Angus at Euromonitor International agrees that the trend has implications for a wide range of sectors, as consumers opt for more natural products in terms of everything from clothes, to furniture to beauty products and anything that has not been tested on animals.
"For business, this means a complete review of the products and services they offer."
Wong points out that consumers now not only expect ingredients to be animal-friendly, but they also want to know where they derived from, and how and where products were manufactured, as human welfare is also now a key consideration. "This trend calls for absolute transparency of the full supply chain – honest and real insights. Consumers do not just take the suppliers word for it, proving your story is an absolute must for business today," she says.
Yeung at Right Treat expects these global trends to be replicated in Asia: "From fashion to wellness to overall lifestyle, Asian consumers are strongly influenced by Western aspirational brands and trends."
He adds that investors and entrepreneurs, along with certain governments, are waking up to the urgency of the climate and food crisis, and the opportunities that come with it. "The awareness and activity level in the region has noticeably ramped up over the past six months. As more capital and resources come in, it will certainly lead to exciting breakthroughs and innovations."
Consumers are showing their preference for green, ethically-produced products that reflect their own environmentally- aware lifestyles. The rise of the conscious customer will continue as consumers base their buying decisions on many factors beyond price, according to KPMG's consumer and retail M&A trends 2019 report, The race for game-changing transformation and strategic growth.