For Tung Chi Man CPA, who clocked in at 38:16 to win the men's 10 km and be crowned King of the Hong Kong Institute of CPAs' CPA Virtual Run 2021, running isn't only a hobby but a lifelong passion. Though he used to work at a listed group as a senior accountant, he has been on a career break since the end of 2018 to train full-time as a marathon runner, with the hope of becoming a professional athlete.
Tung's long-term goal is to run a marathon in under two and a half hours, which requires rigorous training most of the week consisting of long distance runs, interval training and supplementary exercise such as weight training.
Despite his winning time, Tung says that he had fallen into the common trap of "overtraining" the week of his run and was a little off his mark. "Normally, I can run a 10 km in 36 to 37 minutes in this temperature," he says, referring to the city's often stiflingly hot weather. "I did high intensity exercise before the race so I was not well rested."​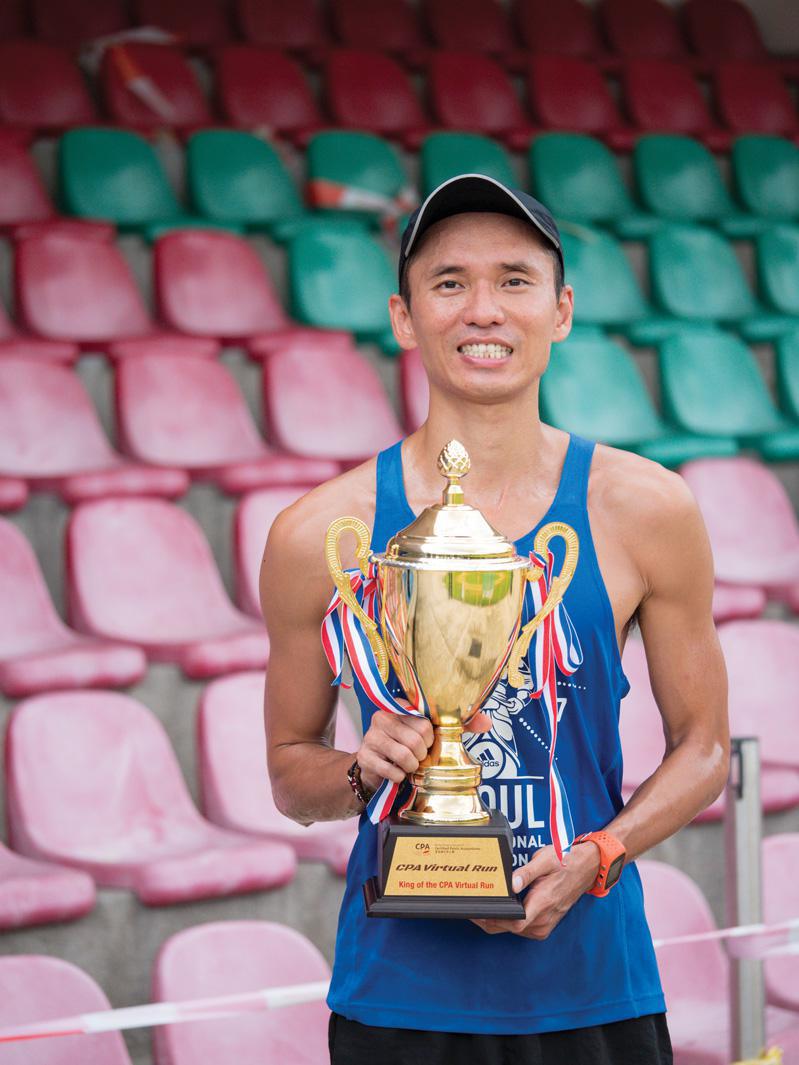 Tung Chi Man CPA was crowned King of the CPA Virtual Run in the 10 km race with a finishing time of 38:16.
Tung started running in his late 20s. He began running for fun with his friends, slowly increased his distance over time, and was eventually able to run a full marathon. Learning how to train properly has been a process for him, but he has learned a lot from elite Hong Kong runners as well as his running coach, who helped him organize a trip to Kenya in 2019. Over the three-month trip, he was able to train with experienced local runners at a high altitude which, he says, improved his oxygen efficiency while running.
Since returning to Hong Kong, Tung typically runs at Kowloon Tsai Park near his home to save on commute time as he often exercises more than once per day. Training during Hong Kong's humid summer months make it a challenge for runners like Tung, but he is committed to beating his previous 10 km record in the next event and continue running for as long as he can. "I still want to know how far I can go," he says.​​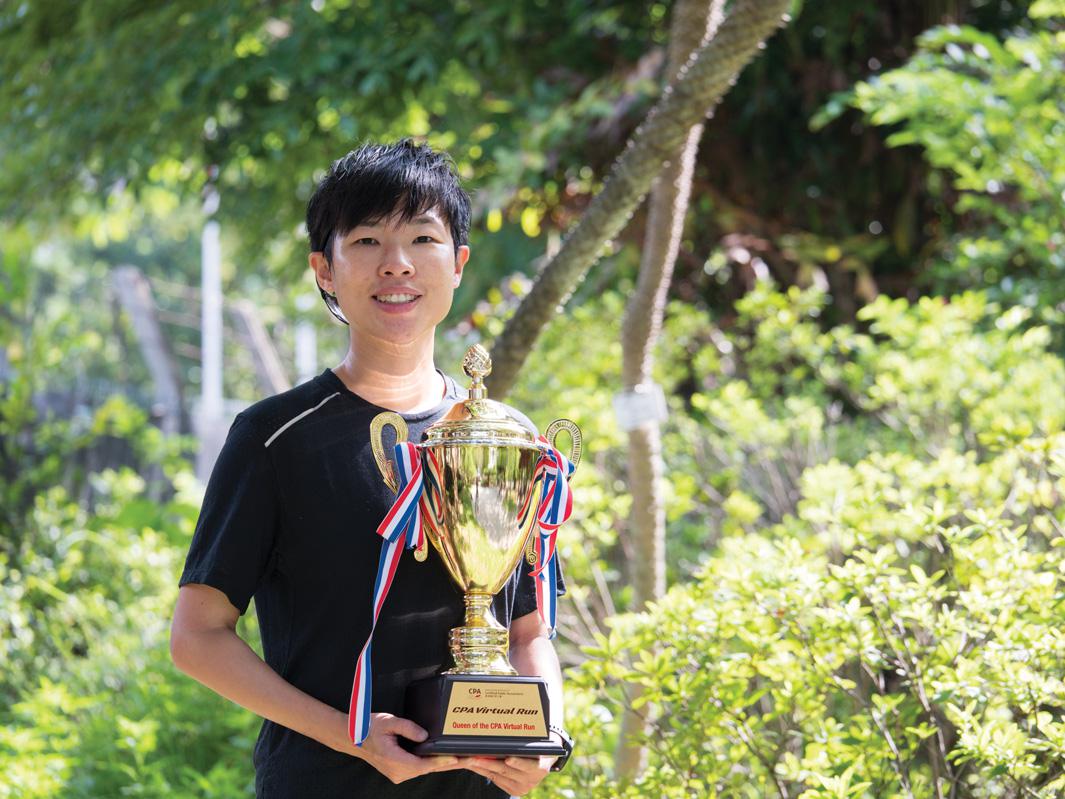 Yam Tsz Man CPA, was crowned Queen of the CPA Virtual Run in the 10 km race with a finishing time of 48:58.
Finding the right motivation
​For Yam Tsz Man CPA, the CPA Virtual Run 10 km marked her return to racing after a lengthy break. Yam, who was crowned Queen of the CPA Virtual Run, credits her ongoing training with helping her to achieve her personal best during the virtual run with a finishing time of 48:58.
She is preparing for the Hong Kong Standard Chartered Half Marathon, which will be held in October this year after several delays. "I haven't joined a race for more than two years, so when I saw the CPA Virtual Run, I thought it was time for me to test myself to see how I was doing after a year of training," says Yam, who chose to run her race at the sports ground near her home.
Many long distance runners like Yam like to add shorter races to their training schedules as a motivation for their race day. Yam has already had to cut down some of her outdoor training due to the hot weather, but the virtual 10 km helped to keep her on track.
Besides attending a running club on Fridays, Yam says she typically tries to run at least 40 km a week when training for a race, including a long run on Sundays of 14 km. She keeps track of her runs using her smartwatch and running app to make sure she is on target for the week.
Yam says finding places to run to shake her training up can often be tricky. "Hong Kong is quite small, so it's not really easy to find some place you can run for such a long period of time. I don't want to feel bored every time, so I run along Castle Peak Road or along Shing Mun River. I also like to run near my home by Stonecutter Bridge. For my short runs, I usually run at the sports ground," she says.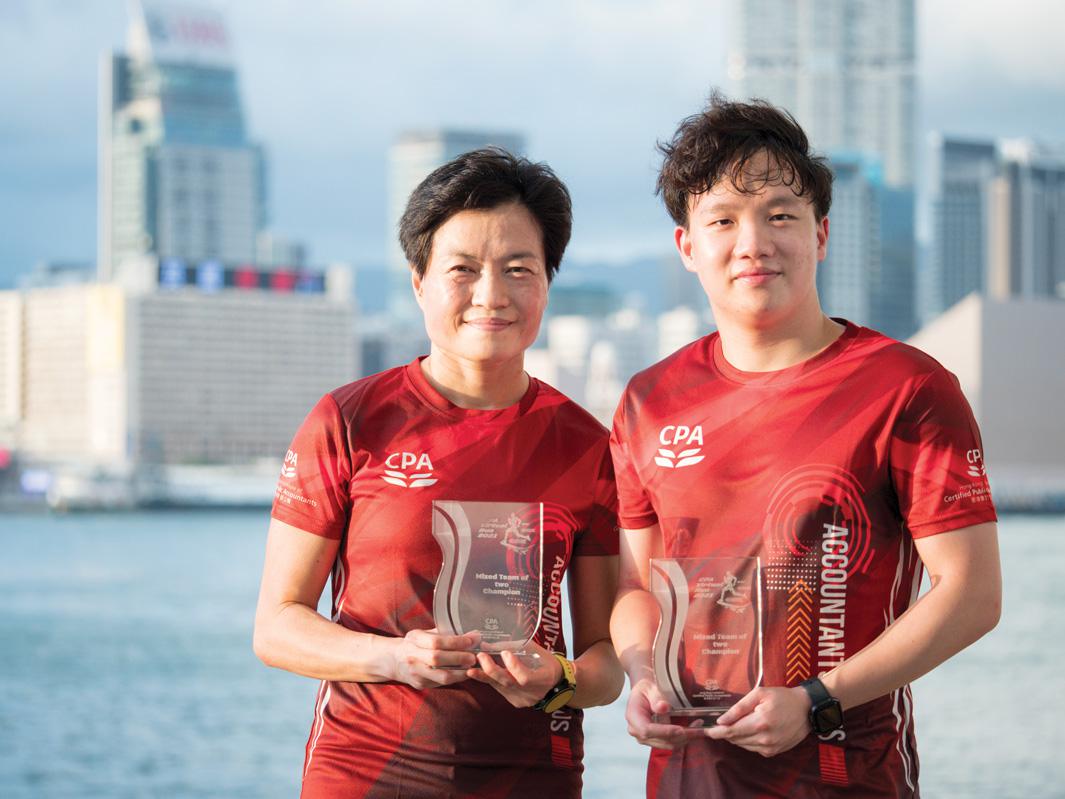 Carol Chan (left) and Ricky Wong CPA (right) won the mixed gender 10 km race with a finishing time of 1:32:09.
Running at pace
For Ricky Wong CPA, winning the CPA Virtual Run mixed gender 10 km race with a finishing time of 1:32:09 involved setting targets and close communication with his running partner before the race. Though he and his running mate Carol Chan trained for the race separately, they kept in touch over WhatsApp to set goals and discuss their runs. "We set a target for each run, regardless of the running distance," says Wong, Examiner at the Audit Commission. "We also shared with each other how to run better or how the weather affected our performance."
As race day neared, Wong encouraged Chan with messages saying "加油!" Cantonese slang for "add oil," often used to motivate someone to complete a task. "Because running is usually something you do alone, running together with a partner can be very encouraging. How long and fast we run depends on our combined willpower and determination," Wong adds.
Wong, who is also an avid swimmer, resorted to running along his apartment's clubhouse running path to maintain his cardiovascular health. "I haven't joined any other races before because I am not much of a runner, so taking part in this virtual 10 km race was all new to me," says Wong.
"Because of COVID-19, all sports centres and swimming pools were closed – so the only sport I had was running. I would usually go for a run on the clubhouse pathway and run 5 to 6 km. I would run this distance to build strength as a part of my swim training," he says.
Wong says he approached this virtual race similar to how he would approach a long distance swim. He knew that a typical run would be 12 laps around his clubhouse, so he estimated the race would take about 24 laps. From there, he was able to break it down in his head to keep pace and complete the 24 laps in 44 minutes.
"I participated in a fun run last year. It was quite difficult for me because I was not familiar with the running path. I would think, 'Oh how much further is the end point?' I couldn't estimate it. But this time, I knew it was 24 laps, so I could evenly distribute my effort during each lap."
To keep himself motivated, Wong uses the Nike Run Club app, which both records runs and plays automated messages of encouragement every kilometre. "The recording encourages me to run further and further. I love this app," he says. Wong and Chan also swapped suggestions on "tempo runs" where runners try to maintain a certain pace, or the best "guided runs," where a coach speaks to the runner throughout, coaching them virtually on the app.
While Wong surprised himself with his race results, he says that he plans to return to his true passion of swimming over the next few months with pools now open. Wong still plans to keep up running as part of his cross-training because he has found it to be more convenient to run outside or on a treadmill than travelling to a sports ground for a swim. He has no fixed plans yet, though, to join another race. ​​
Running through the pain
Carol Chan, Wong's running partner, was in the middle of the virtual run when suddenly she experienced what every runner dreads – her leg began to cramp up.
She had prepared well, choosing to run around Quarry Bay Park one evening when temperatures are generally cooler. But even so, cramps can impact any runner. "I got a muscle cramp in my leg because I ran at full speed at the beginning. Luckily, I could finish the race – I haven't raced in two years," says Chan, Senior Examiner at the Audit Commission.
Although Chan does not consider herself a runner, she has learned how to deal with pain from her experience at other endurance events such as the Hong Kong Standard Chartered Half Marathon and the Hong Kong's New World Harbour Race across Victoria Harbor and three half-Ironman triathlons in Taiwan.
Though COVID-19-related travel restrictions have put a dent in many of her race plans, Chan has continued training as part of her routine. She tries to run one or two times a week and squeezes in a swim and some weight training to build strength and prevent injury.
Running, Chan says, has helped her to maintain her strength and positive attitude, especially throughout the pandemic. It is also one of the easiest sports to keep up with despite restrictions, as most people run alone, and no special equipment is required. "I jog about 6 km every day. I keep moving and doing exercise, and during the weekend I go hiking," Chan says. "If I don't exercise, I don't feel happy."
While the virtual 10 km helped Chan to keep up her training, she says she misses some of the highlights of a traditional race like the crowds and running with a "pacer" – a designated runner who takes part in running events and runs at the front to help competitors maintain a certain speed throughout the race and meet their target times. She plans to return to more traditional competitions as they reopen this summer, including some long distance swims.
Planning your runs
Ahead of the next virtual race, the CPA Virtual Run winners suggested participants should all try to engage in some form of training. This can include making their own running plans, using a fitness app, or following an online training programme. Wong says new runners may find participating in a virtual run an easier way to try out racing for the first time than a traditional race, which can often seem expensive and intimidating.
"If someone wants to take part in the next virtual run, they should just try it," he says. "Joining a virtual race can be more relaxing because it's just you participating in the race. A virtual race is like taking part in your daily training, and most importantly, the race can be held anywhere. You may have better race results because you are more familiar with the running route." The best way to ensure results, however, is to consistently train ahead of time, and also remember to warm up and cool down with each race to avoid injury, adds Chan.
Tung says that if virtual runners miss the support of the crowds, they could ask a friend to come run alongside them to keep up the pace, or just offer water and support from the sidelines.
Yam suggests new runners to set realistic targets and to start slow. "You don't have to be too harsh on yourself; just run at a comfortable pace. If you can only run for 15 minutes today, then run for 15 minutes – you don't have to time yourself or anything. But if you think this pace or this time is comfortable, then try 20 minutes the next time," she says. "See if you can find joy in it – because if you can't find any joy in running, then you won't maintain it."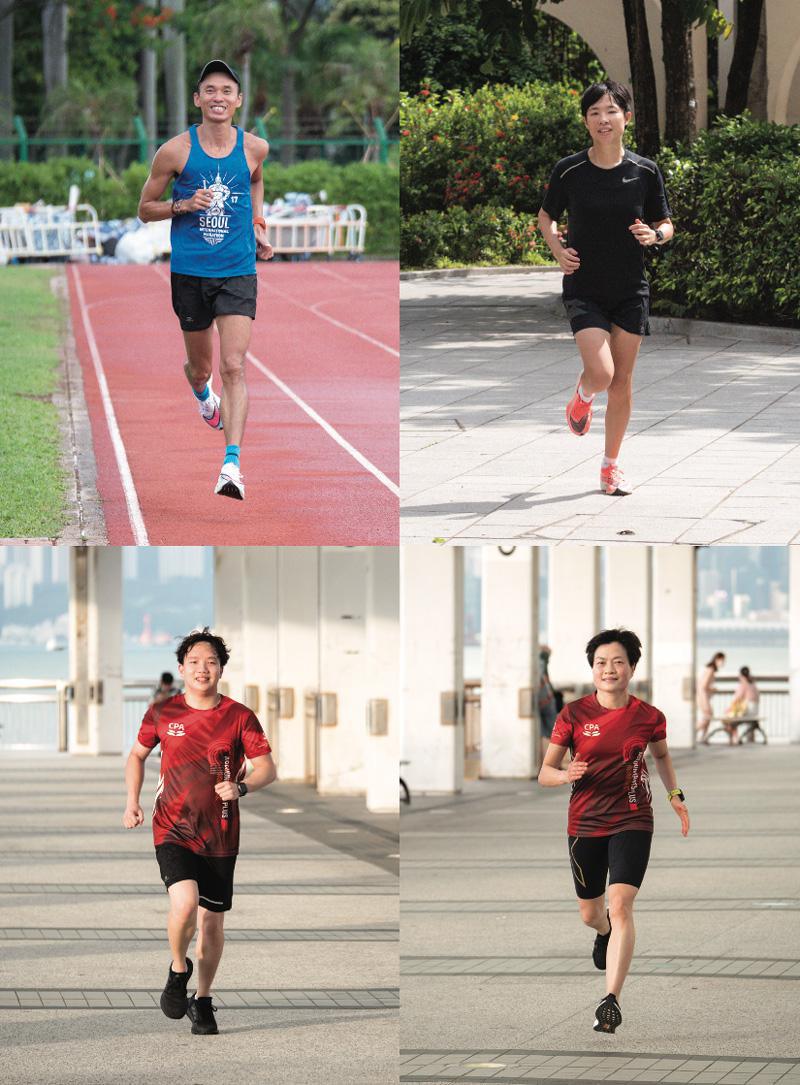 (Clockwise) Tung Chi Man CPA, Yam Tsz Man CPA, Carol Chan and Ricky Wong CPA
---
The full results and photos of CPA Virtual Run 2021, including results of the funniest costume awards, the most lovely smile award, and the most creative running route award are available on the Institute's website.