When Allen Lam tagged along with his secondary school friends to a snooker room one afternoon, he had no idea how much he would enjoy the game that day – and still love playing it decades later. "I still remember how we all decided to go right after the school's swimming gala. I was only a form three secondary school student," says Lam, Assistant Director of Finance at the The American Club Hong Kong, a member of the Hong Kong Institute of CPAs and Deputy Convenor of the Institute's Snooker Interest Group (SnIG). Lam – who knew nothing about the sport when he stepped into the smoky, bustling venue full of much older-looking snooker players – was simply bent on pocketing as many billiard balls as possible. "I loved the loud clack of the billiard balls hitting each other."
Lam was around 15 when he tried his luck at snooker. The tricky game, which dates back to the 19th century as a popular pastime among British Army officers in India, is a cue sport for two players, who compete with each other to score as many points as possible by pocketing or potting billiard balls in a certain order. There are 21 balls to pocket: 15 red balls worth 1 point each and six different coloured balls – yellow, green, brown, blue, pink and black – worth from two to seven points respectively. The player who scores the most points wins the game or "frame."
Allen Lam is Assistant Director of Finance at The American Club Hong Kong, and Deputy Convenor of the Institute's Snooker Interest Group.
"I loved the loud clack of the billiard balls hitting each other."
A platform to play
Fascinated with his newly discovered hobby, Lam was determined to improve. He spent the next few years playing rounds after school with the same group of friends. Snooker, as he witnessed, was a big deal in Hong Kong in the 1980s. "It was kind of the golden era and common to see a lot of Hongkongers playing snooker after work. Steve Davis and Stephen Hendry were also really up-and-coming players in the snooker world," adds Lam, referring to two professional players from the United Kingdom whose careers kicked off at the time.
After coming out to work, Lam still made time to hone his snooker skills twice a week with his friends and colleagues who shared the same passion for the game. After hearing about a friendly snooker match organized by the Institute at the South China Athletic Association in 2011, he immediately joined, and was pleased to meet Institute members who loved the sport just like him. One of them was Tony Wan, Director of Assurance and Business Advisory at Ascenda Cachet CPA, and Convenor of the SnIG. As Wan remembers, both him and Lam were so surprised at the turnout and enthusiasm during the friendly games that they decided to gather other players and set up the SnIG. The group was formally established by the Institute as an interest group in 2013.
The group began organizing regular friendly games called the Snooker League. It also hired an experienced coach to provide beginner to advanced training courses. Its members represent the Institute in snooker tournaments organized by the Recreation and Sports Club for Hong Kong Professional Bodies (RSCP). The SnIG, which has more than 210 members today, has taken part in the RSCP tournaments each year since 2012.
"Of course, the tournament couldn't go ahead this year due to COVID-19 – so I'm glad we were the champions in 2019," notes Wan. It was their first victory since 2015, and one they had trained hard for. "Last year, we were tied with the Hong Kong Institute of Surveyors up until the final round," adds Lam. "They're all very strong players and have been champions for many years already." The precise nature of snooker, Lam says, means that momentary lapses in focus – especially during lengthy tournaments – can lead to a missed shot and present an opportunity for opponents to make a comeback. "We stayed focused and luckily, we finished as champions. It was a very intense competition."
Tony Wan is Director of Assurance and Business Advisory at Ascenda Cachet CPA, and Convenor of the SnIG.
Cueing control
Wan, who has been Convenor of the SnIG since its formal establishment in 2013, is pleased at how the interest group has fostered the interest of existing members and helped to train newcomers from the ground up. "Our objective has always been to promote snooker among other CPA players and create a platform for everyone at the Institute to play," Wan says. "I've always been interested in snooker, so I love being able to help."
Wan himself was introduced to the sport when he was only a 10-year-old boy. "My father got me into the sport," he says. "It was a very challenging game to take on at that age." By practicing with every weekend at their favourite snooker venue, Wan mastered the rules and snooker basics such as having the right cue stick grip, using the right stance to aim, and controlling the cue ball.
He was grateful to receive formal training for the first time through the SnIG. "The coaching I received has been very helpful and important to me as a snooker player," he says. "I realized my technique wasn't good enough, and I was able to improve on my game through our coach."
Indeed, the main challenge Wan still faces as a snooker player is cue ball control, or knowing how to shoot the cue ball and planning where it will stop. Planning one step ahead, he says, helps with the subsequent shot. "If you control the cue ball well, you'll be able to keep potting ball after ball." Lam adds that this requires snooker players to gauge how much or little strength to exert in each shot. "Some shots need to be made very gently just so the cue ball stops in a certain position after the hit," he says. "But if you need to hit the side of the snooker table during a shot and want the ball to return, you'll need to use more power. You need to play with consistency."
Controlling the cue ball is fundamental to the game, as it requires players to "snooker" their opponents, such as by trapping the cue ball behind other coloured balls. "You need to know how to snooker your opponent and also know how to get out of a snooker," explains Lam. "For example, if my opponent has snookered me, I might need to shoot towards the sides of the snooker table to get out. This is a skill that develops with time."
"If you control the cue ball well, you'll be able to keep potting ball after ball."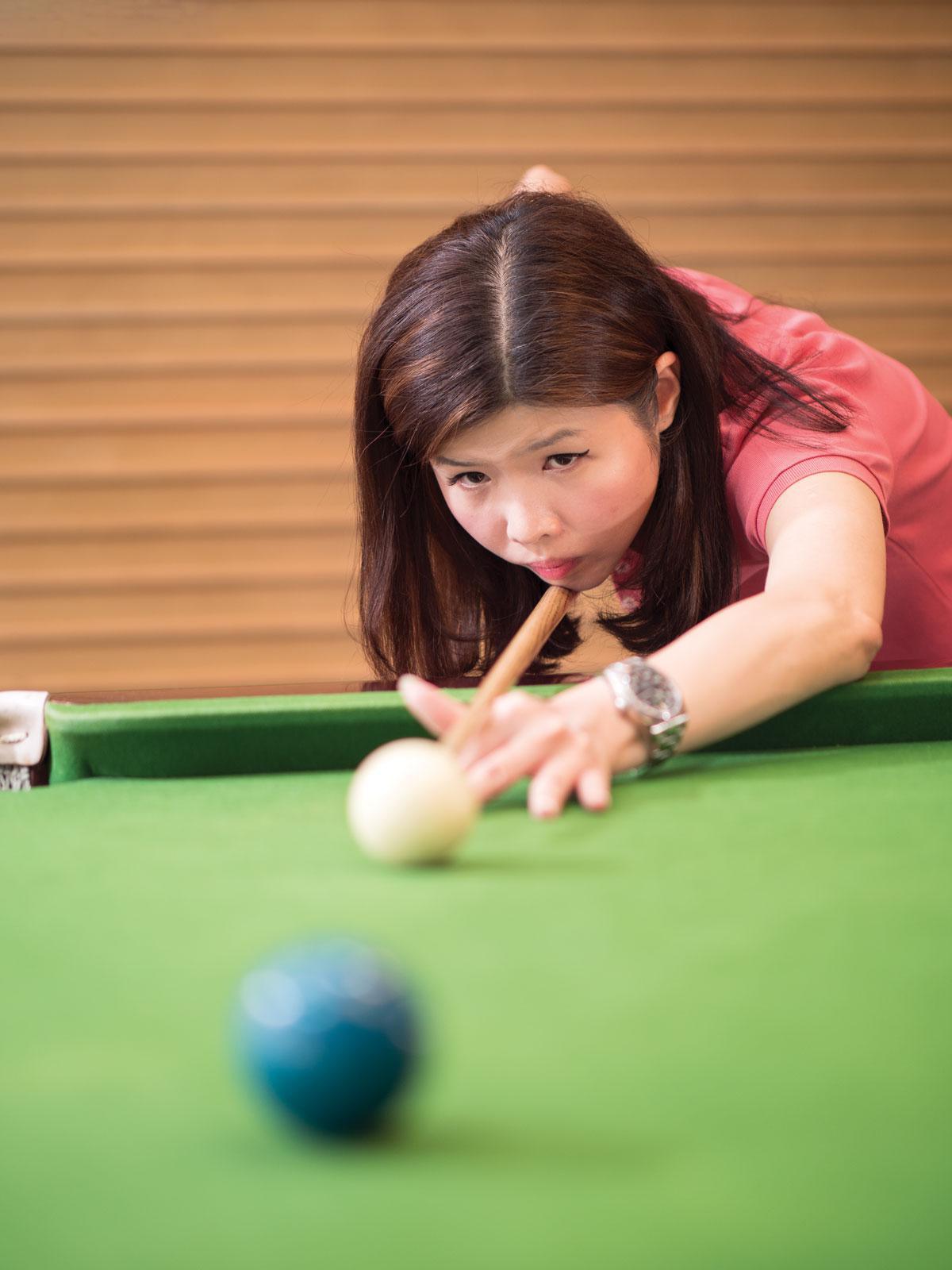 Kinki Siu, Vice President, Sales Management and Strategic Planning at DBS Bank (Hong Kong) Limited and a member of SnIG.
A sport for all
As Convenor, Wan finds it encouraging to see more female faces at the SnIG's events. Despite being perceived as a male-dominated sport helmed by stars such a U.K.-born Ronnie O'Sullivan and Mark Selby, and Hong Kong's own Marco Fu, younger female players such as Hong Kong-born Ng On-yee have put female snooker players in the limelight. Ng famously ended English snooker player Reanne Evans' 10-year winning streak at the World Women's Snooker Championship in 2015, and then went on to win the tournament three times over a four-year period from 2015 to 2018. She then became world number one until 2019.
Institute member Kinki Siu, who only began playing snooker after joining the SnIG in early 2019, sees Ng as a source of constant inspiration to better her play. "As a female player myself, I'm really proud of her achievements and also how she represents Hong Kong," says Siu, Vice President, Sales Management and Strategic Planning at DBS Bank (Hong Kong) Limited and a member of SnIG. "She started playing at the age of 13 and has already won many competitions."
Though Siu is new to snooker, she was first introduced to another cue sport as a child. "When I was a kid, I used to play hong lock kei, or Chinese snooker," she says, referring to a version of snooker played on a smaller, squared table, and using flat pucks instead of billiard balls. "I'd play hong lock kei at government recreational centres with my friends. There were both hong lock kei and snooker tables, and of course, all the taller kids would play snooker instead," remembers Siu. "I would always look over to the snooker table and see how much fun they were having. Unfortunately, I wasn't tall enough to play."
While handling the cue stick felt natural at first, handling billiard balls proved to be the first challenge for Siu. "When I played snooker for the first time, it was about understanding how the billiard balls would move after each hit," she says. "If the contact point of the cue stick on the cue ball differs by even a tiny bit, the ball won't go where you want it to."
"If the contact point of the cue stick on the cue ball differs by even a tiny bit, the ball won't go where you want it to"
Since joining the SnIG, she regularly attended its two-hour training sessions held every Sunday until the coronavirus pandemic put them on hold. She hopes to make up for lost practice time as snooker rooms resume operations.
One venue Siu is particularly happy to see open again is her apartment's clubhouse, which has its own snooker table. "At the clubhouse I could practice playing on a snooker table and try to pocket as many balls as possible – even if it means playing by myself," she says. "I would practice shooting the cue ball in a straight line or knowing how to use the sides of the table to my advantage." Though playing alone isn't as enjoyable as duelling with an opponent, Siu says that practicing alone has been an effective way for her to improve and maintain consistency at her own pace. "Every time I learn a new skill from the SnIG training courses, all I think about is practicing it on the clubhouse snooker table."
Though Siu's friends were initially surprised at her decision to start playing snooker, she encourages more women to have a go. "When I told my female friends that I was learning how to play snooker, they all said: 'but you're a woman – why are you playing snooker?' So I told them: 'it's a very interesting sport and a common misconception is that it's a male-dominated game.'" With over 70 members of the SnIG female players, Siu hopes to see that number grow over time. Male players can play a supportive role, she adds. "There are many couples who joined the interest group together."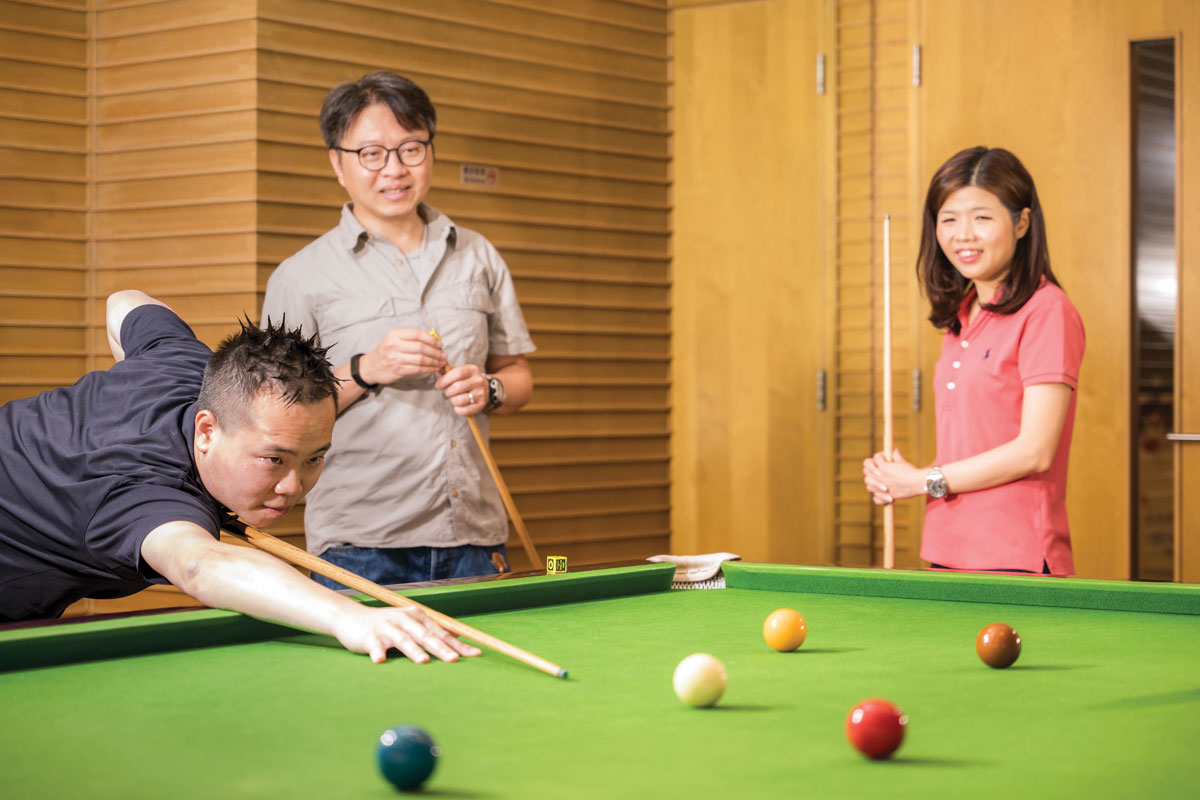 From left: Tony Wan, Allan Lam and Kinki Siu
Siu looks forward to improving her play, and entering a major competition such as the RSCP tournament. "I hope to keep practicing so I can build my confidence in pocketing snooker balls," she says. "And if there's an opportunity, I'd like to participate in a competition. My coach also told me that playing in a competition is completely different from playing with friends. There's so much more pressure – you'll never get this feeling when playing with friends." Siu is most grateful for the opportunity to play and improve as part of the SnIG. "I would like to say thank you to both Tony and Allen for building SnIG from the ground up, and for promoting snooker to Institute members," she adds.
Wan hopes to organize a future event to attract more women to the game and emphasize that anyone can play snooker, regardless of gender or age. "We're actually considering organizing a snooker competition just for women next year," he says.
Lam also looks forward to seeing the SnIG grow and practicing as much as he can – especially while snooker venues are open. "I'd like to score higher breaks. That's my short-term goal," he says, referring to the most number of points in a row he's scored without missing a shot. "The long-term goal is to promote the sport within the CPA community."
---
The Institute's Snooker Interest Group is open to all members interested in the sport. For more information on all 15 of the sports and recreational interest groups, please visit the Institute's website.