Every year since 1992, Montblanc, the German luxury pen maker, has commemorated advocates of some of the most influential artistic movements in history – from Hadrian, the emperor of Rome, to Napoléon Bonaparte, the French general – with a limited-edition pen. To see the full collection of the "Patron of Art" pens, you would have to visit the Montblanc headquarters in Hamburg or collectors like Danny Lau FCPA, Partner Emeritus of Deloitte.
In the world of writing instruments Monblanc fountain pens are iconic, and Lau has a collection of more than 200 of them. "Pens are the jewellery for men. My pen collection is the part of me that cherishes aesthetics. I only collect pens from Montblanc because they create miracles with the design and vibrant details of each pen," he says.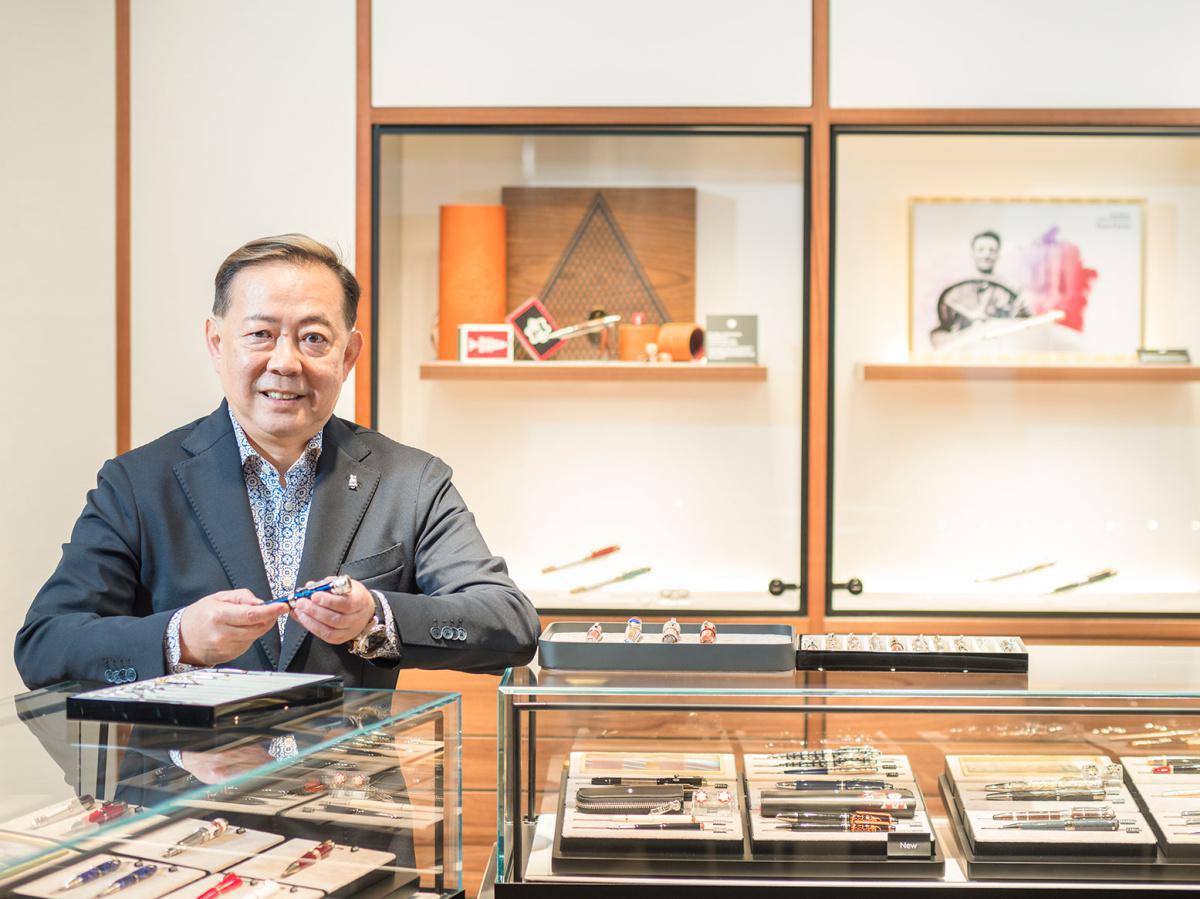 Danny Lau FCPA, Partner Emeritus of Deloitte
Since the 1970s, as Lau remembers, the Montblanc classic all-black fountain pen, has been a prized item and a status symbol for professionals in Hong Kong. He started collecting Montblanc pens in 1997 after he got his promotion to audit partner at Deloitte, and his wife bought him a Montblanc writing instrument to mark this career achievement. "Being in this post, signing things had become a daily part of my life. There would be dozens of financial statements waiting to be signed by me," Lau explains.
But Lau didn't want to use just any pen. "I have been practising hard pen calligraphy since I was a kid, and grew up believing in the old Chinese saying that you can know a person by his or her handwriting. Montblanc's pens improve my writing," he says.
"For me, it is never about the money, but about the story behind every nuanced design and design concept."
In 2018, the loyal customer created an Instagram account dedicated to the craftsmanship of Montblanc pens. He posts photos taken by him of his collection of limited edition writing instruments from the brand, along with detailed captions explaining the rationale behind each design. "Collecting pens is my most expensive hobby, but I also collect wine, cameras, ties, cuff buttons and handkerchiefs. I collect purely for the pursuit of beautiful things," Lau says.
Recognizing his passion for its pens, Montblanc invited Lau to be a member of Club 58, an exclusive invitation-only club of the brand. Members of Club 58 are invited to go to Europe every year to preview the brand's upcoming collections, and the brand's product designers ask their opinions on what theme they should focus on next.
When it comes to design, he says that the model "Artisan LE88: Genghis Khan" particularly stands out for him. "It captures the essence of a historical figure I admire as he is the greatest conqueror in human history. Montblanc never ceases to surprise me when others stop progressing, and it is the only brand that keeps improving each time. For me, it is never about the money, but about the story behind every nuanced design and design concept."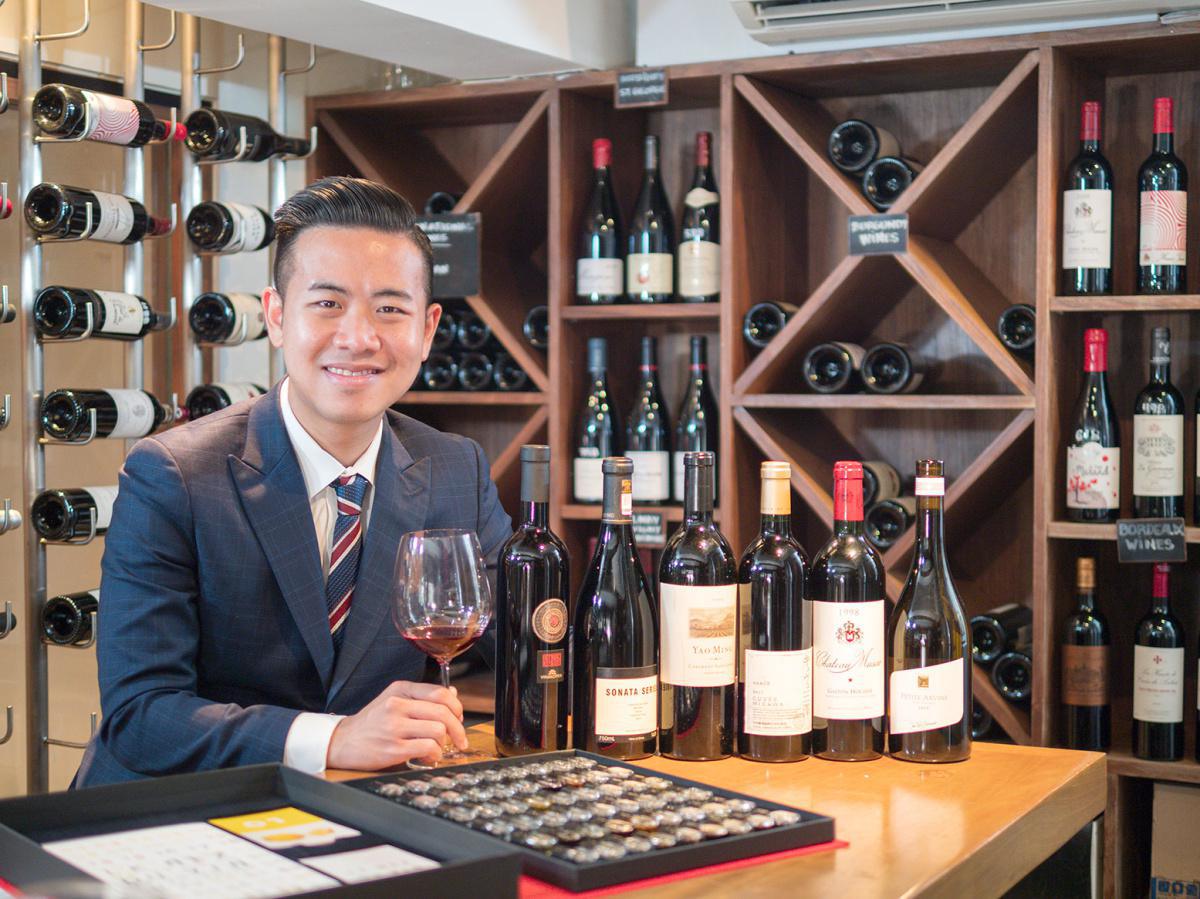 Alvin Li CPA, Assistant Manager at the Insurance Authority
World of wine
After a long day of work, Alvin Li CPA, Assistant Manager at the Insurance Authority, draws a bottle from his electronic wine cellar and turns on some jazz music before completely giving in to session of me-time. Instead of enjoying his red with cheese or prosciutto, he pairs it with a hamburger and a bag of crisps. "There is no right or wrong wine pairing in my world. The process of searching for a pair that works is already interesting enough," Li explains.
Growing up, Li was no stranger to alcohol as both his parents were wine lovers. The first thing he did when he turned 18 was have a glass of Mateus The Original Rosé N.V. with his parents in a restaurant in Macau. "It is definitely not the priciest or the best wine, and it can be found in most supermarkets. Yet, till this day, I can still remember the taste of the wine," Li says. "I always dreamed of having wine with my parents when I was a kid. We become closer when we're drinking together."
After struggling with choosing a wine during a dinner date with his girlfriend, Li had a strong urge to develop his wine knowledge. In 2019, he enrolled at a course under the Wine & Spirit Education Trust (WSET), a world-recognized wine education programme. "It was lonely and frustrating at the beginning. Only a few people really care enough about wine to study them. I had to study alone," Li says. "But looking back, the initial frustration was all worth it. I met new friends who shared the same interest and cared enough to attend this course. And the more I learned about wine, the more I appreciated them." In 2020, he gained his WSET Level 3 certificate. He also applied for the intermediate level of the Sake Professional Course and became a Sommelier of Sake (International Kikisake-shi).
"I want to highlight that the world of good wine is not limited to France or Italy."
As he was building up professional and in-depth knowledge on wine and sake, the thought of starting a collection came to mind. He now has over 20 bottles of red and white wines, specifically from unexpected wine regions. "There are a lot of undiscovered gems from these uncommon regions. Through my collection, I want to highlight that the world of good wine is not limited to France or Italy," says Li. "I will open any bottle to change people's mind. My friends would laugh at me when I tell them to try a wine from Thailand, but once they had their first glass paired with good food, they all changed their minds. "
From his collection, Li is especially fond of his Le Nez du Vin – The Masterkit 54, which is a collection of vials of wine aromas that allow him to practice identifying different wines from around the world. "It was a gift from my girlfriend. It meant a lot to me as it helped me push through the exams and frustrations," says Li. "Wine has connected me with my girlfriend and my family more than I can imagine. It is always a good time with wine."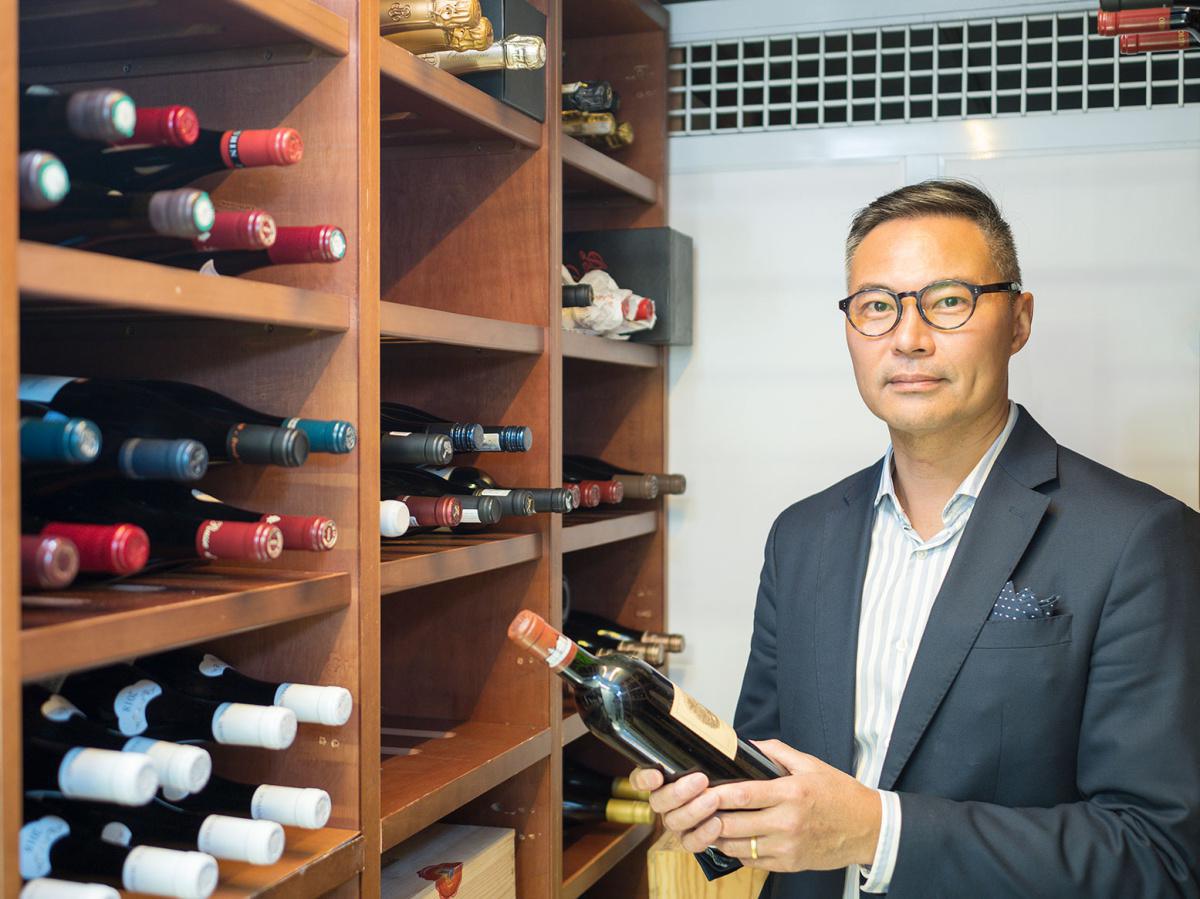 Philip Wong FCPA, one of the judges of the Hong Kong International Wine and Spirit Competition, and journalist
Great judge of character
Philip Wong FCPA is one of the judges of the Hong Kong International Wine and Spirit Competition (HKIWSC), a freelance wine journalist for Gourmet & Lifestyle magazine and runs a website focused on wine (www.winemattershk.com). Perhaps if he had not been sent to the HKIWSC event, he wouldn't have embarked on a journey of studying not only wine but also whiskey, brandy and beers. "The realm of wine or spirit is vast and full of surprises waiting for me to discover," says Wong, Chief Financial Officer at G.T. Land Holdings Limited and Wine Consultant at Wine Matters.
In 2012, Wong was with KPMG and was assigned to the scrutineering engagement in respect of the wine scoring at HKIWSC, which is run in partnership with the London-based International Wine & Spirit Competition. The annual wine and spirit judging event takes place in Hong Kong with judges comprising Asia's top industry experts, including Masters of Wine and Master Sommeliers, food and beverage professionals, wine educators, importers, critics and journalists.
Like most people, while Wong enjoyed drinking wine, he had never thought of studying it. "I was having a conversation with Debra Meiburg, the Founder of Meiburg Wine Media, the organizer of HKIWSC. She shared intriguing knowledge and fun facts on wine that I had never heard before," Wong explains. "It sowed the interest in my mind, and later I decided to take courses to acquire WSET qualifications."
"I never realized how wine was related to human society and culture at such a high level."
There are four levels of WSET qualifications, and it took Wong four years to attain the Level 4 diploma. "The study of wine consolidated everything I had learned since primary school –  biology, chemistry, physics, geography, history, mathematics, economics, and even bible study. They all came into play when understanding wine," says Wong. "I never realized how wine was related to human society and culture at such a high level."
Wong started his wine collection in 2012, initially focusing only on vintages from France and Italy produced in his family members' birth years. Wong's favourite wines consist of those produced in the Burgundy region in France, such as Échezeaux, Vosne-Romanée, Chambolle-Musigny. He often shares his wines with friends and colleagues. "There is a time limit in storing wine, no matter what you do to store it. You might as well enjoy it with someone you love. My intention behind collecting has always been purely for enjoyment and never for money. I would never consider selling a bottle," he says.
When it comes to enjoying the wine, Wong has a few strict rules. "I would avoid drinking a full-bodied red wine in a steaming hot day in the summer, even if I am in a room that has strong air conditioning. The body temperature and humidity will affect the sensations," he explains. "I would also never drink in a bad mood, as it is a total waste of wine."
Since 2017, Wong has been invited to be one of 50 judges of the HKIWSC. "Though I have to taste and judge more than 20 samples in any flight during wine judging, it is a delight to do a job like this," says Wong. "Learning wine and enjoying it is not just a hobby but rather a way of living for me."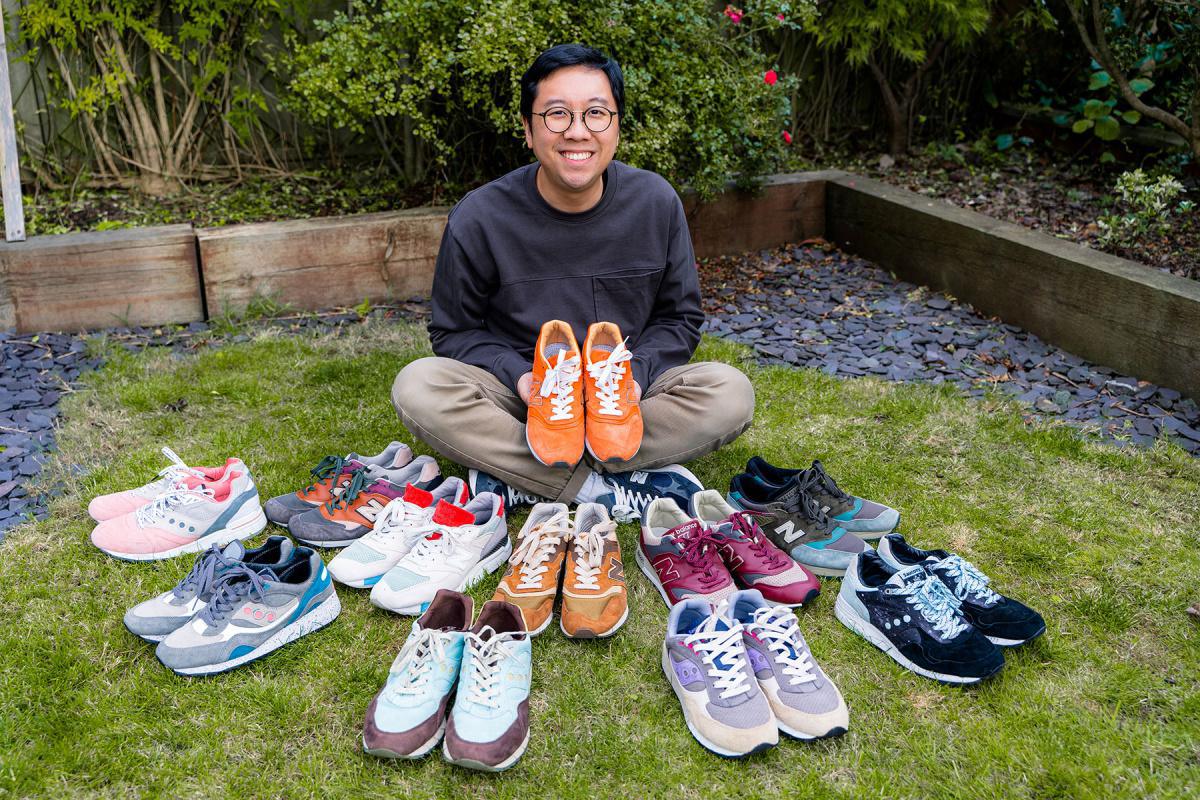 Adrian Ho CPA, a former financial controller at a private equity fund
Pursuit of individuality
One day, Adrian Ho CPA came across a sneaker exhibition at The ONE in Tsim Sha Tsui. He started talking with the curator, who owned more than a 1,000 pairs of sneakers. "He explained the history and story of every pair I pointed at, and some of them were classic vintage models. I admire the design, especially the history behind every creative concept, of New Balance and Saucony," says Ho, who is now based in the United Kingdom and was previously a financial controller at a private equity fund. "Looking at them reminded me of my dream as a young boy – to have sneakers that stand out from the crowd."
Ho says that his secondary school teacher was his first style inspiration. "The teacher's fashion sense left a mark on my mind as the world of all-boy schools tend to be monotonous," he explains. "As students, we dressed and looked the same. But in the physical education lessons, sneakers were the only thing that revealed your individuality. Since then, I have always wanted something that tells others what kind of person I am."
In 2014, Ho started his own sneaker collection and now has more than 200 pairs of old models of New Balance and Saucony sneakers. In the past, he would add three to four pairs of sneakers every month to his collection. "Every pair carries a story, such as the Saucony Shadow 6000 "Only in Soho," a collaboration with Footpatrol, a London-based sneaker store, released in late 2013. The design reflects the streets of Soho district, the home of Footpatrol  and a major entertainment hub in London, which has often been referenced in Hong Kong. I love how sneakers can carry history and a story without saying a word," says Ho.
"Sneakers were the only thing that revealed your individuality… I have always wanted something that tells others what kind of person I am."
After a while, he was invited to be the moderator of a Facebook group for "sneakerheads" from Hong Kong called Hong Kong Sneakers Gallery (HKSG), founded in 2012. Because of his passion, the photos he took of sneakers-on-feet were widely recognized in the sneaker collector circle. "I organize different meet-ups and shooting sessions for group members. It is always fun gathering people who share the same interest, and have the same passion for the brands."
Over years, Ho has sold or traded around 70 pairs from his collection. "I have to sell some of them as I am running out of space to store them. Yet, I will never rent a storage space as it will give me an incentive to buy more," he says. "I need to know my items are in good hands. The buyer has to convince me of his love for sneakers. I can know if I am talking to a like-minded person by looking at their social media. Helping others to complete their collection is fantastic, but I will not tolerate so-called "flippers" – people who only care about profiting from the trade. "
Ho's passion for collecting sneakers eventually faded over time, and today he is no longer collecting. "Moving abroad made me face the fact that I couldn't keep them forever. The fun memories I have collecting sneakers will last longer than the sneakers themselves," Ho explains. "Having a child teaches you priorities in life. You make hard choices, and I chose my family over my collection. I might occasionally buy one pair but that is it. I had my time with them."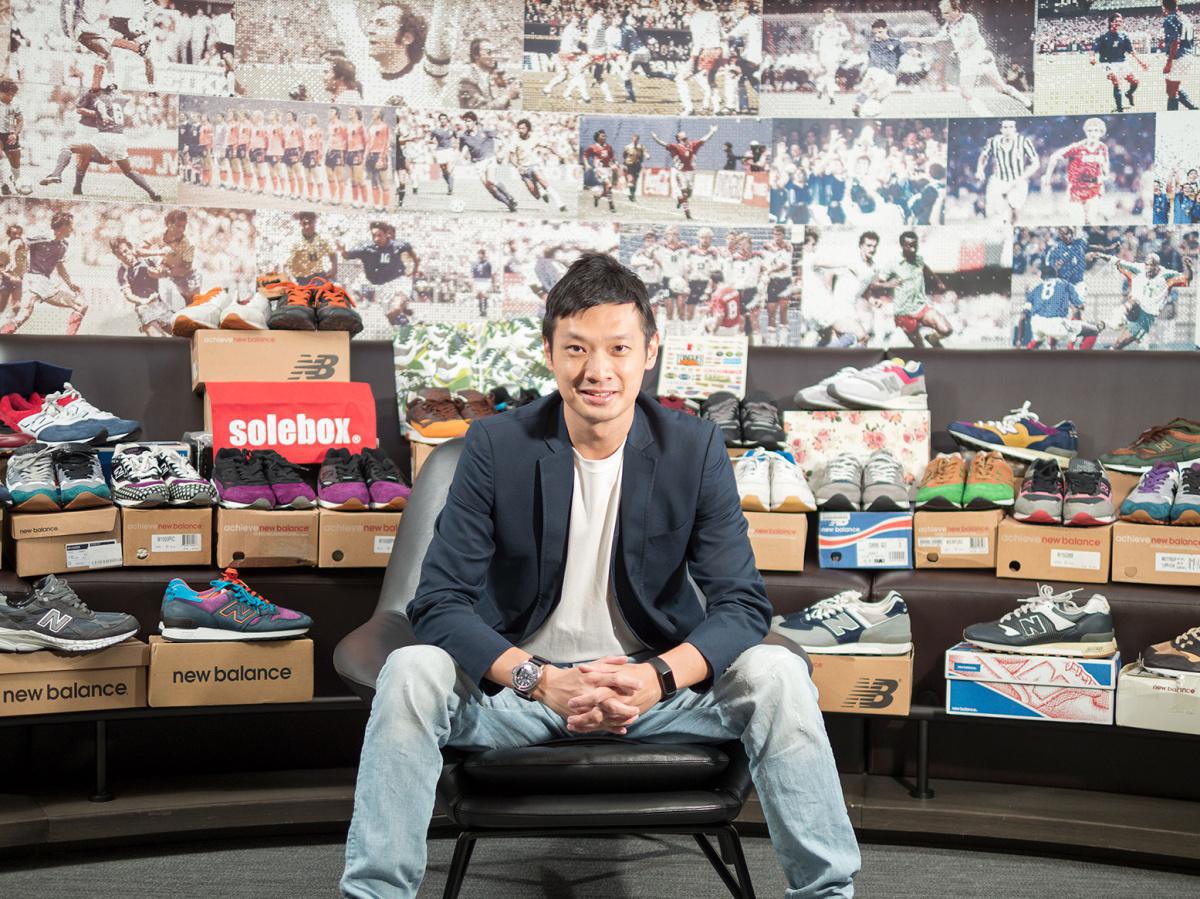 Nick Yeung CPA, Vice President at Chow Tai Fook Enterprises Limited
Sole mates​
To Ho's surprise, HKSG ended up not only being a platform for Hong Kong sneaker lovers, but also for meeting a fellow CPA. Through the platform, Ho met Nick Yeung CPA, Vice President at Chow Tai Fook Enterprises Limited, which is why Yeung recognized Ho in the middle of a client meeting in 2015. "I was suspecting all along that it was him, but I couldn't confirm it. Back then, we were acquaintances. What a small world. This is how sneakers connected us," Yeung says.
Yeung has been wearing New Balance sneakers since childhood but started collecting them around 2012 with a pair of New Balance 1300 in orange. He chose a warm festive colour in honour of Chinese New Year. "In the beginning, I collected New Balance sneakers because of their craftsmanship, quality of materials and how comfortable they are. But after a few years of collecting them, I realized there is more to the brand and it consistently delivers quality," Yeung explains. "Every pair of United States or U.K.-made New Balance sneakers involve various handmade processes, in particular, the stitching part of the big 'N' logo. So stitching style, the position or the size of the 'N' logo can be slightly different in every pair. To me, this demonstrates the true craftsmanship and skill."
As one of the moderators of the HKSG, Yeung is also in-charge of safeguarding the group from flippers. He and Ho ask different pre-set questions, read social media platforms or even check for common "sneaker friends" before letting outsiders enter the group. "It is not that difficult to spot flippers as it is hard to pretend that you care," says Yeung. "Just by asking what their favourite model is or which New Balance collaboration they like, I can almost guess whether that person is a flipper or a real sneaker lover."
"That strong sense of 'brotherhood' is what I cherish the most during my time collecting sneakers."
At his peak, Yeung brought in 20 pairs of new sneakers a month, and among the New Balance collectors circle, he is considered one of the top 10 collectors of New Balance sneakers in Asia Pacific. Because of this, he has been invited by media to participate in New Balance new launch events, conducted interviews on his collection and has met with other collectors or designers from different countries. "I once flew to Germany and met the founders and designers of sneakers brands collaborating with New Balance. I felt like I was meeting a friend I had known for years, even though it was the first time we met. We had mutual respect and spoke the 'same language.'"
Yeung also likes meeting up with who he calls his sneaker brothers around the world when travelling. "That strong sense of 'brotherhood' is what I cherish the most during my time collecting sneakers."
Like Ho, Yeung married and had children in his early 30s, but has a different approach to his collection. "Every passion will fade with time, and my time chasing the 'holy grail' was over after I had kids. They are my holy grail now," Yeung explains.
"Though I am not interested in collecting sneakers as much now, I would rather rent a small storage space to protect my collection as they were part of me when I was young. I love revisiting the wild days, the times I had with the HKSG, and the brotherhood I formed with other collectors."