When Ellis Cheng joined Kerry Logistics Network Limited in 2009, he was surprised at how it differed from the way most people viewed logistics companies at the time. "Before I entered the industry, people imagined logistics to be sweaty, shirtless guys with tattoos moving things around a warehouse or from one place to another," remembers Cheng, Chief Financial Officer of Kerry Logistics and a member of the Hong Kong Institute of CPAs.
The operations and face of the industry have since changed, he adds, especially at Kerry Logistics. "When most people visit our offices for the first time, they probably wouldn't think we're a logistics company," he says, pointing to the spacious coffee and bar area, colourful meeting spaces and a large team of IT professionals – all housed within a sleek and stylish office area bearing the grey and orange hues of the company logo.
Below the company's office building in the New Territories, its bright orange lorries can be seen whisking goods to and from the vast warehouse while employees wearing the company's uniform work to swiftly load and unload cargo in a floodlit carpark. This orchestrated efficiency, Cheng says, is the result of well-coordinated efforts and teams, backed by sophisticated IT platforms, working hard across the globe to make sure goods of all kinds are stored, picked, packed, transported and delivered to their destinations in perfect condition.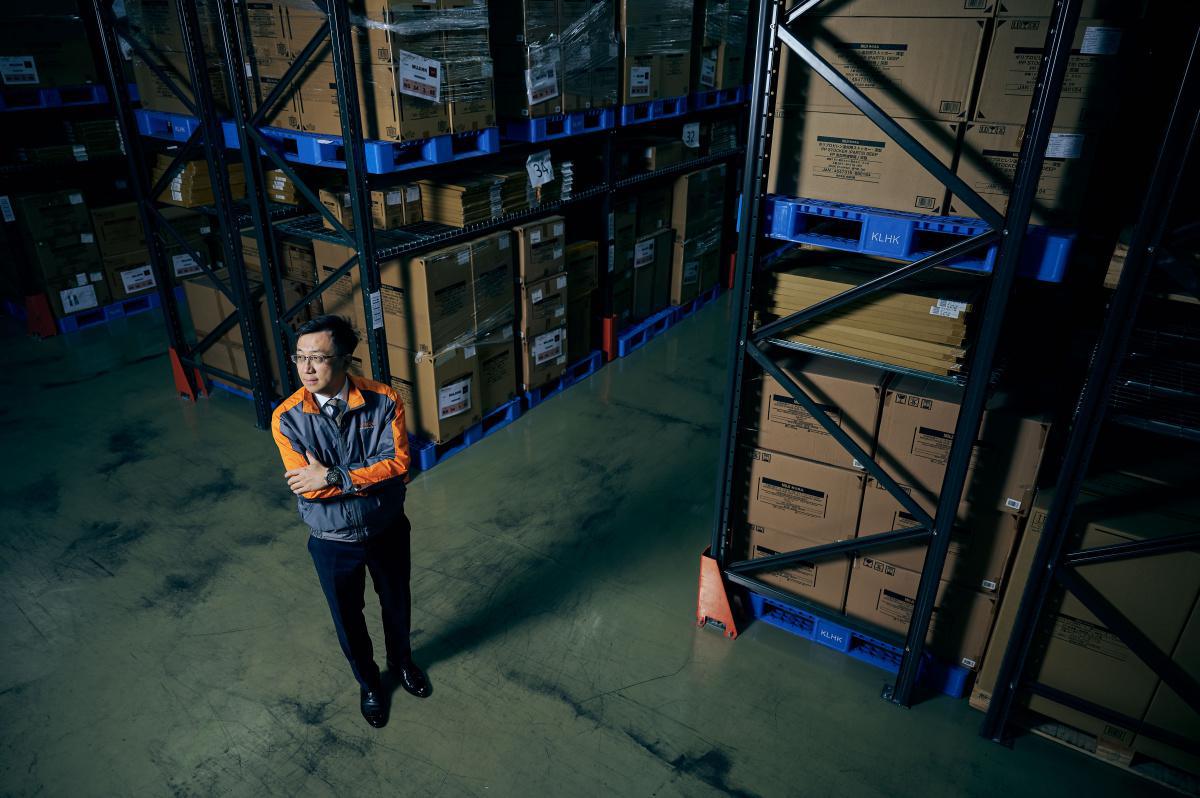 But in terms of pure logistics, the company is very much a new kid on the block. Kerry Logistics started out as a warehousing subsidiary of property developer Kerry Properties in 1981. "People would come to us asking for, say, 10,000 square feet of warehouse space, and we'd rent the space to them. We only began our logistics operations back in 2001 when we started buying our first lorries," says Cheng.
In less than two decades, Kerry Logistics has grown into a Hong Kong-listed company focused on third-party logistics, international and domestic freight forwarding, warehouse operations and supply chain solutions. Headquartered in Hong Kong, the company manages about 75 million square feet of land and logistics facilities, of which 31 million square feet is self-owned. Globally, the company covers 59 territories and employs over 43,000 members of staff and owns more than 10,000 vehicles.
Kerry Logistics was listed on the Hong Kong Stock Exchange (HKEX) in 2013 following its spin-off from Kerry Properties. Cheng arrived at Kerry Logistics to begin preparing its initial public offering (IPO), only to learn that the offering had to be delayed.
Nevertheless, Cheng saw this turn of events as an opportunity to familiarize himself with the ins and outs of the company's burgeoning operations. "I didn't come from a logistics background, so it was important for me to understand how our operations are responsible for our numbers," he says. "In the four years leading up to the IPO, I spent a lot of time interacting with people in charge of our operations to find out how each of our business units generates income."
"Our customers say that if we cannot reach a certain requirement in terms of our ESG reporting, we simply cannot qualify as their supplier."
Overseeing risks
As CFO, Cheng oversees Kerry Logistics' global corpoate functions. He is in charge of finance and accounting, legal, company secretarial, mergers and acquisitions (M&A), investor relations and the treasury, as well as supervising the internal audit department on an administrative basis.
He works with those in charge of the company's international freight forwarding and integrated logistics operations to identify viable ways of cutting costs. "We are always finding ways to streamline processes," he says, adding that the rolling review of efficiency involves all goods, from large international shipments to local door-to-door deliveries. "Processes like 'last mile customization' on generic products moving between countries helps to eliminate the need to go back and forth between the origin and the destination."
The same flexible approach is applied to freight being transported by lorries. "When our lorries go outbound and carry cargo, they should never drive back empty. If they do, that incurs an additional cost," says Cheng. "We would even offer a lower price on a return trip to make sure they're not empty and have goods to drive back – something's always better than nothing."
Cheng's role also requires him to anticipate any potential risks that may occur in the moving of goods. "Since we transport different types of products, we need to make sure business risks are taken into account," he explains. Sudden fluctuations in price can affect how cargo is moved and when it might arrive, he adds. "There are occasions when shippers raise costs at the last minute, which can affect the delivery of goods to our customers," says Cheng. This calls for coordination between the sales and operations team to consolidate cargo or use multiple modes of transport instead. "We could combine the cargo of five ocean carriers into, say, three. This allows us to receive a better volume rebate because of the higher volume of goods following the consolidation," he says.
It is crucial that goods arrive at their destination the same way they were packaged. Therefore, Cheng says, Kerry Logistics plans several steps ahead by complying with international safety standards and ensuring that its supply chain partners also comply with health and safety regulations to transport goods. "For example, when it comes to moving foodstuffs, the business units involved must have ISO accreditation," he adds, referring to a quality assurance certification set out by the International Organization for Standardization. "When it comes to handling sensitive computer data, we have an accreditation with ISO cybersecurity standards, which is renewed yearly, and in handling medical products, we need a Good Manufacturing Practices certification," he says, referencing the tight guidelines laid out by Swiss certification company SGS S.A. Kerry Logistics works with external consultants to ensure the company's practices are aligned with international standards. "Not only does this help us deliver quality deliverables, but it is also a very important selling point of our company," he notes.
Kerry Logistics is now one of a few companies in charge of the colossal task of transporting and storing COVID-19 vaccines, which will soon be administered to Hong Kong's population. The Hong Kong government announced this month that it had acquired vaccines from three separate sources to be made available to the public next year, with the first batch made accessible as early as next month. "Currently, we are one of a few facilities in Hong Kong that has the equipment and infrastructure to store these vaccines," says Cheng, adding that Kerry Logistics had been preparing for this immense effort months in advance.
Cheng has witnessed how environmental, social and governance (ESG) practices have taken on growing importance in recent years and increasingly influence how investors and customers make decisions. His role includes ensuring the company meets its ESG objectives and reporting requirements. "I currently lead a team to work on our ESG goals," he says, adding that this requires cooperation from its quality and risk management division, business units, the company secretary and human resources teams.
He says that Kerry Logistics intends to improve ESG reporting beyond the HKEX requirements and meet the standards issued by the Global Reporting Initiative within three years. "We've engaged an independent consultant to help us develop a three-year sustainability plan to achieve this," he adds. "Our customers say that if we cannot reach a certain requirement in terms of our ESG reporting, we simply cannot qualify as their supplier. It is the same with certain investors, who perform an annual ESG review on the company. If we fail to meet requirements, they will choose not to invest, even if our share price or financials are doing well. As a CPA, I have to make sure the company complies with these standards. We've put in place internal controls to track our carbon emissions, water usage and staff safety. We deal with many international customers, so we can't just focus on local developments. We need to look at the bigger picture."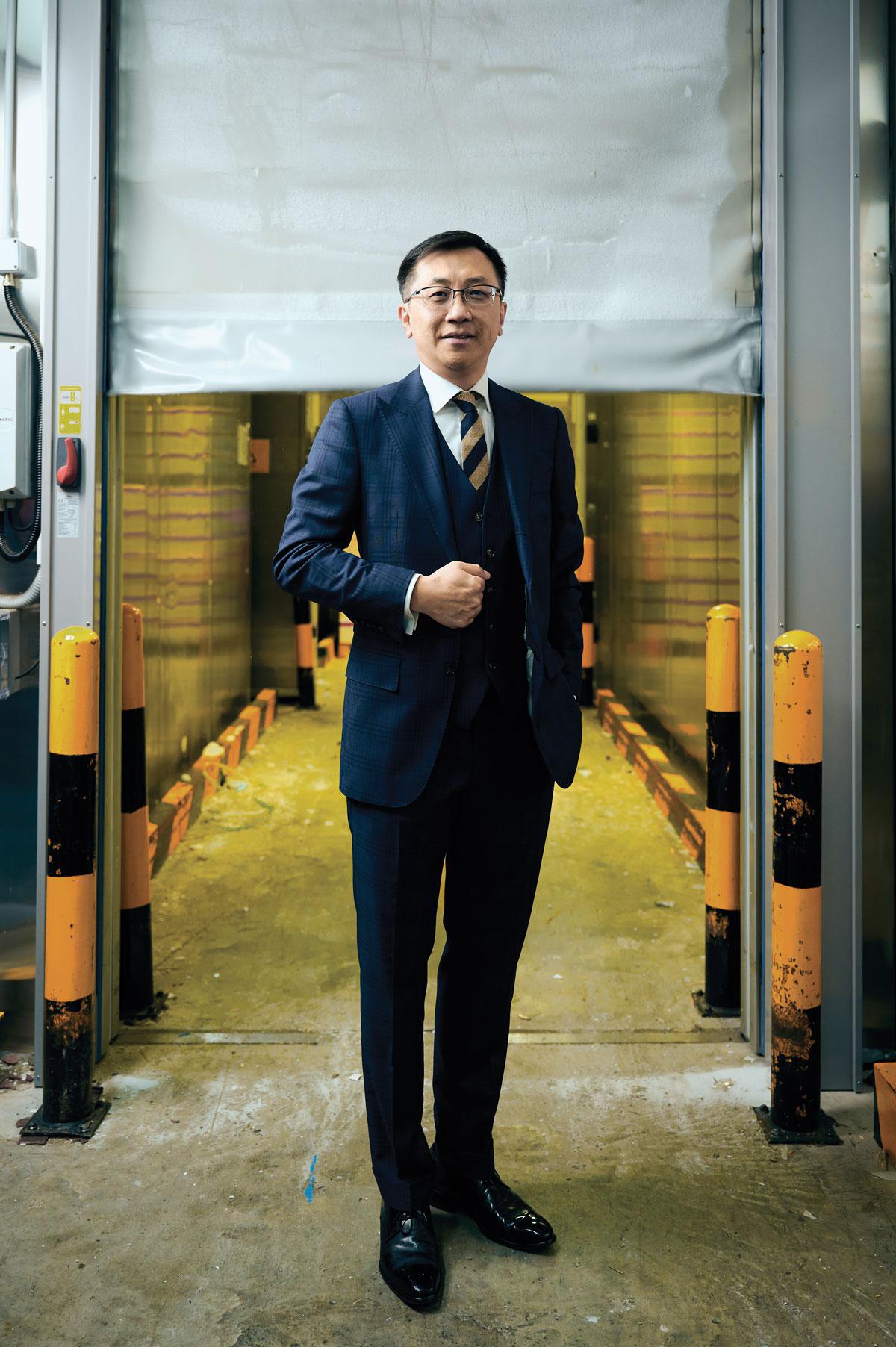 As CFO, Ellis Cheng works closely with the chief executive officer to discuss Kerry Logistics' strategy, plans and potential projects, including mergers and acquisitions.
Exponential growth
Cheng works closely with the chief executive officer to discuss the company's strategy, plans and potential projects. M&As, he notes, have been instrumental in helping the company grow in recent years. "We usually have around 10-12 potential targets in our pipeline," he says. Through M&As with businesses around the globe, the company is able to build on its coverage, scale and capabilities, Cheng explains.
Within the last five years, Kerry Logistics has strengthened its presence in Mainland China, Canada, Egypt, Indonesia, Myanmar, Russia, the Philippines, Singapore, the United Arab Emirates, Central Asia and the United States, through a combination of M&As and joint venture arrangements. "By expanding into more countries, we are able to serve more brands, and go more in-depth in certain verticals and business segments," notes Cheng.
For example, in November 2019, Kerry Logistics acquired Asav Lojistik Hizmetleri Anonim Sirketi, one of Turkey's top air freight forwarders. This helped to expand its freight forwarding capabilities between Asia and Europe. In May, the company announced a joint venture with IAS Holdings Limited in Sri Lanka, extending its reach within South Asia.
Cheng says M&As help to improve the company's capabilities in moving goods. One major milestone in recent years was Kerry Logistics' acquisition of Apex Maritime Co. Inc, a San Francisco-headquartered non-vessel operating common carrier (NVOCC) company, in June 2016. It offers ocean freight, air freight, trucking, customs broking, and specializes in trans-Pacific trade lanes. "Before 2016, our operations in the U.S. weren't that strong. Though we'd entered a decade beforehand, we just couldn't scale up," says Cheng. Now renamed Kerry Apex, the company, as of August, was the largest NVOCC operating between Asia and the U.S. in terms of cargo volume. The company now moves more than 400,000 20-foot containers annually, compared to approximately 275,000 in 2014.
The hard work has paid off. Since Kerry Logistics' IPO in 2013, Cheng says he has helped with the successful completion of more than 30 M&A deals. "As a new logistics company we want to grow organically, but also through M&As," he adds. "This helps us to grow quicker."
"The clock's always ticking. You have to know how to come up with strategic plans and execute them well, all while managing people."
Constant motion
Cheng wouldn't be the CFO he is today without the experiences he gained in his previous roles. In 1988, a young Cheng joined Arthur Andersen & Co. as a budding auditor after graduating from Hong Kong Polytechnic University. "Working in audit taught me how to plan and complete engagements, lead a team and provide advice to our clients," he says.
He decided to further his experience in the commercial sector in the hopes of gaining a better understanding of how business works, building his network and developing a business mindset.
Despite being only in his late 20s, he landed the role of CFO at a printing company Midas Printing Group Limited in 1995. He was recruited to help the company, then focused on commercial book printing, to prepare for its listing on the HKEX. "Though I'd been in charge of many IPOs as a reporting accountant at Arthur Andersen, it felt like I had switched seats," he says. Undaunted by the prospect, he buckled down and helped Midas Printing Group to successfully list in 1996.
Moving in-house after working in a private practice presented unique challenges, Cheng recalls. "When you work in audit, engagements would be done in a matter of weeks or months," he says. "But in the commercial world, you carry everything with you, every day – and this means carrying work home with you. The clock's always ticking. You have to know how to come up with strategic plans and execute them well, all while managing people."
After just over a year, Cheng took on the role of group financial controller of property developer Wing Tai Properties Limited in 1996, then known as USI Holdings Limited. "At the time, the company was only involved in the garment business, but they began developing property right after I joined." The company had also begun collaborating with local conglomerates, which led Cheng to take on a second role as a finance and administrative controller at Mandarin Communications Limited to build a new telecom brand. Cheng led a team of five to establish Sunday Communications Limited, a telecom brand under Mandarin Communications. Both companies were eventually acquired by mobile network provider PCCW Mobile HK Limited. "It was a multi-company role in one job, but it truly taught me how to multitask," says Cheng.
Three years later, he joined skincare products and services group Water Oasis Group Limited as their CFO and company secretary. Though Cheng knew little about the sector, he quickly acclimatized. "The first thing I learned at the company was how to properly clean my face," he laughs. "It was crucial to know how – otherwise I wouldn't have been able to sell the products to our investors." He stayed for more than seven years, helping the company to list on the HKEX in 2002 and expand into overseas markets such as in Mainland China, Taiwan and Singapore.
In 2007, he joined Miramar Group as CFO, and was quickly tasked with renovating The Mira Hong Kong hotel and offices in Tsim Sha Tsui. "My boss at the time, Martin Lee, told me that I'd be in charge of the project," says Cheng, referring to the son of Hong Kong business tycoon Lee Shau-kee. Many of the tasks extended beyond the role of accounting, prompting Cheng to learn and act quick. "I had to speak with different suppliers about the costs and with the contractors about the design and Feng Shui of the offices." The project was a success, with Cheng and the company moving into the new 40,000 square foot office in Miramar Tower. The almost three years at Miramar tested Cheng, but by working outside his comfort zone did he acquire additional skills.
Looking back at his career, Cheng appreciates the knowledge and opportunities the CPA qualification has afforded him over the years. "No matter what your role is in an organization, the ability to analyse numbers is extremely important," he says. "I'm able to understand the story behind them in a very short amount of time. My CPA training has given me this ability."
Success, Cheng believes, takes time and effort. "My advice for young professionals is to be patient in their career development – a degree won't bring you as far as you think. Once you graduate, you start from scratch, so you must be humble," he says. "The moment you join a company, you're a cost to the business. Think of how to shift yourself from being a liability to being an asset."
Cheng, a Hong Kong Polytechnic University alumnus, worked as an auditor at Arthur Andersen & Co. before switching to the business sector.
Lending a helping hand
Outside of work, Cheng finds meaning in helping others. During the weekends, he works as an Auxiliary Medical Service Officer. This role sees him patrolling trails and sports events on a bicycle to lend help to those in need. "For example, during marathons, you'll see some people in uniforms riding bicycles carrying oxygen, bandages and other supplies. When runners get injured or collapse, we're the guys that come through to help," he says.
Cheng began volunteering in 2014 and says that setting aside time to help people has truly made him happier. "Through voluntary work, I get to experience new things and meet different people. It's nice to step out of the accounting world every now and then," he says. He has also encouraged some colleagues at work to take part.
His most memorable experience was helping a young girl who had just fallen off her bike along with her cousin while he was on patrol duty in the New Territories one weekend. "It was a bad fall. She was crying and both her legs were scratched and bloodied," recalls Cheng. "My teammate helped her cousin while I did my best to console her and wrap her legs up with bandages." He calmed the girl down and jokingly said he'd do his best to make her bandage look prettier than her cousin's, which cheered her up. "Afterwards, she asked if she could take a photo with me," he says with a smile. "You simply can't buy the sort of happiness you get from helping or saving someone." Cheng has also been a member of UNICEF Hong Kong's Audit Committee since 2016.
Cheng says he looks forward to building on Kerry Logistics' brand and business, and wholeheartedly intends on staying for the long run. "I want to continue growing Kerry as an international brand and position ourselves as an all-round professional services provider – I appreciate how we are changing the image of logistics. This is what I like the most," he says. "If I didn't like the job, it wouldn't be the company that I've served the longest in my career. I believe that will remain the case for the rest of my working life."
---
Hong Kong-headquartered Kerry Logistics manages about 75 million square feet of land and logistics facilities, of which 31 million square feet is self-owned. Globally, the company covers 59 territories and employs over 43,000 members of staff and owns more than 10,000 vehicles.