Brenda Chan has been a passionate badminton player for as long as she can remember. She fell in love with the fast-paced sport right after her mother signed her up for classes at the age of nine. She also soon came to appreciate another aspect of it – the strong sense of community. "I'm the only child in my family, so I didn't have brothers or sisters to play with when I was growing up. But through badminton, I could make a lot of friends," says Chan, Executive Director at Dongxing Securities (Hong Kong) Co. Ltd., a member of the Hong Kong Institute of CPAs and Convenor of the Institute's Badminton Interest Group (BMIG).
Chan took on the role of convenor in 2019 and is in charge of budgeting, organizing training sessions and recruiting new members. There are more than 550 members in the BMIG, where members take part in regular training sessions and friendly competitions. The interest group also boasts its CPA badminton team, a team of more than 30 players who represent the Institute in competitions such as Cross-border Competition, Five-point Invitational Competition, Integrity Cup Badminton Competition and the Recreation and Sports Club for Hong Kong Professional Bodies (RSCP) Badminton Competition.
Chan began competing at an early age and viewed each competition as an opportunity to put her skills to the test. "When I was in primary school, my coach at the time encouraged me to start competing in inter-school competitions," remembers Chan. "The more I competed, the more players I met who were a lot better than I was, and I started to realize my weaknesses. But that made me want to improve."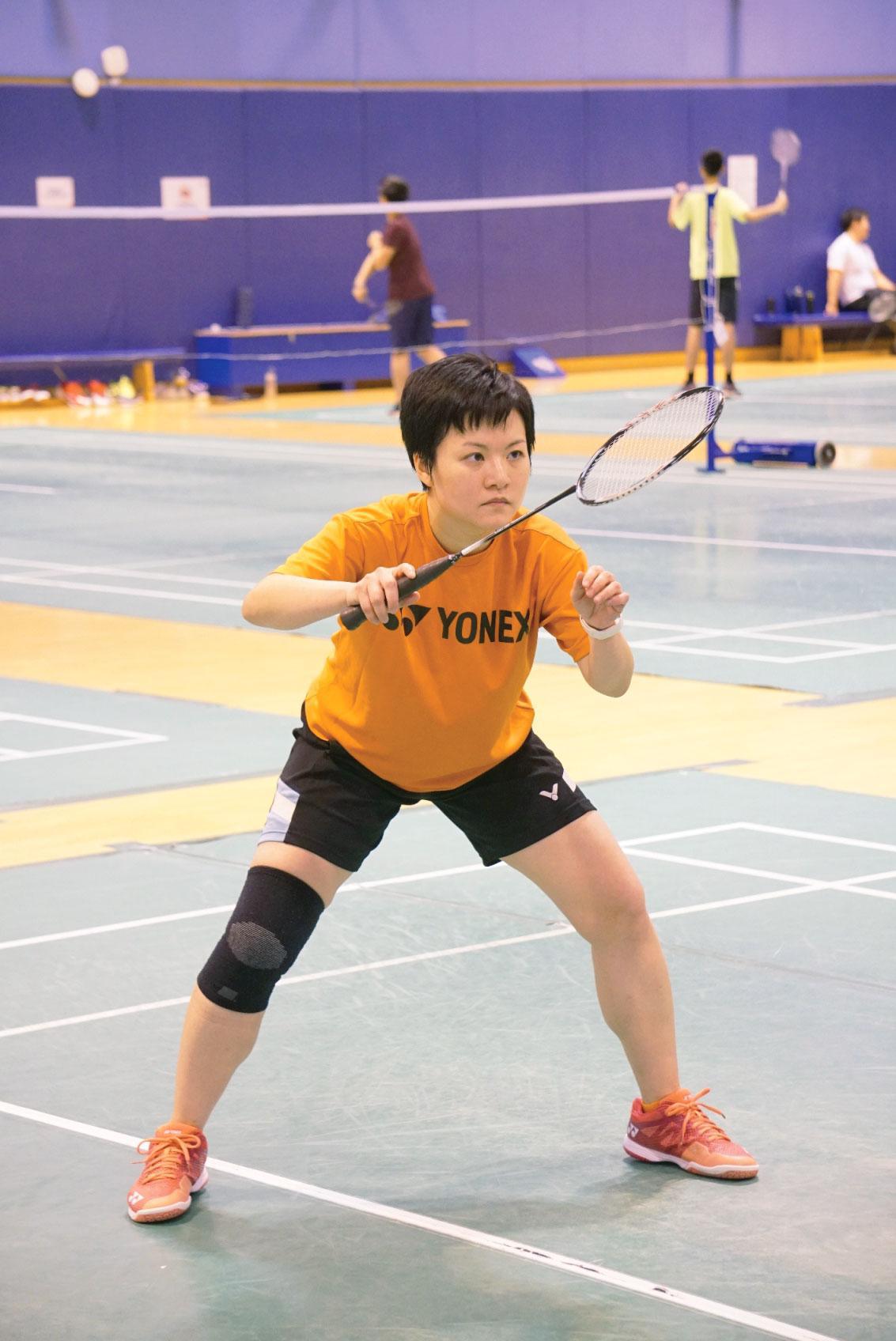 Brenda Chan, Executive Director at Dongxing Securities (Hong Kong) Co. Ltd. is Convenor of the Badminton Interest Group.
She spent years perfecting standard badminton strokes such as net shots, where a player softly hits the shuttlecock just over the net, and lob shots, which involves hitting the shuttlecock as close to the court's baseline as possible. Chan's all-time favourite shot is the smash shot, a high-powered move where players forcefully hit the shuttlecock towards the floor on the opponent's side. "This is one move that requires consistent practice," adds Chan. "You can do a smash shot where the shuttlecock lands really close to the baseline, or one directed right at the opponent's shoulders or body. This makes it hard for them to deflect a shot – unless they're fast enough."
She joined the BMIG in 2012 and also began playing in the CPA badminton team that same year.
"The more I competed, the more players I met who were a lot better than I was, and I started to realize my weaknesses. But that made me want to improve."
She looks forward to playing in each tournament, especially the annual RSCP Badminton Competition, which sees players from professional bodies such as the Institute, The Hong Kong Institute of Architects, Hong Kong Bar Association, Hong Kong Dental Association, The Law Society of Hong Kong, The Hong Kong Medical Association and The Hong Kong Institute of Surveyors compete in singles, doubles and mixed doubles matches with each other to win three out of five sets.
Chan says the most challenging match was a women's doubles match with the Law Society in 2018. Her opponents, who had equally strong smash shots, meant Chan and her partner couldn't solely rely on attacking. "It felt like we were defending their smash shots the entire game," she says. To deflect their smashes, Chan hit back with softer yet well-timed net shots. "This also allowed me to rest for a while, since I was playing near the net – otherwise I'd be running all over the court trying to catch their shots. When you get too tired, you'll lose focus." Chan's team ended up winning the game, but only by a slim margin of two points.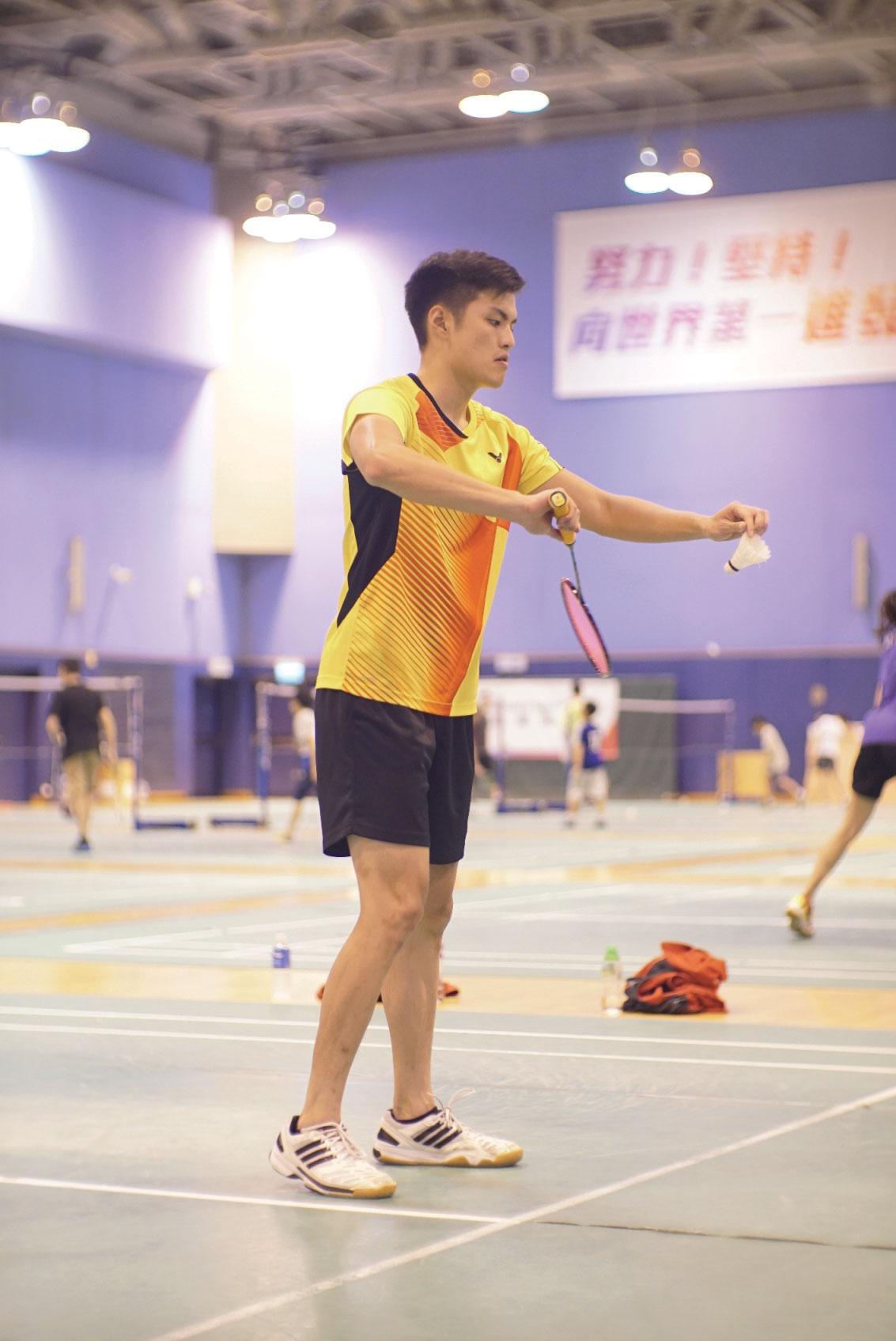 Lawrence Li, Vertical Planning and Operations Manager at Klook, is the Deputy Convenor of the BMIG.
Like father, like son
Indeed, physical fatigue coupled with pressure on the court can make or break a game, according to Lawrence Li. He notes how the final moments during a men's doubles match during the 2017 Integrity Cup with a team from Qingyuan were some of the most nerve-wracking times he's experienced. With his partner, they won the first set, but the speed of their opponents wore them out during the next round. "We started losing focus, so they won the second one," remembers Li, Vertical Planning and Operations Manager at Klook, an Institute member and Deputy Convenor of the BMIG. Picking up speed, they led during the third set, but their opponents still caught up, leading both teams vying for the final winning point. "We faced a lot of pressure during the deuce point. People had gathered to watch us play – even the Institute's president," he says. "Everyone thought we were the more balanced team and would win the championship."
However, Li's team lost. But he notes how the experience gave them the motivation to train even harder for the next competition two years later in 2019. They ended up beating the Qingyuan team, this time during the semi-finals. "We had more talented and younger players in our team that year," he adds. They made it to the finals, where they defeated the Guangzhou team – something Li will always remember. "It was a very tough match, but we'd practiced tirelessly the past two years, so we felt mentally and physically ready," he says. "I felt proud to represent the Institute's team during the finals – there was definitely an adrenaline rush." That year, Li also won the men's doubles champions with his partner David Tong.
"I felt proud to represent the Institute's team during the finals – there was definitely an adrenaline rush."
Li first felt that rush and excitement as a child whenever he'd watch his father play badminton. "When I was around five, I would follow my dad to the badminton court where he'd play with the other uncles," he says. A friend of his dad invited the young Li to play a few rounds, and was surprised by his natural ability to keep hitting the shuttlecock over the net. "He told my dad that I had great potential. Shortly after, my parents signed me up for classes." Practicing up to five times a week, he kept at the sport and went on to found a badminton team in secondary school. "We didn't receive much support from the school at the beginning, and I remember having to bring my own rackets and shuttlecocks to each training session," he adds. He eventually pulled together a five-piece in his year just in time to compete in both local and international school competitions, winning the local school tournament in the first year and the international school tournament four years in a row. "Then the school started noticing us," Li says. "They hired a proper badminton coach and expanded the team to include students from all years in the school. I also received an award for best athlete of the year. The school started giving out academic scholarships to students who excelled in sports and supporting the teachers and coaches by running classes dedicated to more than just badminton. Our school ended up winning badminton, football, and basketball tournaments. It all started from a racquet and a shuttlecock. This is something still very meaningful to me."
Though he doesn't play badminton with his father much these days, Li says his father attends each competition just to support him. "The sport helped us to bond and maintain our relationship throughout the years."
David Tong, Senior Associate at Deloitte China, joined the BMIG in 2015. He has participated in overseas badminton matches since he was 14.

Doubling down
For David Tong, badminton has also been a fundamental part of life since he was six – but it didn't come naturally at first. "I couldn't handle such a long racket or even hit a shuttlecock over the net," says Tong, a Senior Associate at Deloitte China and Institute member. Determined to improve, he wanted formal lessons, and convinced his parents to enrol him at the Hong Kong Sports Institute (HKSI) at the age of 10. Training three times a week, he polished his skills and eventually became lead team member of the badminton team.
At the age of 14, he was chosen to represent Hong Kong on behalf of the HKSI in overseas competitions, leading him to play in tournaments in Singapore and Japan. It was also Tong's first time playing against badminton players outside of Hong Kong – something he found to be a valuable learning experience. "Each team required a different strategy," he says. "The most challenging team was a team from Indonesia. Though they were young, their skills were mature, as if they had perfected all their moves very early on." Tong was also impressed by the perseverance of the Japanese players. "They weren't the most skilled, but what impressed me the most was how they would never let the shuttlecock touch the floor," he says. "They were very disciplined and had very good teamwork. They also did everything together, from warming up to training to playing." The persistence of the Japanese players, Tong remembers, frequently wore him out. "They are high-energy players, and each round tested my physical fitness, mental strength and strategy," says Tong. "I had to figure out how to score points without using all my energy. I remember the fatigue I felt from playing with them affected my performance throughout the day."
But the difficult matches helped Tong to quickly improve, and in 2008, his effort saw him finish fourth place at the International Youth Competition in Tokyo, and in 2011, he won the Hong Kong Annual Badminton Competition, where he played in the intermediate division. "I would consider that to be my biggest achievement," he adds.
He left the HKSI at the age of 18 to focus on his studies at university, and is grateful to further his passion for the sport through the BMIG, which he joined in 2015. He made many friends through the group, including Li, who he enjoys playing doubles games with. "What I love about badminton is playing in doubles, and I'd say Lawrence is my favourite doubles player to play with," Tong says. "We support each other through each game and also strategize together – we do what we plan to do."
Thiam Weng Yap joined the BMIG in 2009. Here, he is pictured playing in the 2017 Integrity Cup in Dongguan.

A sport for life
Thiam Weng Yap's enthusiasm for badminton dates back to the late 1970s. As a young boy growing up in Kuala Lumpur, he remembers joining his dad for a few exciting rounds of badminton every Wednesday night. "My dad worked at our school canteen, which was right next to the badminton courts," says Yap, Vice-President, Internal Audit at the Hong Kong Exchanges and Clearing Limited and an Institute member. "We would play as soon as he finished work, and I quickly got hooked – I think I was around seven at the time." He joined his school's badminton team, and began taking part in inter-school competitions in primary and secondary school.
As Yap was becoming a more formidable player, a chance meeting during one competition changed his life. He was spotted by a badminton coach, who then asked him to play a few rounds. Shortly after, the same coach, who was a former world champion and the chief national coach of the Malaysia National Badminton Team at the time, bumped into Yap playing another competition, and invited him to join the team. "I was very surprised. It was amazing I even had the opportunity to become a member," adds Yap, who then decided to leave school at the age of 18 to play alongside the team.
"We all lived in dorms near the badminton courts, where we ate, trained and practiced five to six hours a day, six times a week."
He soon realized that there was a lot to learn. "When I first joined, I found out that my basic techniques were wrong all along," laughs Yap. "I started working on my footwork, strokes and improved my level of fitness. The way I perform my strokes today was all influenced by my coach and my time playing for the national team." He then lived and breathed badminton over the next three years. "We all lived in dorms near the badminton courts, where we ate, trained and practiced five to six hours a day, six times a week." Improving his skills by leaps and bounds, he was chosen to train the national team for the Thomas Cup in 1992, a world men's team badminton competition. Too young to play with the team, Yap had to get used to training players older than him. "I was very good with my attacking games, and helped to train the key players to beef up their defence for the men's single's games," he says. That year, Malaysia won the finals against Indonesia, and it was the country's first victory in 25 years. "I was extremely proud to play a part in helping my team to achieve our first win in such a long time. We haven't even won the cup since."
Yap then found himself at a crossroads, wondering whether he should pursue badminton full-time or go back to school. "I didn't come from a rich family, so the answer was quite obvious," Yap says. He enrolled himself in a diploma programme then studied accounting in university. A decade later, he was headhunted and arrived in Hong Kong in 2007 to work at KPMG, where he found out about the BMIG through a colleague.
Like many members of the interest group, Yap feels humbled to have ample opportunities to not only compete in competitions, but also meet like-minded players. He says that though he's lost the agility he had in his teen years, the sport continues to be his go-to exercise. "It's a full mind and body workout. It trains your arms, legs, and your mind. You're always thinking about how to outsmart your opponent," he says. "Nothing keeps me feeling fit and more refreshed than playing badminton."
---
The Institute's Badminton Interest Group is open to all members interested in the sport. For more information on all 15 of the sports and recreation groups, visit the Institute's website.