Getting home after work is always a frenzied moment for Vanessa Chan CPA. As she opens the door, eight spirited toy poodles greet her with wagging tails and warm cuddles. "When I'm with them, I'm never bored. Spending time with them is the best part of my day. I am always excited to come home and see them," says Chan, a proud pet parent of eight dogs for 12 years.
Animals are a big part of many people's lives, including CPAs. Outside the numerous responsibilities pets bring, Institute members, like Chan, see furry companions as a way of counteracting the stress brought by hectic work schedules, and the current pandemic.
Vanessa Chan CPA, is the proud owner of eight toy poodles. She is pictured here with Tiger, Big Mac and Bobo.
Bobo is Chan and her husband's first and oldest dog. In 2008, Chan's husband presented her with a special gift that he chose for himself – a puppy. "I was surprised by my husband's bold decision. We spent most of our dates visiting different pet stores. We would often come very close to buying one, but we would always hold back due to our hectic work schedules. But when I saw Bobo for the first time, all my worries were gone," Chan explains.
In 2009, they decided Bobo needed a companion in the house, and got their second dog, Mui Chu. Both of the puppies soon got along and in 2010, Mui Chu gave birth to two male puppies, which they named Mocha and Tiger, and four female puppies, which they named Big Mac, Oreo, Healthy and Lucky B.
"I have never considered myself as a mother-type. Yet, Mui Chu has shown me the miracle of motherhood," says Chan. "After much research, we learned that toy poodles often have four babies in one go, but when we took her for an ultrasound scan, we saw five puppies on the screen, and that already exceeded our expectations. After she gave birth to the fifth puppy, we started to clean up the place. But then we were shocked to find her giving birth to a sixth puppy even though we only saw five in the ultrasound! Hence, the name Lucky B," Chan explains.
Taking eight poodles out for a walk, she notes, can be challenging. To cope, Chan mostly takes the highly energetic Bobo, Mocha and Tiger for walks. With the others, Chan plays hide and seek with them at home to release any pent-up energy.
During the pandemic, Chan, like many others, decided to stay home more. "The silver lining was that I could spend more time with my puppies. The more time I spend with them, the more I understand unconditional love. No matter what happens, they love you. You are the centre of their universe," she explains. "Me and my husband's experience of being the parents of our eight pups is something I will always cherish."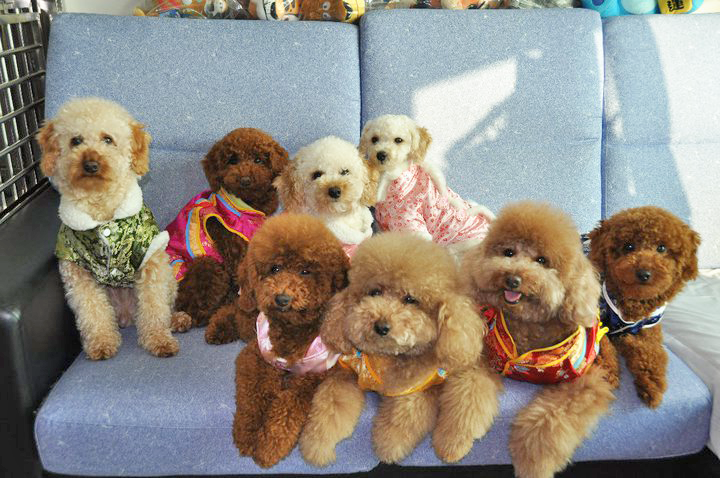 "No matter what happens, they love you. You are the centre of their universe."
Adding new meaning to life
While adorable kittens charmed their way into the hearts of several potential owners at the Society for the Prevention of Cruelty to Animals (SPCA) in Wan Chai, Jackie Li CPA, spotted a lonely domestic shorthair in the corner, with a cone around her head. Intrigued, Li and her husband approached the one-year-old cat who suddenly perked up. Li remembers how the cat walked up to her wrist and waited for Li to stroke her. "I used to believe that I was a fan of dogs, but at that moment, I felt a strong connection with Sophie and knew I had been chosen by Sophie to be her mother for life," says Li.
Initially, Li wanted a dog, but after hearing about her husband's experience of growing up with three adopted cats, she decided to adopt one too. "I used to think cats were distant and cold, but Sophie proved me wrong," she says.
After bringing her home for the first time, it took a while for Sophie to feel comfortable in their apartment. She would hide under the sofa most of the time, which inspired her name. "Sophie is the exact opposite of other cats. She is warm and friendly," says Li, adding that there are particular moments where Sophie's affectionate personality really shines. "During winter, she sits on my chest when I lie in bed. And every morning, right before my husband heads out to work, she sits on his lap while he ties his shoes."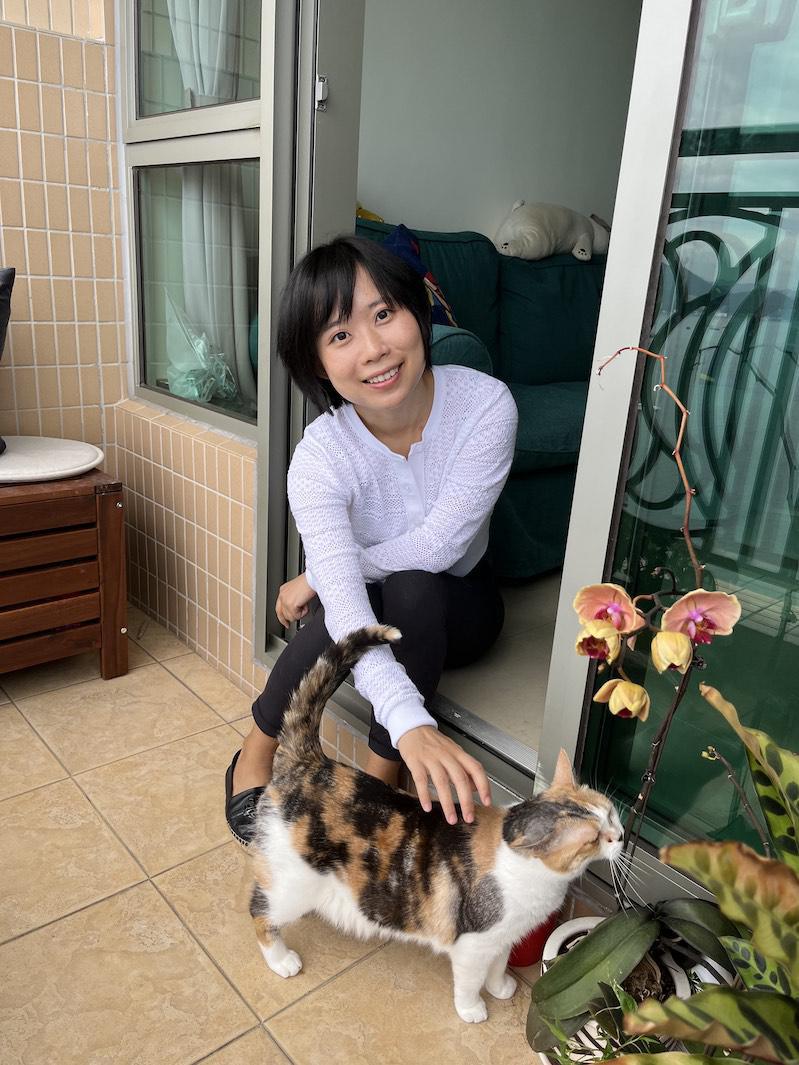 Jackie Li CPA is pictured here with her cat, Sophie.
As cat owners know well, there are many seemingly harmless things that are poisonous to cats, such as grapes and raisins or plants like poinsettia. "I used to enjoy buying plants for fun, but now that I have her, I research a plant's impact on cats before purchasing. The anxiety we had when she was sick once reminded me how difficult it is to be a parent. She keeps me on my toes," Li says. "In a way, having Sophie in my life made me realize the weight that comes with being fully responsible for someone's life, which is scary yet deeply rewarding. Thanks to Sophie, I have a newfound appreciation for my parents."
Sophie has accompanied Li through the ups and downs of both work and life, teaching her some valuable lessons. "Along the way of taking care of her for five years, I understand the meaning of responsibility. She has become a major part of my life, and I cannot make a decision without thinking about her first," Li adds. "She is my reason to work harder. I want to offer her the best life possible. The longer I have her around, the more meaningful life is."
"I used to think cats were distant and cold, but Sophie proved me wrong."
Days of snow and sun
In 2017, Raymond Chiu CPA, Senior Audit Manager at Crowe (HK) CPA Limited, was invited to his friend's home to see their newborn kittens. When he arrived, he saw six little British Shorthair kittens bobbing along around the house. As Raymond made his way to the sofa, he felt a little itch around his ankle. When he looked down, he saw a furry white kitten, resembling a white ball of fur. It was at that moment he decided to bring the kitten home and name her Snow. "I bonded with her immediately, and I would say it was love at first sight," he says.
Raymond and his wife, who both work in audit, believe cats are the perfect pet for them. "Working in this field is quite stressful and busy, especially in certain seasons. One of the best things about cats is that they are very independent and do not require my full attention," he explains. However, in 2020, knowing how lonely Snow can get during the peak seasons, they decided to find her a friend, and brought Sun, a Ragdoll, into the family. In contrast to Snow's slow-paced and quiet nature, Sun is curious and energetic.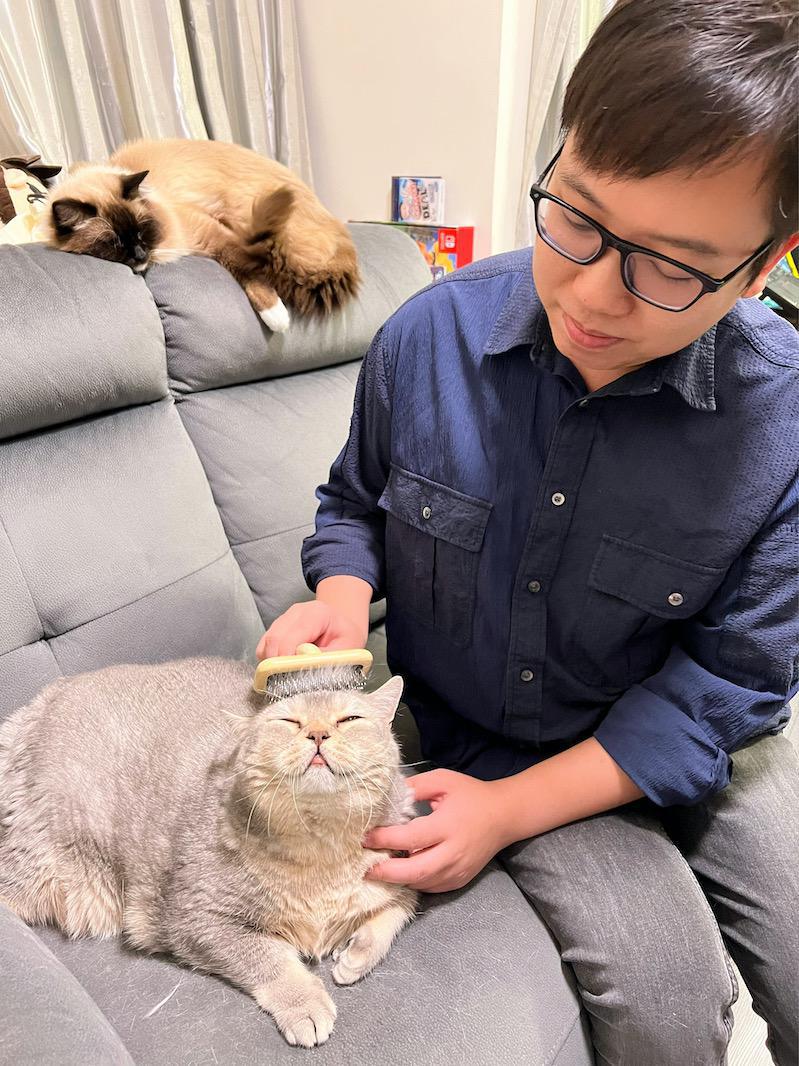 Raymond Chiu CPA, Senior Audit Manager at Crowe (HK) CPA Limited, owns two cats, which he named Sun and Snow. He is pictured here combing Snow.
Making the time to play with the cats can be challenging for Raymond, but he manages to squeeze time from his hectic schedule every day. "They provide us with a strong incentive to return home every day," Raymond adds. "While grooming their hair, I feel relaxed and at peace. Playing and exercising with them helps me to stay active and keeps them healthy too, so it's a win-win situation."
Every morning at 7:00 a.m., Snow finds ways to wake up Raymond to feed her, he says, adding that unfortunately Snow will never know the difference between a workday and a holiday. "I used to sleep in on weekends, but she would step on my face to wake me up and make her breakfast," he says. "After a while, I saw this as an opportunity to develop a habit of waking up early, every day. I include my daily chores, goals and playtime in my schedule to fully utilize my day. I've since felt more organized and disciplined after following this new routine."
Raymond says Snow and Sun have helped to further strengthen his relationship with his wife over the years. By taking turns looking after the cats, the couple formed an even more solid bond, knowing they can rely on each other. "Ever since I have adopted them, my life has been filled with affection and happiness. The support, unconditional love and joy you receive from them are incomparable," he says.
"They provide us with a strong incentive to return home every day."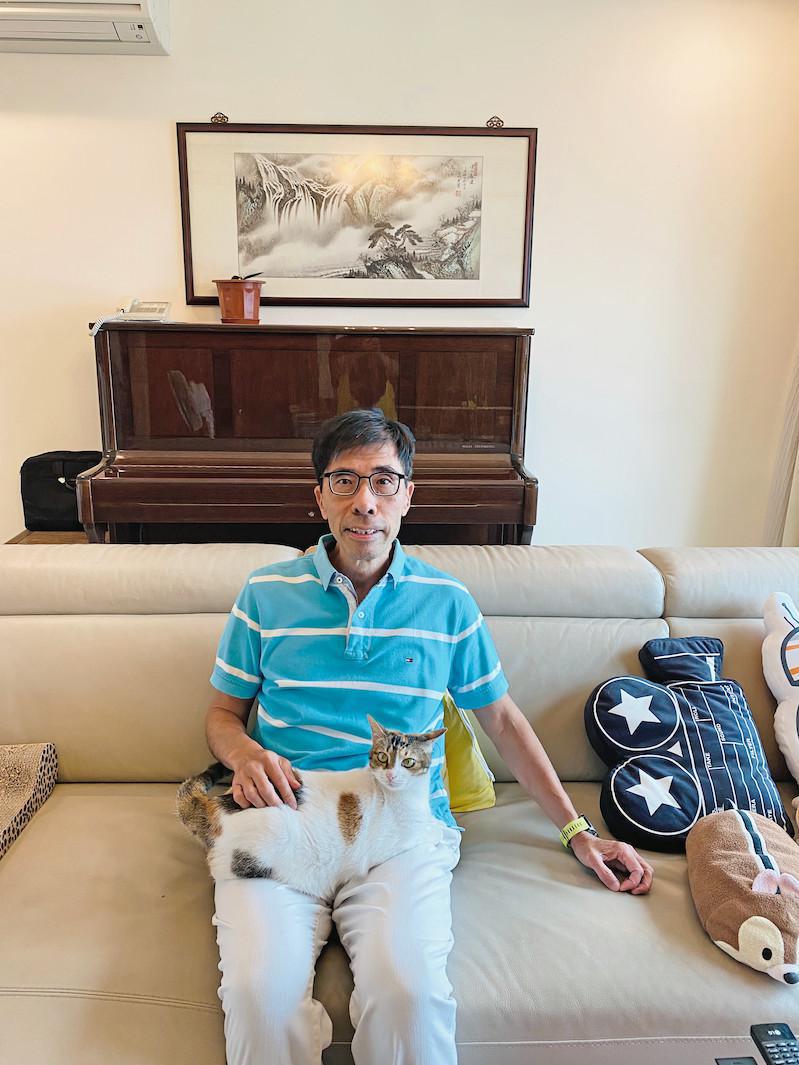 Terry Chiu FCPA, who is retired, with his cat Miao Miao.
Bolt of energy
Over the years, Terry Chiu FCPA has had dogs, goldfish and turtles as pets. Two dogs accompanied him throughout his youth, and during early adulthood, he took care of goldfish and two turtles. "I had them for a year, but had to find owners who could treat them better than I could, since I had to travel a lot due to the nature of my work and couldn't offer them the attention they deserve," Terry explains, who was then able to focus on his career until retiring in 2015.
In 2016, he wanted to have a pet again, but this time he was looking for a more interactive and manageable type of animal companion. Through the SPCA, he was introduced to a family that wanted to put their newborn kittens up for adoption. "The kittens were around three months old and were very charming – but one cat stood out from the rest," Terry adds. "She was playing with a fluffy ball. When I saw her jumping around, I was filled with so much joy and knew that I had to bring her home."
 "I first named her Siu Mai, as her head was small and yellow," he says, referring to the popular Hong Kong street snack. "But she did not respond quite well to the name. So I tried to 'speak' or 'meow' like her, and she replied to me. We had a conversation as if we were speaking the same language. Ever since then, I call her Miao Miao," Terry explains.
Having Miao Miao around the house adds colour to Terry's daily life. He usually spends 30 minutes a day playing hide and seek with her. "I never thought that a cat could be this friendly and energetic. Most of the cats I met before were distant and cold, but not Miao Miao," he adds. "She always finds ways to hide in drawers and open doors where I least expect her to. She once 'broke into' my bedroom by pulling the door handle in the middle of the night. She is like a bolt of energy that is full of surprises."
"I never thought that a cat could be this friendly and energetic. Most of the cats I met before were distant and cold, but not Miao Miao."
Taking care of Miao Miao and watching her grow up has taught Terry many lessons. Young cats, he soon found out, tend to scratch furniture to sharpen their claws, which became an issue. Despite Miao Miao damaging his leather sofa and TV wiring, he now responds with a bit more patience and understanding. "In the end, you can't stay angry with her for long, especially when you look at her adorable face – it feels like having a daughter in your house. The energy around the house has completely changed,"  Terry says. "I've become more empathetic. It is, indeed, a blessing for me to have her in my family."
---
Only 9.4 percent of Hong Kong households keep dogs and cats as pets, according to a 2019 study by the Census and Statistics Department.