Many CPAs enjoy the occasional glass of wine with dinner after work, but some have taken the next step to become certified tasters, or even pursued a career in wine. Four Institute members tell Jeremy Chan about their journeys to appreciating wine like a pro
Photography by Theodore Kaye
(From left to right) Franky Mok, Jackie Leung, Charles Cheng and Anthony Fung.
As night falls, Franky Mok carefully wraps up wine bottles in aluminium foil and numbers each one, making sure he doesn't mix them up. It may seem like a magic trick, but Mok is preparing for a blind tasting. Over the next two hours, he will be serving and speaking about various red and white wines to an eager group of 40 attendees who have signed up for Merry Monday, the Institute's wine tasting events held on Mondays throughout the year.
Hong Kong has seen an increased interest in wine since the government ended its wine tax in February 2008. That year also saw the launch of the city's first major wine festival, the Hong Kong International Wine & Spirits Fair, while the CCB (Asia) Hong Kong Wine & Dine Festival launched the following year. Many people, like Mok, don't see wine as just a beverage, but as a passion and hobby.
Mok first spoke at Merry Monday in 2013, and again in 2014 and 2016. To one session, he brought red and white wines such as Sauvignon blanc, Chardonnay, Bordeaux, and Miraval and Toscana rosé. "I choose bottles that use different grapes. This way, the attendees could use their palette and nose to spot the differences," says Mok, a sole proprietor of his own accounting firm.
He sets the tone during happy hour, the first part of the class, by offering glasses of rosé as a welcome drink to fellow participants. The next part, wine appreciation hour, is what Mok anticipates the most. "This is when I share my knowledge about wine with attendees – in the form of a blind tasting."
"This is why I like blind tastings. Nobody knows what they are drinking, and people don't have any expectations until they have tried the wine."
Mok says blind tasting removes all factors that could have an impact on someone's initial perception of a wine. "Knowing the name of a wine or winemaker may have some kind of influence on how people taste it. A beautiful vintage label may lead people to think it's a good wine," he says. "This is why I like blind tastings. Nobody knows what they are drinking, and people don't have any expectations until they have tried the wine."
He speaks on topics such as different types of grapes, and which wines need to be chilled or aerated to keep its "nose" from changing, referring to a wine's smell or aroma. "Wine reacts with oxygen when exposed to air, and that changes its nose," he says.
To emphasize this, Mok presents attendees with both young and aged wines from the same winemaker. "I like seeing them spot the differences by themselves," he adds. He then reveals the identities and characteristics of the wines after two rounds of blind tasting. "Sometimes, the attendees don't like a certain wine, and find out it's produced by a great winemaker or château."
Their reactions remind Mok of when he first got into wine more than a decade ago. He became fascinated after reading Drops of God, a wine-inspired Japanese comic book series. Not a fan of alcohol at first, he says the most effective way for newcomers to appreciate wine is to taste as many as possible. "I did lots of research online and attended wine tasting events, and drank wine with many like-minded friends," he says, looking back on how he taught himself about wine.
Mok looks forward to speaking again at a future event, and hopes to see more new faces. "Remember to enjoy yourselves – and enjoy the wine!"
A second home
Growing up in Sydney, Jackie Leung had been exposed to wine before, but never really saw its appeal. In 2006, after returning to Hong Kong for work, he signed up to Merry Monday to sample different wines. He remembers the atmosphere the most. "Everyone was drinking and talking to each other about wine, and people would casually introduce themselves and tell me about the wine I was drinking," he recalls. "It was a chance to meet other CPAs in a relaxed setting. We got to talk about something other than work, and everyone was so open." That night was the start of Leung's wine journey.
He started regularly attending Merry Monday events, and reading up on wine, and eventually decided to speak at one in February 2014, during the week of Valentine's Day. Leung, who is Director at Syndicated International Limited and a holder of a Wine and Spirit Education Trust (WSET) Level 2 Award, spoke on topics such as what wine to order, picking the right restaurants, and wine and food pairings when on a date.
When it comes to wine on date nights, Leung reminds men to order one low in alcohol. "Your date might not like wine too strong – and she might think you have other ideas," he laughs. He spoke on pairing red meat with red wine and white meat and seafood with white wine. Oysters and Chablis white wine is his personal favourite.
Leung ensured there was enough wine to go around. "Sometimes there just isn't enough wine at these events, so I brought my own wine just in case – it's a time for sharing, so why not?" Another friend and attendee of the event who worked near the Institute kindly offered to bring a bottle from his office. He says many of the attendees are regulars, just like him. "It's more than just a gathering – it's a wine reunion."
Attending and speaking at Merry Monday has given Leung a newfound appreciation not just for wine but the event itself, and he strongly encourages other CPAs to give it a go. "You won't regret it," he says. "I've made many friends since joining, and it's like my home."
New seeds on new soil
Anthony Fung's first sip of wine came at a young age. "My parents let me try wine when I was around six or seven years old," Fung says. "I found it to be rather bitter." But it wasn't until he joined the venerable Cambridge University Wine Society (founded in 1792) as a student that he truly became a fan.
"Half the people were there to get drunk. But you also got the more serious members who studied it," he recalls. Fung was one of those serious members. He searched through bookstores in his spare time for books by famous wine writers such as Hugh Johnson and Jancis Robinson, and his curiosity stuck with him long after graduation.
Fung returned to Hong Kong after graduating and landed a job at KPMG. After seven years at the firm, he left and followed two other investors who were looking to invest in vineyards in California's Napa Valley, famous for its fine wines and multitude of wineries. After a few trips, they decided in 2012 to take over Budge Brown Vineyard, a once-thriving 20-acre plot of land and winery, whose owner had recently passed away. They renamed it Calla Lily Estate and Winery, and revived the winery after getting in touch with a winemaker and the original grape farmer, before kick-starting their operations in 2013.
"In the wine industry, you can't sell wines as soon as you bottle them – they need to age a bit."
As Managing Partner of the winery, Fung imports and sells Calla Lily wine in Hong Kong and on the Mainland through his distribution company CCF Wines Limited, where he is Chief Executive Officer. Calla Lily currently has a line of four red wines made with Cabernet Sauvignon and Pinot Noir grapes. Fung, whose wines have been well-received by international wine critics such as James Suckling and Wine Advocate, is proud of the product and is glad he took the plunge to go from auditing to wine-making. "My family is happy too, as they know I love wine."
Challenges of his work, he says, include long product cycles. "For the first few years we were throwing money in and making losses, so it was quite stressful," he says. "In the wine industry, you can't sell wines as soon as you bottle them – they need to age a bit before they are ready for customers, who then want to trust the wines will age even better with time."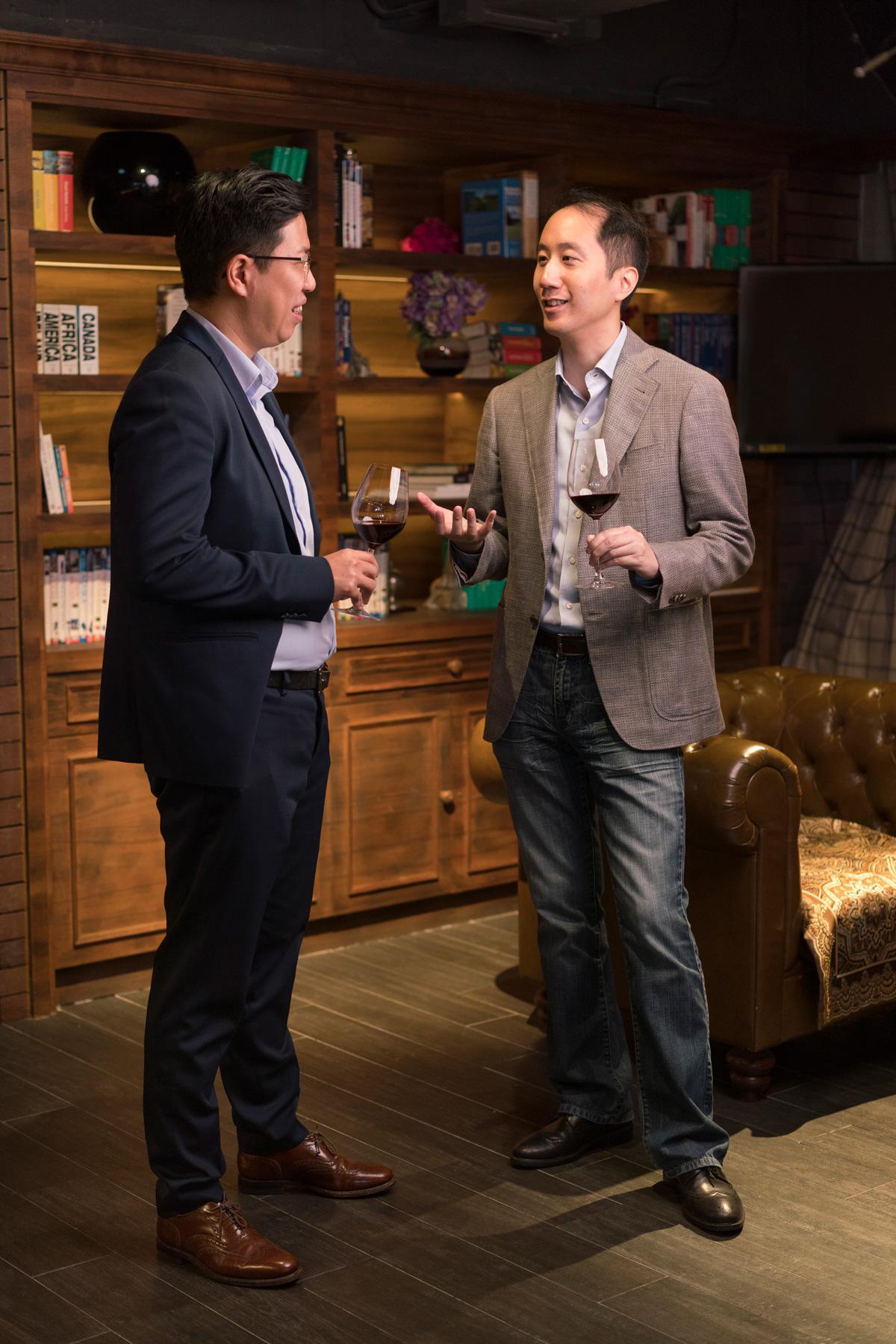 Taste of victory
Over a bottle of wine, Charles Cheng and his friend Jennifer Luk came up with the idea of setting up a university group for wine enthusiasts. "The university didn't have a wine society, so we decided to set up an association to advocate wine culture, and provide a platform for alumni and students to gather together and appreciate fine wine." Together, they launched the Hong Kong University of Science and Technology (HKUST) Alumni Wine Association in 2016, with his friend as President and Cheng as Vice-President.
The association organizes happy hour nights every month, formal wine tastings every quarter and training each Friday. Cheng, who is also Assistant Financial Controller at Furrion Limited and holder of a WSET Diploma, teaches the members the same way he was taught. "We let them try different wines and allow them to compare and contrast by themselves. That helped to develop their palette over time." Today, the group has grown to almost 70 members, and has also grown in prowess.
It began competing against other local university wine teams in Left Bank Bordeaux Cup Asia, a wine tasting competition. The winning team would compete in the final round in Bordeaux, France. The HKUST team-of-three won the Hong Kong round in both 2017 and 2018, and were sponsored to fly to France to compete with university teams from all over the world at the Left Bank Bordeaux Cup. The four-day event included various wine tours to the resplendent vineyards and historic wineries, and the competition itself took place on the final day at famed wine estate Château Lafite Rothschild.
"Try wines from lesser-known wine-producing regions, like India, Thailand, Croatia and Uruguay."
Contestants were first faced with multiple choice questions on Bordeaux wine, followed by a blind tasting, which required the students to identify the regions of three glasses of vintage wine. "Last year, we were up against eight teams of students from Yale Law School, Harvard Business School, Oxford University, The University of Edinburgh, and two top universities in France," he says. "The participants from universities in the United States and United Kingom were trained by master sommeliers and professional wine tasters – so it wasn't easy!"
Though Cheng did not compete, he coached the 23-24-year-old students who managed to come in fourth place in 2017 and fifth place in 2018. He often looks back on that unforgettable competition and is working hard to train the team for the Hong Kong rounds next month. "We'd love to make it to France for a third year in a row."
In addition to expanding the HKUST Alumni Wine Association to professors, Cheng looks forward to obtaining a higher WSET certification. He believes that, like being a CPA, being a good wine connoisseur requires stepping outside one's comfort zone. "Try wines from lesser-known wine-producing regions, like India, Thailand, Croatia and Uruguay," Cheng says. "This is the message our association wants to deliver to fellow alumni – be bold and explore the unfamiliar. It's the same motto I follow at work."
Merry Monday welcomes Institute members who are interested in wine to join and speak at its events. For more details, visit www.hkicpa.org.hk