Like many of his peers in college in India, Anil Daryanani wasn't quite sure what career he wanted to pursue after graduating. But, he had a way with words and numbers. As a young student, he achieved top marks in both his accounting and English exams – something that caught the attention and curiosity of his instructors. "My professor once handed my accounting exam paper results to me and questioned: 'did you find this to be too easy?'" recalls Daryanani, Chief Financial Officer of Thakral Corporation Ltd., and a member of the Hong Kong Institute of CPAs. "I remember scoring in the 90s for both subjects during my final year of college."
The constant outpouring of support from his professors and high exam scores were enough for him to consider a career in the field. "Accounting, especially in India, is seen as a premier profession," he adds. "The exams are difficult to pass, making it hard to get qualified."
He left India to join his family in Hong Kong in his late teens. While adapting to the fast pace of the city, he spent his first year acquiring locally-recognized qualifications before joining Thakral Corporation, a family-controlled company then known as Thakral Brothers, in 1982 as an accounts clerk. Soon after, he signed up to become an accountant through the Hong Kong Society of Accountants' (now the Institute) Joint Examination Scheme. "I got my qualification the hard way – working full-time and studying part-time for exams," he said.
Over the last almost four decades, he has been hands-on in the growth of the company, such as with its listing on the Singapore Exchange (SGX) in 1995 and the diversification of its investments. Currently, the company's two core divisions are its investment and lifestyle divisions. Its investment division sees the company investing directly or with partners in real estate, which includes retirement resorts and property in Australia, as well as office buildings and business hotels in Japan. Through its lifestyle division, Thakral Corporation markets and distributes beauty, wellness and lifestyle products within Mainland China, Hong Kong, Southeast Asia and India.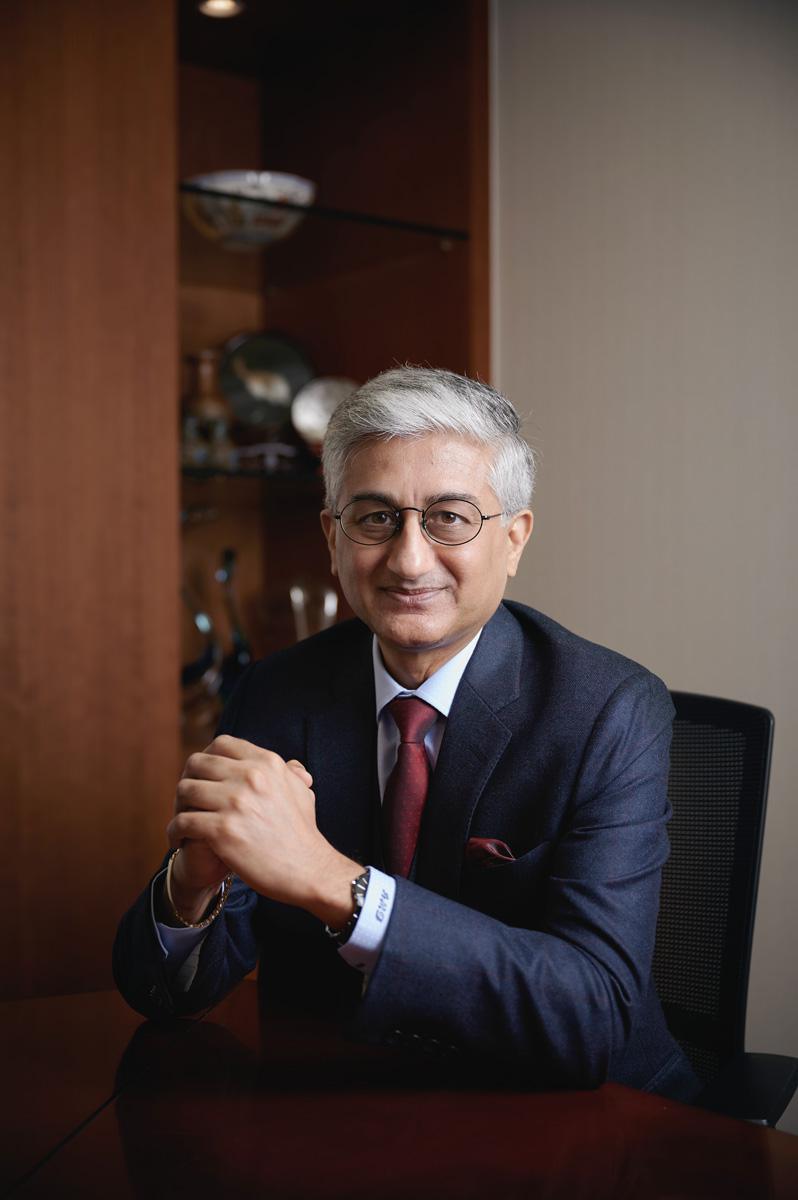 A diverse role
The variety of investments and products, Daryanani says, makes the job interesting and keeps him busy. As a CFO, he is in charge of the financial management functions of the group. "I'm responsible for the company's financial reporting, risk management, internal controls, financial planning, treasury and taxation," he says. "I also look after the legal and corporate secretarial functions." He has found himself especially hard at work with the diversifications and growth of the company's two main divisions in the last five years.
In 2016, Thakral Corporation established GemLife, a developer of premium retirement resorts in Australia, as a joint venture with the Puljich family, who have a 30-year track record of building and running retirement resorts across Australia. From a single project in Bribie Island in Queensland, GemLife has expanded to now have 10 projects at various stages in Queensland, New South Wales and Victoria with others in the pipeline. GemLife established itself as one of the leading players in the resort style retirement living segment in Australia within just four years from inception. "This business is something we are particularly excited about," Daryanani says.
He adds that the investment decision was based on prior research that the company had done on the nation's demographic development. "Within the next decade, one in five people will be above the age of 65, so a good amount of the population will be moving into the elderly bracket," he notes. "Our resorts are aimed at the over-50s demographic, who are largely wealthy baby boomers; individuals whose children have already grown up, started their own families and moved out."
Indeed, according to Understanding the Future Consumer, a report released in August 2020 by Australian research-based advisory company McCrindle, the population of Australia will within a decade consist of more people above the age of 65 than those under 18 – for the first time in its history. "Some of our customers found that their houses were too big and decided to downsize after their children moved out. Having sold their houses, they don't have to stress about mortgages when buying in our GemLife projects," adds Daryanani. "They can buy a GemLife house and have cash leftover to do what they want and still have a high quality of life." The resorts come equipped with facilities such as gyms, saunas, pools, spas, libraries, movie theatres and ballrooms. "The facilities keep our customers entertained, occupied and happy."
Daryanani was tasked with managing the investment division's finances at the very beginning. "During the initial stages of the investment decision, I helped to set up the corporate structure that was holding these investments in Australia," he says, adding that he and his team also set up the accounting policies and internal control mechanisms in the country. "Given that this project was new and located overseas, we performed the accounting work here in Hong Kong at the start, but that was eventually outsourced to a local Australian provider." Daryanani coordinated with the team from Hong Kong by providing them with transactional information, reviewing their reports and also giving timely feedback. "In terms of working with them on financial or technical accounting matters, there was very little issue given that the profession equips us with skills that are not constrained by differences in local generally accepted accounting principles and tax systems. These interactions helped me to learn more about the Australian system, which became useful over the longer term."
"Business has been good," he says. "We have five resorts in operation and another five under construction or awaiting development approvals." The COVID-19 pandemic, Daryanani adds, also provided an unexpected boost in the company's business in Australia in 2020. "We saw many people opting to move out of large, congested cities seeking life in more open areas, which these homes provide," he says. Beyond retirement resorts, the company also has two ongoing luxury residential property developments in Sydney and Queensland. "We have a project in Noosa, a small beach resort holiday town about a two-hour drive from Brisbane, which has done quite well," he adds. "The first two phases of this housing complex are almost full, helped by the shift by those living in the city."
Outside of Australia, the company has investments in Japan including commercial and retail buildings, as well as business hotels. Though the organization has a long history in Japan – it set up a textiles sourcing office in Osaka in 1936 and was incorporated there in 1972 under the name Thakral Brothers Limited – it only began acquiring investment properties in the country in 2014, when it bought two commercial properties. In 2016, the group began investing in business hotels, also in Osaka. In 2018, it invested in another hotel and two additional office buildings. "Currently we have nine properties including the three hotels. We also had one retail building, which we sold early last year," he says.
With each investment, Daryanani is tasked with reviewing the financial metrics and legal documentation of the asset to be acquired and relaying this information to the board for investment approval. "Every investment also involves outside investors, so I need to appraise them on the acquisition and organize their equity contributions," he adds. "I have to monitor the financial performance of our assets and report this to the board and investors on an ongoing basis."
As Chief Financial Officer of Thakral Corporation Ltd., Anil Daryanani is in charge of its financial reporting, risk management, internal controls, financial planning, treasury, taxation, legal and corporate secretarial functions.
"I have to monitor the financial performance of our assets and report this to the board and investors on an ongoing basis."
Pursuing new avenues
Beyond property investment, the company is also expanding the lifestyle products distribution business. Starting 2013, Thakral Corporation has been distributing beauty and wellness products such as body toning equipment and skincare devices by DermaWand, Panasonic, Philips, T3 and Slendertone, and more recently fragrances by Cacharel, Diesel, Ermenegildo Zegna, Estée Lauder, L'Oréal, Maison Margiela, Ralph Lauren, and hair, skin and body care products by John Masters Organics. It also has a joint venture with United Kingdom-based health and beauty product company CurrentBody. Thakral also distributes branded consumer electronics such as drones and digital action cameras from Shenzhen-headquartered tech company DJI.
Since 1982, the company has been distributing consumer electronics such as video cassette recorders, TVs, calculators and cameras from brands such as Canon, Nikon, Panasonic and Samsung in Hong Kong and within Mainland China. While it kept its product range up-to-date to cater to changing consumer trends over time, a shift in consumer demand forced the company to rethink the products it handled. "Around 2010, we started to notice a decline in the camera distribution market, especially in Mainland China, where we had around 10 percent market share," explains Daryanani. "The shift to mobile phones started taking place, so that segment started to fade. For us, that was a good chunk of our business, so in 2013, we decided to leave the camera business completely. It was time."
Faced with the need to remain relevant as a result of the market shift, Thakral looked at consumer spending habits within Mainland China in a bid to identify more profitable avenues of business. "We found that the Chinese population, with their growing affluence, were spending more money on their appearance," he notes. "At the time, the beauty space wasn't too crowded or saturated either." The company already had established distribution networks within Mainland China through their consumer electronics business in previous years, which provided them with a leg up to venture into the market, despite the new product line. "It gave us the opportunity to establish ourselves in that space," he adds.
Currently, the operations of their lifestyle division take place in Hong Kong, Mainland China and India and Japan, notes Daryanani. "It's my role to oversee all operations and make sure they are stable and able to generate cash. I have a direct involvement in that," he says, adding that business has been growing. "Of course, volumes aren't as large as they used to be when we were distributing consumer electronics, but margins are better," he adds. "Prices matter too – a digital camera back then would cost a few thousand dollars, which is way more than most beauty devices or haircare and skincare products."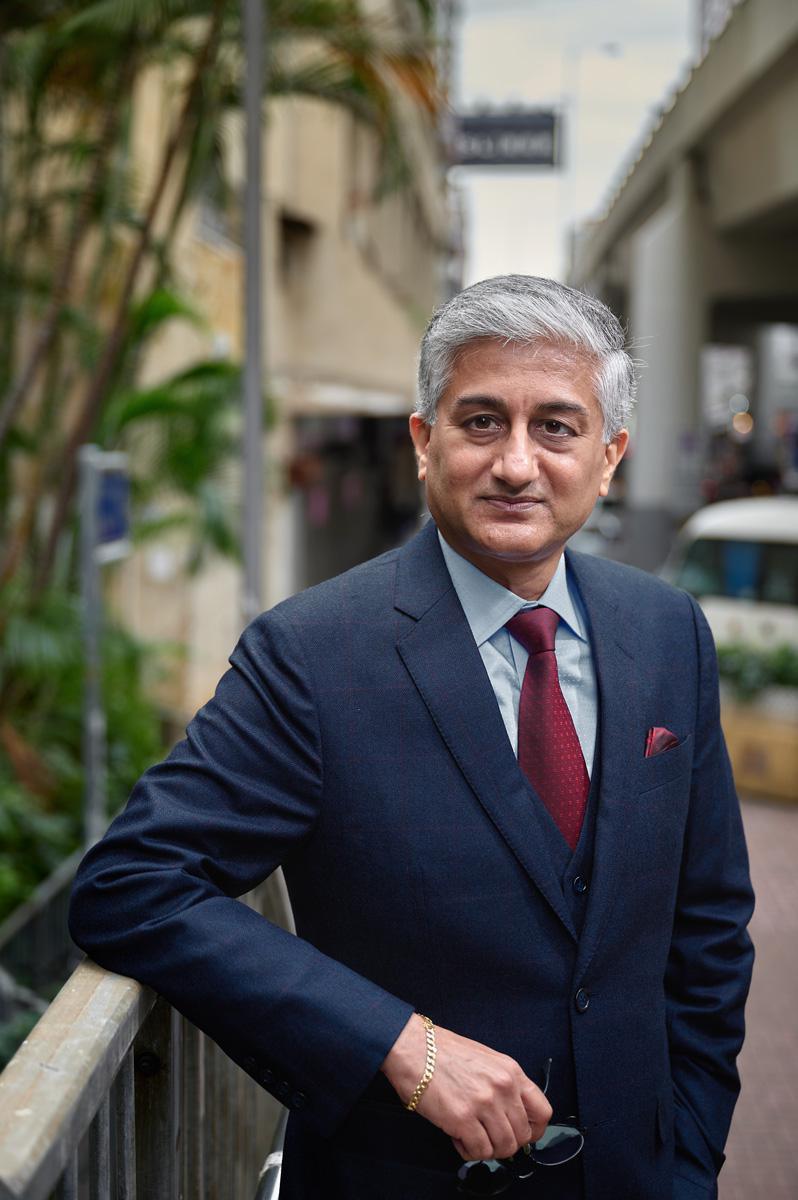 Daryanani has worked at Thakral Corporation Ltd. since 1982. He was born in Lucknow, India and has lived and worked in Hong Kong all his working life.
Here for the long run
Looking back at his almost 40-year career at Thakral Corporation, Daryanani has enjoyed the opportunity to grow and work with its various investments, and is glad to witness the company grow from its humble beginnings to the multifaceted organization it is today. "We started as a small shop in Hankow Road, Tsim Sha Tsui. Over the years, we've expanded, listed on the SGX, survived through the Asian Financial Crisis and diversified our portfolio. It's been a challenge keeping up with everything, but you have to learn as you go along," he says. "Given that we've dealt with so many different businesses over the years, I've been able to broaden my scope without having to leave the company to find something else. Having easy access to some of the latest consumer electronic products and gadgets – boy's toys – has been an added benefit."
He also credits his CPA qualifications for providing him with the right financial knowhow and business acumen. "There are certain things you need in life to move up the ladder. The CPA qualification gives you access to the highest levels," he says. "Having this sort of grounding and technical knowledge gives us the ability and confidence to work with board members and various business professionals."
"There are certain things you need in life to move up the ladder. The CPA qualification gives you access to the highest levels,"
This is because being a CPA nowadays, Daryanani says, means having a diverse set of skills and the ability to constantly acquire new skills at any age. "You need to be flexible. It's important that you keep your mind and attitude open to avoid pigeonholing yourself," he explains. This requires one to be proactive in learning inside and outside of work. "As finance professionals, you have access to virtually any part of the organization, so it's important to take the time to understand how everything works. You are in a good position to become an all-rounder. I believe that the only constant is change, so we need to keep learning and stay up to date to remain relevant."
Daryanani is also grateful for the opportunity to live, work and hone his skills as an accountant in a global financial hub like Hong Kong. He recalls how it took him some time to get used to the local language, the perpetual hustle and bustle, and the environment – remarkably different from his hometown – when he first arrived. Born in Lucknow, a city in north India, he moved to Pune, a city three hours' drive from Mumbai at the age of three, where he went through schooling up until college. "I was just about to turn 18 when I moved to Hong Kong. Though I had finished the equivalent of form seven in India, I remember having to go back to school here for a year to attain my General Certificate of Secondary Education and qualifications from the London Chamber of Commerce and Industry. It was the only way to get recognized locally."
With no knowledge of Cantonese, he enrolled himself in regular classes and took the time to study the language and practiced speaking with the locals whenever he could. As Daryanani recalls, he learned enough to converse with others. "I remember being interviewed by the Immigration Department staff when I applied for my Hong Kong passport. It was conducted in Cantonese and I could still carry myself through the conversation," he remembers. Though his Cantonese, he admits, isn't polished, it is enough to get by. "Right now, I'd say it's ma ma dei (麻麻哋)," he laughs, using the local slang term for "average."
Having been in Hong Kong for all of his working life, Daryanani looks forward to guiding the growth of Thakral Corporation's business divisions for as long as he can, and one day eventually retiring here. "Every time I travel some place nice, I feel that that is where I want to retire. But as soon as I touch down in Hong Kong, I change my mind," he says. "I love how beautiful our city really is, that we have easily accessible islands and countryside with multiple options of transport that are all very efficient. I've been to many places around the world and the efficiency with which things get done here is simply unbeatable. Everything just works here."
But when he wants to slow down and recharge, he finds comfort in exploring Hong Kong's scenic side. "I think we have one of the most beautiful harbours in the world. I try to walk at the waterfront near my house every night," he says. "We're very lucky to have country parks and outlying islands that are easily and quickly reachable. The city itself is gorgeous and it's a great place to live and work."
Daryanani, a passionate fan of music, also enjoys rocking out to his favourite tunes whenever he has his earphones in. "My son has been getting me into the more contemporary pop music of today which I also enjoy, but I grew up listening to bands such as Bon Jovi, Def Leppard, Foreigner, Journey, Queen and many others. I love my 80s rock," he laughs.
---
Thakral Corporation's two core divisions are its investment and lifestyle divisions. Its investment division sees the company investing directly or with partners in real estate, which includes retirement resorts and property in Australia, as well as office buildings and business hotels in Japan. As part of its lifestyle division, the company markets and distributes beauty, wellness and lifestyle products within Mainland China, Hong Kong, Southeast Asia and India