In November 1913, a short notice ran in the Hong Kong Gazette alerting readers to the fact a crisis had been averted. A government directive that all accounts in the then-British colony should be produced in English – to avoid the authorities missing tax from the growing number of privately-owned Chinese companies – had been avoided by the establishment of a committee that would advise the Hong Kong authorities on the "qualifications of Chinese applicants."
During the Second World War, as the need for auditors only grew thanks to the government establishing a taxation department in order to collect money to fight the war, that committee gained prominence. And in 1942, it got the name that it uses today: the Society of Chinese Accountants and Auditors (SCAA).
In the 1940s, the society had just 40 members. Today that figure has risen to 1,300 and under its current President Edmund Wong, the society initiates discussions of issues relevant to the profession and helps its members to advance in their professional development.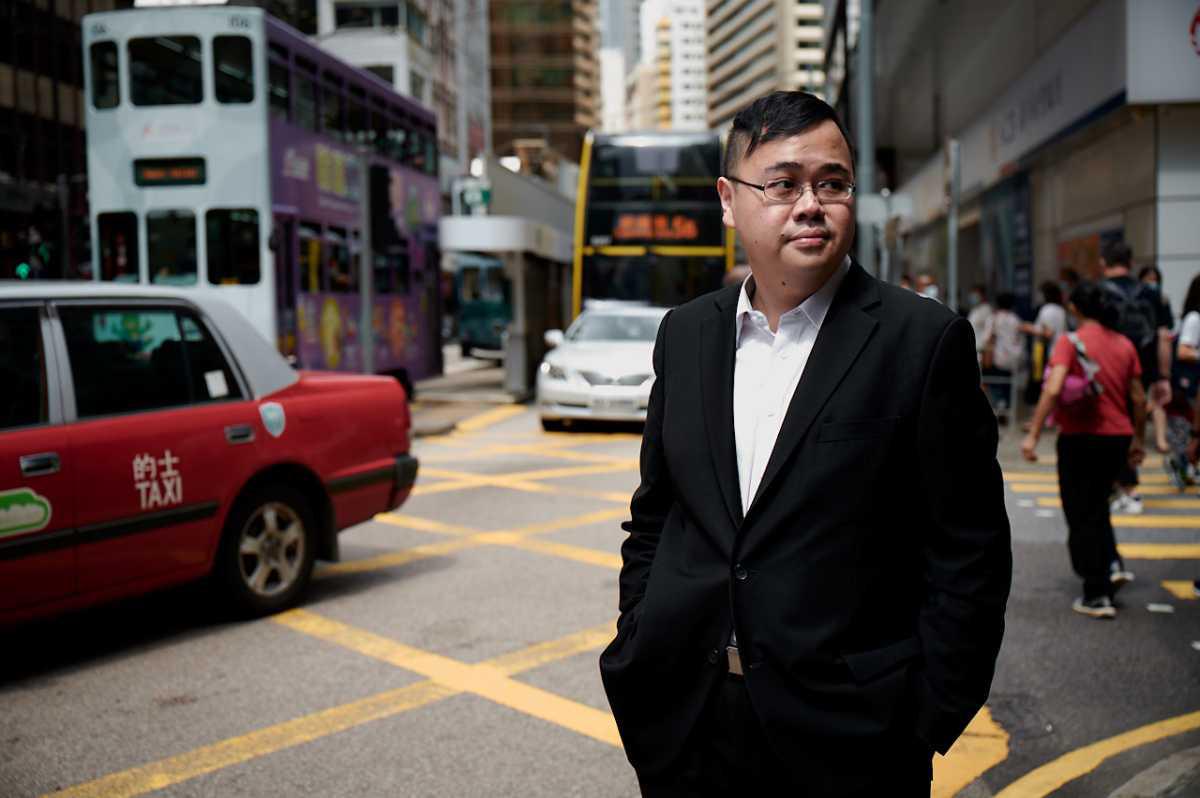 At 34 years old, Wong is the youngest president the society has ever had. He attributes that meteoric rise to his father, Dr Patrick Wong, who founded an accounting firm of the same name in 1975, which today has connections with CPA firms across Mainland China, in England and other countries. "I started as a practising accountant at the age of 28," says Wong, an Institute member, adding that graduating into an accounting legacy was the perfect springboard for his career.
Born in Canada, Wong was raised in Hong Kong before heading to the Scottish capital of Edinburgh to finish his education. But he didn't stay for long. "I thought living in Scotland would be extremely boring as I attended an all-boys boarding school," he laughs. "Plus, I missed Hong Kong."
Wong returned to the bright lights of the big city to attain his undergraduate accounting degree from Hong Kong Baptist University. Having had the benefit of admiring Hong Kong's success as a global financial centre from afar, Wong had decided to be part of it.
"It was expected of me after I studied accounting at university, because I was so influenced by my father."
When he graduated in 2007, he didn't immediately join the family fold, instead initially taking a trainee audit job at Deloitte. After five years with the Big Four firm, he left, and joined Patrick Wong CPA Ltd. "It's a family business," he says. It was his duty as a son to join the firm, and help his father continue his legacy. "It was expected of me after I studied accounting at university, because I was so influenced by my father," he adds.
Wong's time at Deloitte was a "remarkable" experience, he says, as it equipped him with a firm understanding of the technical knowledge necessary to be a professional accountant and provided him a wide range of training in management. It gave him the confidence to take on a leadership role in the family firm. When Wong joined Patrick Wong CPA Ltd., he immediately began to introduce services beyond audit – a saturated market, he says – bringing in consultancy and advisory services, risk management and compliance services. Audit accounted for 85 percent of the firm's business when Wong joined. It now makes up around 70 percent of the firm's revenue, though Wong would like to see it make up even less. The Big Four, he adds, have brought revenue from audit down to half their business in recent years. "Hong Kong is an open market and there are too many practitioners in the market – especially in audit," he says. "This makes it very comeptitive." Many small- and medium-sized practitioners (SMP) still focus on audit, he says, because they aren't confident enough to get out of their comfort zone. But Wong has been bold enough to strike out. "That's how we could make the firm long-lasting and still survive," he says. "Otherwise we could easily be replaced."
Born in Canada, Edmund Wong studied accounting at Hong Kong Baptist University.
A wild storm 
Today, Wong is Practising Director at the firm, a role which spans operations, managerial responsibilities, talent management, quality control and managing the firm's reputational risk.
This year, that challenge has taken on an entirely new dimension. The COVID-19 pandemic has rocked businesses across the world, as the bottom falls out of many sectors, particularly tourism and food and beverage. Wong's bread and butter is serving family-owned small- and medium-sized enterprises (SMEs), which have been hit particularly hard.
"A lot of SMEs are facing the challenge of a decrease in turnover because of fewer tourists and due to the different precautionary measures from the government," Wong says. Some clients have seen their rental income fall by 40 or even 50 percent. To help its clients survive what could be one of the roughest economic periods of their lives, Wong's firm has adjusted audit fees for some of them. "We are trying to cover the cost of the time we've spent, without compromising our working quality," Wong adds. "We're a bit like pilots guiding our passengers through a wild storm right now."
COVID-19 has, of course, affected Patrick Wong CPA Ltd. too. When it hit at the beginning of the year, the company was heading into one of its busiest periods, with audit engagements for corporations licensed by the Securities and Futures Commission due to be filed by the end of April.
"We did not have any work-from-home policies at the beginning," Wong says. Instead, the firm provided face masks, hand sanitizer and social distancing options to its staff members, as it worked out how to keep operations running while providing a safe work environment. Unnecessary face-to-face contact with clients was kept to a minimum, as the company experimented with using different technologies to navigate the pandemic.
Then, of course, there were his duties as head of the SCAA. Normally, the society holds over 100 functions throughout the year for members and friends of the society to discuss a wide range of topics. Its council has members across the Greater Bay Area, and serves as an important network linking professionals in the region; their Spring Dinner, for example, is normally a 40-table affair. Perhaps even more importantly, the SCAA regularly invites officials from government departments in Beijing to Hong Kong to discuss policy and business opportunities. "Our members treasure this opportunity to have a nice dialogue with the government officials," says Wong.
But when COVID-19 hit, those in-person events became impossible due to social distancing restrictions. With the borders closed between Hong Kong and Mainland China, delegates couldn't attend if they wanted to, so the society has resorted to hosting virtual events. It still maintains a close relationship with the Institute, through National Day dinners at the Hong Kong Convention and Exhibition Centre with around 60 tables and PRC delegates held in previous years. Wong adds that despite COVID-19, the SCAA's connection with the Institute remains a powerful one for lobbying the government.
Prior to joining his father's firm, Wong spent five years at Deloitte.

A passion for the profession 
Wong says the biggest challenges he faces in his professional life is recruiting young people. "Quite a number of accounting graduates are reluctant to work in the accounting field," he says. "They think they'll face long working hours, and won't be able to head home until three or four in the morning." Instead, accounting graduates are pivoting into other financial fields, such as banking. Wong says his firm markets itself as a company that offers opportunity beyond audit: "What we are like policemen or investigators – we try to explore the story behind the figures as the figures themselves do not tell the whole story. We are the ones finding out the truth, and that doesn't make for boring career! Accountants are the gatekeepers of the Hong Kong economy." That is the message he tries to give to young people at career fairs at local universities, while also promoting the idea that at a medium-sized firm, employees have a good work-life balance and leave the office on time.
Wong himself has no such reservations – he is in love with the profession. He dedicates his spare time to teaching programmes for the Strategic Business Reporting module, which is a professional level examination paper offered by the Association of Chartered Certified Accountants, an experience he says is extremely rewarding when he mentors a struggling student to success. "It's like passing the torch," he says. Wong also teaches accounting and finance modules from bachelor's to master's level at various universities to inspire young people and share his love for the job. He admits that it makes for quite a demanding schedule as he needs to spend a lot of time putting material together for his classes. "I spend a lot of time preparing and lecturing, but when the students tell you that they have passed their examinations and will become qualified accountants," that the time spent it well worth it, he says. Wong is also committed himself to continuous learning and hopes that it could influence his students to do the same. He has completed three master's degrees in finance, corporate governance and business administration within the last 10 years. "And right now, I am doing my fourth master's degree with Hong Kong Polytechnic University," Wong adds.
"What we are like policemen or investigators – we try to explore the story behind the figures as the figures themselves do not tell the whole story. We are the ones finding out the truth, and that doesn't make for boring career! Accountants are the gatekeepers of the Hong Kong economy."
Wong has advice for graduates interested in becoming qualified CPAs. "I would like to tell them that a CPA qualification is not a destination – it's basic training for many people in the business field," he says. "Knowledge in accounting and CPA training will provide you with many opportunities to work in different roles and for you to understand the business environment. Therefore, it's great training whether or not you choose to stay in the accounting profession."
In his day job, Wong is taking on a greater role helming the firm, and says that joining a family business was an art to master. "Working with my dad is full of challenges and we need to adjust and adopt different cultures and working styles for a "cross-generation" collaboration, as we have quite different philosophies in management and work styles."
For others thinking of leaving a Big Four firm for a smaller operation, Wong says that the joy of working in an SMP is the personal relationship he has with his clients. "They always ask advice about the business, and sometimes we talk about our personal life too! For example, they'll ask which kindergarten their children should go to. That's the reality. I treasure that relationship," he says. "We are like friends, and that makes a big difference. At a smaller firm, our clients trust us and that's what I enjoy most."
---
The Society of Chinese Accountants and Auditors (SCAA) is an incorporated body of professional accountants in Hong Kong established since 1913. The SCAA has over 1,000 members today.