Most athletes who tear a muscle mid-game might simply call it a day. Not Cynthia Chan. She recalls how an injury during one tournament organized by the Leisure and Cultural Services Department (LCSD) in 2013 almost made her quit. "During the semi-finals I tore a muscle in my leg, and it really started to hurt," remembers Chan, General Manager of Milverton Limited, a member of the Hong Kong Institute of CPAs and Convenor of the Institute's Tennis Interest Group (TSIG).
She had the option of dropping out of the competition, but wanted to continue and try her luck at finishing as a runner-up. "I didn't want to just forfeit and give up like that. That isn't part of my personality," she adds. After resting at the first aid tent with an ice pack wrapped around her sore leg, she picked up her racket, took a deep breath and stepped right back into the competition. Giving it her all, she carefully played through the pain and ended up finishing as a second runner-up that hot summer's day.
That episode reinforced her enthusiasm for the sport. She noticed there wasn't an interest group for tennis players at the Institute, and decided to start one the following year. "I really love playing tennis, and wanted to introduce the sport to all Institute members and provide an opportunity for them to play tennis with each other," she says. The interest group started by offering training courses, one for beginners and one for more intermediate players. As Chan remembers, as soon as the enrolment form was sent out by email, the response was overwhelming. "Both courses were full on the first day the Institute posted the form," she says. "I was so happy about it."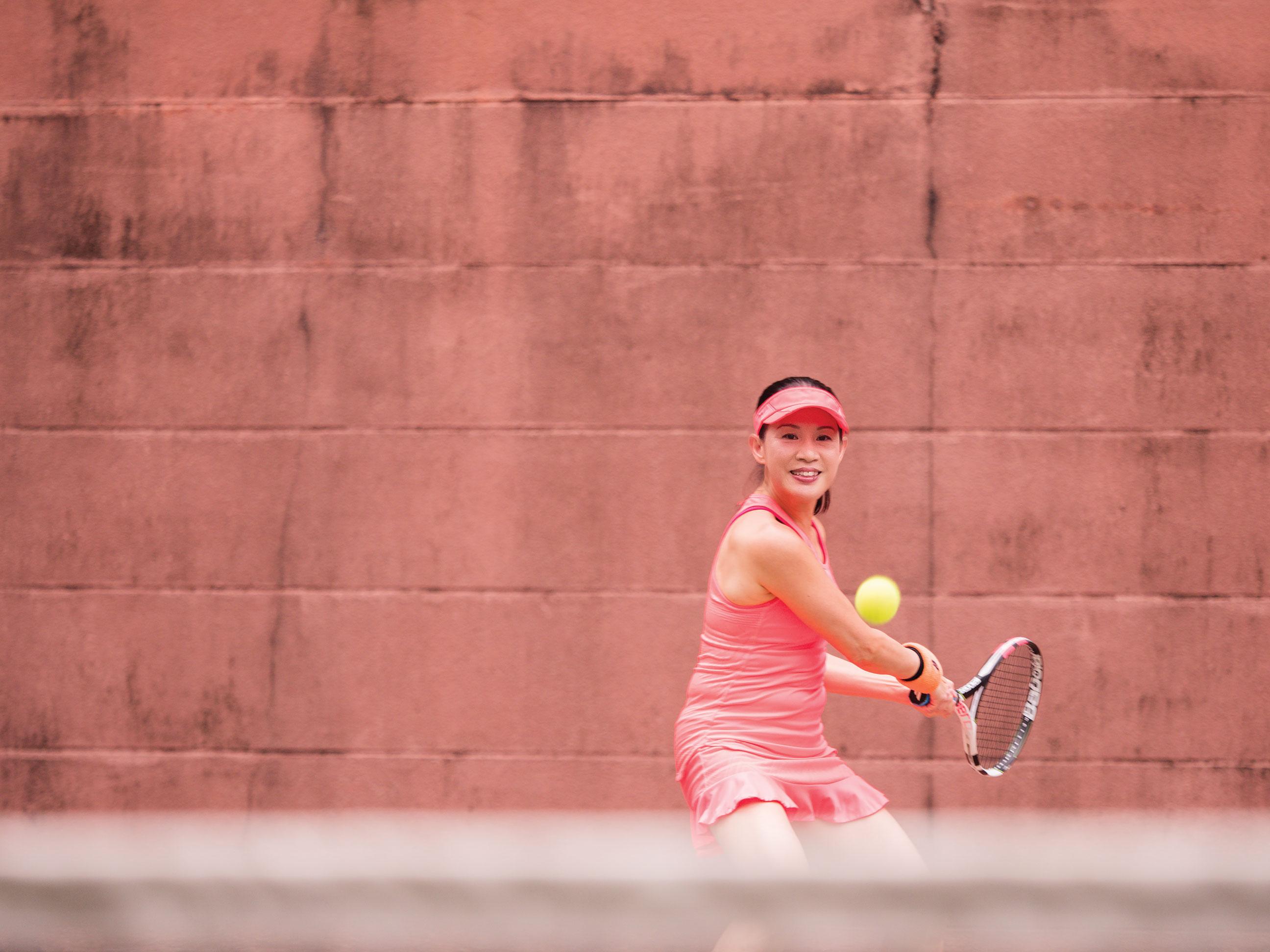 Cynthia Chan, General Manager of Milverton Limited, founded the Institute's Tennis Interest Group in 2014.
Chan began contacting tennis coaches to teach members and booking courts around the city for the training. The first class kicked off in May 2014, with classes taking place every Tuesday evening. The interest group grew in size, and saw members compete in a tennis tournament organized by the Chinese Manufacturers' Association of Hong Kong (CMA) that same year and the Recreation and Sports Club for Hong Kong Professional Bodies (RSCP) in 2015. Chan started organizing friendly internal competitions such as the Tennis Fun Day cum Mini Tournament, which began in 2017. The group was crowned champions at a tournament by the CMA in 2017 and one by the RSCP in 2019. Currently, there are over 330 members in the TSIG.
Chan, who says her favorite tennis player is Russian-born Maria Sharapova, has played tennis for just over a decade. "I'd always enjoyed watching tennis tournaments on TV, but I never really knew how to play," she says. So when a friend invited her to play one weekend, she jumped at the opportunity, and quickly found out how difficult it was at the start. She returned as many shots as she could, but often found herself hitting the ball too high, sending it out of the tennis court. "I remember how my friends laughed and also how embarrassed I felt," says Chan. "But in my heart, I told myself: 'I will learn this sport and become good at it one day.'"
"I remember how my friends laughed and also how embarrassed I felt. But in my heart, I told myself: 'I will learn this sport and become good at it one day.'"
She learned the basics by practicing with her boyfriend, who is also a passionate tennis player and a former assistant tennis coach at his university. Chan eventually began taking formal lessons and spent the next few years working on her serve and swing. Her partner saw how much she progressed and encouraged her to take part in competitions as a way to improve.
With tennis courts open this month, she looks forward to practicing with her boyfriend, now her husband, and also hopes more Institute members will consider joining the TSIG. "We've got very good coaches," Chan says. "During the training courses, we group members by their playing ability so they won't feel too much pressure. If beginner players don't have their own tennis rackets, the coaches are more than happy to bring rackets for them."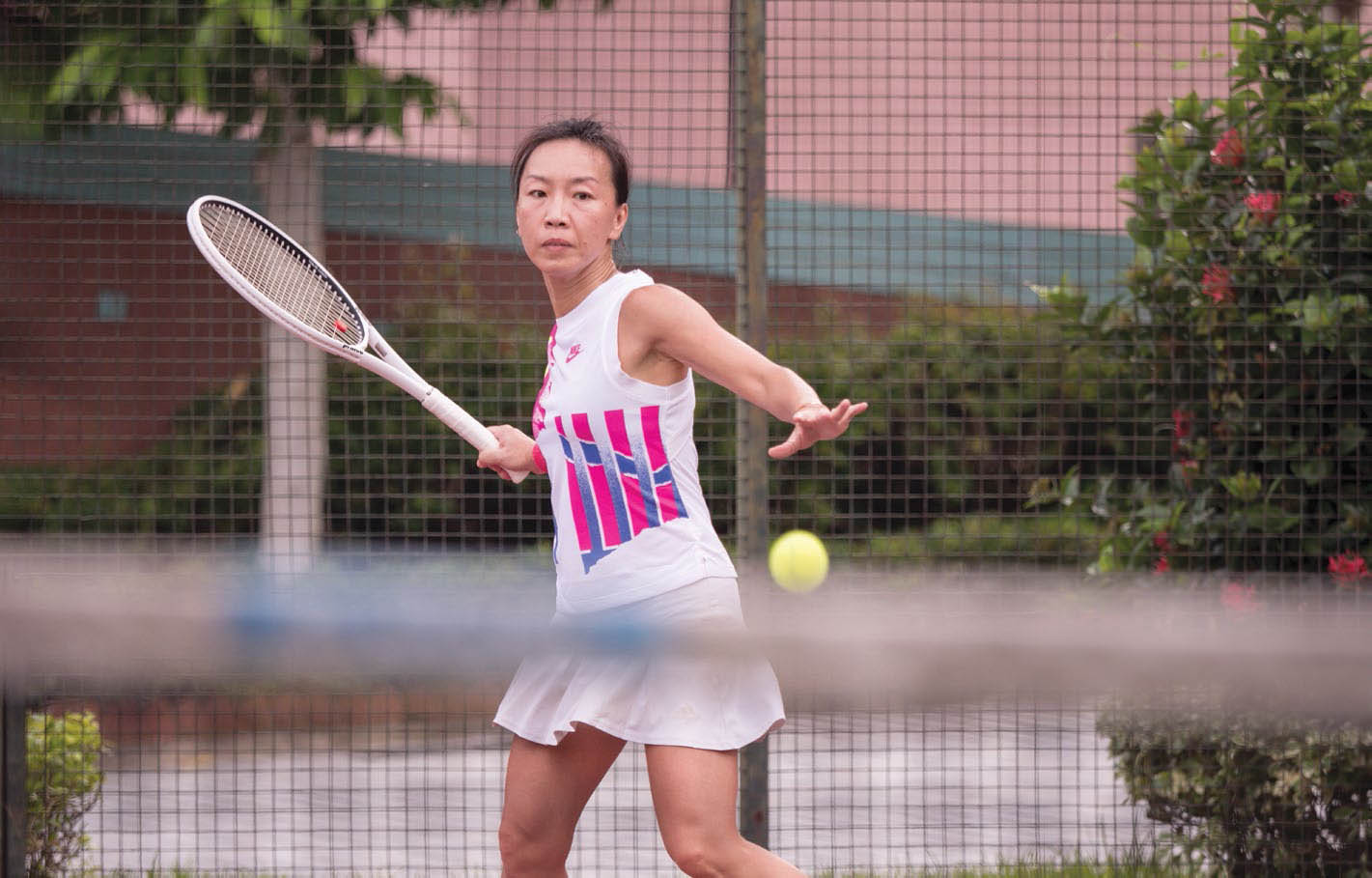 Irene Tang, Company Secretary and Chief Accountant at Quali-Smart Holdings Limited, joined the TSIG in 2016.
Strength from within
Irene Tang wants other tennis players to know that strength isn't everything when it comes to scoring points. It's a combination of strategy, form, and most of all, consistency. Her favourite tennis player, United States-born former world number one in women's single tennis Serena Williams, is an example of this. "She has had a long career in tennis and needs to compete with younger and more energetic tennis players on the court. Yet, she's still able to maintain her physical and mental strength throughout each game, no matter who she plays with," says Tang, Company Secretary and Chief Accountant at Quali-Smart Holdings Limited, and an Institute member.
She joined the TSIG in 2016, after learning about the interest group through an email. She made it through the selection process, and took part in an RSCP tournament the same year with other selected players within the interest group. She says the experience and opportunity to play helped her to improve as a doubles player. "It's satisfying to synchronize with your partner and execute planned strategies," she says. Though she and her teammate didn't win that year, Tang kept on trying, taking part again in 2017 and, along with her teammates, was crowned champion in 2019.
Maintaining a level of synergy with one's partner during a mixed doubles match takes practice, according to Tang. "In a mixed doubles match, opponents will often try to target female players, as they assume they are the weaker player," she explains, adding how she has a strategy for this. "I would try to direct the ball to the opposite side of the court as wide and deep as possible so the opponent would have to hit back with a backhand shot, as they are less powerful than forehand shots. This provides a better chance for my teammate or myself to attack or control the next returning shot in our favour. Those shots are sometimes tricky to make when we are still not familiar with the way the opponents playing style or even our own partner."
"A lot of my female friends also think that they have to be really strong to play tennis – that's not the whole truth."
When Tang began playing tennis in 2000, she enjoyed playing singles matches. "I began by playing with friends on the weekends – they weren't too good at tennis either, but they were certainly better than I was!" she remembers. She quickly fell into the sport and took the time to read more about it on the Internet, where she stumbled upon forums with beginners looking to play. "There, I found a tennis interest group that organized friendly games open to everyone," she adds. With weekly gatherings of around 20 people who all took turns playing in doubles matches, Tang met many like-minded individuals and practiced playing with them. Over time, she became more of a serious player, and says she has spent the last 10 years working on her technique and form.
Tang is focused on maintaining her consistency and form as a tennis player, and hopes to introduce more of her friends to the sport. "A lot of my female friends also think that they have to be really strong to play tennis – that's not the whole truth," Tang stresses. "One can also score points with the correct form and technique."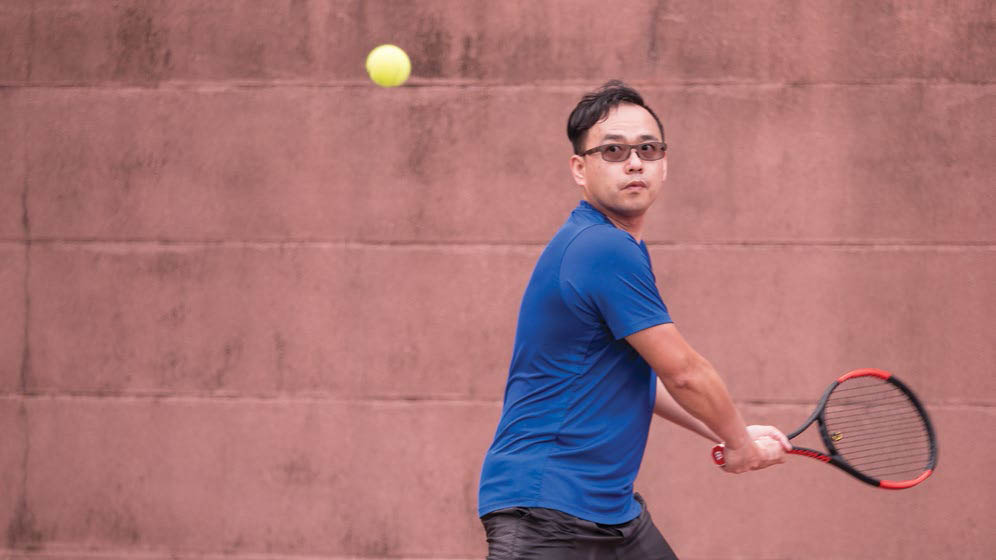 Jason Lee, Finance Manager of Time Grand Limited, joined the TSIG in 2014.
A life-long passion
Jason Lee remembers how gobsmacked he felt when he saw the then 17-year-old junior tennis player and high school dropout Michael Chang beat Ivan Lendl, a three-time former champion, in the French Open in 1989 on TV. "I was very impressed by his performance," says Lee, Finance Manager at Time Grand Limited and an Institute member. "To see a short tennis player competing against a much taller and stronger opponent –  and then beating him! That really inspired me to start playing tennis." Lee, who was also in his teens at the time, didn't have his own equipment, but that didn't stop him from asking his friends if he could borrow a tennis racket and a ball to start practicing.
He continued watching tennis tournaments such as the Association of Tennis Professionals and Women's Tennis Association Tour on the TV and copied as many moves as he could, from how to serve and how to perform forehand and backhand strokes. The only training he received was through a tennis coach in his university's tennis team. "The coach helped me to correct and fine-tune everything I knew – even the motion of my arm and shoulder when performing a stroke," Lee says.
But after coming out to work, there was little time for practice. "It was also hard finding people to play. All my tennis buddies from university had also graduated and were focused on their careers too." He eventually heard about a tennis group through a group of his friends, which he joined, and was able to train regularly.
"When I'm on the court, I forget about all my worries and focus on the game."
Lee found out about the Institute's newly-established TSIG in 2014. There, he was able to meet passionate tennis players like himself and have the opportunity take part in tournaments. He took part in the RSCP tennis tournament in 2019, and remembers how challenging it was to play against certain teams, especially the Hong Kong Medical Association (HKMA), in the men's doubles. Playing with a partner he met in the TSIG has also added a new level of excitement to the sport he has played for decades. "I had always been more of a singles player, but nowadays, I play in more doubles matches," he says. "You need to motivate that person and that person has to motivate you too. That's what I like about it."
Outside of the TSIG, Lee has also participated in tennis competitions organized by the Federation of Community Tennis Club and the Hong Kong Tennis Association. He has taken part in the LCSD's District Age Group Tennis Competition each year since he graduated and was the doubles champion of Tuen Mun district and singles champion of Sham Shui Po district, both in 2019. He also came in third place for the Men's F grade singles in the 2018 Master Games, also by the LCSD.
He looks forward to playing more doubles matches, but most of all, playing tennis for as long as he can. "It's the one thing that has always brought me joy," he says. "When I'm on the court, I forget about all my worries and focus on the game."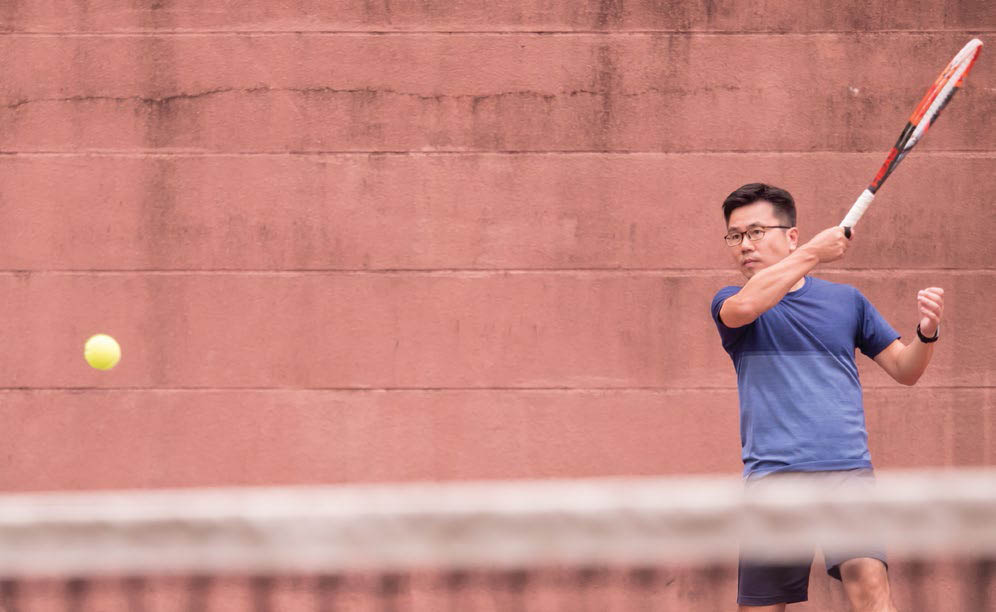 Anthony Wong, Chief Financial Officer of Tang Palace (China) Holdings Limited, has played with the TSIG since 2014.
Like mother, like son
It was one weekend of playing tennis with his mother that would ultimately change the life of an eight-year-old Anthony Wong. "I remember my mum just decided to bring me to the tennis court for a game. I wasn't even sure what was going on at the time – but I just played," says Wong, Chief Financial Officer of Tang Palace (China) Holdings Limited and an Institute member.
The young Wong, who had previously played table tennis, found the sport to be oddly similar. "It felt like a game of table tennis – except the players play standing on a very large table," he laughs.
His mother, a skilled tennis player herself, took the opportunity to teach him from the ground up. "As a kid, my mum would also remind me to keep calm, concentrate and play as consistently as I could," he says.
Wong joined the TSIG in 2014 and has taken part in the RSCP tennis tournament every year since he joined. He says he has recently been working on perfecting his serve technique – in particular, his second serve. In a tennis match, each player is allowed two serves at the start of each game point in the event the ball is accidentally hit out of bounds on the first try. However, if the player hits the ball out of the court during the second serve, the player commits a double fault and the opponent would receive points. "It's quite an important yet difficult aspect of tennis," explains Wong. "The first serve is always done using a lot of strength, so when it comes to doing the second serve, you've got to play it safer – but it can't be too weak of a shot." Executing it, adds Wong, requires a combination of strategy and the right mindset. "You have to be confident when serving – try not to think about hitting the ball out or into the net. Focus on hitting it so the opponent is forced to return the hit using a backhand stroke."
"As a kid, my mum would also remind me to keep calm, concentrate and play as consistently as I could."
Wong has also begun playing more doubles matches and says he enjoys the tactics needed to outsmart opponents, which requires a meticulous discussion with his partner prior to each game. "We discuss how far from the net we should stand when opponents approach the net, or who hits the ball when it lands in the middle," he says. "Communication is important, and it always feels great when we correctly execute our tactics and win a point."
He also hopes to see new faces at the TSIG and encourages players of all levels to consider joining. "Tennis is an all-round sport," he says. "Not only is it an intense, physical exercise, but it's a great way to improve one's mental health. I'll always love it."
He says it's a great way to meet new people, and bond with people new and old to the sport – after all, he's been playing tennis with his mum since the start. "She's getting older, but we still play tennis regularly – at least once a month. It's how we spend quality time together," says Wong. "She's been my coach since day one."
---
The Institute's Tennis Interest Group is open to all members interested in the sport. For more information on all 15 of the sports and recreation interest groups, please visit the Institute's website.