Managing the finances of one of the world's busiest airports is no easy task. William Lo, the Airport Authority's Executive Director of Finance, tells Kate Whitehead about the major projects he is involved in and how his skills as a CPA help secure the city's superior connectivity
Photography by Leslie Montgomery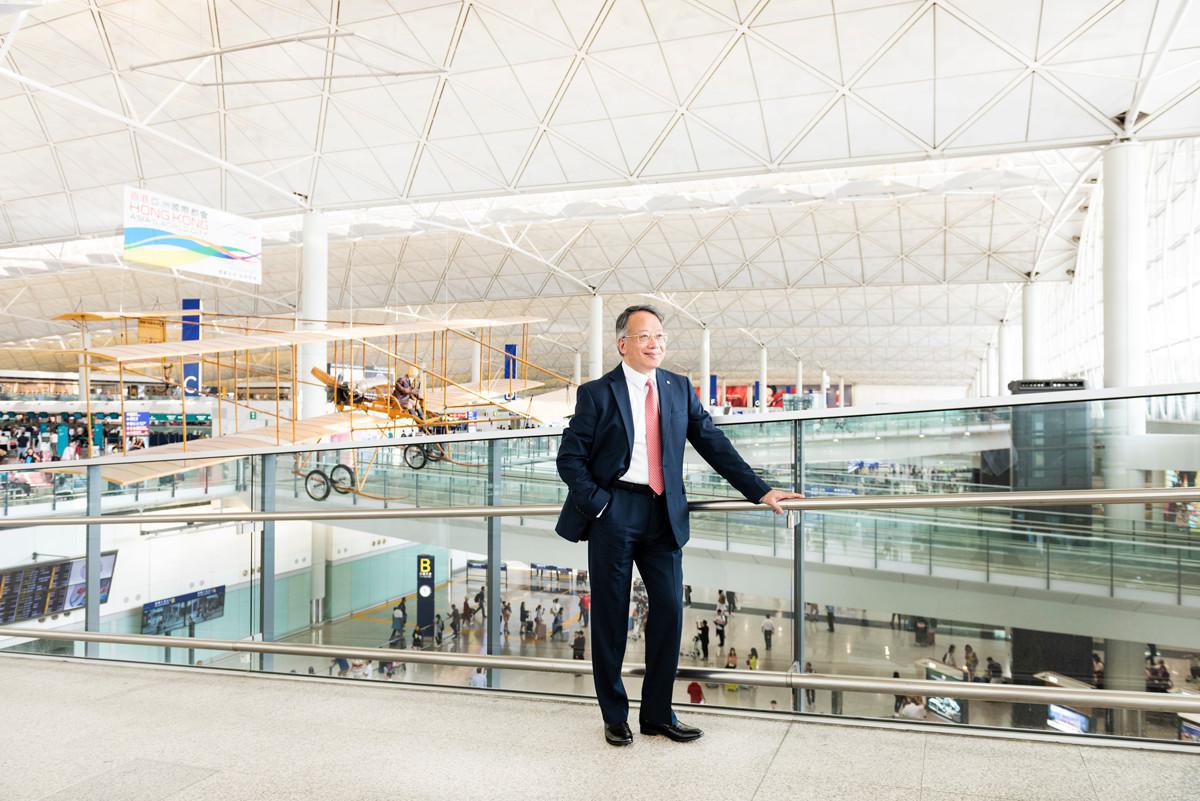 William Lo, Executive Director of Finance at Airport Authority Hong Kong, never imagined he'd be sitting in the Legislative Council answering the questions of legislators, and a sometimes pretty rowdy public. But it's all part and parcel of being a senior executive of a public organization.
"The lawmakers are OK – there are rules and protocols – but when it comes to public hearings, everyone can go in and get three or four minutes – and some people scream at you, call you names," says Lo, a member of the Hong Kong Institute of CPAs. "There were people who did not agree with constructing the Three-runway System and they tried to object to the project by criticizing that the financing plan for Three-runway System was not prudent and robust."
Although the LegCo sessions can be challenging – and the public hearings even more so – he relishes the chance to serve the community, an opportunity he never got during his more than two decades in the private sector.
Established in 1995, the Airport Authority is a statutory body wholly-owned by the Hong Kong government, and is responsible for the operation and development of Hong Kong International Airport. "Working for the Airport Authority, you've got a special mission – you serve the people, you serve the world. The airport is the gateway for people arriving in Hong Kong. We are helping business to grow, supporting tourism and banking. Sometimes it's not an easy job. There are many challenges and difficulties, but overall it is very rewarding," says Lo.
Mega airport
The airport industry is an infrastructure and capital-heavy business which calls for a long-term vision. After almost 10 years in the job, he is finally getting to see some of the mega-projects come to fruition. When he joined the Airport Authority in 2010, he helped put the finishing touches to the Master Plan 2030, a 20-year master plan that laid out the need for a Three-runway System. This would take capacity up to a maximum of 620,000 flight movements and over 100 million passengers a year, from 430,000 flight movements and 75 million passengers in 2018, which could maintain Hong Kong's position as a network hub possibly beyond 2030. "Infrastructure is a special kind of animal that needs long-term planning and massive monetary investment, so planning years ahead is just about right," says Lo.
The Three-runway System and its HK$141.5 billion construction cost has been a focus of his work, but the role is much wider. He oversees four departments – the financial, accounting, treasury, and procurement and legal team. "As chief financial officer, I have full financial control, manage financial planning, corporate governance, am a member of the executive team and the senior management team and make executive planning and policy procedures for the company. It's a very fulfilling job," says Lo.
He has also been involved in mergers and acquisitions. In September 2018 he helped the Airport Authority acquire the rights and equity interest held by IEC Investments Limited, and the ownership of AsiaWorld-Expo Management Limited, which manages and operates the convention and exhibition facilities, at a total price of HK$900 million. The job entails working on big projects which usually carry a hefty price tag – and the third runway is the biggest. Getting the HK$141.5 billion funding for the project – of which about 40 percent will be used for land formation – required a savvy financial plan. "In the past, we paid a dividend to the government, but we stopped paying that about four years ago, and because of that we have accumulated quite a good cash reserve which accounts for about one third [of the total cost]," says Lo.
In 2016, the Airport Authority appointed HSBC as financial advisor for the study of the detailed funding plan for the Three-runway System project. "The approach and key funding objectives recommended by HSBC entail raising debt on cost-effective terms that are consistent with the Airport Authority's investment plans and funding needs, while allowing flexibility in the timing of market approach. Airport Authority carefully devised the funding plan with reference to the study and market trends. As a seasoned CFO, I helped on the formulation and execution of the funding plan," Lo explains.
An airport construction fee currently levied on all departure passengers – HK$90 to HK$180 per person, depending on the duration of the flight and the class category – brings in HK$3-4 billion a year or 18 percent of the total cost over the eight-year construction period. For the remaining 49 percent, Lo and his team decided to go into the capital markets to raise the HK$69 billion needed.
"In February, we did the first bonds in U.S. dollars which were very successful – it was seven times over-subscribed, which shows that investors have confidence in the airport and the Airport Authority," says Lo.
The next project will be a Hong Kong dollar retail bond – for about HK$5 billion – marketed at all Hong Kong citizens. With a short tender of just three years, Lo expects it to be hugely popular. "People will have a keen interest for it. We hope with that gesture, people will feel that they are part of the Three-runway System project," says Lo.
The completion of the Three-runway System in 2024 will coincide with the realization of the Airport Authority's long-term vision of the airport as an "Airport City," a metropolis that will draw not only passengers to the aviation hub, but the broader public. This is in line with similar projects around the world where the airport is an economic engine driving employment, gross domestic product and tourism. "The idea is to make Hong Kong International Airport a destination in itself with citizens from Hong Kong and the Greater Bay Area coming to spend one or two days in SKYCITY. It will be a commercial project with entertainment, shopping, dining and personal services such as banking and a medical centre for people coming in for medical tourism," says Lo. He adds that the commissioning of the Hong Kong-Zhuhai-Macao (HKZM) Bridge boundary crossing facilities, the HKZM bridge, and the Tuen Mun tunnel will strengthen connectivity between the airport to the Greater Bay Area as travel time will be significantly shortened.
He also speaks fervently about the technological innovations that are set to revolutionize the airport experience, in particular, facial recognition. "Nowadays you still need to show your passport to get your boarding pass, at the restricted area, the immigration and again when you get on the plane. But in the future, you will be able to walk all the way through the airport without stopping as your face will be recognized at every single point," says Lo.
To him, it's important that finance heads and CPAs keep up with and understand technological trends. "Technology does not only help improve productivity and enhance passengers experience, but also streamline business processes," he says. "CFOs must have a grip on technology advancements to ensure that they and the organization they serve stay in competition."
William Lo joined the Airport Authority in 2010. In addition to working on the airport's Three-runway System, he oversees the financial, accounting, treasury, and procurement and legal team.
"Working for the Airport Authority, you've got a special mission – you serve the people, you serve the world. The airport is the gateway for people arriving in Hong Kong."
Diverse experience
He began his working life in 1983, working for one of the then Big Eight accounting firms. After four years, he joined the private sector as a commercial accountant and then worked as a commercial manager for German conglomerate Siemens before moving into locally-listed companies.
Lo feels his varied experience working in different companies and industries from property and hotels to gaming in Macau and fast-moving consumer goods came because he took on a challenge when it was presented.
"After almost 30 years in the private sector, I was approached by a headhunter asking if I'd like to join the public sector for a change, so I said, 'why not?' I realized it's a totally different ball game – they are talking about process, about governance, and about doing things in a more rigid manner," he says.
He believes his CPA qualification was instrumental in helping him move around industries. "CPA is not only a qualification but a brand – a trusted brand that employers, regulators and the general public would have confidence and expectation in. The full and comprehensive training at the Institute ensures a good all-round business executive."
Lo's father was also an accountant. As a six-year-old, he remembers watching his father working out his calculations using an abacus, and when it came time to decide on a course of study, he knew it would be accounting. "I think it's in my blood. Besides, it's a skill that is transferable – one which you can carry anywhere you go," says Lo, a Master of Business Administration graduate from the University of Warwick. "And all that experience is relevant."
Lo hopes that young accountants will make the most of the career opportunities offered as a result of the Greater Bay Area and encourages them, using Steve Jobs' quote, "stay hungry, stay foolish."
"Sometimes we are not foolish enough or hungry enough, while our counterparts in the Chinese Mainland, tens of millions of graduates every single year, are very hungry and very foolish. We have to humble ourselves and see we have to compete," says Lo.
"I was approached by a headhunter asking if I'd like to join the public sector for a change, so I said, 'why not?'"
Clever balancing act
Lo, 59, keeps healthy by running four kilometres every morning before work and playing a couple of hours of badminton on Saturdays. The exercise doesn't just keep him physically fit, but also helps support a positive mindset. "You are bound to go through frustration and failure. Exercise lets you keep going and not get beaten down or depressed," says Lo. On Sundays, he gives his body a rest, goes to church and spends time with family and friends.
He is committed to giving back. Over the years, he has mentored students from eight of Hong Kong's 10 universities and also serves as a mentor through the Child Development Fund, an initiative that aims to help support less privileged children.
"Giving back to society is very important. It's not just about working your butt off Monday to Friday and sleeping or partying at the weekend," says Lo. "Work-life balance is about giving sufficient weight to all the pieces of the pie – work, family, friends, sport and giving back. It ensures your life is full, and when it's full, you'll have the energy to get through the difficult parts of life."
From January to June this year, the Hong Kong International Airport handled 37.8 million passengers – a 2.5 percent increase – and 212,975 flight movements – a 0.8 percent increase – over the same period last year. Passenger traffic to and from Japan, Europe and Southeast Asia recorded the most significant increases.