Hong Kong-based Sappi Trading has gone through some difficult times. Chief Financial Officer Loretta Chan tells Kate Whitehead how her CPA skills helped the emerging market multinational overcome challenges and become one of the world's leading paper companies
Photography by Calvin Sit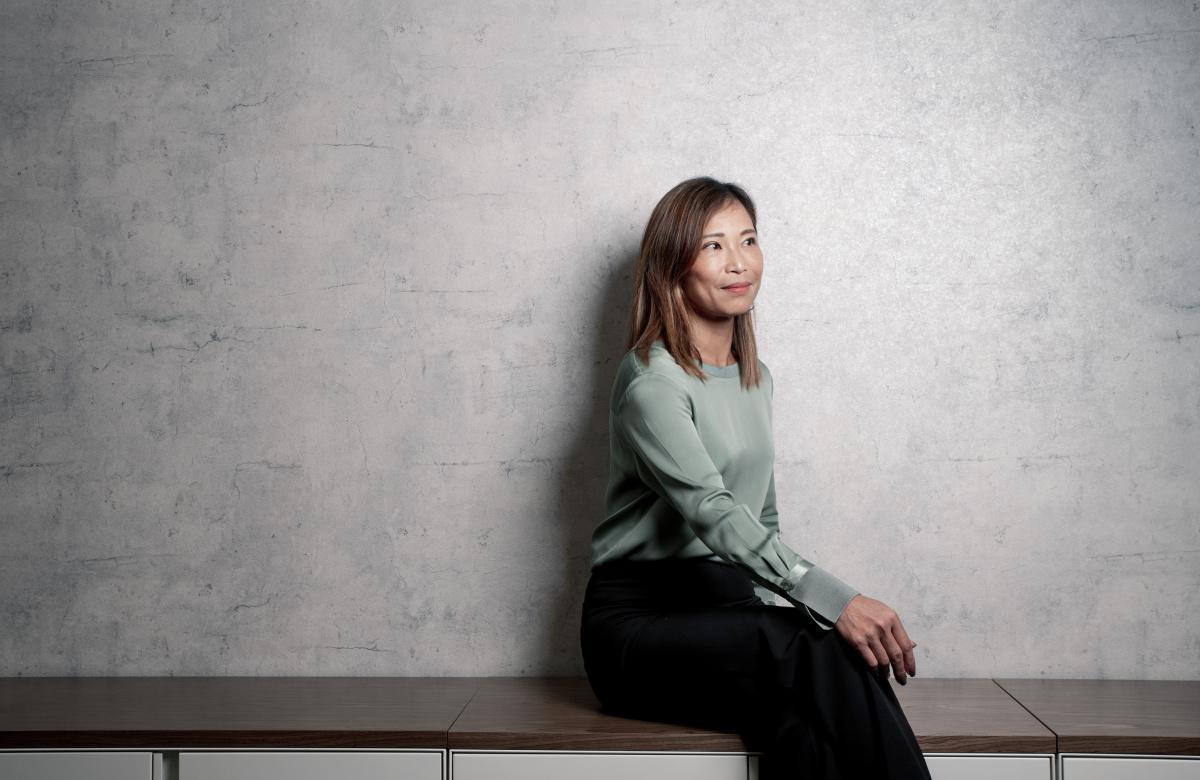 Loretta Chan joined Sappi Trading after getting her Master's in Business Administration at the University of Exeter in the United Kingdom.
Loretta Chan is used to the prompt efficiency of Asia, so when she began managing markets in Latin America there were a few cultural differences to get used to.
"They would tell me they'd get back to me mañana, so I expected to get an answer the next day, but in their culture mañana means "later" and I might get the answer 10 or 15 days later. This is a cultural thing. We have to understand each other in how we do business," says Chan, Chief Financial Officer of Sappi Trading, and a Hong Kong Institute of CPAs member.
Dealing with such cultural differences, as well as language issues, are expected when working at a company like Sappi Trading, part of the Sappi group, a leading global producer of dissolving wood pulp and paper-based solutions. The division operates a network for the sale and distribution of its products across multiple markets.
Founded in Johannesburg in 1936 as South African Pulp and Paper Industries, Sappi grew from manufacturing paper from straw at its first mill at Enstra in Springs, east of Johannesburg, to become a global player with operating units and sales offices on six continents and customers in more than 150 countries.
"Although it was a tough time, it was also exciting for me, and when I look back I realize how much I grew then."
According to Sappi's 2017 annual report, they produce 5.4 million tonnes of paper a year, and its range of paper products includes flexible packaging, label, release liner, containerboard and fluting, coated fine papers and casting release papers, and serve the fashion, fast-moving consumer goods and industrial sectors. Its dissolving wood pulp products are used by converters to produce viscose fibre, pharmaceutical products as well as household and consumer products.
Although uncomfortable with the term "emerging market multinational corporation" (eMNC), Chan agrees Sappi does fall into that category – it's a South African company with large manufacturing assets in the United States and Europe and over 100 sales offices globally. EMNCs have traditionally been considered the low-cost competitors of their G7 counterparts. She maintains that the key to Sappi's success is the fact it's a low-cost producer. "That's our biggest advantage. We have a very healthy balance sheet that allows us to grow and take advantage of market opportunities. Due to the low cost of living in South Africa, the wages are not as high compared to the U.S.," says Chan.
Sappi Trading's Hong Kong office opened in 1986 and is the regional head office looking after the export markets in Hong Kong, Singapore, Shanghai, Australia, Africa and Latin America. Chan joined the Hong Kong office in 1992 as a management accountant. "It was important to me at the time that it was a multinational company, I thought that would give me more scope to grow than a local company," recalls Chan. In 2000, she was promoted to financial controller and moved into her current position four years ago.
Strategic shifts
Chan's first 15 years at Sappi Trading were a golden period for the company, a period of consistent and steady growth, but the 2008 global financial crisis combined with falling demand for graphic paper – used to print magazines – led to some difficult times.
Forced to make tough calls, it was an opportunity for her to grow professionally. "It was a crisis period for the company. Although it was a tough time, it was also exciting for me, and when I look back I realize how much I grew then," she says.
She looked closely at the balance sheet and took steps to keep costs down to stay competitive. "If you see that something is not good, then you have to make a change – you can't drag on and on," she says.
One of the group's initial strategies was to shift dependence from products with low profit margins to ones with high returns. This meant decreasing its capacity in graphic paper (a sector that was already sliding following the trend of reading handheld devices rather than traditional print media) and increasing the production capacity of specialty paper, which is used for everything from the lids of yoghurt pots to boxes used to package cosmetics.
"It's not a commodity anymore because it's a niche. It's a growing market with generally higher profits," Chan says, adding that the group's recent acquisition of the speciality paper coated paper business of Swiss paper manufacturer Cham Paper increased Sappi's production of that paper by 160,000 tonnes. "Being the international division of the group, we will continue to add resources to drive for growth, increase sales, profitability and market share in the specialities packaging sector," she says.
"Although it was a tough time, it was also exciting for me, and when I look back I realize how much I grew then."
The financial crisis also meant many employees were made redundant. The administration staff in the satellite sales offices were either transferred or dismissed, which led to operations being consolidating into two administration service centres, one in Hong Kong and one in Mexico City. Better use was made of technology to keep costs down – an element that only becomes more critical with the rise of big data.
The often volatile situation in Latin America – Brazil is only just emerging from a currency crisis from 2016 and there is political instability – means that Chan needs to keep a close eye on customers in that region. "Because of low profit margins, they aren't able to afford foreign exchange cover. It's very different from multinational companies because we buy hedging to protect our profit. However, because the hedging interest rate is so high in those countries, we need to be very careful by regularly checking the customers' financials to see how they are doing," says Chan.
Although she and the chief executive officer visits the regions twice a year and call on big customers of Sappi Trading to help develop sales and resolve business issues, she depends on her local team on the ground for regular updates. "It is very important that you have your own people there, to get close to the customer and find out exactly what is going on," says Chan. "They help us understand the financials and the business structure and performance of the customer, they have more in-depth market knowledge. If you used an agent, they wouldn't be able to give you that knowledge. What's more, if you use your own people they will fight for that extra dollar for you – and you will have a better connection with the customer."
Chan recommends finding a passion outside the office to maintain a healthy work-life balance. She plays tennis twice a week and goes ballroom dancing once a week.
Addressing sustainability
The forest products industry has long been plagued by negative public perceptions, with an image of environmental harm. Chan believes there's a strong need to correct such ideas. "The impression is that paper is bad for the environment but paper is one of the few truly sustainable products. It is renewable, recyclable and good for the economy. Some research even shows that reading and writing on paper can be better for the brain and benefit long-term memory," she says.
Sappi started focusing on sustainability in 2007. "It was initially due to the recognition that becoming more efficient in our use of water, energy and raw materials was not only good for the environment, but also helped lower costs, making us more profitable," explains Chan. "Today, increased focus on supply chain transparency and the life-cycle impacts of our products are driving our sustainability efforts as well as creating opportunities to revitalize the pulp and paper industry."
According to its 2017 Sappi North American Sustainability Report, the organization has been seeking alternative energy sources, including reclaimed oil, construction, demolition wood and tire-derived fuel, resulting in a 22 percent reduction in greenhouse gas emissions compared to 2007.
The company has been certified by the three most internationally recognized forest products certification programmes: Forest Stewardship Council; Programme for the Endorsement of Forest Certification; and Sustainable Forestry Initiative.
"I always tell my staff to be like a sponge, soak up what you can. Curiosity is a good thing, it is how you build your confidence."
Soaking up experience
Last year, Chan picked up her long-service award – 25 years with the company. She had joined the Hong Kong office fresh from earning her Master's in Business Administration at the University of Exeter in the United Kingdom.
Her early years with the company were personally challenging as she juggled childcare and a demanding full-time job, all while working towards her CPA qualification. She says the lost sleep was well worth it. "If you want to move up to a more senior role, you need a more professional qualification and accounting gives me the skills I want, and the knowledge I need."
She also commends the Institute's continuing professional development programme. "They help you to have updated information and see what is happening in the world – for example tax changes and developments," she says.
She encourages young accountants to step out of their comfort zone and diversify their skill set. "Don't worry about not understanding the figures or being criticized – it's more important to be inquisitive," Chan says. "I always tell my staff to be like a sponge, soak up what you can. Curiosity is a good thing, it is how you build your knowledge and confidence."
She credits her previous boss who served as her mentor for helping her grow. She says her current mentor, who helped her prepare for her current role, is also very supportive. "The more you learn, the more you want to learn – and it's fun," she says.
Acknowledging that she has spent more than 25 years on the job, she encourages young people to avoid a tendency to change jobs every one or two years. "If you really want to know a company and grow with it that's too short, you need to invest more time in it."  
Sappi produces 1.4 million tonnes of paper a year. According to the company, its range of paper products, including flexible packaging, label, release liner, containerboard and fluting, coated fine papers and casting release papers, serve the fashion, fast- moving consumer goods and industrial sectors.