Against the rhythmic sound of drums and the energizing cheers from spectators, paddlers on "dragons" hit the water at Stanley Main Beach under the scorching sun. Sitting at the front of the Hong Kong Institute of CPAs' dragon boat was Yale Leung CPA, Senior Tax Accountant of Swire Pacific Group. After crossing the finish line, he raised his paddle with his sore arms in a moment of triumph and let out a cheer with his team, taking in the thrill of the long-awaited dragon boat competition.
The Institute's team was one of 20 teams that competed in the mixed standard boat division of the Stanley Dragon Boat Championships 2022 on 3 June. It was the first dragon boat competition in two years amid the COVID-19 pandemic restrictions. The team became the first runner-up in the Mixed Bronze Cup Finals by completing the 270-metre race in one minute and 26 seconds.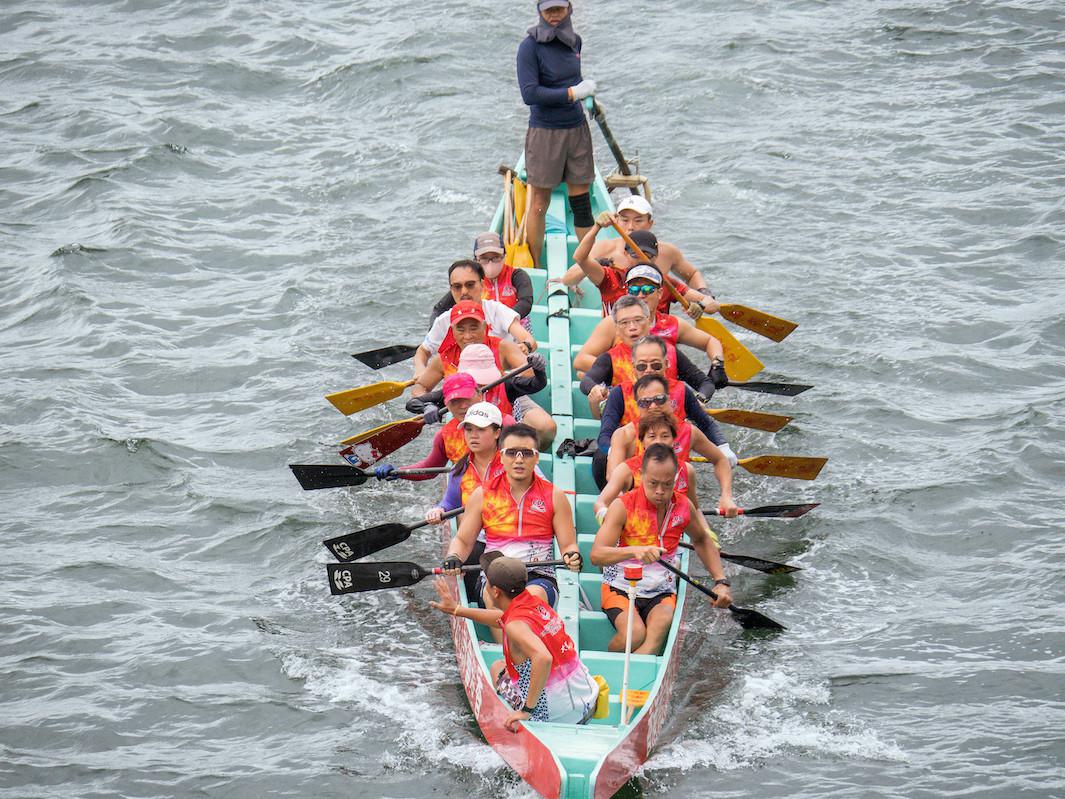 The Hong Kong Institute of CPAs' dragon boat team during a practice session near Tiu Keng Leng Pier.
Leung, who is a certified dragon boat coach, has more than 26 years of paddling experience. He is a team member of multiple dragon boat teams, including the Hong Kong China Dragon Boat Association (HKCDBA) men's team and Buddy Dragon, which he co-founded with close friends in 2016. He has taken part in over 200 dragon boat contests, both locally and internationally, and was part of the National Team in 2017 and 2019, winning bronze medals at the International Dragon Boat Federation's World Dragon Boat Racing Championships.
However, Leung admits that the Institute's team has a special place in his heart. "After I qualified as a CPA, I was invited in 1997 by a friend to join the Institute's team," Leung recalls. "I still remember being unable to wring my towel after the first training session as my forearms were so sore. Though I am also a member of other dragon boat teams, I still love attending every race with the CPA team, where I can share my experience and provide assistance."
Leung says the team was only able to practice twice before this year's competition, as they were not given much notice before the race. "The CPA team usually starts training on the first Sunday of March and continues practicing every week until October. We would gather at the Tseung Kwan O Sports Ground at 9:00 a.m. to do warm-up exercises and then walk to the waterfront nearby to start paddling," he explains. "Because of the pandemic, we were not told that the contest was going ahead until early May. When we finally gathered all of our teammates for the race, it was already 18 May. Fortunately, the result was satisfying considering the limitations we faced."
Despite the less-than-ideal training situation, Leung says the experience is a "warm-up" for the upcoming CPA Cup, which is part of the National Day celebration dragon boat invitational race in Shau Kei Wan Aldrich Bay on 9 October. On that day, the Institute's team will be racing against teams from universities and other Hong Kong professional institutions.
Years of being in the Institute's team has refined Leung's leadership and interpersonal skills. Leung's strength, endurance and experience puts him in the front of the boat. "The main job is setting a rhythm that the rest of the team can paddle along to," Leung says. "However, ensuring that a team of 20, or even more in some cases, paddle in unison is a challenge. Being in a mixed team relies on communication and cooperation even more so due to our differences. But this is what I love the most about the sport – there is no star but only a team. It is always about cooperating and moving as one."
Balance in life
Sitting behind Leung is Portia Wong CPA, Assistant Vice President of DBS Bank (Hong Kong). Wong is also an experienced paddler with 15 years of experience, and has participated in more than 100 dragon boat contests.
In 2007, Wong met Leung at an orientation day organized by the dragon boat team of the Hong Kong Chartered Governance Institute (HKCGI). Initially, Wong joined the dragon boat practice out of curiosity. It quickly became her favourite sport, and she immediately recognized its benefits. "It brings balance to my life. Before 2007, I did not exercise regularly and would get tired easily, so I was looking for a way to move more," Wong explains. "After the first training session, it almost felt like my body was falling apart, yet it was also satisfying and relaxing."
Seven years later, in 2014, the HKCGI's team was dismissed due to a change of its activity plans, and she was invited by Leung to join the Institute's team. In 2017, she joined the women's team of the Hong Kong China Dragon Boat Association (HKCDBA) and joined the Buddy Dragon, a dragon boat team established by Leung for gathering like-minded dragon boat fanatics. By then, Wong had developed a habit of training three to four times a week.
"Unless there is a case of extreme weather, I will train regardless of the season or the temperature," Wong adds. Before training on water with the team, she goes for a five-kilometre run to prepare for the intense training. During the pandemic, when all group training was suspended, Wong did different calisthenics exercises at home and went on long runs to maintain her stamina. ​
"One teammate is enough to stop the boat or divert its course, so the sport requires your full attention to be in sync with the team."
"Aside from helping me feel and look young, the sport is my way to blow off steam and connect with others," Wong adds, noting how the sport requires one's undivided attention. "One teammate is enough to stop the boat or divert its course, so the sport requires your full attention to be in sync with the team."
Wong loves the feeling of getting off the boat after a race or training. "You feel relaxed. It is rewarding to have a nice meal after every training session," she says. Wong also appreciates the team camaraderie. "In the CPA team, you will never run out of conversation topics since we all share so many things in common."
It can be challenging for a mixed dragon boat team to find the right pace, Wong notes. She sits in the second-row, ensuring the male team members sitting at the first row are not paddling too quickly.
She was thrilled to be back on the boat and racing against other dragon boat enthusiasts. "The dragon boat community is full of friendly and energetic people. It's great seeing members from different teams saying hello to each other behind the starting line," Wong says. "It's not about winning or losing. The smile on our faces and the atmosphere of the audience matter the most."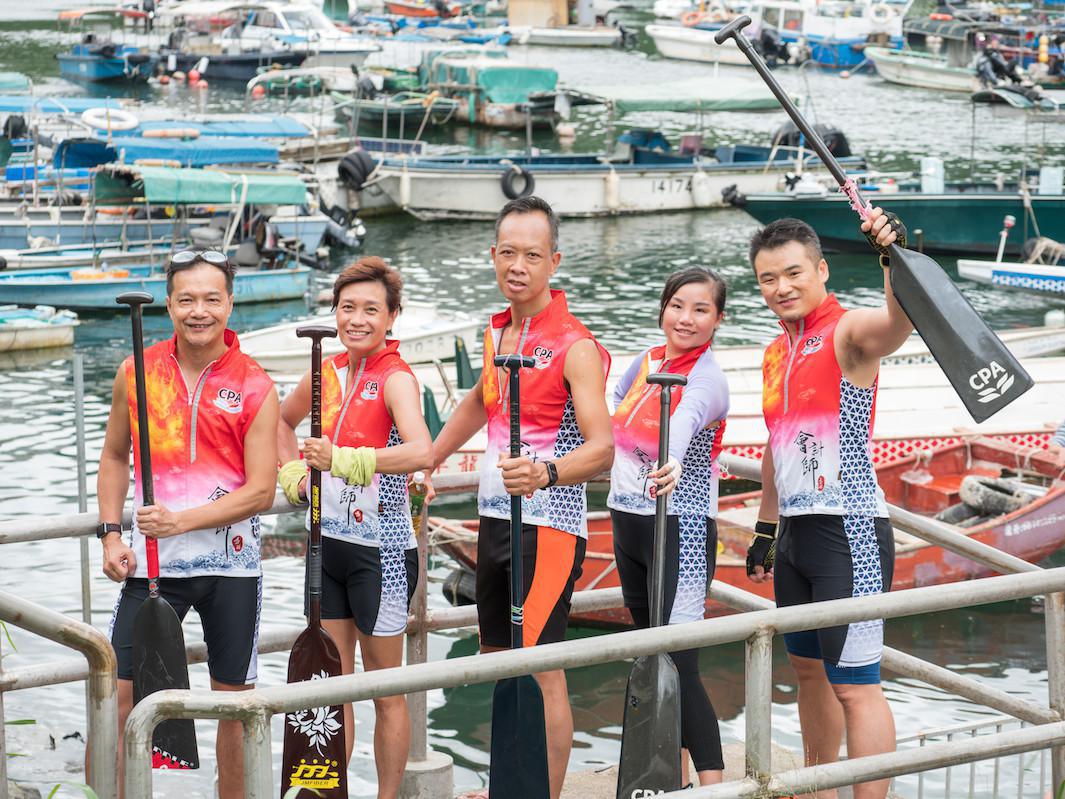 From left: Eric Wong CPA; Portia Wong CPA; Yale Leung CPA; Lina Xie; and Nick Ng CPA.
Shouldering the team
For most people watching a dragon boat race, chances are that they'll pay the most attention to the paddlers or the drummers sitting at the front. But a key member of every dragon boat team is the helmsman, who can be found at the back of the boat. Nick Ng CPA, Finance Manager at Yanchang Petroleum Group (Hong Kong) Co., Limited, is the helmsman of the Institute's team.
Ng would not have imagined participating in a team sport like dragon boat racing when he was younger. "It's very different from my former hobbies. I used to do indoor sports like weightlifting and a Japanese martial art called Kendo, so I'm used to only thinking of myself," Ng explains. But that all changed in 2010 when he received an email from the Institute's Dragon Boat Interest Group. "I thought it was a great chance to develop a hobby and meet other CPAs – I fell in love with the sport after a few training sessions."
After six years, Ng decided to change his role in the team. In 2017, he took a year of lessons from the HKCDBA and obtained his helmsman certificate. By standing at the back, helmsmen are able to monitor the current and course of the boat. They give orders to the team to dodge waves and avoid crashing into other objects. "It is a heavy responsibility to shoulder, but I like it. It is my job to keep the team safe," he adds.
Ng has witnessed the unique challenges that the Institute's team face. "The CPA team is full of brilliant minds. Though some of us are seniors at work, we're 'juniors' when it comes to dragon boat racing, which means we need to adjust our mindset," he explains. "The most challenging part of forming a team of CPAs is helping them to take orders and consider how to contribute to the team. I have become more aware of this when working with others."
Managing a large group like a dragon boat team takes communication, a strong bond and a mutual goal between teammates, especially in a mixed group. "It is also about sharing. As seniors, we have to learn how to communicate with the new generation and new members of the interest group," Ng adds. "If I want the group to keep running, I have to motivate them or help them understand how fun it is being part of the team."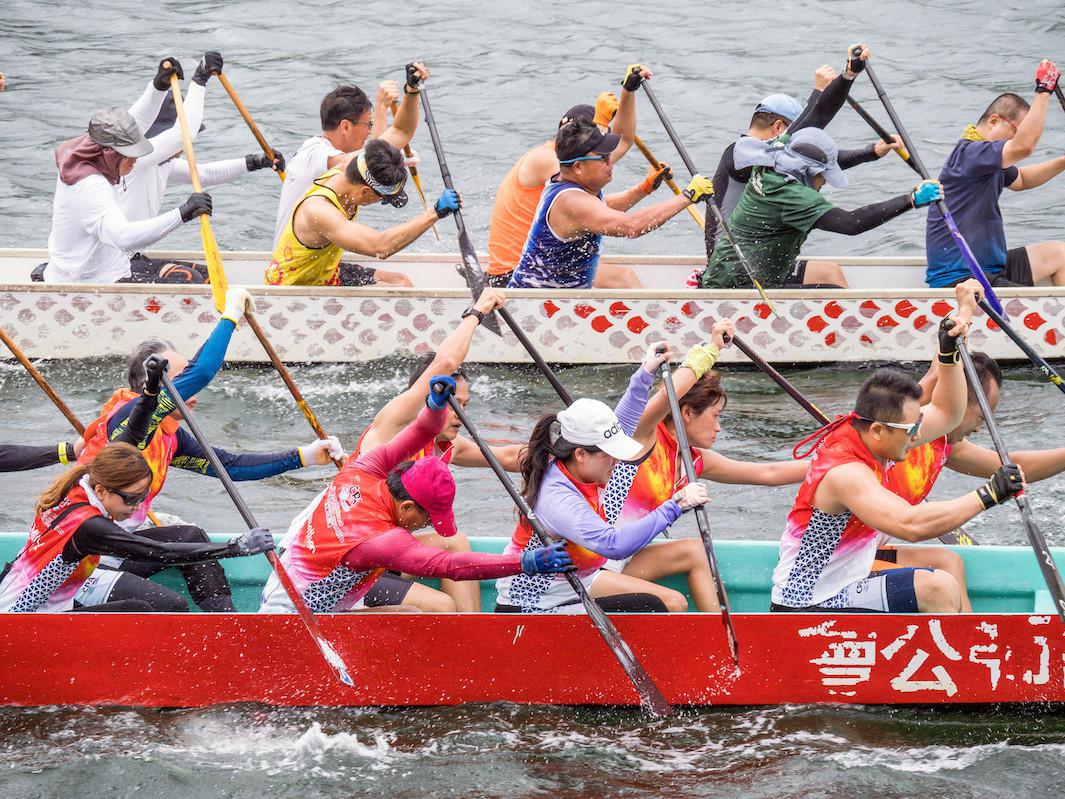 Holding on tight
While everyone was cheering after passing the finishing line, Lina Xie, Finance and Investing Manager at Luda Shipping Co., Ltd., and a Qualification Programme student, was catching her breath. She had just conquered her first dragon boat race at the Stanley Dragon Boat Championships and couldn't be happier.
The novice paddler teamed up with other Institute members to race against other corporate teams. "Initially, I joined the interest group for fun and to meet new friends with similar backgrounds – I never thought of being in a race," Xie adds. "I was a bit nervous as the only paddling experience I had were the two training sessions before the race and the training I participated in every Sunday from September to November last year."
After being encouraged by the team and taking it as a personal challenge, Xie decided to continue her training. "I hesitated to join the race knowing that one teammate being out of sync is enough to disrupt the boat's motion. Ever since last year, every group practice was cancelled, but I remember how sore I was after my first training session," Xie explains. "I was both exhausted and starving. I was worried that my stamina would not be enough to last until the end and that I might hinder the team's progress." To stay fit, Xie jogs for an hour, three to four times a week. Running, she says, helped her to handle the intensity of training when group practice sessions returned.​
"Only by knowing how to be at the back, will you know how to be at the front."
With her position as the sixth-row paddler, Xie focuses on imitating the paddler's movement in front of her. "I would like to 'paddle' my way up to the front and be in charge of the pacing one day. But only by knowing how to be at the back, will you know how to be at the front. It takes time," Xie adds.
She notes that one of the best things about the sport is how people, or strangers, can instantly come together. "In your team, there may be people you have never met before. In spite of that, you will all become in sync with each other during a race."
Xie says she will never forget that sense of accomplishment she felt at the end of the race. "It felt unreal when I realized the team had just passed the finish line. Competing gave me the chance to learn about perseverance, facing my own insecurities and having faith in others."
---
The Institute's dragon boat team participated in the Stanley Dragon Boat Championships 2022 on 3 June and won the first runner-up in the Mixed Bronze Cup after completing the 270-metre race in one minute and 26 seconds.