As the Greater Bay Area and Belt and Road initiatives develop this year, the Hong Kong Trade Development Council is focused on telling the world how the city is the hub of world-class professional services needed to deliver projects. Deputy Executive Director Raymond Yip talks to Nicky Burridge about what gives Hong Kong – and him – a distinctive edge
Photography by Calvin Sit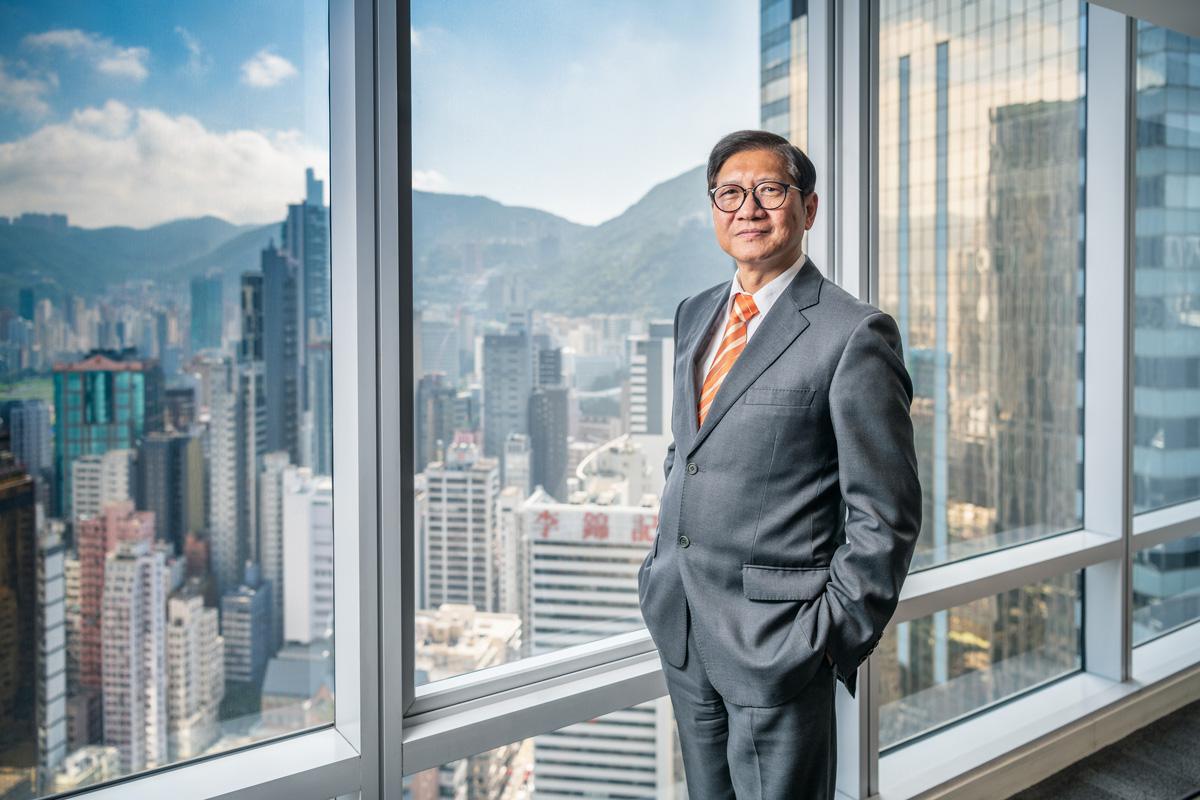 Show Raymond Yip a stamp from anywhere in the world and he will not only be able to identify where it is from, but also give a brief history of the country in question.
Yip, Deputy Executive Director at the Hong Kong Trade Development Council (HKTDC), began collecting stamps, coins and paper notes from different countries more than 40 years ago, and he has since fulfilled his ambition to have at least one from every country in the world, including now-defunct territories.
But, his interest in philately and numismatics is not something he does to unwind from his job. It is a spillover of his passion for the work he does with the HKTDC. "It is how I learn about the world and enrich my knowledge of different countries. I can recall the brief history of every country, including very small islands," he says. "Whoever I meet, from whichever country, I can instantly converse with him or her about his or her country. It has helped me tremendously with my job and to build instant trust and rapport," he explains.
Yip more recently expanded his collecting hobby to include financial documents, such as old bonds, share and stock certificates. "Financial documents are very interesting. There are a lot of details in terms of the design and the history behind why the government, or whoever, needed to issue a bond, and what the story behind it is," he says.
His collection includes a bond certificate which was used by the then imperial Chinese government to raise funds in 1907 to build the China section of the Kowloon-Canton Railway.
He is fortunate in being able to combine his passion for travel with his work with the HKTDC. "I have been to no less than 120 countries, including some very exotic ones, such as the Democratic Republic of Congo and East Timor. It is still on my agenda to visit the remaining 80-plus countries I have not been to."
Outward-facing organization
The HKTDC is a statutory organization set up in 1966 to promote, assist and develop Hong Kong's trade. It promotes Hong Kong as a two-way global investment and business hub, and provides companies, particularly small- and medium-sized enterprises (SMEs), with business opportunities in the Mainland and international markets.
As part of its work to promote Hong Kong companies, the HKTDC organizes more than 30 fairs for products and services, as well as hosting over 600 networking and outreach events annually to help SMEs connect with new business partners and clients, and inbound missions to enable overseas businesses to understand what Hong Kong can offer them.
Yip has worked for the organization for 40 years, having joined as an executive trainee. With the exception of a short stint with Hong Kong-based conglomerate Swire when he first graduated, he has spent his entire career there. "I wanted to work for the HKTDC even in my university days after doing a research project on it. It was my dream job," he says.
Yip was particularly attracted by HKTDC's international nature and its role in helping companies explore new markets globally. "I think we are the Hong Kong public organization that is the most international and has the most offices around the world," he says.
In the past 18 months alone, the council has opened new offices in Manila, Almaty in Kazakhstan, Nairobi in Kenya and Riyadh in Saudi Arabia, bringing the total number of HKTDC offices around the globe to 50.
During Yip's time at HKTDC, the council has had six different executive directors and seven different chairmen, while Yip himself has worked at eight different ranks. "I have been through all of the positions from assistant manager to deputy executive director. It has given me a very broad understanding of the requirements, challenges and difficulties each level faces," he says.
In his current role, he is responsible for the HKTDC's marketing and external relations, as well as the organization's network of 50 offices worldwide. He also oversees the promotion of the product and service sectors, alongside corporate marketing and communication.
He says the main challenge he faces is encouraging Hong Kong companies, particularly SMEs, to embrace new and unheard-of opportunities. "One of our core values is 'opening new frontiers.' We need to learn fast enough to stay ahead of the curve."
A key part of our work is to promote Hong Kong as a two-way platform for Mainland and overseas companies to take advantage of relevant Belt and Road investment and trading opportunities."
Raymond Yip has worked at the Hong Kong Trade Development Council for 40 years. He began as an executive trainee and climbed through eight ranks to become Deputy Executive Director.
Eyeing opportunities across the border
Yip enjoys the planning and strategizing that goes into creating the HKTDC's business trade promotion programme. "We help to articulate Hong Kong's strength as a commercial hub that, in turn, facilitates companies in capturing opportunities around the world," he says.
The organization's remit has evolved over time, expanding from only promoting merchandise trade when it was first launched to also promoting trade in services after the government expanded its mandate in 1996. At the time, services accounted for 85 percent of Hong Kong's gross domestic product, compared with around 92 percent today.
For the past few years, it has had a particular focus on Mainland China, looking at how the services sector, including professional services and financial services, can benefit from policy developments outlined in the 13th Five-Year Plan, as well as the Greater Bay Area (GBA) and Belt and Road initiatives.
Yip thinks Hong Kong has a key role to play in these initiatives, acting as an international financial, transportation, trading, aviation, asset management and risk management centre, as well as a global offshore renminbi hub. With these key strengths, Hong Kong serves as the commercial hub for the Belt and Road while providing an international link between the GBA and the rest of the world.
"A key part of our work is to promote Hong Kong as a two-way platform for Mainland and overseas companies to take advantage of relevant Belt and Road investment and trading opportunities, positioning Hong Kong as the ideal location for regional set-ups to conduct such activities," Yip explains.
This year, the HKTDC will expand the Belt and Road Summit, co-organized with the Hong Kong government, into a two-day event, which will act as the anchor for a new Belt and Road Week to promote Hong Kong as the premier Belt and Road hub. "Hong Kong can serve as an international centre for financing, investment, logistics services, trading and professional services including dispute resolution, risk management and more," he says.
It also runs outbound missions to Belt and Road-related countries, as well as hosting the Belt and Road Global Forum, an alliance of chambers of commerce, industrial associations, investment promotion agencies and think tanks from around the world to encourage business collaboration among members. The forum has 106 members from over 30 countries, covering a total of 5 million member companies.
Meanwhile, the HKTDC helps GBA enterprises to expand globally using the HKTDC's marketing platforms, while assisting overseas investors to tap GBA opportunities through Hong Kong. As part of this work, it organizes the Business of IP Asia Forum every December, which attracts around 2,500 people from across the region to promote intellectual property trading in Asia. "This is an area where accountants can come in because a lot of intellectual property assets need to be valued and reported on," Yip says.
"I wanted to work for the HKTDC even in my university days after doing a research project on it. It was my dream job."
Preparing for challenges
Yip concedes the current United States-China trade tensions could cause issues in the short term, with the uncertainty it creates possibly leading to slower global growth.
The HKTDC is offering information and training to help companies navigate the issue, including running a series of seminars offering advice and insights to SMEs, and creating a "U.S. Trade" webpage of resources and intelligence on the latest developments.
"Despite the current challenges, the HKTDC is cautiously optimistic about the prospects for Hong Kong, expecting the city's exports to increase 5 percent in value and 3 percent in volume in 2019," Yip says.
A potential issue, he adds, is that Hong Kong companies may not be as adventurous as they used to be. "When I first joined the council, I took delegations to very exotic countries, but today very few people want to go there. In general, people are not as inclined to venture out of their comfort zone as the last generation."
He points out that it is important for companies to diversify their markets. "This is something that we try to educate our companies about. We will be beefing up our programme of visiting different emerging markets," he says.
Yip also says that Hong Kong companies face the challenge of disruption brought about by innovation, technology and new business models. "This is why the HKTDC is working closely with SMEs to embrace new technologies to ensure companies retain their competitive edge in what is an ever-more challenging environment," he says.
The council is also working to support start-ups, and to promote Hong Kong as a centre for digital innovation and connectivity, in line with the government's vision for a smart city. "I think nurturing start-ups is an important area. Hong Kong had over 2,600 start-ups last year, which was about 18 percent up from the year before. It is one of the fastest growing start-up hubs in the world," Yip says.
The HKTDC hosts a range of events to help start-ups grow and expand globally, including the HKTDC SmartBiz Expo, which provides a platform for start-ups to meet potential investors, partners and suppliers. "We match projects with investors. We work with the private equity and venture capital profession to look at our projects," he says.
The council has similar initiatives for FinTech companies at the HKTDC-organized Asian Financial Forum. "We hope to entice more FinTech players to come to Hong Kong to build up the community and attract potential investors."
In 2007, Yip helped to launch the Asian Financial Forum, also co-organized with the Hong Kong government, which was looking for ways to celebrate the 10th anniversary of Hong Kong's reunification with Mainland China.
He explains that they came up with the idea after identifying a gap in the financial services sector, as at the time, there was no single event that embraced all the different facets of the sector, such as banking, insurance and investments, and was open to everybody. "We believed that with Hong Kong being the third-largest financial centre in the world, we needed our own major financial event every year for the region," he says. "We have grown very steadily over the years. The last event in January attracted 3,300 participants. It is now very firmly established as the key event for the financial sector in the region."
As part of its work to help Hong Kong businesses, the HKTDC connects CPAs with potential clients, both in Hong Kong and overseas, and hosts events and roadshows to promote the city's professional service providers.
Yip says there is particular demand from Mainland companies that are making overseas acquisitions to be put in touch with Hong Kong CPAs. "It has proven to be a very successful model and I think both sides appreciate the facilitation. We have helped 1,700 Hong Kong professional services companies of various disciplines to be engaged in these outbound investments."
He adds that inbound promotion is particularly helpful for small accounting firms that may not have the resources to go out of Hong Kong themselves.
The HKTDC has also invited the Hong Kong Institute of CPAs to be a Hong Kong partner in its "Think Asia, Think Hong Kong" promotions, and in 2017, it co-organized the Hong Kong Accounting Mission to Shanghai with the Institute, taking delegates to meet Shanghai's Free-Trade Zone authority. "Accountants have a very important job," Yip says. "Ultimately, companies will need to look at the bottom line and take heed of the advice of the accountant when making every strategic decision. Our job is to promote the export and cross-border business of that profession."
"We hope to entice more FinTech players to come to Hong Kong to build up the community and attract potential investors."
Lessons in history
Yip graduated from the Chinese University of Hong Kong with an honours degree in Business Administration. He studied at Chung Chi College, a college within CUHK, and is grateful that the college required all students to do liberal studies as part of their undergraduate studies.
"I think liberal studies prepared me to embrace diversity and to appreciate differences and also to be open to different cultures, languages, backgrounds and religions," he says. "The HKTDC is an outward-facing organization, and we deal with different markets all over the world. We have 50 offices and consultants worldwide and people of over 30 different nationalities working for us."
He adds that liberal studies also gave him an appreciation for the importance of history. "Knowing other countries' history is important in understanding their peoples' mindset and why decisions are made," he says. "Whenever my colleagues ask me how they should prepare for their next posting abroad, I always say they should read the history of the country."
When he is not working, Yip, who is married and has three children, likes to go hiking in Hong Kong's many country parks. He is also a keen runner and has completed the Hong Kong half marathon every year for the past six years. "Apart from the physical training, it is really good perseverance training for the mind. It makes me focused and determined to single-mindedly finish everything with purpose, however daunting it may be."
In February, the HKTDC has signed agreements with the 10 other Greater Bay Area (GBA) cities to organize overseas missions and explore investment opportunities in both mature and emerging markets, including countries along the Belt and Road. It will also feature the GBA in its flagship events including "Think Asia, Think Hong Kong" in Los Angeles in September.