Hot dogs, ice cream, popcorn and meatballs. What may sound like the kind of food moviegoers line up to buy before a long film is, instead, readily available to eat at a furniture retail store.
While most people wouldn't associate delicious food with furniture shopping, it is the combination of both that perfectly encapsulates the shopping experience at an IKEA store, says James Liu FCPA, Finance Director, IKEA at DFI Retail Group Holdings Limited. By providing customers – who are usually hungry after navigating the labyrinthine aisles, showrooms and house fittings found throughout the store – with the promise of freshly-made food, Liu says this not only boosts sales, but keeps shoppers happy and most importantly, keeps them coming back. "In terms of the whole IKEA concept, our bistros are always set up next to the check-out counter. The food is quite affordable, so whatever spare change customers may have, they can choose to spend it on some food before they leave," he says.
But food wasn't always on the company's menu; IKEA began selling food in 1960, 17 years after being founded in 1943 in Sweden. It started by selling coffee and cold dishes by the end of that year, and was able to start selling hot food following the introduction of a microwave oven, which was a novelty item at the time. IKEA is the brainchild of Swedish-born Ingvar Kamprad, who started the company in Småland, Sweden as a mail-order sales business. The company name "IKEA" itself is a combination of the founder's initials, with the addition of Elmtaryd, the farm on which he grew up, and Agunnaryd, a nearby village.
Since opening its first store in 1958 in Almhult, Sweden under the name Möbel-IKÉA, the company has expanded globally and now has 473 stores in 64 markets. It opened its first store in Hong Kong in 1975 in Tsim Sha Tsui – its first branch in a Chinese-speaking territory – and now operates four large stores in the city along with four other smaller outlets in select districts. Jardine Matheson, a Hong Kong-based multinational conglomerate, had the license to operate IKEA stores in Hong Kong since 1988 and sold the rights to DFI Retail Group (formerly Dairy Farm Group), a subsidiary of Jardine Matheson, in 2002. DFI Retail Group currently operates IKEA stores in four markets: Hong Kong, Macau, Taiwan and Indonesia, and it is the second largest franchisee of IKEA.
Creating opportunities
Liu's role at the company is diverse. "I'm in charge of the bookkeeping, management reporting, financial planning and analysis, budgeting, internal audit, risk and compliance, treasury and tax. These are the core functions of my finance role," he says, adding that he also oversees the company's non-trade procurement, property, company secretarial, legal and IT-related matters. "It's a wide range of responsibilities, but that keeps the role exciting."
When Liu joined DFI Retail Group as a financial controller in 2016, he was first in charge of Giant, a hypermarket retail chain in Singapore. He then became the group's head of finance of IKEA Hong Kong and Macau in 2018, and finance director of IKEA North Asia in 2019 before taking on his current position in 2020 where he oversees multiple markets in addition to Hong Kong such as Macau, Taiwan and Indonesia.
Like most companies in the city, IKEA has been grappling with the challenges of the last three years. "With the social unrest in the second half of 2019, people were either too afraid to leave their homes or weren't in the mood to shop. Then, since early 2020 until now, we've been affected by COVID. So, sales over the last few years haven't been the best," says Liu.
The economic downturn and ongoing outflow of expatriates in Hong Kong, Liu says, have also led to a drop in mid-year sales. "We've seen sales go down, especially at our Causeway Bay store. A lot of expats in Hong Kong are teachers, so during the summer months, we typically see a surge in sales," he says. "They usually come in and buy furniture for their homes before the start of the school year. But we didn't see that increase in sales last year, nor did we see it this year."
Recurring lockdowns in Mainland China, along with geopolitical issues earlier this year, inevitably led to supply chain issues, notes Liu. "Due to COVID lockdowns in Shanghai, as well as the Russia-Ukraine war, our stock availability was, at one point, down to 65 percent; in other words, a third of our shelves were empty. There were times we weren't able to meet demand," he says. ​
Seeing is believing
Liu says the in-store experience is critical to IKEA's service offerings, noting that the nature of its products necessitates its sizable outlets. "The home furnishing business will always require a physical presence – people still want to touch and feel the material of the furniture before they make a purchase," he says. Indeed, 71 percent of retail sales is still driven from in-store purchases, according to Inter IKEA Group Financial Summary FY21, the group's 2021 financial report.
The layout of each store is intentionally arranged to "inspire" each and every visitor, Liu highlights. "As soon as they enter one of our larger stores, the first thing they see is the demo rooms. We have five furnished rooms of different sizes to demonstrate how they can decorate their homes with our products," he says. "We offer home furnishing solutions – that in itself is very important. A lot of the time, our customers may have a desire to improve their home, but they might not know how. So this in-store experience is key and sets us apart from other retail companies."
That, however, isn't to say their online presence isn't important at all, notes Liu. In addition to IKEA's e-commerce website, the company also sells its furniture and accessories through a dedicated smartphone app.
Liu and his team suggested that the company open smaller stores in Kowloon, the New Territories, and Hong Kong Island. This would allow the company to tap into new locations and drive revenue in districts located away from its four main outlets and offer customers increased accessibility and flexibility. The smaller establishments would offer an array of furniture, dining room products, accessories, food, as well as a "pick up point" for customers to pick up or return their purchases. "To generate sales, we've been focused on building smaller stores in Hong Kong in certain districts, such as our 5,000-square foot store in Tai Po, which we opened last year, followed by the opening of a 3,000-square foot outlet in Discovery Bay," he says. Its largest store in Kowloon Bay, by comparison, is around 150,000 square feet large.
The smaller shops, Liu adds, come with showrooms, and selected products to inspire customers with new ways to furnish their homes and encourage them to visit one of their larger establishments. This month, IKEA opened its latest "small" store, a 15,000-square foot outlet in K11 Art Mall in Tsim Sha Tsui.
The decision to set up smaller outlets was also driven by unique opportunities that Liu identified during the pandemic. "It was also about deciding whether we should be more conservative or aggressive in terms of our expansion strategy, and whether we should seize opportunities. In the end, we chose the latter," he says. "Take our Tai Po and Tsim Sha Tsui shops for example. The landlord noted that there were a lot of tenants leaving, so we knew it would allow us to negotiate a good lease."
The smaller outlets have been well received by customers so far, says Liu. "Our customers appreciate the flexibility. They can enter, buy what they want, and leave. Some customers have said that it often takes too long to walk from one end of our parent stores to the other, so these smaller stores have helped with this," he says. "The sales and profits have actually exceeded our expectations."
The company's brand name also allowed them to expand in Indonesia, with the company opening a store in central Jakarta this year, with another store in Surabaya on its way. "A lot of tenants had to close their businesses due to COVID. This left a lot of malls empty and a need to bring tenants back, so our presence and brand name were able to drive a lot of footfall back to the mall." ​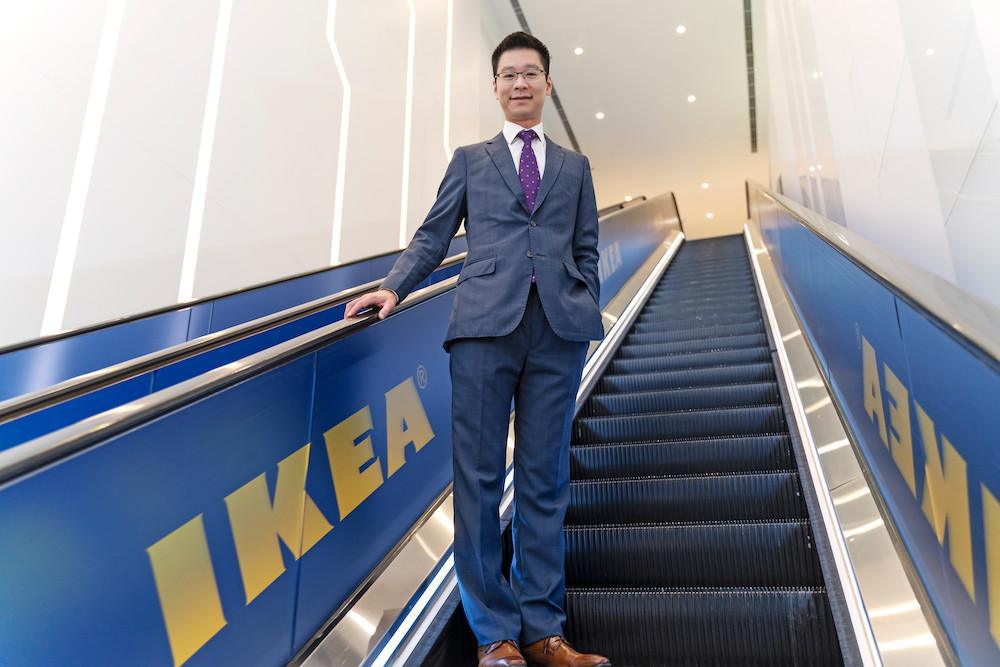 As Finance Director, IKEA at DFI Retail Group Holdings Limited, James Liu FCPA is responsible for its bookkeeping, management reporting, financial planning and analysis, budgeting, internal audit, risk and compliance, treasury and tax as well as non-finance duties.
"A lot of the time, our customers may have a desire to improve their home, but they might not know how. So this in-store experience is key and sets us apart from other retail companies."
Operating sustainably
Sustainability has to be at the heart of the company's operations, products and even its food and beverage (F&B) offerings, Liu says. Indeed, IKEA plans to ensure that all materials in its products will be renewable or recyclable by 2030 and to also become a climate positive business, or a company that offsets its carbon footprint by saving more greenhouse gas emissions than  they are generating, that same year. "IKEA is a vertically integrated company. This starts at the product design stage with the use of raw, recyclable and sustainable materials such as bamboo, which grows relatively quickly, as well as the use of recycled wood," he says, stressing that all materials go through vigorous testing to make sure they are durable and that the use of raw materials will not compromise the product.
Sustainability initiatives are also found throughout the company's supply chain, Liu points out. "We use electric vehicles for deliveries," he says. "All our stores in Taiwan have solar panels installed on the rooftop, so we're also using more solar energy to generate electricity," he says.
Liu says IKEA has also rolled out more sustainable food options over the years, such as plant-based meatballs, ice cream, local delicacies such as plant-based siu mai, and plans to introduce meatless hot dogs soon. "The idea is to consistently reduce our carbon footprint, so through each change, we try to further our sustainability agenda," he adds.
It is important for the company's food options to meet the evolving demands of customers, he says. Sales from its F&B business, which includes sales from bistros, Swedish food markets and restaurants, make up roughly 5 percent of its global revenue. In Hong Kong, 12 percent of its total revenue stems from its F&B business, according to Liu. "It's fortunate, because what started off as a side business has grown into something that is so profitable," he says. Liu explains that the company's food business covers three categories: its bistros, which serve hot dogs, popcorn and ice cream, its Swedish food market, which offer salmon and sourdough bread, and its restaurant business, where patrons can enjoy whole meals. "Not all of our stores have restaurants, such as our Causeway Bay store, but our food business is a key generator of traffic. It draws people in and has, in many ways, become a standalone business," he says.
The finance function must therefore do their part to drive sustainability initiatives at companies, says Liu. "In addition to compliance with global standards, the finance function can help with asset allocation to safeguard funding for sustainability initiatives, such as ones related to energy-saving," he says. It is also every CPA's responsibility to equip themselves with the necessary knowledge in environmental, social and governance (ESG) to add value to companies and the community, he adds. "CPA skills not only teach us to look at historical information, but help us to plan for the future. ESG is really about creating a better environment for the next generation; a better planet for our children and grandchildren."
The success ingredient
Liu was born in Hong Kong and completed his preparatory education in the city before going to the United Kingdom for his high school education. He later attained a master's degree in engineering at the University of Oxford. "I've always been interested in engineering – but I think it's always been more of an interest than anything else. I also heeded advice from my father, who said: 'university is the only time in life you get to study something you truly enjoy.' So, I took that chance," says Liu.
The decision to become an accountant came while he was interning at engineering companies during the summer months. "What I quickly realized was the need to manage both resources and people, no matter what company you work for," he says. "Back then, I didn't quite understand business, so I knew that becoming a CPA would give me a professional view in terms of how companies work. It would also set the foundation for me to understand the business world and provide me with a qualification that is globally recognized."
With that goal in mind, Liu began his career as an auditor at Deloitte in the U.K. Despite the challenging years – and hours – Liu says the experience ultimately laid the groundwork for him to build his skills upon. "There were times where we'd be at the office auditing a company until the wee hours of the morning. I'd then go home for a few hours of sleep before heading back in. Days were tough, but they were memorable," he says. "My auditing experience provided me with a strong skill set. I'm able to look at the big picture, and also analyse the numbers to quickly understand the financial health of a company, regardless of industry. Having audited so many different companies, I came to realize later in my career just how critical that skill is."
After almost three and a half years, Liu then worked as group accountant at media group Aegis Group plc, now known as Dentsu International, then as corporate finance manager at property developer Hongkong Land before joining Dairy Farm Group. Liu learned the importance of strategy and asset allocation at Hongkong Land, he notes. "I learned how much we needed to invest in commercial and residential property, and in which regions, in order to divest our risk, for example," he says. "Within Dairy Farm Group, I worked in Singapore helping with Giant's hypermarket business, and then moved back to Hong Kong to manage IKEA. The role in Singapore was really my first foray into the operations side of business. I really learned how a company makes money," Liu notes. He continues to apply his knowledge in asset allocation at DFI Retail Group. "I play a part in deciding how much we should invest into IT infrastructure, automation, ESG, and our people. I'm often asked 'how much should we invest' on the job. There really isn't a right or wrong answer and depends on the business cycle of the company, whether it is choosing to grow or taking a more conservative approach to growth, and also on the macro environment."
Liu says his CPA knowledge has given him the skills to also analyse companies from different perspectives. "By knowing how to look at financials, such as a company's balance sheet, and profit and loss statement, you're able to understand a lot of relevant information about the business. Most people don't know how to interpret these numbers," he says. The CPA qualification, Liu adds, instills a high level of confidence in the people he meets. "The qualification itself helps to open doors. As soon as I present my CPA qualification, people are more confident in my abilities, and level of knowledge and professionalism."
Liu's knowledge in finance also helps him to better collaborate with supply chain teams. "For example, accountants are able to identify ways to save cost. In turn, supply chain teams will be able to provide ideas to the finance department on how they could reinvest the savings into new technologies for further operational and energy efficiencies, and its people."
Young professionals should mindfully develop and refine their interpersonal and communication skills, as well as build a solid understanding of how businesses work, early on in their careers. Doing so, Liu notes, will help them to create meaningful value in any organization they work for down the line. "They should learn how to explain their ideas and strategies to the organization in a language that they understand. This is critical," he says.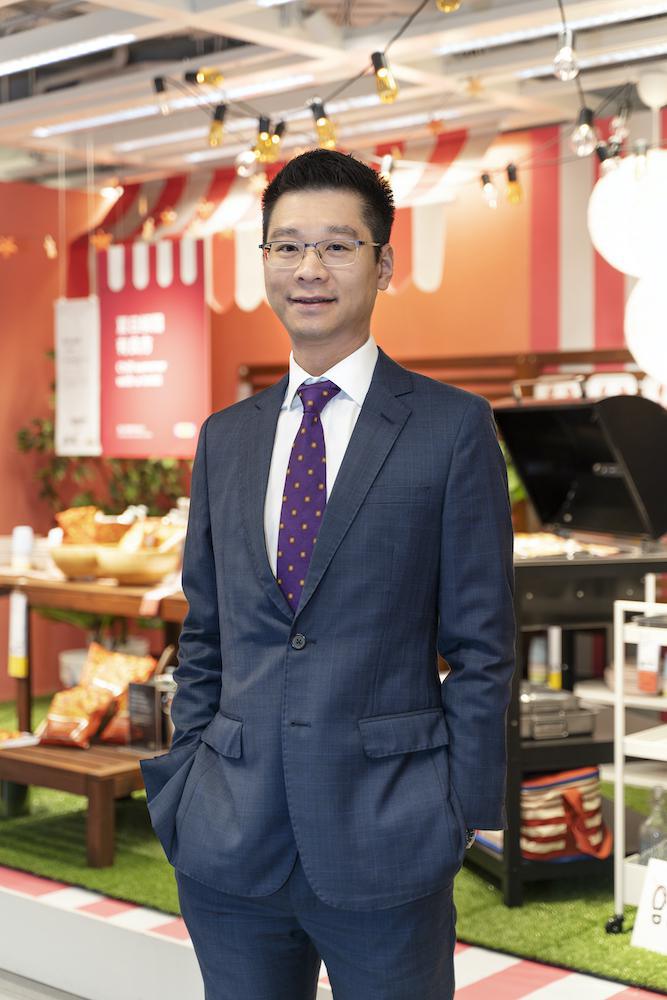 Liu graduated from the University of Oxford with a master's degree in engineering. He began his career at Deloitte and worked various roles in corporate finance and property development before joining his current company in 2016.
"As soon as I present my CPA qualification, people are more confident in my abilities, and level of knowledge and professionalism."
Continued growth
Liu maintains a healthy work-life balance through his passion for golf, and his love for theatre and classical music. "The city has a lot to offer in terms of arts and music. I'm looking forward to attending more concerts at the Hong Kong Philharmonic, once that restarts again, as well as next year's Hong Kong Arts Festival."
Liu remains determined to continue driving the growth of IKEA in the years to come. "We will continue with our investments into smaller stores the rest of this year and next year  – so we look forward to opening two more stores next year," Liu discloses. "The aim is that by 2027, we will have at least 10 small touch-points in Hong Kong. We're also excited about our Tsim Sha Tsui store, which opened this month. It's another significant investment for us."
Unsurprisingly, Liu is also a big fan of the company's products himself. "I do shop at IKEA  – it's hard not to when your office is right next to an IKEA store," he jokes. "A lot of my furniture at home is from IKEA, such as my sofa, footstool, TV cabinet, table, bedside table, and working desk, to name a few." He also frequents their restaurant for lunch and often visits their bistro for a mid-day snack. "My favourite item is the hot dogs – they're delicious and it's extreme value for money," he says. "Every time I'm there, I like seeing customers enjoy our food and also take the time to greet our co-workers."
Above all, he is proud to be at the helm of a brand that gets people talking. "Whether people like IKEA furniture or not, most people have heard of our brand and our products," he says. "People always talk about our stores and tell me things like 'every time I visit, I end up walking around for at least an hour!' It's always an excellent conversation opener, and I enjoy being able to connect with people through our company's strong brand."
Since opening its first store in 1958 in Sweden, IKEA has expanded globally and now has 473 stores in 64 markets. It opened its first store in Hong Kong in 1975 in Tsim Sha Tsui and now operates four large stores in the city along with four other smaller outlets in select districts.