With the Institute's 2018 Bowling Winter League completed last month, Jeremy Chan speaks to four passionate CPA bowlers about their experience and highlights of the tournament
Photography by Anthony Tung
(From left to right) Ken Ng, Kan Miu Yee and Lydia Chau.
"At the very beginning, none of us really knew how to bowl," recalls Ken Ng, speaking about his six-person bowling team, Kuma. "We only knew how to hold a bowling ball." Fast forward a few years, and Ng has managed to score 290 points during a game – still his all-time record.
Ng started bowling after joining the Institute's Bowling Interest Group in 2010, where he met some like-minded players. They formed a team and practice at the 40-lane bowling centre at the South China Athletic Association every other week, donning their CPA jerseys, and bringing their own bowling balls.
The Institute's Bowling Interest Group hosts two leagues a year, one in the summer and the other in winter. They take place every Friday evening over 12 weeks and see up to 10 teams of six compete with each other playing three games per event. Three of those six players take part in each game.
The winter league saw eight CPA teams battle it out – Turkey, JJ6016, Kuma, Flash, Superbowl, Cyclone, Team H and Team B. Turkey finished in first place, JJ6016 in second place, and Kuma in third.
Mind over matter
Coming in third place wasn't easy for Ng's bowling team, which finished the league with 149 points. Though the team came in second place in the first week, the team struggled to keep up with the other teams from week three to 11, coming in fourth, fifth and sixth places, with the exception of week seven where they climbed back to third place.
Ng, Managing Director of KTO CPA, looks back at the game against JJ6016, the second place finishers. "Their members are quite strong, and they usually finish the league with a high average of above 200," he says. Ng says his teammates gave it their best during the final game, which led them to finish the competition in third place, four points below JJ6016, but seven points above the fourth place team, Flash. "I was a little bit nervous bowling with JJ6016 at the beginning – they're quite a challenge," he adds.
Ng now has almost a decade of bowling experience. He admits, however, that it can be nerve-wracking competing alongside more experienced teams, and knows how that might affect a player. "Bowling is a very mental sport," he says. "If you don't relax, you won't bowl well. You might exert an extra force on the ball, which can influence the result." He manages this by keeping calm during each game and remembering to enjoy himself. He enjoys how the sport helps him de-stress, each and every game.
One of his teammates, Kan Miu Yee, agrees. She got into bowling shortly after graduation, and would bowl with her friends at least once a week. After finding about the Bowling Interest Group in 2010, she joined and began taking bowling lessons to improve her technique.
Like Ng, she says nerves can throw a bowler off course. "One challenge is maintaining calm and confidence during each game – especially when it comes to clearing a split or getting a turkey," she says, referring to clearing two pins to make a "split," or getting three strikes in a row for a "turkey." The most satisfying thing, she says, is clearing tricky pairs such as the 7-10 split, which involves clearing the leftmost and the rightmost pin in the back row. "There are so many split combinations, so when I finally clear one, it feels really good, as it often requires more skill than getting a strike."
Despite the pressure of every tournament, Kan is grateful to be part of the Institute's Bowling Interest Group, and says there are lessons to learn from each throw. "Every game is a new game – I never let a previous game burden the next one," she says. "I found that the more I relaxed and enjoyed each one, the better my result. I also apply this theory to my work and life, and that's why I love bowling so much – it reminds me to relax and enjoy every moment."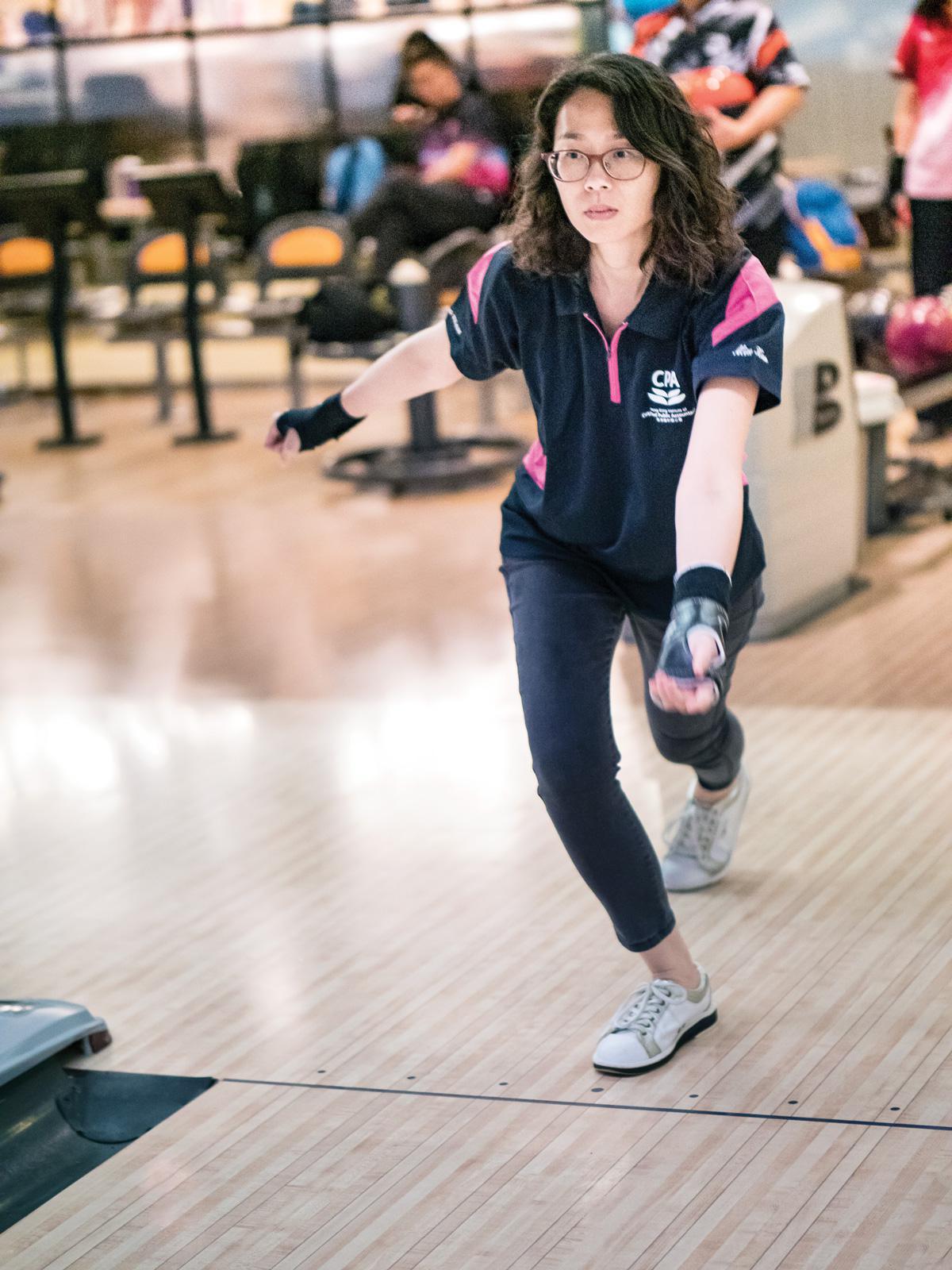 Uphill battle
It was team Turkey's first time finishing at the top, something team member Lydia Chau is both proud and surprised about. Chau joined the league in 2012 and is Finance Manager at watch company Bovet 1822 APAC. Though they finished first, she says the first half of the league was a struggle. The team started in fifth place after the first week, and then dropped down to seventh place in the following week. They managed to rise up to fourth place during week five – and by week six, reached the top spot. "We gave it our best to maintain that lead up until the end."
Chau says maintaining their lead during the final six weeks was not easy. "I got stressed every time I couldn't seem to finish a spare, reach my average, or when I focused too much on our score," she says. Her happiest moment in the league was when she steered clear of the gutter and netted only strikes and spares. "I was so happy, I took a photo of the scoreboard," she laughs. "And during the last game, we enjoyed ourselves and did our best." The team finished with a final score of 168.5.
Chau has been an eager bowler since she was a secondary school student. Though she is still busy these days, she uses every opportunity to practice and bowl alone or with other passionate CPAs. This, she says, is the secret to keeping her skill at a certain level. "Bowling is something you can do with people, or alone," she says. "And practice helps to develop your muscle memory, helping you to be more consistent. It is a lifelong hobby – you can never get too good at it without practice."
A big community
Florence Tang, Manager, Performance Improvement Advisory at EY, and member of Turkey, also began bowling in her secondary school years. She joined the interest group in 2017 after being introduced by a CPA friend.
She remembers how the help of a scoring system, known as a handicap, kept her in the league after week five. In most bowling leagues, bowlers of all levels stand a chance at winning with a handicap, which is calculated by subtracting a player's average score from a number slightly larger than the highest average bowling score, known as a basis score, and is intended to be more than any individual bowler's average. This new number is added to players' score, increasing their total. Players with a lower score receive a larger handicap, and vice versa. With her score at 444 and a fellow competitor's at 557, a handicap of 150 brought her final score up to match her competitor's, at 594. Towards the final week, they maintained their lead and finished strong.
Tang says it is a challenge getting members to bowl on certain tournament nights due to busy schedules, so any three available players – out of the six players in the team – can represent the team any game. "Sometimes, you are not really sure who you're playing against – we could be up against very competitive players one week, or less competitive ones the next." The team often try to guess who their competitors will be, based on their availability throughout the tournament. Her team is also made up of players who are only available on game nights. "I could be playing with any of our six members, so there's some luck involved," Tang says.
Like her peers, Tang cherishes the camaraderie within the Bowling Interest Group. "I love bowling for a CPA team – all my teammates are so friendly," she says. "The atmosphere is great and you often see people from different teams hanging out with each other during games. It's a social gathering too."
Tang and the four bowlers hope to maintain their lead in this year's summer league, and welcome new players of all levels to the interest group. "We never put pressure on our teammates and tell them we need a higher score," says Ng. "We only offer words of encouragement, so just remember to have a good time!"
The Institute welcomes members to join its Bowling Interest Group. For more details, visit www.hkicpa.org.hk.