Champion CPA singers share with Erin Hale their experience participating in the Institute's singing contests, and why singing is more than just hitting the right notes
Photography by Calvin Sit
(Clockwise) Elaine Kwong, Jacqueline Hsui, Natalie Tam and Adam Wong.
Growing up, Adam Wong's father would bring home cassette tapes of famous Hong Kong and Taiwanese singers like Teresa Teng, Danny Chan and Anita Mui, and would take him to browse in music stores.
Over time, those sounds of Cantonese and Mandarin pop inspired Wong to begin recording his own versions. "At 12 years old, I even recorded my own singing on a cassette tape at home," Wong recalls. "I still remember that it was Sammi Cheng's songs I was singing."
Wong approached his singing with enthusiasm, participating in singing competitions in secondary school and even organizing his own performances. As he grew older, though, his interests and concerns began to change. While he liked singing, he ended up pursuing a career that is less dependent on relationships with agents and music labels. He went on to study accounting.
Wong's trajectory is similar to many of the members of the Institute's Singing Interest Group, who have found a way to expand their love of singing through lessons and competitions. Many have found teachers who have helped them improve their vocal range from a classical choir student to a Cantonese or Mandarin pop singer.
Today, Wong is Senior Audit Manager at EY, but he has not lost his childhood passion for music. He regularly performs at firm dinners, even writing a musical for one event, and has his own karaoke machine for singing at home.
"For me, singing is a way to connect with people. It is a way for me to express my emotion freely without constraints."
"For me, singing is a way to connect with people. It is a way for me to express my emotion freely without constraints," he says.
While he always enjoyed singing, his hobby was rekindled when he joined his first CPA Singing Contest in 2013. Wong performed solo and, despite his passion, it was a struggle. He chose the wrong song, he says, and he was not used to performing.
"I was so nervous, my hands were shaking and my voice wasn't so stable. I even chose the wrong song with the wrong pitch," he says. "But at the end, I tried my best to perform. I was not one of the top three [finalists], but I was the most popular contestant."
After his performance, Wong began to take lessons through the Institute's Singing Interest Group and greatly improved his skills. The following year, he was champion in the solo division. He went on to compete city-wide against other professionals in the 2017 Recreation and Sports Club for Hong Kong Professional Bodies (RSCP) Singing Competition, coming in second place in the group category.
The members of the Institute's Singing Interest Group all agree that singing has been an important way for them to manage stress at work. The career of an accountant, particularly in the early years, is often busy and challenging, but singing has helped many CPAs to find their right work life balance.
Wong says that singing has become a deeply important way for him to manage stress. "Working in this professional firm is quite challenging, and I have been here for over 11 years. My job is very stressful but singing really helps to release all that stress," he says.
He found exercises to open his voice particularly soothing, as they require him to focus on many technical aspects of his singing and nothing else. "Some exercises help you forget all your frustrations because you need to think about how you use your larynx, head tone and your breath," Wong says. "Because there are many things to handle at the same time, you suddenly forget your stress."
Wong says there is nothing to fear for anyone who might be a little nervous about joining a group that requires them to perform in front of others and in public. "Most of the CPAs are shy, but what I want to tell them is they don't need to judge themselves for how they sing, because everyone has a unique voice," he says. "They need to appreciate the differences – don't just copycat the singers in the market.
"You need to understand the meaning of the song's lyrics to know what the original performance was like to bring out that same emotion."
Learning experience
Natalie Tam, Manager in Assets and Liability Management Committee Support at Fubon Bank (Hong Kong), is another Institute member who has found much success in lessons organized by the Singing Interest Group. She still remembers her first times behind the microphone. "I was inspired by my mother, who also loves singing very much too. We used to sing karaoke at home when I was small."
Similar to Wong, the interest group has helped her to turn a childhood interest into competitive success. Tam was the champion in the solo division in both 2016 and 2017 of the Institute's CPA Singing Contest, and champion in the 2018 RSCP Singing Competition's solo category.
"I first got into choir singing when I was young, and sang mostly Christian songs – a big difference from what I am singing right now, which is pop songs," she says.
Tam mentions that the demands of a pop performance are very different from those of choir singing, such as the vocal techniques used and the amount of practice required to win a contest. She has also learned how to express emotions through song as part of her performance, something she does by studying videos of previous renditions and covers of her chosen song.
"If you want to perform a song well, you need to have different techniques. For example, you need to get all the notes right, and you need to get the rhythm right," Tam says.
"Additionally, you need to understand the meaning of the song's lyrics to know what the original performance was like to bring out that same emotion," she says. "When you go on stage you need to fully concentrate on your performance and try to think about what kind of emotion you want to deliver to the audience."
Tam has been recruiting existing friends to classes. "It's quite funny because I am the one bringing my old friends instead of making new friends," she says. "But I develop a much closer relationship with my friends when I sing with them."
"Pop songs are more powerful than [traditional] songs. It's a bit different."
A chance to compete
Jacqueline Hsui, Assistant Manager in Risk Management and Financial Analysis at Soundwill Holdings, previously competed in singing contests in secondary school before joining the interest group. She has since found many ways to improve her performance.
Similar to Tam, Hsui's previous experience in a school choir did not completely prepare her to deliver a pop performance. "Pop songs are more powerful than [traditional] songs. It's a bit different," she says.
Pop performances require a more commanding and emotional performance and rely on different breathing and projection techniques than singing as one member of a typical choir.
Through her lessons with the Institute's Singing Interest Group, Hsui also learned how to convey her emotions for a more dramatic effect. "My teacher said the audience cannot feel my emotion from the songs so I keep learning how to sing," she says.
Hsui notes that she has been particularly successful thanks to her teachers and constant practice. She was the champion of the Institute's 2018 CPA Singing Contest's solo division and won "my favourite performance," and was runner up in the group division.
Her recent wins qualify her for the upcoming RSCP competition in July, where she will represent the Institute. She was also part of the winning team in the Institute's 2015 CPA Singing Contest's group division, which led to her competing in the RSCP's 2016 Singing Competition where her group came in third place.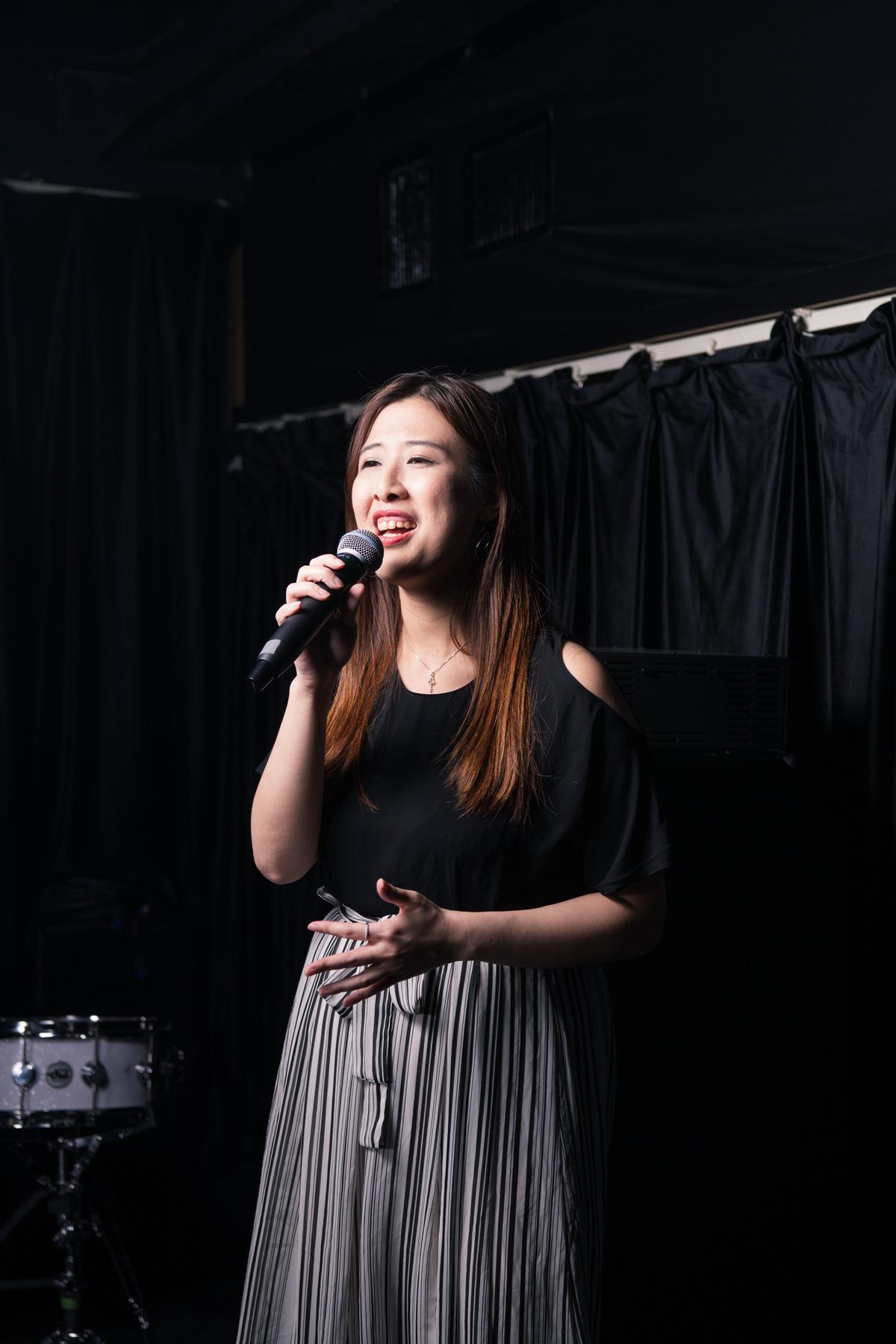 Elaine Kwong was the 2015 CPA Singing Contest champion.
"Singing is one thing I can focus on and not think about anything else."
New challenges
Hsui often sings with fellow CPA and friend Elaine Kwong, Senior Manager at Deloitte. While Kwong competes less these days since her victories in 2015 and 2016, she says competing is a very positive experience. "I think competition is a form of motivation because you have a very clear goal: win the CPA Singing Contest first and then target the RSCP," she says.
After her victories, Kwong took a short break from competing, and kept up her singing by performing at her firm's events, including its annual dinner. But the break did not last too long. Recently she has started participating in more competitions.
"I started doing competitions again, but public ones. It's been two to three years since I won the RSCP and I was so scared at my first competition," she said. "I try to take part in competitions regularly to warm myself up. We have performances as well, but performing and competing are two very different things."
Both Hsui and Kwong agree that when it comes to singing challenging pop songs, Mandarin is easiest due to the fact that the language only has four pronunciation tones compared to Cantonese's six. While they tend to choose Mandarin pop songs, to challenge themselves, they say they will try to sing more in Cantonese and also in English, the most challenging language of all.
Kwong says singing is her way of unwinding after a long day. "It helps a lot because if you are too stressed from work you need something to divert your attention," Kwong says. "And singing is one thing I can focus on and not think about anything else."
A Plus is looking for Institute members who enjoy doing urban farming in their spare time for an upcoming issue. If that sounds like you and you're interested in being featured in the magazine, please send an email to jeremy.chan@mandl.asia.