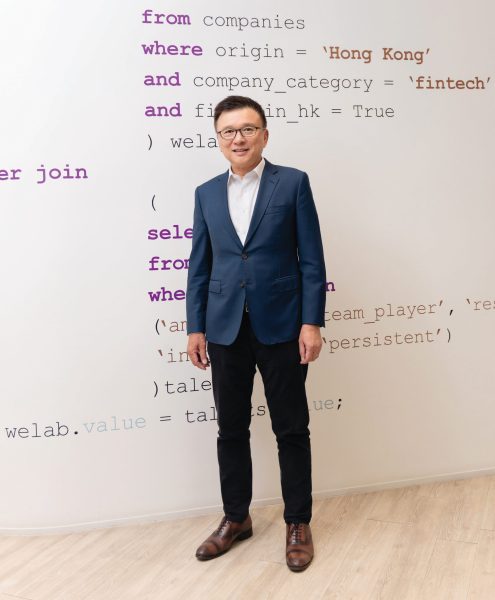 After years pushing financial technology (FinTech) development in Hong Kong and grappling with FinTech regulation, Prof. KC Chan had it very clear in his mind what he wanted to do next after leaving his government role in 2017.
"Ten years ago, I was already thinking about the FinTech policy in government, and how we should promote the industry. I didn't know anything about the actual technology. When I left, I thought this field was very exciting and wanted to work for a small company – I really wanted to be associated with a Hong Kong homegrown start-up in FinTech," recalls Chan, Chairman of virtual bank WeLab Bank and Senior Advisor of WeLab, the Hong Kong FinTech company.
When Chan, former Secretary for Financial Services and the Treasury of Hong Kong, met up with Simon Loong, Founder and Group Chief Executive Officer of WeLab, at a small office in Sheung Wan, Loong was thinking about applying for a virtual bank license. "That was really appealing to me because I see FinTech as helping ordinary people along their financial journey and I thought a virtual bank can help us work towards that vision," says Chan. In 2020, WeLab was granted a virtual banking license by the Hong Kong Monetary Authority, becoming the first homegrown Hong Kong FinTech company to establish a virtual bank, and Chan was subsequently appointed the bank's Chairman.
FinTech brings a range of business benefits, and for years has been disrupting the traditional payments industry, enabling consumers to make payments whenever and wherever. But for Chan, the beauty of the technology lies in the social benefits, and its ability to empower users in innovative ways. He wants to see FinTech have an even greater impact on people's lives.
"They [accountants] can really analyse an issue, make sense out of it, and then teach all of us about what they found. So I see them as 'knowledge professionals' in the FinTech industry."
Adding to this, Chan likens accountants to academics. "They can really analyse an issue, make sense out of it, and then teach all of us about what they found. So I see them as 'knowledge professionals' in the FinTech industry."
As Hong Kong aims to maintain its status as a global financial hub, Chan also sees CPAs continuing to play an important role as a core protector of Hong Kong's financial system. "A financial centre is, of course, measured by the number of initial public offerings, how much money is raised, how many assets are managed, and so on. But behind all that is a financial system and the financial system in Hong Kong is really top-notch, world-class. And in this system, who are the practitioners? The CPAs and the lawyers. So we should really uphold that quality and make Hong Kong as open and internationally recognized as possible. This is fundamental to our success as a financial hub," Chan says. "Congratulations to the HKICPA for its 50th anniversary! I'd like to thank the Institute for supporting Hong Kong's status as an international financial hub with its expertise and professional ethics."
"That's really my personal passion – looking at how to make the investment journey much more intelligent."
"From the payments angle, FinTech has changed people's lives and has come a long way," he says. "But how can an ordinary person use technology to improve his or her 'financial journey'?" The financial journey, he explains, often involves saving money, making payments, investing money, buying insurance and so on. "This is how people interact with financial institutions in their daily lives," Chan says.
In terms of making the whole financial journey as seamless as it is with digital payments, Chan believes the FinTech industry still has a long way to go. As Chairman of WeLab Bank, Chan's focus is to provide more digital wealth products and build smarter banking products at a low cost. "A lot of my friends and colleagues buy and sell stocks, and to me, this is just an action. How do you know which stock to buy? What's behind these decisions? That's really my personal passion – looking at how to make the investment journey much more intelligent," Chan says.
Chan is also part of WeLab Group, the bank's parent company, and is proud of the group's entrepreneurial spirit. In September last year, the company completed its acquisition of an Indonesian commercial bank, PT Bank Jasa Jakarta, a move allowing WeLab to tap into a market beyond its home city. "I was very enthusiastic about that project," Chan says, adding that with its close to 300 million population, Indonesia represents a huge opportunity to provide digital banking solutions. "I see it as really important not only for us, but for the Hong Kong FinTech story," he says.
Innovation through collaboration
Cyberthreats and attacks continue to be a major risk for the industry. To ensure consumers and businesses can leverage the benefits of FinTech, cybersecurity is critical, notes Chan. "There shouldn't be any compromise. Security is a fundamental building block in this whole FinTech ecosystem, so we should all get on with it and make sure we have a good system in place," he says. "Whether you're running a FinTech or a simple business holding a lot of customer data, everybody will be vulnerable."
Chan says that for WeLab, cybersecurity is a core competence, particularly as FinTechs are subject to regulations around cybersecurity, data privacy and anti-money laundering and consumer protection.
On the topic of the skills needed in FinTech, Chan brings up the importance of collaboration. At his bank, he sees people with traditional banking experience working collaboratively with technology experts to solve problems and share ideas. "With wealth management products, we cannot build this with tech people alone. We have a lot of people from traditional banks with a lot of experience, and then we have people who are more experienced in digitizing products. We have good collaboration between the two. I think that is key to success."
Marrying the traditional banking experience with the digital experience has been particularly valuable as the bank looks to digitalize complex financial products that rely on the human touch. "A traditional bank will sell the products through relationship managers, human beings who talk to the clients. I still think that trust they build is wonderful. How do I bring that same experience, the same trust, and same feeling, from a physical setting to a digital setting?"
The ideas man
Before joining the world of virtual banking, Chan's career has been varied. He was appointed as Secretary for Financial Services and the Treasury of Hong Kong from 2007 to 2017, and often spoke on Hong Kong's potential to becoming a FinTech hub. Before that, he was Dean of Business and Management in the Hong Kong University of Science and Technology.
"I was a typical academic. I trained as a Ph.D in Finance, did research, wrote papers, taught students, gave lectures. One day, they say that you're good at management and you're asked to be a dean of the school," Chan says. "You can never really be prepared to be a dean of a school because the dean actually does a lot of managing and a lot of PR, speaking to people and stakeholders. I was never prepared for that. Then I was invited to join the government, and wasn't really prepared for that either."
Once again he mentions collaboration, this time as a powerful tool for overcoming his unpreparedness. "Through collaborating and building trusting relationships with different parties, I have learned a lot from people around me and leveraged on their skillsets, for example government colleagues who are experts in their professional areas," he says. "I think collaboration has also helped me enjoy the work that I do because you rely on other people, their expertise and experiences. And you also have a team of people who are honest and trust each other when sharing ideas."
What has also been a constant throughout his career, Chan believes, is an intellectual curiosity. "I think that was the underlying thing. I've always wanted to find out what makes things work. How does an organization work? How do you make a school work? How do you set policy?"
Being an educator has played a big part in Chan's career. He admits that he isn't exactly passionate about teaching, but more about sharing ideas. "That includes teaching, and also relates to what I'm doing now [at WeLab]. I think that passion was developed when I was very young. I always wanted to have the ability and opportunity to influence people and the society, and to have an impact or influence on other people's thinking," he says.
Role of accountants
Chan points out that at WeLab, there are accountants working not only within the finance team, but also in the technology team. "We have a lot of people coming from accounting firms who work on our technology audit, who know a lot about technology."
When it comes to the role accountants can play in the overall FinTech sector, Chan says the accounting profession undeniably has a strong influence on the industry and its future direction. "The accounting community accumulates knowledge and spreads the knowledge. They are very key stakeholders in our knowledge economy," he says. "When you think about any kind of innovation in the business or financial world, or even the wellbeing of society, I think accountants have a very important role to play because they really are the professionals whose business is to learn and to figure out things, and to really try to push the boundaries of knowledge."