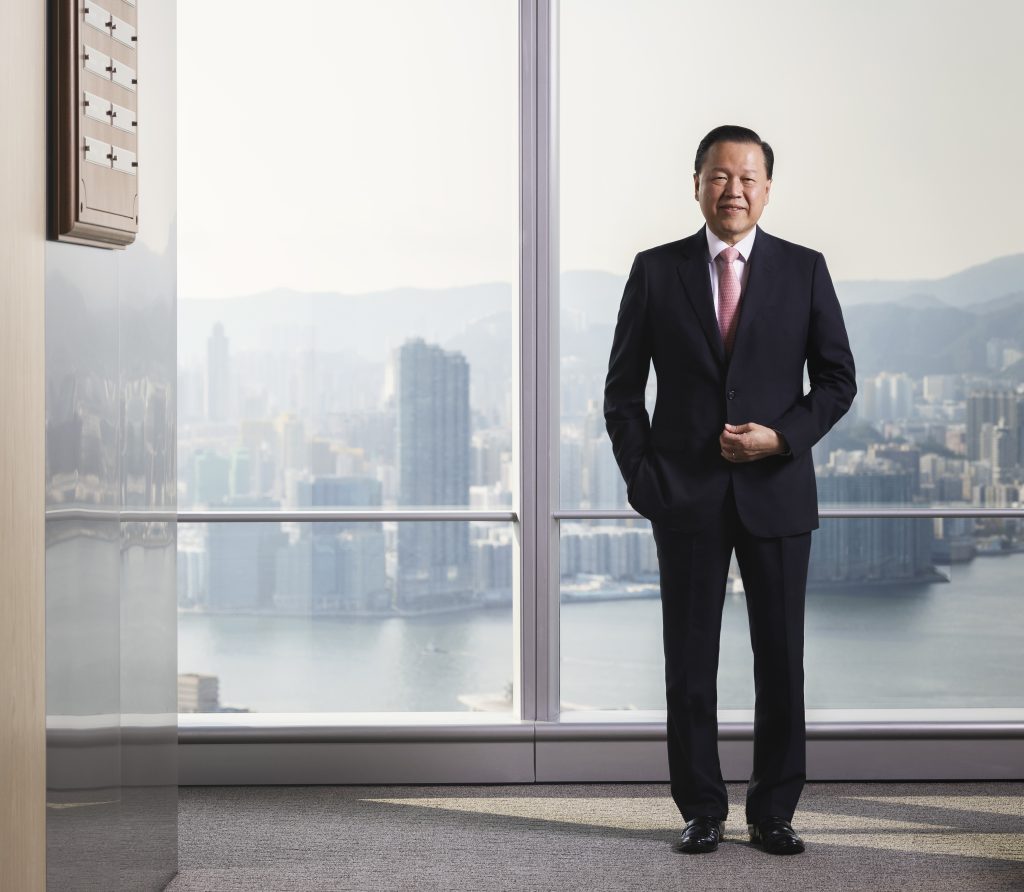 It's 1997, a historic year for both the city and the Hong Kong Society of Accountants, now the Hong Kong Institute of CPAs. With the imminent return to Chinese sovereignty, the Society sees local members taking up the positions of president and both vice-presidents.
"I got Aloysius Tse on one side and P.M. Kam on my other side. It was quite a moment," says Tim Lui, Chairman of the Securities and Futures Commission (SFC), who was a partner at Coopers & Lybrand (now PwC) when he was elected president of the Institute in a year like no other.
Lui remembers a great deal of his time as president being spent on boosting ties with accounting professionals on the Mainland. "Of course, interaction with the Chinese Institute of CPAs took on a new meaning. At that stage, their footprint was not very visible on the international stage. We worked together so that both of us could go out [to the world] together," says Lui. The Institute's post-1 July transition went smoothly, he recalls. "That was very satisfying. It also opened the door for a lot of interaction with our counterparts in the Mainland, and the relationship has blossomed since."
Keeping Hong Kong competitive
Born in 1989, the SFC is charged with oversight of the securities and futures markets of Hong Kong. It puts up a robust regulatory framework and achieves the highest level of compliance through supervision, market surveillance and enforcement actions, says Lui, who joined the regulator as Chairman in 2018 after retiring as senior advisor at PwC.
While regulatory work is a key function of the statutory body, Lui emphasizes that regulation is just one of the pillars to buttress Hong Kong's status as an international financial centre. "Regulation is one side of the equation; development of the market is the other. You need both and a very fine balance between them. I think we can actually achieve this," says Lui.
Over the years, the SFC has supported development and technological advancement. "Market development is assuming more significance nowadays because of the competitive nature of markets across the world, and we adopt a rather multifaceted approach to this," says Lui.
For example, strengthening Hong Kong's role as the bridge between the Mainland China and global markets remains one of the regulator's priorities. The SFC has been working with Mainland authorities for years to expand the mutual market access programmes, particularly the Connect schemes.
Lui highlights that there are over 1,400 Mainland companies listed on the Stock Exchange of Hong Kong Limited (SEHK), accounting for more than half of all listed companies here. The figures reflect the important role of Mainland companies in Hong Kong's stock market. "Hong Kong has to maintain its status as a capital market of choice for Mainland companies. And for international investors, they would like to invest in China through a platform that they are familiar with, and Hong Kong has always instilled confidence among them. We are very mindful of this, so one of our main tasks is to engage in constant dialogue with our counterparts to see how we can mutually expand these Connect programmes. Not just stocks but also other products including those which are not currently available."
Enhancements to the Guangdong- Hong Kong-Macao Greater Bay Area Wealth Management Connect (WMC) Scheme and the Mainland- Hong Kong Mutual Recognition of Funds (MRF) scheme are currently in the works. "We're pleased that all relevant parties have agreed on the enhancements to the WMC scheme, which include broadening the range of eligible investment products, expanding the scope of eligible investors and allowing more institutions such as securities firms to participate," says Lui. "The SFC also maintains discussions with the China Securities Regulatory Commission (CSRC) to expand mutual market access for public funds."
An agile regulatory approach
Lui believes that in a world that is constantly changing, agility and adaptability are important for keeping up with the pace of development. It is the rationale behind the SFC's approach to market development. "The agile regulatory environment enables us to promptly adapt and move with the times, to address challenges, and also tap the opportunities in fast-changing markets, especially after a long period of COVID and its repercussions, global inflation, monetary tightening, etc."
Giving an example of how the regulator adapts to emerging market trends, Lui brings up the SFC's licensing regime for centralized virtual asset trading platforms (VATPs). The regime, which came into effect on 1 June 2023, closes the gap in the SFC's licensing and supervision powers over VATPs. "We went through quite a unique journey in terms of how to cope with VATPs given numerous challenges. Years back, these platforms were not within the legal ambit of the SFC. But we see the need to regulate as virtual assets are growing in popularity as an investment asset class in Hong Kong," says Lui. Under the new regime, VATPs need to be licensed by the SFC to provide virtual asset trading services in Hong Kong.
Overall, while the SFC takes a neutral approach to technology and embraces innovation, it does so without compromising investor protection. "Take the VATP regime as example. If you look at the regulations, you'll see that we're putting in place stringent guardrails such as governance procedures, segregation of assets, token admission and other measures while we allow retail participation, learning from the FTX collapse and others," says Lui.
Driving sustainability
In July, the International Organization of Securities Commissions (IOSCO) endorsed the International Sustainability Standards Board's (ISSB) sustainability-related financial disclosures standards, prompting the SFC and other member securities regulators to adopt and apply the standards in addressing sustainability-related risks and opportunities. Lui proudly points out that the SFC has been an early contributor in the global discussion on sustainability, partly thanks to its former chief executive officer, Ashley Alder, serving as IOSCO board chair for six years.
"I have to give a lot of credit to our colleagues here," he says. "Very early on, we decided that sustainability is important and we need to be on top of it, and at the appropriate time, see what Hong Kong needs to do to be at the forefront of this." That time is now, and the SFC is working closely with SEHK on local implementation of the standards. "In terms of how to mandate climate-related information reporting by listed companies, SEHK has launched a consultation on this, which will be concluded in due course."
An important part of the process will be to work with the CSRC, says Lui, given the number of Mainland companies listed in Hong Kong. "If we're going to achieve anything, we need these Mainland enterprises to fall in line as well, and that's why we need to actively engage with CSRC." 
"By continuing to uphold their professional values and ethics in conducting sustainability-related work, auditors can help
strengthen market confidence as well as drive best practices
across companies."
He notes that successfully implementing the ISSB standards in Hong Kong will require a lot of work, but this is important for the city's positioning in the long term. "Climate disclosure is a very complicated subject matter. We would need to deal with pragmatic issues like the timeline and consider whether different approaches exist to achieve the same result – a proportionate approach is currently preferred. We still need to work on these, but the commitment is to be one of the earliest jurisdictions to do this, and showcase it to the world."
Another goal is to enable Hong Kong enterprises to keep carbon emission levels under control. "Achieving Hong Kong's climate goal as well as the nation's will be beneficial globally. But these are very tough targets so we all have to work together to get there," adds Lui, referring to Mainland China's "30-60" climate goals (to achieve peak carbon by 2030 and carbon neutrality by 2060).
Lui sees huge potential for the accounting profession in the area of sustainability. He highlights that auditors have long been the key to the integrity of Hong Kong's financial system, and will equally play a key role in the sustainability reporting ecosystem. "By continuing to uphold their professional values and ethics in conducting sustainability-related work, auditors can help strengthen market confidence as well as drive best practices across companies," says Lui.
Transition finance in particular presents a major opportunity for CPAs, he says. While green transition is essential, it won't come cheap, and financing such a transition will be a major challenge. "In China, the green segment accounts for only about 10 percent of the country's gross domestic product, which means that 90 percent of its economy would require a low carbon transition. A lot of transition finance will be needed, and accountants clearly have a role to play in terms of assessing, auditing as well as advising on green finance products."
Top of his game
"It has been a tremendous journey for me," says Lui, looking back at his career – from his 40 years at PwC to establishing himself as a tax expert, and to his return to Hong Kong during the city's golden era.
After graduating from university in the United Kingdom, Lui joined Coopers & Lybrand in London in 1978. The choice at that time was either a career in accounting or law. "Both skill sets, I think, are very essential to whatever you want to do in the future. You can stay in the profession or move into other areas," he says. "Coopers accepted me, so I gladly joined them as an articled clerk, and never looked back."
After two years in the assurance business, an opportunity came up for Lui to try out other areas at the firm. He moved to taxation and, as he puts it, fell for it. "Tax advisory work is coming up with the most effective structuring of either a transaction or deal, and you need to be on top of your game to do that. The client is very appreciative of your work and you get immense satisfaction from that."
He adds that in those days, with the interaction between Hong Kong and the Mainland, and between the Mainland and the world, China tax specialists were keenly sought after. Lui served as chairman of the Institute's former Taxation Committee for 12 years, and stayed involved as a member for several more.
He moved to Coopers & Lybrand in Hong Kong in 1984, a time when the city was quickly emerging as a preferred destination for global investment. "I was very fortunate because those were the golden days of Hong Kong as business was booming. You saw tremendous growth in the firm, tremendous opportunities for everybody, including myself," says Lui.
Coopers & Lybrand merged with Price Waterhouse in 1998 to create PwC. He says that, until his retirement from the firm in 2018, he never once thought of leaving it for other pursuits. "Different things opened up for me in those 40 years at the firm. I had the privilege of joining the global board of the largest accounting firm in the world. This sort of experience doesn't come around very often, right?"
Honesty and professionalism
After his time as Institute president came the start of his public service, mainly in educational affairs. "It just so happens that I've engaged myself in a lot of aspects of education," Lui says.
He had been chairman of the Education Commission, which advises the government on the overall development of education, from 2015 until the start of this year. He was previously chairman of the Committee on Self-financing Post-secondary Education, the Joint Committee on Student Finance, and the Standing Commission on Directorate Salaries and Conditions of Service. He currently chairs the University Grants Committee. "The experience has been very valuable because you understand more about how things work in Hong Kong, your circle of contacts becomes larger, and you get to apply your professional expertise and experience to helping Hong Kong move forward," says Lui.
In his fulfilling journey in public service, his skills and experience as an accountant played a key role. "Quite a number of those in public service are accountants because they're trained to have integrity and sound judgement. These are attributes that I think the government is looking for when they appoint committee members," he says.
Lui likes to speak his mind, and believes this is valued in a committee setting. "I sometimes tell government bureaus that I disagree with them, so I will speak up. I think this is why professionals are well sought after," he says. "If you don't see eye to eye, it doesn't matter. Just lay things out on the table and sort it out."
In his role, steering the strategic directions of an institution like the SFC, those fundamental attributes of a CPA have time and again been proven to be important. "My predecessor is an accountant, his predecessor is also an accountant, so we have a family tree here. And it's because of the training," says Lui, referencing Eddy Fong and Carlson Tong, both former chairmen of the SFC who are also Institute members. "The other thing is, as chairman, there's also a lot of governance aspects that you need to be involved in, and my experience as the lead director of the board of partners at PwC has helped."
The next generation
Lui's advice for young and future accountants is to focus on honing their communication and language skills. "Both English and Chinese. If you also speak Spanish, then you've covered 98 percent of the world, so that's even better," he says.
"You also need to be knowledgeable about what's happening around you, both globally and particularly in China. If you can excel in a particular area, there's a lot of value," he adds. Indeed, Lui has witnessed the shift to advisory work driving the profession's evolution over the years. "Firms have had to adapt and consulting now has so many dimensions. Advisory roles are where accountants are able to flourish because of the value they can bring to clients," he says.
Lui also urges young members to avoid complacency. Nowadays, with the fixation on technology products and work-life balance, people seem to be getting too comfortable in their jobs, he notes. "Working hard is not a bad thing. It can have real benefits and will hone you into a much better person. If work needs to be done, try and do it to the best of your ability," he says. The most important thing is to still enjoy what you do, Lui adds. "Because life is short. Find what you're good at and interested in, and go for it."
"The reputation of the Hong Kong Society of Accountants and now the HKICPA, and the recognition of our members, have
been very high. As a member, you're proud of that because your qualification means something."
As a former president of the Institute, Lui has kept a keen eye on its developments. He urges the Institute to continue to innovate when it comes to creating value for members. For him, one thing must remain constant: "The Institute must keep up with its international standing, and continue to take a leading role on the global stage."
To Lui, it all comes down to a reputation that has stood the test of time and continues to make him a proud member as the Institute celebrates its semicentennial. "Over many years, the reputation of the Hong Kong Society of Accountants and now the HKICPA, and the recognition of our members, have been very high. As a member, you're proud of that because your qualification means something," he says. On a personal level, he's even more proud of the memories made. "I became president in a very historic year, and that is an experience that you cannot repeat. It will be a fond memory of mine forever."
In July, the International Organization of Securities Commissions endorsed the International Sustainability Standards Board's sustainability-related financial disclosures standard, signalling to the Securities and Futures Commission to adopt, apply or make reference to the standards in addressing sustainability-related risks and opportunities.