When Ron Pau received a rescue call to help move residents to a typhoon shelter on the morning Typhoon Mangkhut was making its approach to Hong Kong in 2018, he knew this was no ordinary mission. Without a second thought, he accepted the unnerving task and stepped outside, braving the piercing rain and fierce winds to catch a train to the Civil Aid Service (CAS) and report to duty.
Numerous CPAs, like Pau, make it a priority to balance volunteer and charity work with their busy work schedules, driven by a desire to do good and help others. Pau, Senior Manager, Advisory, at Grant Thornton is not your everyday accountant. He doubles as an Officer at the CAS, a government-funded emergency service made up of over 3,700 members who help regular front-line emergency forces in the event of natural disasters.
Pau has volunteered at the CAS since he was in secondary school. That "Operation Mangkhut" mission is always stuck in Pau's mind. "Each time the typhoon signal is eight or above, we are asked to report to duty. It isn't mandatory, but if you're passionate about what you do, you do it," he says.
After arriving at the training centre in Causeway Bay, his team of 28 were tasked with a rescue operation in Lei Yue Mun, a fishing village at the east end of Victoria Harbour. "There were some people living there who weren't willing to move – they thought it was going to be just another typhoon," he says. Pau remembers how the van journey – normally less than 20 minutes – took over an hour due to fallen trees, rubbish and debris blocking the roads. "While we were crossing the Island Eastern Corridor from Causeway Bay to the Eastern Harbour Tunnel, our van kept on shaking due to the very strong winds. It was quite scary."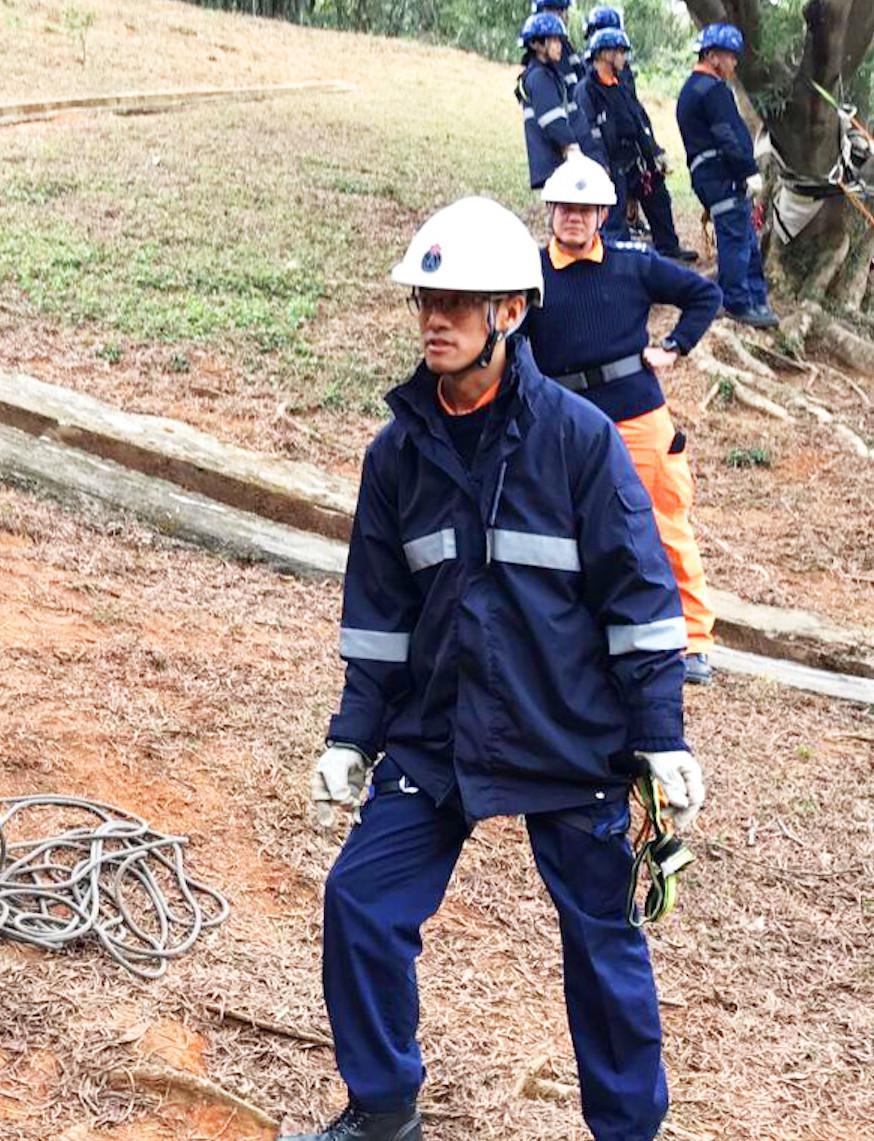 Ron Pau volunteers for the Civil Aid Service.
After arriving at Lei Yue Mun, they waded through the water and knocked on doors to evacuate residents. "The water was up to our knees so my team and I had to bring each person from their homes to the shelter," he recalls. "Thankfully, there were no injuries that day."
Pau's early exposure to the CAS imbued a sense of loyalty and commitment to the organization and volunteer work. He joined the CAS Cadet Corps at age 14 where he learned basic first aid and foot drills. He continued through secondary school and took a break after entering university to focus on his studies, but it wasn't long until he decided to rejoin. He joined the CAS' adult section where he served in the Hong Kong regional section.
He was then promoted from junior member to his current position after seven years and then was assigned to help and mentor CAS cadets.
Though Pau intends to take a break from the CAS this year. He has his mind set on developing a new volunteering group he initiated at his firm Grant Thornton last September. Through activities such as visits to elderly homes, he is determined to foster a team committed to regular charity work. "I feel that being involved in charities with other employees nurtures better teamwork, stronger communication and a better sense of belonging to a company." He hopes other CPAs will start the year by giving back. "Doing volunteer work has changed the way I view life," he says. "You start dealing with real problems and meet people you wouldn't usually encounter."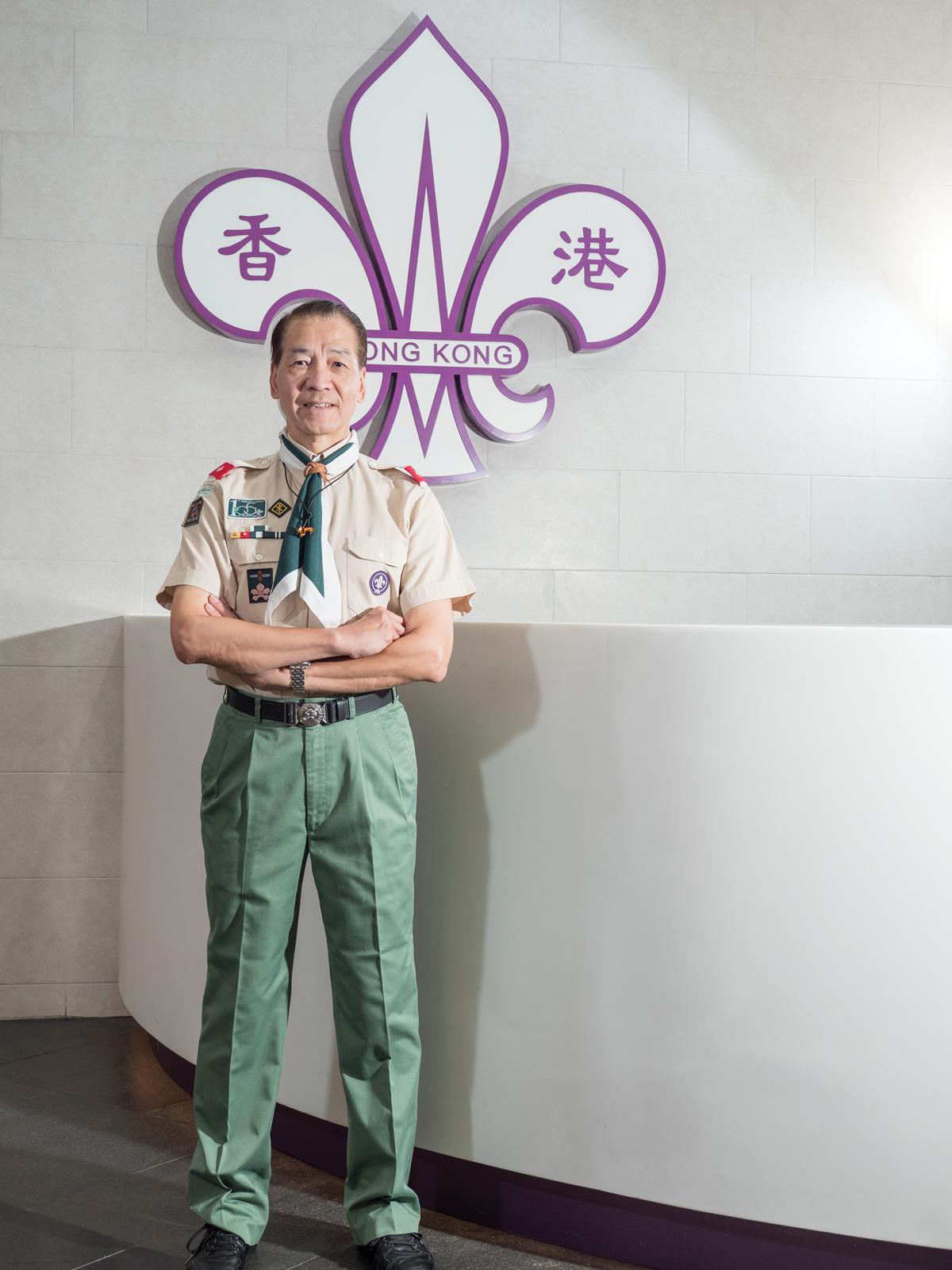 Paul Lo has volunteered at the Scout Association of Hong Kong since he was a secondary school student.
Training the youth
For as long as he can remember, Paul Lo has always been a scout. His scout days date back to the 1970s when he was a secondary school boy and a frontline leader, leading a team of boy scouts age 12 to 16 after school.
Through activities such as camping and knotting, he taught his team the importance of organization, teamwork and leadership. "We all learned that being a scout involves careful planning, especially when dealing with situations beyond our control – such as weather," says Paul.
After graduating from Hong Kong Polytechnic with a diploma in accounting in 1976, he worked at PwC as a senior accountant for four years before spending the next eight years at investment company Sun Hung Kai International Limited as senior manager of investment banking. He went on to pursue a part-time master of business administration and then worked at Jardine Fleming Investment Management, a Hong Kong-based investment bank for three years before joining the Securities and Futures Commission as senior manager – supervision of markets, where he set up a clearing house.
He then spent the next 13 years at Clearstream Banking, an international central securities depository, as key account manager and deputy to a regional director, where he promoted clearing, settlement and custodian businesses to financial institutions in Mainland China. He then worked at Eurex Frankfurt as head of its representative office. While at Eurex, he became an adjunct professor at the Chinese University of Hong Kong (CUHK) and also set up a clearing house at the university to provide students with hands-on experience in trading. "We had to persuade the Hong Kong Stock Exchange to provide the university with historical and real-time data to the free of charge," Lo says. "I also found a trader to teach – he would trade by day and teach by night. In the end, we had established a simulated trading group at the university." Paul also worked with Eurex in Frankfurt to offer one CUHK student a paid six-month internship each year.
He never stopped being a scout, even after secondary school and university. In addition to his frontline duties, he is a member of the Finance Committee of the Scout Association of Hong Kong, and is responsible for managing income expenses and reserves, and performing budgeting for scouting activities and training courses for the boy scouts and leaders.
Paul also helps with the financing and fundraising for the Hong Kong Island region. He spends his weekends helping out with the scouts, and since retiring in 2012, he has been able to assist more frequently. He now leads boy scouts aged 18 to 26, known as rovers. "I love scouting. It's a fundamental need, especially among the youth," he says. "At the Scout Association, it is our goal to guide the youth to become good citizens for their own benefit."
He feels a great deal of satisfaction witnessing the scouts grow up. "Most, if not all of these boy scouts, have grown and matured during their time here, and some of them have even come up to ask me 'how did you put up with me at the beginning? I was such a naughty kid,'" he laughs.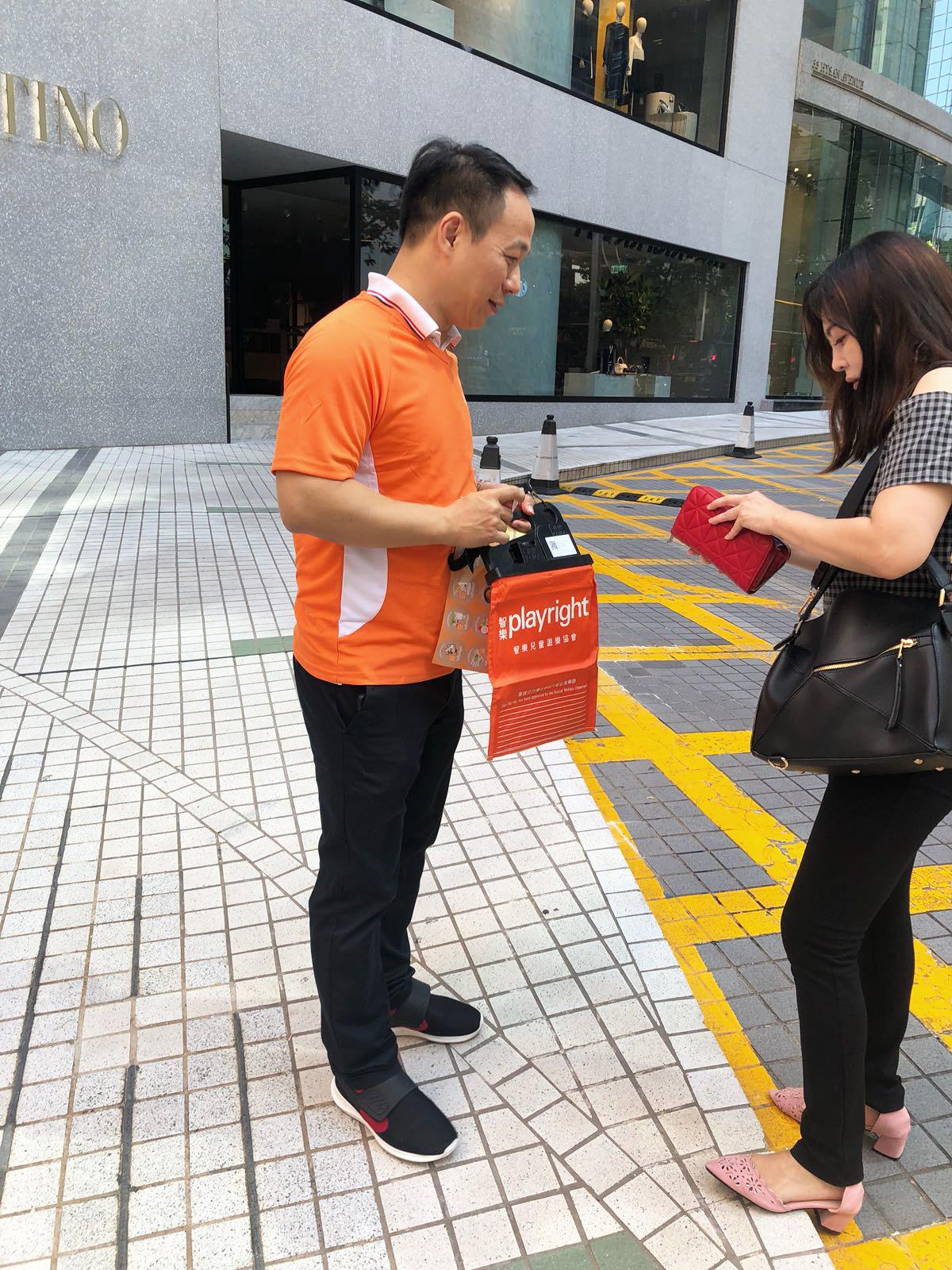 Roy Lo enjoys being involved in flag-selling for Playright Children's Play Association.
Giving by example
For Roy Lo, Managing Partner at SHINEWING (HK) CPA Limited, charity work has always remained at the forefront of his professional and personal life. As a secondary school student, he volunteered as a leader at Hong Kong's Junior Police Call, an organization aimed at tackling juvenile delinquency. While studying at the University of Hong Kong, he got involved with the YMCA and organized visits to care homes during Chinese New Year and the Mid-Autumn Festival.
After graduating and beginning his career at PwC, he made time to help as a volunteer financial secretary for organizations such as Lions Club and Junior Chamber International Hong Kong. "I realized I could contribute my accounting skills to charity organizations," says Roy. "Many simply needed help with their finance functions, so I dedicated my free time after work or during weekends to helping with their budget, funding and even organized sponsorship activities."
Shortly after joining SHINEWING, Roy naturally wanted to involve members of the firm in more charitable activities. He worked with the firm to sponsor and raise funds through flag-selling for Playright Children's Play Association, an organization which seeks to enrich children's lives through quality play. The organization designs games, provides toys and invites children with special needs to learn through having fun.
By organizing charity-related activities during work hours, Roy realized more staff members would be eager to join. "For example, we'll take part in charity work on Friday afternoons. We made it clear that participation was not compulsory – otherwise it wouldn't be voluntary," he says. "The feedback was great. Many staff members hadn't done charity before, but after taking part, they saw how rewarding it was."
Roy has also influenced his daughter, a skilled harp player currently studying at university, to give back. "I told her, 'Not many people play the harp – and you're fortunate enough to play it so well,'" he says. "The sound of the harp is very therapeutic. I wanted to introduce charity to my daughter and also give back to the elderly through soothing music."
By asking his daughter to gather all the harp players she knew, Roy set up the Aspire Harp Charity Foundation two years ago. The harpists visit and perform at care homes for the elderly and underprivileged families on a monthly basis. "Though it was my daughter's first time being involved in a form of charity work, she later shared how happy it made her feel," Roy says. "This is why I believe charity work brings out happiness from the bottom of one's heart. Because I've spent so many years doing charity, I consider the work to be an essential part of my life. It keeps life balanced."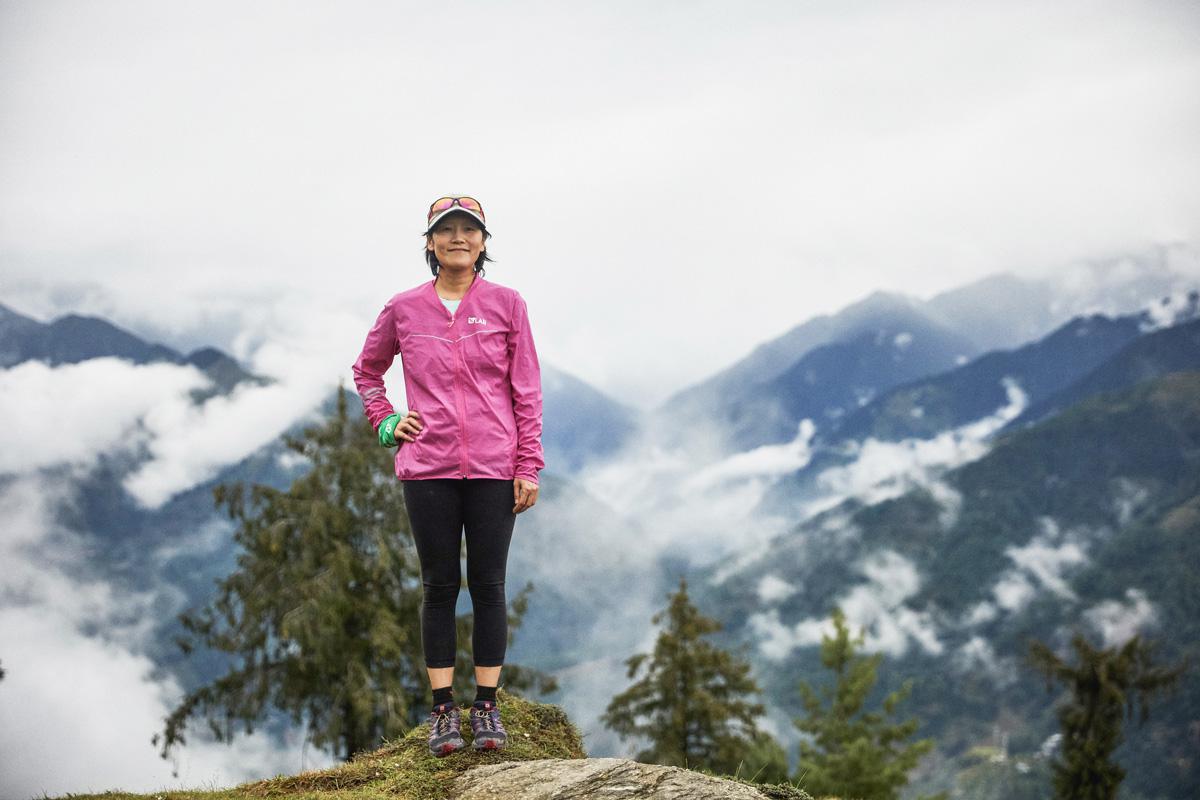 Irene Chu took park in the 75-km HSBC/KPMG Challenge Himalayas in September 2019, raising money for water conservation.
Making time to help
Irene Chu, Partner and Head of New Economy and Life Sciences, Hong Kong, at KPMG China, has combined her passion for charity work and the outdoors. An avid hiker and runner, Chu has taken part and raised funds for numerous charity runs over the years.
The most memorable hike for her was the HSBC/KPMG Challenge Himalayas she completed in September last year. The strenuous 75-kilometre trek brought 70 staff members each from KPMG and HSBC through the northern Himachal Pradesh region in the Indian Himalayas over four days. The event raised funds for Conservation International Hong Kong, a non-profit organization with the goal of protecting nature as a source of food, fresh water, livelihoods and a stable climate, and WaterAid, an international non-governmental organization focused on helping people living in areas with limited access to clean water, reliable sanitation and proper hygiene. "We could have just raised money and donated it, but having a challenging activity like this helped everybody to exercise and have fun together," Chu says.
The team hiked the 75-km trail in stages, covering 15 to 20 km a day and taking the time to rest every other hour. The intensity of the hike meant Chu and staff members had to encourage each other whenever spirits were down. "It was humid, rainy and very cold at night," she says. "Our clothes and shoes wouldn't dry overnight so everyone had to get dressed and hike in their wet gear the following morning."
But Chu looks back with a beaming smile, noting how the adventure was one to remember. "I spent time getting to know the staff at HSBC. We even brainstormed various business and collaboration ideas with them during the hike," she says. The event brought the team together in ways beyond their expectations. "We got to spend time at the local Indian villages, eat the local food and gain a better understanding of the people and cause we are supporting. We saw first hand how these villages struggle daily with water."
At work, Chu is also involved in various charitable roles. For example, she is the Hong Kong Regional Lead of KPMG's Inclusion and Diversity Council, which promotes gender, age, ethnic diversity in the firm, and also a mentor in the Women in Audit Mentorship Programme, which strives to help women in the firms seek a better work-life balance. "I've seen many young female professionals, especially young mothers, encounter challenges in balancing work and life. We aim to help them progress in their career and not leave the profession as soon as they start a family," Chu says. "As a female audit partner and a mother of two young children, I know how they feel." She also lends her accounting expertise to the World Wildlife Fund.
Chu admits it is a challenge balancing her responsibilities with charity work, but always remembers why she started in the first place. "I accepted all these roles because I love giving back and I learn from each experience," she says. "Once you get involved, you don't know what you are going to gain – until you have done it."
---
CPAs interested in giving back can apply on the Institute's website to become Accountant Ambassadors and volunteer in its "Rich Kid, Poor Kid" corporate social responsibility programme, which holds free seminars to educate young children and teenagers on positive financial management concepts and techniques.