Audit reform, the new Qualification Programme, the Greater Bay Area, and other opportunities beyond Hong Kong – the profession faces a year of big changes and new possibilities. Patrick Law, the Institute's new President, tells A Plus how he will be leading members through this, while helping them thrive in their role as Accountants Plus
Photography by Theodore Kaye
Patrick Law studied electrical and electronic engineering at university in the United Kingdom before deciding to pursue a career in accounting. He has worked in assurance and business advisory at EY since 1993.
At the Institute's Career Forum in 2017, Patrick Law expected to share with the university students about the profession as a speaker, but at a career forum advisory panel meeting beforehand he found himself reassuring their professors. "They asked: 'will the number of graduates recruited by the accounting firms be reduced?' after I suggested that audit innovation and the use of new technologies should be a key topic at the forum," recalls Law, who was then convenor of the panel.
"In the past, some people thought computers would have a negative impact on the profession. But what we've seen in recent years is that even though computers help with the tedious work, we actually need more people in accounting – people with different types of skills to do different types of work."
Sharing the message that the profession remains relevant amid an ever-changing business world, and is always learning and improving, is what Law will continue to do this year as the Institute's President.
Law, Deputy Assurance Leader at EY Hong Kong and Macau, will also be working to ensure that members get the most out of the Institute's services and be prepared to meet the demands of their clients and employers in the age of Accounting Plus. He believes that the Institute must be as communicative as possible about how it is supporting members. "We have a large number of members – over 43,000 – and are a regulatory body as well as a membership body, so transparency and effective communication are very important for us," he says. Publishing abridged Council meetings minutes for members to read was a key development last year to improving transparency, he adds. "Communicating with members is important as it allows us to understand their needs and see how we can enhance and widen our services to them, and also help them remain competitive."
Law is looking forward to building on conversations he has had with some members since he began serving on the Institute's Council in 2014. "I have met a lot of members and they have told me what they want. I also understand that we have a wide range of members in different groups – professional accountants in business, professional accountants in practice, young members, small and medium practitioners etc. I always take the time to listen to their voices so that I can bring it back to the Institute."
Responding to change
Following on from last year's extraordinary general meeting, getting a new chief executive and registrar for the Institute is of course one of Law's focuses this year. The previous chief executive, Raphael Ding, left the Institute at the end of June last year after serving out his contract. The Council has set up a search committee to work with a recruitment agency to find a replacement. "We have scheduled a meeting this month and we have some candidates on hand. I think the quality of these candidates is quite good. So I hope we can get a new CE sometime this year," says Law.
Without a chief executive, the Institute's next long range plan, its seventh, cannot begin, he says. "We are moving on from the Sixth Long Range Plan and need to start the Seventh Long Range Plan as soon as possible. The plan has already been developed, but for the final nitty gritty details to be agreed we need the new chief executive to be on board."
The membership fee waiver for 2019 for members whose names were on the register at 31 December 2017, and reduced fees for most continuing professional development (CPD) courses are helping members to become Accountants Plus. "We will review the Institute's reserves situation this year to determine an appropriate level for a 2020 fee waiver and see whether further things can be done," says Law.
He points out that the Institute regularly reviews its reserves, and that two partial membership fee waivers have been introduced in the last four years. "We regularly review the funding needs of the Institute and how much is needed for future plans. If there's no immediately identifiable need for the funds, we should redistribute them to members," he says.
Concerning polling members for the election of president and vice- presidents, a task force is examining the feasibility of a "one member one vote" poll. "We have to really spend time to think about it," says Law. "We studied the voting mechanisms of eight other professional bodies and all of them are different. These are mainly membership bodies, whereas the Institute is both a regulator and a membership body." Given that only the Council can elect the president and vice-presidents under the Professional Accountants Ordinance, the legislation will need to be amended, he adds.
Other factors, such as the composition of the Council, also need to be considered. "With the proportion of practising and non-practising council members, should it still be seven and seven? With presidents and vice-presidents, is a one-year term really enough? There's a lot of moving parts, so it takes time."
Hong Kong's audit environment for some practising members will change drastically this year, with the Financial Reporting Council (FRC) taking regulatory responsibility for the auditors of listed companies. With the amendment bill having been gazetted on 15 February, there are still some outstanding issues to resolve before the FRC can take over, says Law. "The remaining part would be the sanctioning measures – the details and guidelines. Going forward, the FRC, the government and the Institute will carry on looking into this part. Certain activities of the Institute, including professional development and registration, will be overseen by the FRC, so details on how this will be done would also be discussed," Law explains. "We will work closely with the government and the FRC to ensure these changes are implemented smoothly with as little interruption to the profession as possible."
Greater opportunities
The Greater Bay Area (GBA) will also have a huge impact on the Hong Kong profession this year, he says. "I'm optimistic that the more detailed framework that was announced this month will lead to clearer roles to be played by the '9+2' cities and how they will link with each other. With that, we will have a clearer picture of how to position our members."
Building productive relationships with accounting bodies across the border is crucial to helping members capture the business opportunities, he notes. "We have formed a strategic alliance with Guangdong and Macau CPAs to provide a platform for our members and CPAs in Macau and Guangdong. They can communicate with each other when collaboration opportunities arise," he explains.
With the unique skills and experiences of members, recognized by clients and governments, Law is optimistic about the vast business opportunities the GBA provides for Hong Kong firms. "A lot of companies and enterprises in the GBA will need the services of our people because our members are familiar with the international business practices and cultures, so they can help enterprises that want to go out, and they can provide a wide range of services, from mergers and acquisitions to international tax advisory."
Despite all eyes being focused on the evolving United States-China trade war, he believes that the Mainland will continue to play a major role in members' career success. "The importance of Mainland China in the international arena continues to grow," he says. "Of course, we see a slowdown in the business operations of some Chinese companies, but with the GBA and Belt and Road Initiative, the business opportunities for our members will remain very strong in the future."
"A lot of companies and enterprises in the GBA will need the services of our people because our members are familiar with the international business practices and cultures."
Staying ahead
Law has seen the profession go through a series of significant changes to get to where it is now, with CPAs going from being "number crunchers" to forward-thinkers. "I can still remember my first big task when I was a trainee. I was given a very bulky stack of print-outs and I was asked to check the casting of the totals on all of them for the client. You can imagine how long that took!" he recalls. "With the development of audit innovation, our members can focus more on analytical work, playing around with data to get high-value interpretations that help them offer meaningful advice to clients. That's all part of Accounting Plus."
Members can't afford to be complacent, he says. "Technology advancements will continue. Members need to be conversant with FinTech (including blockchain), and robotics. They have to keep learning, otherwise they will be out of date very soon," says Law. "On the other hand, this is what makes our profession interesting and exciting."
Helping the next generation of the profession remain up-to-date and dynamic will be the new Qualification Programme (QP), which rolls out in the third quarter of this year. "It will equip students with the skills needed to use and embrace new technologies and meet the requirements of employers and clients in the age of Accounting Plus. Other than the traditional areas of audit, taxation and accounting, students of the new QP will need a wider range of knowledge and skills, including soft skills like teamwork and presenting, for them to be successful."
Soft skills are more vital than ever, Law stresses, which is reflected in the increased number of soft skills CPD courses that the Institute organizes. "Clients nowadays are no longer satisfied with us telling them how the audit figures look. They want to know, through good presentations and communication, how their operations and key performance indicators compare with their competitors. That is more meaningful to them."
Also important is making sure that the Institute itself is as future-ready as its members, in order to provide them digital and beneficial experiences. This year, the Institute will launch the next phase of the Digital Strategic Plan, which began last year with the Institute's new website. "We have received positive feedback on that. It's more user-friendly and easier to navigate," he says. "But that's not enough."
Ultimately, he says, the aim is to offer members a more personalized experience based on their behaviour, and to deliver content and recommendations relevant to their interests. "The most significant part of the second phase is that members will be able to sign up for CPD courses through the website, and we are also exploring how to use members' browsing experiences to know their preferences. When we have information or content they want, we could recommend it to them, so that they don't have to search for it," he explains. "We are also developing more content for the website to give members a wider range of information."
One of the aims of the Seventh Long Range Plan is to attract and develop the best talent for the profession. Firms, when it comes to attracting the talent they need, should re-examine whether they are offering a young, digital-savvy workforce what they want as well as what they need to succeed, says Law. "Generation Z is starting to enter the workforce, and they expect a more flexible working-style and more work-life balance, so we, as employers, have to focus on that. We have to make our profession more appealing in terms of work arrangements. Through this, we can get more people to stay in the profession and to work in the profession in the future."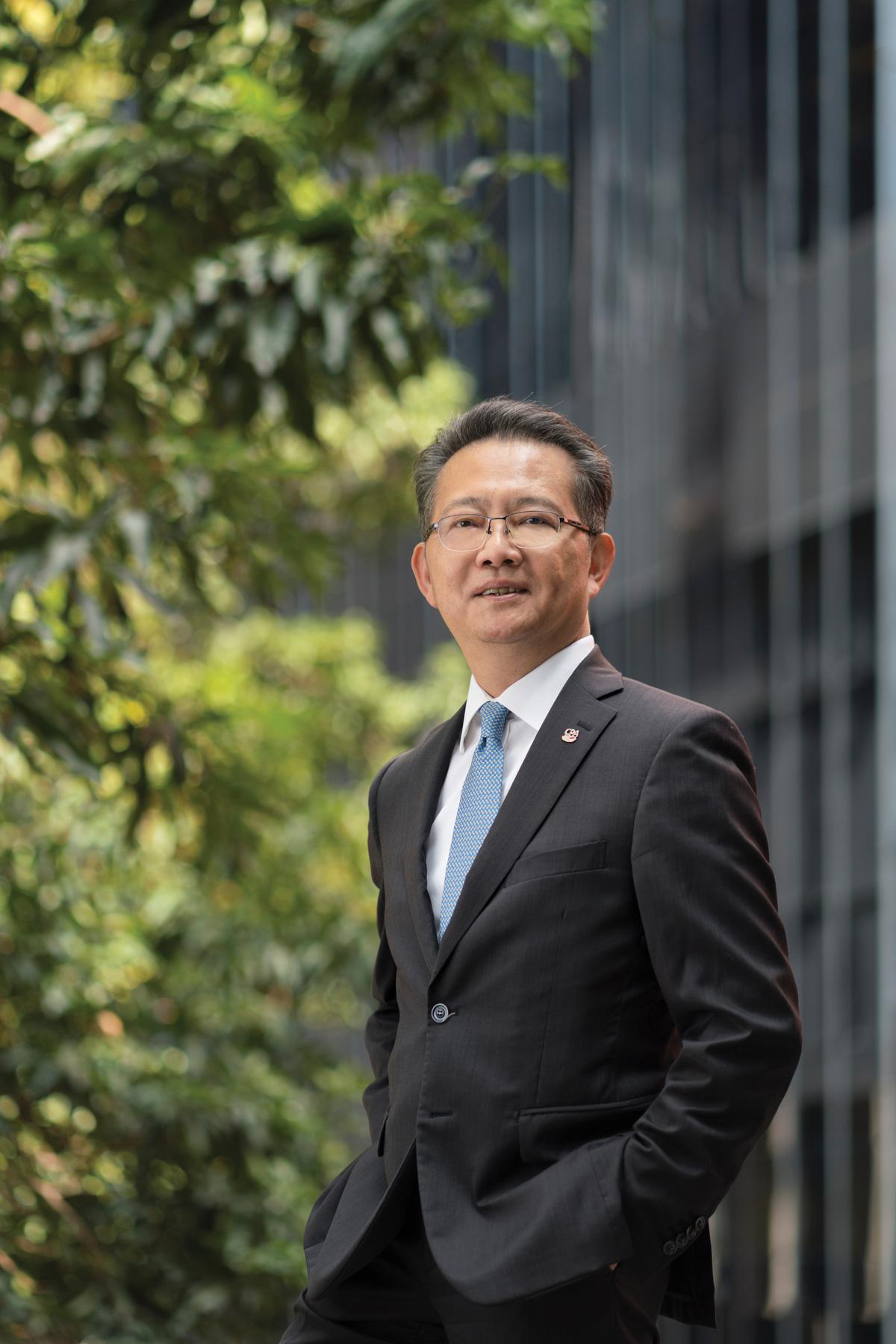 Engineering his development
The new QP offers greater flexibility for non-accounting graduates to become a CPA. Law knows first-hand the value different educational backgrounds can bring to an accounting workplace. He has a degree in electrical and electronic engineering from the University of Leeds, and a master's degree in control systems from Imperial College London.
"I believe that the logical thinking skills you develop, how you manage different tasks and how you mix with different people are more important than what you study," he says. "As we are in the age of Accounting Plus, we need different kinds of skill sets and knowledge backgrounds."
While studying and attending career talks and forums in the United Kingdom, Law started thinking about taking a different path. "I learned more about accounting, and I found out I could learn a lot about different types of businesses in the first few years of my career, and that would be very useful for when I went back to Hong Kong. So I decided to pursue accounting."
Law joined a small audit firm in the U.K. and obtained his CPA qualification before moving back to Hong Kong, his home since. In 1993, he joined EY Hong Kong and has stayed. "EY was a young firm in Hong Kong when I joined, compared with the other Big Six firms. This meant that I would have more opportunities because it was still growing, and growing fast."
For more than 20 years, Law has been working in assurance and business advisory at the firm. "Every day is challenging," he says candidly. "You have to stay on top of changes to technology, standards, the business and regulatory environment, so that you – and clients – won't be surprised."
Law recently got a surprise when his eldest son decided to study accounting and finance in university. "I never thought he would choose that," laughs Law, a father-of-two. "I thought he would be scared after watching his father."
"How you manage different tasks and how you mix with different people is more important than what you study."
Running trails, running projects
One of Law's first activities as President was running for the profession in the 10-kilometre Chairman Cup race of the Standard Chartered Marathon this month. As well as running, Law has taken part in the gruelling Oxfam Trailwalker a number of times, which he says has surprisingly taught him some valuable lessons in management and leadership.
"It's just like running a project. You have to do a lot of preparation work and planning because a lot can happen along a 100-km-long trail," he says. "You do it with three other people. Not only do you have to work with them, but you have to understand their strengths and abilities. Some of them may not feel well during the race, so how you have to motivate and encourage them to continue. Some of them might move at a different pace, so you have to work with them so that the all team members can reach the finish line. It's like what we do in audit work, day to day.
"Some people don't sleep. It's an exercise that strengthens your mindset and persistence, and when you complete it, you feel great."
Off the trail, Law wants to encourage all members to develop themselves for a greater purpose, and to explore the opportunities available in the GBA and beyond. "Throughout my years working in the profession, I've seen a lot of changes. I hope I can help people, particularly the young generation, to keep learning and better serve the community. Hong Kong is a very important global financial centre, and Accountants Plus help keep it that way."
The Seventh Long Range Plan responds to the three main challenges that the profession faces, says Patrick Law: 1. The impact of changes in technology and the business and regulatory environment; 2. Attracting and developing the best talent; and 3. Maintaining the unique position of the Institute.